---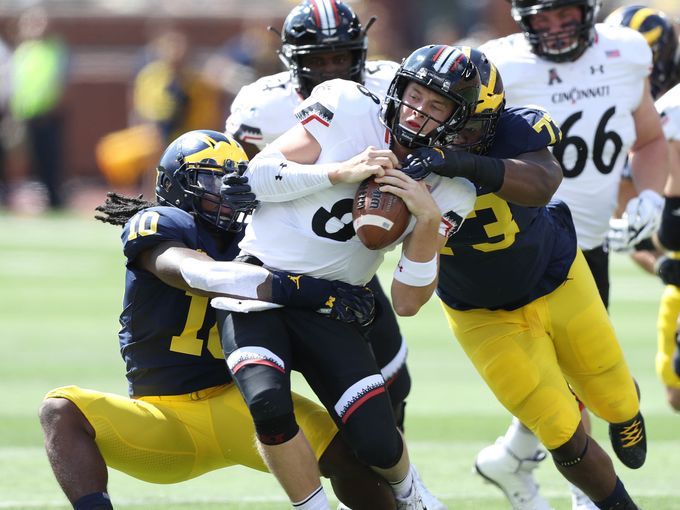 (Kirthmon F. Dozier, Detroit Free Press)
After a resounding win over 17th-ranked Florida to open the season, Michigan returned home and received more than it expected from a Cincinnati squad that went just 4-8 a year ago. Still, the Wolverines weathered the storm and survived a plague of mistakes to win going away, 36-14.
Michigan started the game strong with a 7-play, 80-yard touchdown drive on the first possession and an interception returned for touchdown a couple drives later to take a quick 14-0 lead.
Final Stats
Michigan
 Cincinnati
Score
36
14
Record
2-0
1-1
Total Yards
414
200
Net Rushing Yards
193
68
Net Passing Yards
221
132
First Downs
16
13
Turnovers
2
2
Penalties-Yards
7-68
4-30
Punts-Yards
7-274
10-373
Time of Possession
30:27
29:33
Third Down Conversions
5-of-15
6-of-19
Fourth Down Conversions
1-of-1
0-of-1
Sacks By-Yards
4-23
1-8
Field Goals
2-for-2
0-for-1
PATs
4-for-4
2-for-2
Red Zone Scores-Chances
2-of-2
2-of-2
Full Box Score
But after the defense forced a Cincinnati punt, the ball hit a Michigan blocker and was recovered by the Bearcats at the Michigan 38. Cincinnati took advantage of the short field with a 9-play touchdown drive.
The second quarter struggles that Michigan had in Week 1 returned as the Wolverines kicked a 28-yard field goal on their first possession but managed just 51 yards on 14 plays the rest of the quarter.
Cincinnati opened the second half with a 10-play, 85-yard touchdown drive to pull within 17-14 and had two more possessions with a chance to either tie the game or take the lead. But the Michigan defense held strong, and after a pair of drives that gained a total of seven yards, the offense finally moved the ball thanks to a 36-yard pass from Wilton Speight to tight end Sean McKeon and a 33-yard touchdown pass to Grant Perry.
A couple drives later, Quinn Nordin kicked a 24-yard field goal to extend Michigan's lead to 27-14, and on Cincinnati's ensuing possession the Wolverines forced a three-and-out. On the punt attempt, the ball was snapped past the punter, who batted the ball out of the back of the end zone for a safety.
Michigan's offense couldn't capitalize, going three-and-out, but the defense scored its second touchdown of the game when Lavert Hill picked off quarterback Hayden Moore and raced 24 yards to the end zone to reach the final score of 36-14.
The Michigan offense was mistake prone and lackluster most of the day, unable to string together consistent drives against a defense that ranked 72nd nationally a year ago. Sure, the Bearcats' defense was full of returning starters and now coached by a defensive-minded head coach in Luke Fickell, but there's no reasons a Michigan offense shouldn't have more success moving the ball. Take away the two defensive touchdowns and the Wolverines managed just 22 points.
Still, the Wolverines' defense was strong, holding the Bearcats to just 200 total yards and 68 rushing yards while recording seven tackles for loss and four sacks and scoring two defensive touchdowns. Through two games, the Michigan defense has scored three touchdowns — matching last season's total — and allowed just two.
Speight completed 17-of-29 passes for 221 yards and two touchdowns. Ty Isaac topped 100 yards rushing for the second straight game, carrying the ball 20 times for 133 yards, while Chris Evans managed just 15 yards on five rushes. Kekoa Crawford led the way through the air, catching four passes for 83 yards and a touchdown, while Perry caught for for 66 and a score.
Tyree Kinnel led the defense with nine tackles (8 solo), a tackle for loss, a sack, and an interception returned for touchdown. Devin Bush had another strong game with seven tackles and a sack, while Khaleke Hudson recorded two sacks.
Ty Isaac (20 carries for 133 yards, 6.7 yards per carry)
Isaac could have taken the game ball in Week 1, but we gave it to Quinn Nordin for his multiple 50-yard field goal day. There's no question Isaac was the best player on the field for Michigan's offense in Week 2. While Chris Evans couldn't find any running room, Isaac took the reigns and averaged 6.7 yards per carry. The senior now has 247 yards through two games, averaging 8.0 yards per carry, though he has yet to find the end zone.
Previous:
Week 1 – Quinn Nordin (4-of-6 field goals, 2-of-3 from 50-plus)
Tyree Kinnel (9 tackles — 8 solo — 1 tackles for loss, 1 sack, 1 interception returned for touchdown)
While the Michigan defense lost 10 of 11 starters from last season it still returned plenty of players with experience and Kinnel was one of them. Stepping into the starting safety spot in 2017 for the first time, Kinnel was impressive on Saturday, leading the team with nine tackles, recording a sack, and taking an interception 28 yards for a touchdown.
Previous:
Week 1 – (7 tackles, 5 solo, 3 tackles for loss, 2 sacks)