---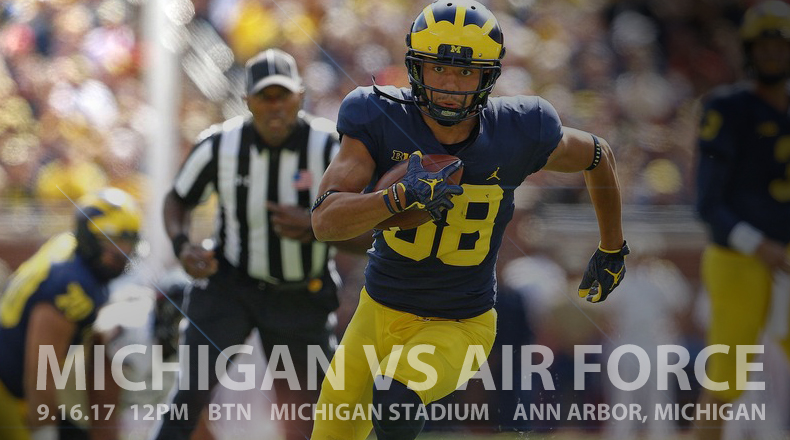 Michigan played an ugly, mistake-filled game against Cincinnati last Saturday and still won by 22 points thanks to a pair of defensive touchdowns by Tyree Kinnel and Lavert Hill. Now the Wolverines play host to Air Force at noon on Big Ten Network.
Quick Facts

Michigan Stadium – 12p.m. EST – BTN
Air Force Head Coach:
Troy Calhoun (11th season)
Coaching Record:
78-53 (all at Air Force)
Offensive Coordinator:
Mike Thiessen (10th season)
Defensive Coordinator:
Steve Russ (4th season)
Last Season:
10-3 (5-3 MWC)
Last Meeting:
UM 31 – AFA 25 (2012)
All-Time Series:
Michigan 2-0
Record in Ann Arbor:
Michigan 2-0
Jim Harbaugh vs Air Force
First meeting
Last Michigan win:
2012 (31-25)
Last Air Force win:
Never
Current Streak:
Michigan 2
Air Force schedule to date
Opponent
Result
VMI
W 62-0
Air Force had the rare Week 2 bye after dismantling the Virginia Military Institute of the Football Championship Subconference (FCS), 62-0, in Week 1. VMI went just 3-8 last season and hasn't had a winning season since 1981. In fact, you have to go back to 1977 to find the last time the Keydets won more than six games in a season and 1959 to find the last time they won more than seven.  Never have they won 10 games. They went 9-0 in 1920 and 9-1 in 1923 and that's about it. Needless to say, success isn't party of the VMI football tradition, and last week, they lost to mighty Catawba College, a Division II liberal arts school of 1,300 students, 27-20.
So it's hard to glean much off of Air Force's schedule to date. Sure, they rushed for 457 yards in the opener and racked up 647 total yards, but VMI's defense also allowed 415 total yards to Catawba. For those keeping track, that's more than Michigan's defense allowed to Florida and Cincinnati combined.
Regardless, Air Force features the triple-option offense that military academy teams tend to run, which will most certainly be a challenge for the Wolverines' defense, and they've had two weeks to prepare for just that.
Head coach Troy Calhoun has been very successful in Colorado Springs, with the exception of the 2012 and 2013 seasons when the Falcons went a combined 8-17. Since then, they are 29-12 with a Mountain West Mountain Division title and two bowl wins.
However, last year's schedule wasn't exactly a gauntlet. They beat Abilene Christian, Georgia State, Utah State, Navy, Fresno State, Army, Colorado State, San Jose State, Boise State, and South Alabama. The Boise State win was a big one, keeping the 19th-ranked Broncos out of the MWC title game, but the other nine opponents went a combined 43-69 for a winning percentage of just 38.4 percent.
So how good is Air Force? Who knows. But let's take a look at the matchup.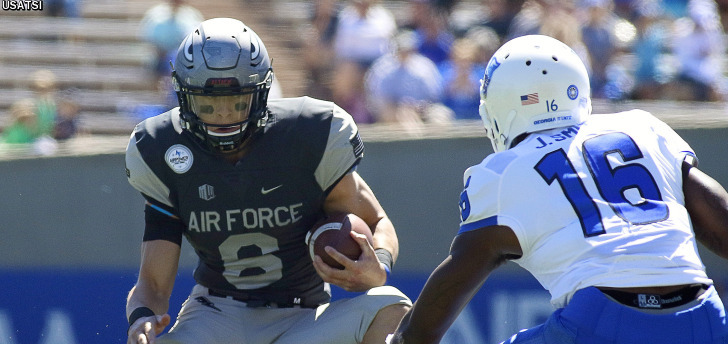 (Ray Carlin, USA Today Sports)
Simply looking at this season's offensive stats is misleading since Air Force has played just one game and it was against the aforementioned VMI squad that can't even beat a liberal arts school the size of my high school. Last season, Air Force ranked 36th nationally in total offense (452.2 yards per game), 30th in scoring (35.2 points per game), third in rushing (317.4 yards per game), and 123rd in passing (134.8 yards per game).
It's no secret that running the ball is the Falcons' forte as they've ranked highly in each of the past four seasons (4th in 2015, 6th in 2014, and 12th in 2013, and 2nd in 2012). A year ago, after a three-game scuffle mid-season, quarterback Nate Romine went down with an injury and Arion Worthman came in and led the Falcons to six straight wins to close the season.
Now the full-time starter even though Romine was granted a medical redshirt, Worthman ran an efficient offense in the season opener. He completed 8-of-12 passes for 172 yards and two touchdowns and rushed 11 times for 33 yards and another score. Romine, meanwhile, went 2-of-2 for 18 yards and carried the ball twice for 32 yards.
The most impressive part of the game was the number of backs that carried the ball. Sixteen different players had at least two carries and the team still averaged 6.8 yards per carry. Granted, the Falcons probably could have pulled someone from the stands and gain positive yards on VMI's defense, but it's impressive nonetheless. Senior running back Tim McVey led the way with 98 yards and a touchdown on 10 carries. He was the team's second-leading rusher last season with 708 yards and 10 touchdowns and entered this season as Air Force's career leader in rushing average at an astounding 8.4 yards per carry. And yes, that average went UP in the season opener.
Michigan's run defense has allowed a total of just 79 rushing yards in two games, holding opponents to an average of less than 1.4 yards per carry.
Fullbacks play a major role in Air Force's option offense and Calhoun had to replace the top two, who carried the ball a combined 20.5 times per game last season. But junior Parker Wilson led all Falcons with 16.0 yards per carry against VMI, racking up 48 yards and a touchdown on just three carries.
While the rushing offense is the bread and butter, the passing offense does just enough to mix it up — and nothing more. The Falcons threw just 150 passes in all of 2016. By comparison, Michigan threw 370 passes and has already thrown 55 through two games this season. Air Force had just one game last season of 20 or or more pass attempts (24) and eight games of 10 or fewer.
But that doesn't mean the passing game doesn't work. In fact, the infrequency of the passing game is precisely why it does work. Air Force averaged 11.68 yards per pass attempt last year and 25.76 yards per completion. Michigan averaged 7.45 yards per attempt and 12.09 per completion. That means the average Air Force pass completion was a quarter of the football field and more than twice that of Michigan.
It wasn't quite that dramatic in the season opener as Air Force threw 14 passes and completed 10 for an average of 13.6 yards per completion, but that's still more than Michigan averaged in 2016. Last year's top receiver is gone, meaning Worthman will have to find a new go-to target. Jalen Robinette's 35 receptions for 959 yards and six touchdowns were by far more than the next closest receiver — McVey — who had just eight for 193 and two. In fact, Robinette's production was two receptions and 166 yards more than all other receivers combined. McVey led the way against VMI with three catches for 77 yards. But sophomore Geraud Sanders made the most of his two receptions, taking them both for touchdowns from 57 yards and five yards out. Junior Marcus Bennett is the other starting receiver and caught two passes for 24 yards.
The offensive line lost a pair of all-Mountain West performers, but has four seniors with starting experience and with the running system that the Falcons have offensive line is essentially a plug and play position in Colorado Springs.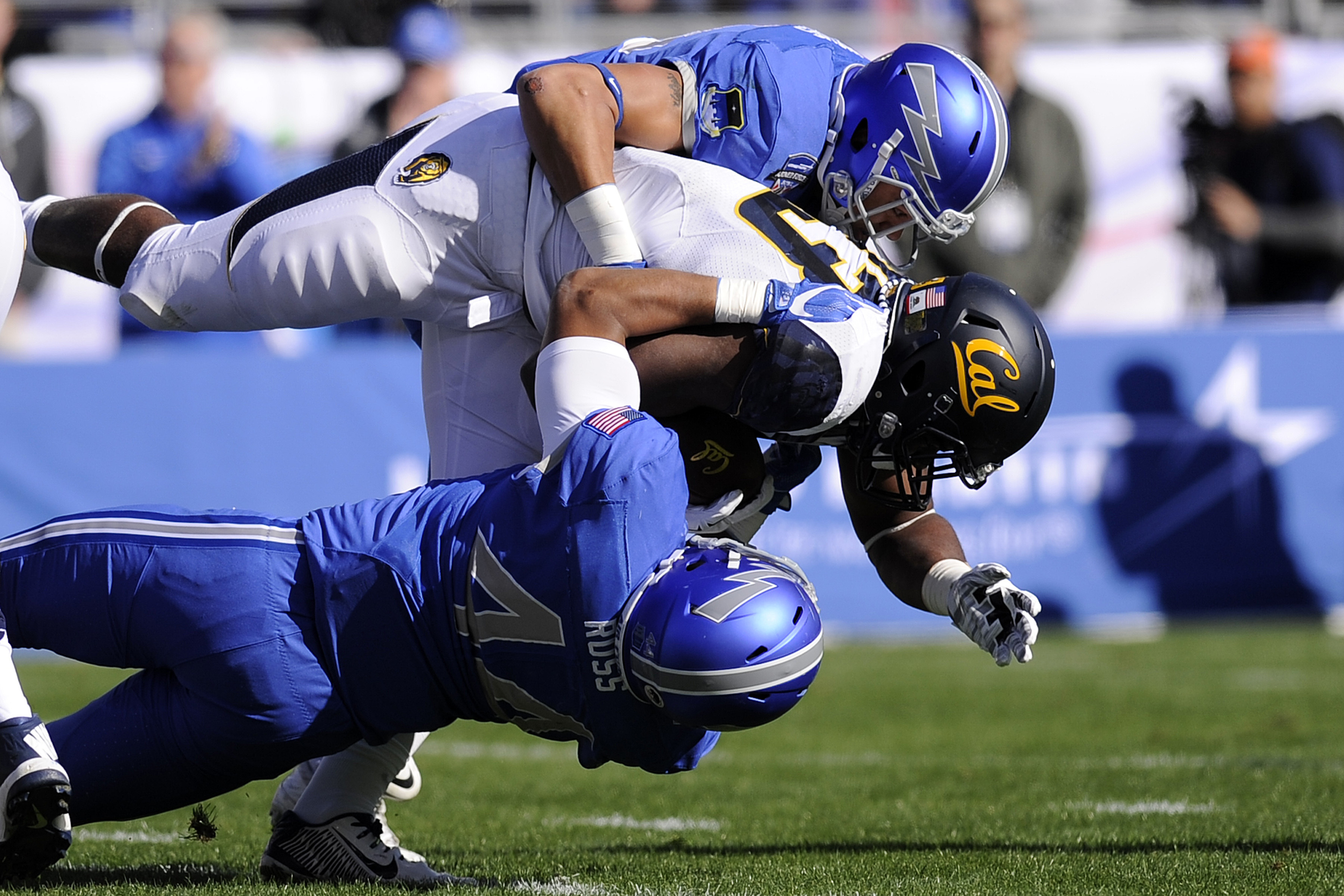 (Mike Kaplan, U.S. Air Force)
The Air Force defense under Steve Russ has been steadily improving since Russ took full reign of the unit after spending 2012 and 2013 as co-defensive coordinator. In 2013, the defense ranked 114th nationally in total defense and 116th in scoring defense. In Russ' first season as the lone defensive coordinator, the Falcons improved to 60th in total defense. In 2015 they were 32nd and last season they maintained that performance at 33rd. However, Air Force ranked 49th in scoring defense last season (26.2 points per game). They ranked 10th against the run (114.2 yards per game) and 94th against the pass (250.7 yards per game).
The bad news for Russ this season is that, like Michigan, he had to replace 10 of 11 starters on the defense. And it wasn't just starters, it was depth as well as 32 seniors departed. Six of the top seven linemen and four of the top five linebackers are gone.
The lone returning starters is senior middle linebacker Grant Ross, who ranked third on the team with 67 tackles and also had 2.5 sacks last season. He has 16 starts under his belt and he recorded three tackles and 1.5 for loss in the opener. Senior Jack Flor is the other middle linebacker and led the team with eight tackles in the opener. He averaged 7.3 tackles per game in three starts a year ago. Senior Ja'Mel Sanders and senior Matt Evans started at the outside linebacker spots but recorded a combined three tackles.
Junior Kyle Floyd is a first-year starter at free safety and nearly matched his career tackles (four) in the season opener (three), while fellow junior Garrett Kauppila played in his first career game against VMI, recording three tackles. Senior Marquis Griffin and junior Robert Bullard are the starting corners. Griffin started two games last season and recorded five tackles, one for loss, and a pass breakup against VMI. Bullard made his first career start and recorded one tackle.
The defensive line is made up of junior nose guard Cody Gessler, senior three-tech Cody Moorhead, and senior weakside end Santo Coppola. The latter is the most experienced returner along the line with seven career starts. He leads all returning linemen with two sacks in 2016 and recored another one against VMI. Moorhead has played in 21 career games entering this season but recorded just two total tackles. He made one in the opener. The VMI game was the career debut for Gessler and he collected one tackle.
Senior kicker Luke Strebel ranked ninth nationally with 1.69 field goals per game a year ago. He made 22-of-25 and all 51 point after attempts, setting a Mountain West record with 22 straight field goals made after missing his first three of the season. He didn't get a chance to kick a field goal against VMI. Sophomore punter Charlie Scott booted two punts for an average of 41.5 yards in his debut.
Junior receiver Ronald Cleveland is back to handle punt returns after averaging 10.7 yards per return in 2016. He had two returns for a total of nine yards to start the season.
Air Force run game vs Michigan rush defense
This may be the only game this season that Michigan's run defense doesn't hold the advantage. Michigan's defense held both Florida and Cincinnati under 100 yards rushing, but Air Force hasn't been held below 100 rushing yards in at least the past two seasons. Last season, their low was 149 yards on just 3.8 yards per carry in a 35-26 loss to Wyoming, a team that finished 92nd nationally against the run. Navy was the only other team to hold the Falcons below 200 yards (173) and Army was the only team to do it in 2015 (196). No matter how good Michigan's run defense is, it will take a major feat to stop the Air Force rushing attack, which leads to…
Air Force pass game vs Michigan pass defense
Air Force

Michigan

 
Michigan's pass defense has the edge here, and I certainly don't expect Air Force to put up many passing yards, but there are two reasons I have this closer than it should be. First of all, Cincinnati exposed a little bit of a weak spot in the Michigan defense last week with some screens that picked up a decent chunk of yardage. Teams will play on the aggressiveness of Don Brown's defense until he can fix it. Secondly, although Air Force doesn't pass often, it makes the most of its pass attempts. I'm slightly worried by Michigan's young secondary getting too lulled to sleep by the run and then giving up big plays through the air.
Air Force rush defense vs Michigan running game
Air Force

Michigan

 
Michigan gets a slight edge here based on how well Ty Isaac has been running the ball, but it remains to be seen whether or not the offensive line can pave the way for a consistent running game. Chris Evans has yet to find much running room and Air Force's defense is geared around selling out to stop the run. The Falcons held eight opponents below 100 yards rushing last season, though they did surrender 373 rushing yards to New Mexico.
Air Force pass defense vs Michigan passing game
| | |
| --- | --- |
| Air Force | Michigan  |
While Air Force sells out to stop the run it makes their pass defense very vulnerable if opposing quarterbacks have enough time to throw. They ranked 94th in passing yards allowed and 83rd in pass efficiency defense last season, allowing nine opponents to throw for 200-plus yards and six to top 300. Wilton Speight has been erratic through the first two games of the season but I have to believe he'll settle down and regain the accuracy that he displayed in the first half of last season prior to his injury at Iowa. As long as the line can keep him clean, Michigan should have the clear edge here.
Air Force special teams vs Michigan special teams
There's not much separating the two teams in the special teams matchup. Air Force has the more experienced kicker who has made 22 straight field goals, while Michigan has a big-legged kicker who doesn't have much experience. He nailed two from 50-plus in the opener against Florida, but also missed two field goals in the same game. Neither team has an experienced punter. Air Force ranked 9th and 19th nationally last season in kick and punt returns while Michigan has new returners.
Air Force

Michigan

 
It's not quite the Jim Harbaugh-Luke Fickell disparity, but I would still give Harbaugh the edge over Calhoun, though the man in Colorado Springs has put together an impressive run. He has carried on the success of his predecessor, Fisher DeBerry, with very few hiccups. It's not easy to sustain success at a service academy, but he has done so, and that warrants respect. It seems Calhoun is rumored for coaching jobs every offseason but he has chosen to remain at his alma mater where he could be a legend someday.
Atmosphere and Intangibles
Air Force

Michigan

 
Air Force won't be intimidated by the Big House, but — assuming the boo birds don't come out again — Michigan has the clear home field advantage. It's also a noon game on the East Coast, which means it's 10am body time for the Falcons. They might not be affected by that as much as other teams, but it has to count for something.
Edge Average: Michigan 6.4 – Air Force 3.6
Score Prediction

: Michigan 33 – Air Force 17
Two good:
• Ty Isaac is held in check but Chris Evans has a breakout game, using his speed to beat the aggressive Air Force rush defense and breaks a long touchdown run
• Wilton Speight hits a few deep balls, doesn't make any major mistakes, and holds off the boo birds for another week
Two bad: 
• Michigan's run defense holds Air Force to its lowest rushing output in the past three seasons but the Falcons still break 100 yards
• Air Force scores two passing touchdowns on an overly aggressive Michigan defense