---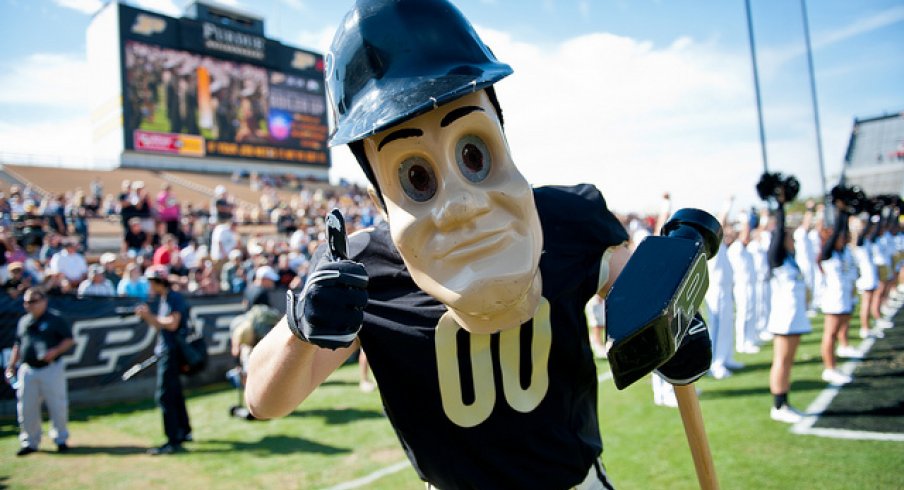 Michigan's offense struggled for the second week in a row but defense and special teams helped the Wolverines to another double-digit victory. Michigan closed out the non-conference slate with five offensive touchdowns, three defensive touchdowns, one special teams touchdown, 11 field goals, and a safety. In other words, the special teams has scored 48 points, the offense has scored 30, and the defense 20.
This Saturday, Michigan faces a stern test in its Big Ten conference opener in West Lafayette. Raise your hand if you thought you'd hear that sentence prior to the season. No one? Ok, let's take a look at how the team's compare through the first fourth of the season.
Purdue & Michigan team stats comparison

Offense
Defense

Average

Rank

Average

Rank

Average

Rank

Average

Rank

35.7

43rd

32.7

57th
PPG

19.7

41st

14.7
24th

519

598

Rush Yds

389

247

173.0

63rd

199.3

41st
Rush/Gm

129.7

53rd

82.3
9th

4.5

4.7

Rush Avg

4.1

2.3

860

608

Pass Yds

734

377

286.7

35th

202.7

84th
Pass/Gm

244.7

83rd

125.7
12th

1,379

1,206

Total Off.

1,123

624

459.7

45th

402.0

72nd
Total Off./Gm

374.3

68th

208.0
5th

13.5

120th

18.0

94th
KR Avg

22.2

94th

15.4
14th

2.6

98th

14.8

18th
PR Avg

9.0

87th

2.0
28th

34:35

12th

31:25

45th
Avg TOP

25:25

28:35

40%

69th

34%

102nd
3rd Down%

35%

50th

24%
13th

8-40

98th

8-41

98th
Sacks-Yds

1-7

129th

13-85
6rd
14

9

TDs

7

5

3-6 (50%)

11-13 (85%)

FG-ATT

4-4 (100%)

3-6 (50%)
13-13 (100%)

1st

9-10 (90%)

39th
Red Zone

9-11 (82%)

60th

3-4 (75%)
35th
10-13 (77%)

1-10 (10%)

 RZ TD

5-11 (45%)

2-4 (50%)
OFEI/DFEI
29.4
66
32.0
49
S&P+
29.9
75
12.8
2
Purdue is 2-1 under first-year head coach Jeff Brohm and has looked surprisingly un-Purdue-like so far. They hung with Louisville in the season opener, leading 28-25 in the fourth quarter before allowing 10 unanswered points in the final nine minutes. In Week 2, the Boilermakers topped Ohio University 44-21, and this past Saturday they traveled into SEC country and whooped Missouri, 35-3. Missouri is hardly the Mizzou of the past decade, but it's becoming clear, neither is Purdue.
Brohm has already topped the 2013 season long win total, tied the 2015 total, and needs just one more win to tie 2014 and 2016's. He has done so with a revamped offense that ranks in the top third nationally in most categories. Last season, in Darrel Hazel's final year at the helm, Purdue ranked 11th in the Big Ten in scoring, but actually led the conference in passing. Three games into 2017, the Boilers are fourth in the conference in scoring, and sixth in total offense — ahead of Michigan in both categories.
Purdue is averaging 11 more points per game so far than they did a year ago, and that's not simply because of schedule strength. Despite playing 16th-ranked Louisville this year — compared to a poorer non-conference slate last year — the Boilers have scored 18 more points than they did in the first three games of 2016.
They've done it with a strong passing game that is averaging 286.7 yards per game and ranks 35th nationally. They threw for 294 yards against Louisville, which is relatively the same as what the Cardinals allowed to 3rd-ranked Clemson this past Saturday. They followed that up with 295 yards against Ohio and 272 against Missouri. What's more is that they've completed 65 percent of their passes with a 10-4 touchdown to interception ratio.
Purdue is less potent on the ground, ranking 63rd nationally with an average of 173 yards per game. That's about 26 yards fewer than Michigan on a per game basis, though they're averaging just 0.2 yards per carry fewer than the Wolverines. Louisville's defense, which ranks 43rd nationally against the run, held the Boilers to just 51 rushing yards on 21 carries in the opener, so there's precedent for Michigan's defense.
Before we get carried away by the success of Purdue's offense in the early season, let's also point out that their two wins came against two poor defensive teams. Ohio ranks 69th in scoring defense, 64th against the run, 70th against the pass, and 65th in total defense. Missouri is even worse at 112th in scoring defense, 91st against the run, 98th against the pass, and 102nd in total defense. Louisville is worse yet, ranking 115th in scoring defense, 43rd against the run, 122nd against the pass, and 104th in total. Granted, the Cardinals have played Clemson, who may very well wind up in the College Football Playoff once again this season.
Defensively, Purdue isn't quite as stout as their offense, ranking 41st in scoring (19.7 points per game), 53rd against the run (129.7 yards per game), 83rd against the pass (244.7 yards per game), and 68th in total defense (374.3 yards per game).
Purdue's defense let Lamar Jackson throw for 387 yards and two touchdowns and rush for another 107 yards in the opener, but held Missouri to just 203 total yards and 70 rushing yards on 2.4 yards per carry. They did, however, give up nearly 400 total yards to Ohio, letting the Bobcats rush for 4.6 yards per carry and pass for 223 yards. Purdue has struggled to get into the backfield with just one sack and eight tackles for loss through three games. By comparison, Michigan has 13 sacks and 27 tackles for loss so far.
Unlike the Air Force matchup, Michigan will face a more traditional offense this Saturday, but that doesn't mean it will be easy. It will be the best passing offense the Wolverines' young defense has faced so far this season. Purdue hasn't been great at protecting the quarterback — they've allowed eight sacks just like Michigan has — so expect Don Brown to dial up plenty of blitzes to keep quarterback David Blough out of rhythm.
If Michigan can survive its first road test of the season the Wolverines will head into the bye week at 4-0 with an extra week to prepare for a rivalry game against Michigan State and a pair of road games at Indiana and Penn State the weeks following.