---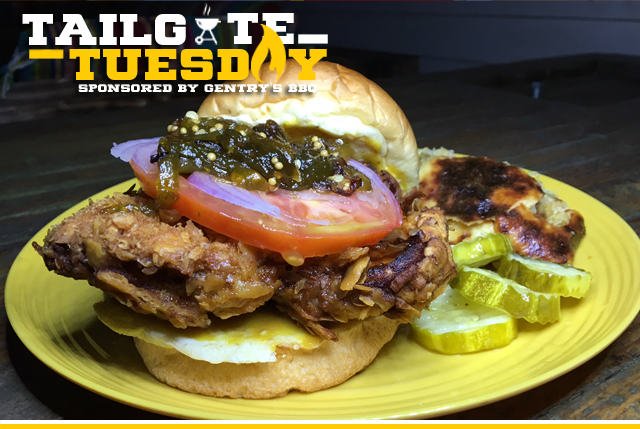 Tailgate Tuesday is our weekly contribution from our resident pitmaster, Joe Pichey from GoBlueBBQ. Joe has limited time this season, so we will be tag-teaming the weekly recipes. These tailgate recipes will be posted each Tuesday throughout the football season and will feature a variety of appetizers, main courses, and sides to help you be the king of your next tailgate. Gentry's BBQ, a Orlando, Fla. based BBQ and catering company, sponsors this season's feature by providing their killer rubs and sauces for use in the recipes. Buy them here. In addition, Fogo Charcoal provides charcoal to use in each recipe. Buy it here.
Previous: Gator kabobs; Steak tacos nortenos with bacon fat flour tortillas; Brisket burnt ends; 
Recipe Archive
Those of you who read this site regularly probably know that I didn't actually go to Michigan. Even though my mom and grandfather are alums and I got accepted, I chose to attend a smaller school on a soccer scholarship. That school was in the state of Indiana, so when I started to think about what type of food I should cook for the Purdue week Tailgate Tuesday that had to do with Indiana, I didn't have to think long.
One of the food items served at the dining commons on campus that I remember the most is this huge, flat, breaded piece of meat sandwiched between buns. It may have had a piece of lettuce and a tomato slice on it, but mostly I remember having to take several bites just to get to anything but breaded pork. It was quintessential Indiana eatin' and although I haven't had one in about 13 years, I decided to try my hand at making one. In an effort to make it taste better than cardboard, I thought I'd top it with Jess Pryles' fire roasted green chili jam (every recipe of her's I've ever tried has been amazing) and pair it with a savory corn casserole.
| | | |
| --- | --- | --- |
| For the sandwich: | For the pepper jam: | For the corn casserole: |
| 2 lbs center-cut boneless pork loin | 4 lbs green chiles | 2 TBSP butter |
| 2 eggs | 1 TBSP vegetable oil | 1 large onion, diced |
| 2 cups buttermilk | 1 finely diced onion | 1 bell pepper, diced |
| 2 garlic cloves | 2 TBSP Worcestershire | 2 TBSP sugar |
| Kosher salt & ground black pepper | 2 TBSP yellow mustard seed | 1/4 cup fresh sage |
| 1/4 tsp cayenne | 4 cups sugar | 1 TBSP Kosher salt |
| 2 sleeves of saltines | 3/4 cup cider vinegar | Gentry's Smoke Stack BBQ Rub |
| 2 cups insta flour (Wondra) | 6 oz liquid pectin | 6 corn cobs |
| Gentry's Smoke Stack BBQ Rub | 1 tsp salt | 1/2 cup yellow cornmeal |
| Oil for frying | | 3 eggs |
| Buns and mayo | | 1 1/4 cups milk |
| Gentry's Cakalacki Gold Mustard Sauce | | 1/2 cup heavy cream |
| Sliced tomato, lettuce, red onion, pickles | | 1 cup shredded parmesean |
The pork tenderloin sandwich isn't actually BBQ, which is why I had to throw in the jam and corn casserole to at least add a grilled element to the recipe. Start with your pork loin and cut it crosswise into several equal pieces, about two inches each. Next, slice each piece horizontally in half, but don't slice all the way through. Leave about 3/4 of an inch and then splay it open like a book. Place each piece between two pieces of plastic wrap, but make sure to sprinkle with water to keep the wrap from sticking to the meat. Use a heavy duty pan (a cast iron skillet works best) and pound it as flat as possible. I got mine about a half inch and I wouldn't go any bigger than that.

In a bowl, whisk the two eggs, two cups of buttermilk, crushed garlic, a teaspoon of salt and pepper, and a couple shakes of Gentry's Smoke Stack BBQ Rub. This stuff is a great all-purpose BBQ seasoning that is smoked paprika-forward and works great on pork, chicken, and beef. Cover the flattened pork pieces with this wet mixture and let sit in the fridge for a few hours or overnight.

In the meantime, you can start the chile jam. Toss your whole green chiles onto the grill to char the skin. Let them go until the skin is blistered and black, then place them in a bowl and cover it with plastic wrap and let sit for 15-20 minutes. Next, peel off the blistered skin and discard, but it's ok if you leave a few pieces in. If you want a spicier jam, keep the seeds. If not, discard these too. Chop the softened chiles into small pieces.

In a saucepan, sauté your onions until softened, then add the two tablespoons of Worcestershire, two tablespoons of yellow mustard seeds, 3/4 cup cider vinegar, four cups sugar, one teaspoon of salt, and the diced chiles. Boil rapidly for 2-3 minutes then remove from heat. Add the six ounces of liquid pectin and stir thoroughly. Allow to cool completely then place into jars. It will keep for 3-4 weeks in the fridge.
During this time, you can also start your corn casserole. Place a deep cast iron on the hot grill and melt your two tablespoons of butter. Add the diced onion, diced bell pepper, two tablespoons of sugar, tablespoon of Kosher salt, fresh sage, and a few shakes of Gentry's Smoke Stack BBQ Rub. Cook, stirring often, until the onions are translucent and start to brown. While this is cooking, slice all the corn kernels off of the cobs (make sure to then use a spoon to scrape off all the rest of the sweet guts of the cob). Now add the corn to the skillet and continue cooking for another 10 minutes or so. Then, add the 1/2 cup yellow cornmeal and remove from the grill.

In a separate bowl, whisk together the three eggs, 1 1/4 cups milk, and 1/2 cup heavy cream. Pour this into your corn mixture, stir well to combine, and put back on the grill for about 20 minutes or until it starts to set. If you want, you can either turn your oven's broiler on and toss it in for a couple minutes to brown the top, or keep it on the grill and use a blowtorch to brown the top. This step is not completely needed if you don't have access to these items while tailgating.

Now that your jam and corn are ready, it's time to fry up your pork tenderloins. First, heat the oil in a heavy-bottomed pan until it's 360 degrees. Crush up the saltines. You can do this with your hands or throw into a food processor until they form coarse crumbs and place into a shallow dish. Put your insta flour into another shallow dish and sprinkle with your Gentry's Smoke Stack BBQ Rub. Take your pork out of fridge, then one at a time, dredge both sides in the flour, dip back into your buttermilk marinade, then coat with the saltine crumbs. Place it into the hot oil and fry for about three minutes per side until the pork is cooked through. Once it's done, put it onto paper towels to cool slightly and drain excess oil.

Spread both halves of a bun with mayo and Gentry's Cakalacki Gold Mustard Sauce. Place a piece of fried pork tenderloin on, then top with a piece of lettuce, slice of tomato, and slice of red onion. Top with a spoonful of the green chile jam, add a couple of pickles, and enjoy.

Sometimes recipes don't live up to expectations, but this one completely exceeded expectations by all who feasted on them this past weekend. The coarse breading that felt more like what you'd get on fried chicken than what I was used to from my college days of pork tenderloin sandwiches provided great flavor with the Smoke Stack mixed in. The Cakalacki Gold and the green chile jam added a tangy, sweet, and spicy flavor profile, and then the corn casserole on the side provided a nice savory touch to complement it. Sure, these recipes were fairly involved and probably too much for a tailgate, but I would highly recommend for your next "homegate."
Visit Gentry's to purchase their great rubs and sauces. You can follow them on Twitter at @gentrysbbq and you can also follow our resident pitmaster Joe at @mmmgoblubbq.