---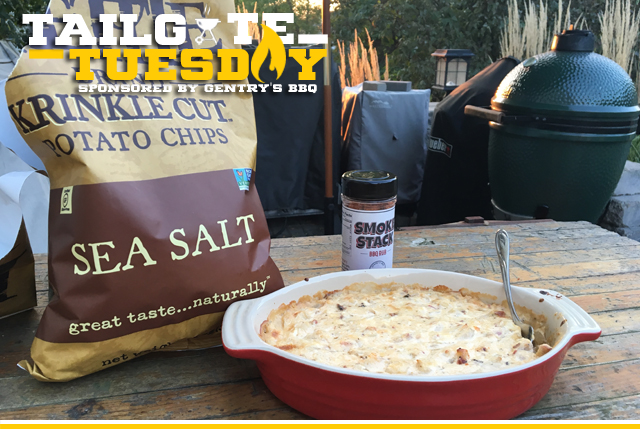 Tailgate Tuesday is our weekly contribution from our resident pitmaster, Joe Pichey from GoBlueBBQ. Joe has limited time this season, so we will be tag-teaming the weekly recipes. These tailgate recipes will be posted each Tuesday throughout the football season and will feature a variety of appetizers, main courses, and sides to help you be the king of your next tailgate. Gentry's BBQ, a Orlando, Fla. based BBQ and catering company, sponsors this season's feature by providing their killer rubs and sauces for use in the recipes. Buy them here. In addition, Fogo Charcoal provides charcoal to use in each recipe. Buy it here.
Previous: Gator kabobs; Steak tacos nortenos with bacon fat flour tortillas; Brisket burnt ends; Fried pork tenderloin sammy with fire roasted green chile jam and savory corn casserole
Recipe Archive
I usually don't post a Tailgate Tuesday during a bye week, but I made this over the weekend and just had to share it with you. After last week's super in-depth "homegating" recipe, I figured I should toss out a much easier one this week. It's quick and easy and will instantly become a tailgate favorite. I introduce you to smoked onion dip.
Ingredients
4 sweet onions
8 oz cream cheese, softened
2 cups sour cream
1 cup mayo
1 block gouda (not smoked)
2 TBSP apple cider vinegar
Salt & fresh ground black pepper
Gentry's Smoke Stack BBQ Rub
Potato chips or sliced baguette
Fire up your smoker between 250 and 300 with your choice of wood. I used a mixture of oak and hickory. You're smoking onions, not tough cuts of meat, so they'll absorb plenty of smoke and you want to be sure not to overpower it.
Peel your onions and cut in half. Sprinkle some Gentry's Smoke Stack BBQ Rub on them and place them in your smoker. Let them sit for two or three hours until they are nice and brown.

You'll want to remove the outer layer of each onion and throw it away. Don't worry, there's still plenty of smoke in them. Let them cool for about 30 minutes so they're easier to cut.

During this time, combine your 8oz cream cheese, two cups sour cream, one cup mayo, two tablespoons of cider vinegar, a few shakes of your Gentry's Smoke Stack BBQ Rub, and salt and pepper to taste. Whisk together or use a food processor to get it nice and smooth. Now slice and dice your onions and them toss them into the bowl and give it another mix until they're fully combined. Sprinkle some more Smoke Stack on top.

At this point, you could eat the dip with some potato chips and it's great. Picture the Lay's French Onion Dip that you buy at the store and this is even better. But if you really want to elevate the experience, toss it into the oven for 30-40 minutes until its bubbling and heated through. If you want to toss it under the broiler for a minute to crisp and brown the top, go for it.

This is a recipe that can be great as is (cold), but then once you heat it up it brings out even more flavor and you'll be licking out the bowl once it's gone.
Visit Gentry's to purchase their great rubs and sauces. You can follow them on Twitter at @gentrysbbq and you can also follow our resident pitmaster Joe at @mmmgoblubbq.