---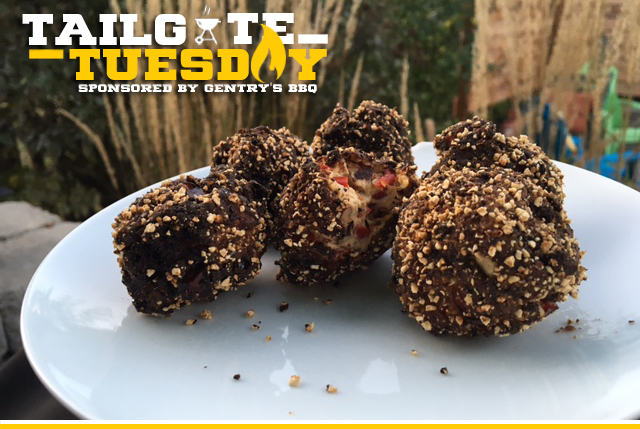 Tailgate Tuesday is our weekly contribution from our resident pitmaster, Joe Pichey from GoBlueBBQ. Joe has limited time this season, so we will be tag-teaming the weekly recipes. These tailgate recipes will be posted each Tuesday throughout the football season and will feature a variety of appetizers, main courses, and sides to help you be the king of your next tailgate. Gentry's BBQ, a Orlando, Fla. based BBQ and catering company, sponsors this season's feature by providing their killer rubs and sauces for use in the recipes. Buy them here. In addition, Fogo Charcoal provides charcoal to use in each recipe. Buy it here.
Previous: Gator kabobs; Steak tacos nortenos with bacon fat flour tortillas; Brisket burnt ends; Fried pork tenderloin sammy with fire roasted green chile jam and savory corn casserole; Smoked onion dip; 
Recipe Archive
For the second straight week I give you an appetizer as our Tailgate Tuesday recipe. This one is a spin on the classic "Atomic Buffalo Turd" or "ABT" as those in the BBQ world like to call jalapeno poppers. This is basically that, but inside out.
Ingredients
10-12 jalapenos
8 oz cream cheese, softened
8 strips of bacon
Panko
Stone ground yellow cornmeal
Gentry's Smoke Stack BBQ Rub
Oil for frying
I had a bunch of leftover jalapenos from my garden that were going to go bad a couple weeks ago so I sealed them in the foodsaver and tossed them into the freezer. Over the weekend, I decided to put them to use. This can obviously be done with fresh jalapenos, but that's all I had at the moment. Start by slicing them in half and removing the seeds. Put them onto a cookie sheet along with your cream cheese and toss into the smoker for a little bit with whatever type of wood you prefer. I used a mix of oak and hickory for this.
I let these go for about an hour and a half. There's not really a set time to smoke for this recipe. Just give it a look and use your best judgment based on the cream cheese. If it's starting to melt, it's done. You want to get a nice smoke coating on it.

While it's smoking, fry up your bacon and chop into little pieces. After the jalapenos are done smoking, dice them up into little pieces as well. Place the smoked cream cheese, jalapenos, bacon, and a few shakes of Gentry's Smoke Stack BBQ Rub into a bowl and mix well until they are all combined. Put the bowl in the fridge for a few minutes to firm up a little bit.

Now it's time to heat up your oil. You want it to be nice and hot. In a separate bowl, mix your panko and stone ground cornmeal. Note: You can also use flour and eggwash mixture as your breading, but I wanted a crunch to it, so I went with panko and cornmeal. Now, take your jalapeno bacon cream cheese mixture out of the fridge and one at a time, scoop some into your hand and roll it around to make a ball. Roll it into your panko mixture and then drop carefully into the hot oil. These don't take long to fry…only a few seconds, so don't go anywhere. After a few seconds, remove and set on a paper towel to cool.

They make a nice, spicy appetizer for any tailgate or homegate. Just make sure your guests know what's in them before they bite into one!