---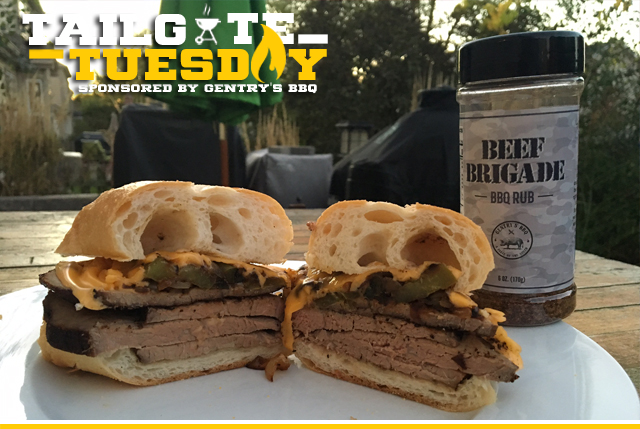 Tailgate Tuesday is our weekly contribution from our resident pitmaster, Joe Pichey from GoBlueBBQ. Joe has limited time this season, so we will be tag-teaming the weekly recipes. These tailgate recipes will be posted each Tuesday throughout the football season and will feature a variety of appetizers, main courses, and sides to help you be the king of your next tailgate. Gentry's BBQ, a Orlando, Fla. based BBQ and catering company, sponsors this season's feature by providing their killer rubs and sauces for use in the recipes. Buy them here. In addition, Fogo Charcoal provides charcoal to use in each recipe. Buy it here.
Previous: Gator kabobs; Steak tacos nortenos with bacon fat flour tortillas; Brisket burnt ends; Fried pork tenderloin sammy with fire roasted green chile jam and savory corn casserole; Smoked onion dip; Jalapeno balls; 
Recipe Archive
One of my favorite lunch spots in Chicago is a small spot in between River West and West Town called Nini's Deli. This place is awesome, and if you go in there tell him Justin sent you. My man Juan serves up Cuban-Mexican fusion cuisine inspired by his parents' ethnic background. One of the items that isn't on his regular menu, but makes an appearance every now and then is his sirloin tip cuban steak sandwich. That's what semi-inspired my recipe this week. It's not the same, but it gave me the vision to try out my own recipe and that became what I'm calling a french dip cheesesteak and it turned out great.
I was going to do this in the Big Green Egg, but Saturday turned out to be rainy, so I decided to toss it into the Sous Vide. If you don't have one, I suggest getting one…you can get a good one for $100-150 these days. I used to think that using a Sous Vide was cheating on my smoker, but I've learned to consider it an essential tool in my BBQ tool belt if you will. It really is convenient — if you have the foresight to plan ahead — and produces some great results. It's almost foolproof.
Start by trimming up your beef roast a little bit. I used an eye of round, a lean, inexpensive cut that works for roast beef. You can use pretty much any cut of beef for this, and if you want to turn it up a notch, use a brisket or top sirloin. But we're going for economy here, so I chose a cheap cut. Give it a nice coating of your Gentry's Beef Brigade BBQ Rub, which is great on beef. It's a salt and pepper based rub with hints of coffee and garlic and it's perfect for any giving a nice bark.

If you have a Sous Vide, then I'd also suggest investing in a FoodSaver so you can vacuum seal the items you cook. It's not mandatory (a Ziplock will work) but it's fun. Put your rubbed roast into the bag along with a sliced onion and several shakes of Worcestershire sauce and vacuum seal it. Get your Sous Vide heated up to anywhere between 130 and 140 degrees, and once the water is to temp, submerge the bag completely. I did mine at 140, which is the bottom edge of medium, and in hindsight would have set it lower because by the time it finished cooking internally after removing and searing, it was well into the medium and probably approaching medium well.

You can let it go anywhere between eight hours and 24 hours. If it's a nicer cut of meat, six or eight hours could be enough, but if it's a cheaper cut, let it go longer to really get nice and tender. Mine was in for about 19 hours before I pulled it. Remove the bag from the water, carefully cut it open without spilling the meat juice everywhere, and sear all sides on a hot cast iron. Save your meat juice in a bowl.

Now sauté your second onion and a green pepper and put your french rolls into the oven to toast a little bit. Then it's time to start building your sandwich. Slice the beef roast and place a nice heaping amount onto the bottom part of the french roll. Top it with some sautéed onions and peppers and then a couple slices of American cheese. Now, leaving the top bun off, put it under the broiler for 30-60 seconds to melt the cheese. Put the top bun on and you're ready to eat.

You can use the reserved meat juice as your au jus and enjoy your combination between a French dip and a cheesesteak. Sure, the Sous Vide took a long time, but this recipe was pretty simple, and well worth the wait.

Visit Gentry's to purchase their great rubs and sauces. You can follow them on Twitter at @gentrysbbq and you can also follow our resident pitmaster Joe at @mmmgoblubbq.