---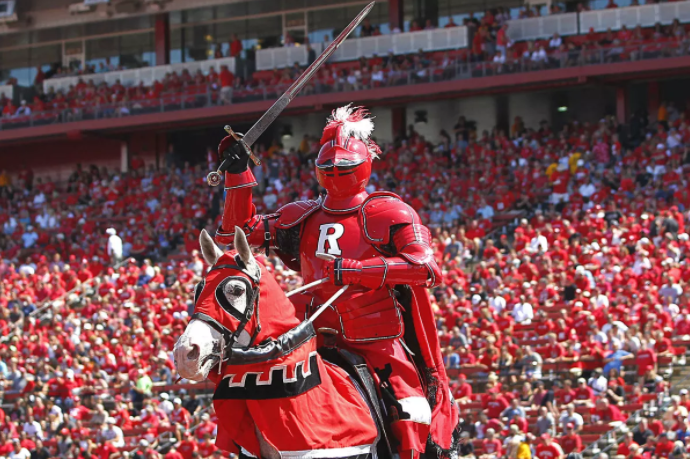 Michigan had a tough task going into Happy Valley to face No. 2 Penn State in front of a whiteout and a national primetime audience. But they were thoroughly embarrassed by a score of 42-13, tying for the worst loss in the Jim Harbaugh era.
Now, the Wolverines get a chance to take out their frustrations on a team they beat 78-0 a year ago. Since Saturday, national pundits and rival fans have enjoyed throwing around the stat that Michigan is currently tied with Rutgers for fourth place in the Big Ten East. The Scarlet Knights have won two straight Big Ten games, ending a 16-game conference losing streak dating back to the first Big Ten game of 2015. Let's take a look at how the two teams compare so far this season.
Rutgers & Michigan team stats comparison

Offense
Defense

Average

Rank

Average

Rank

Average

Rank

Average

Rank

22.6

103rd

25.1

89th
PPG

23.6

51st

18.6
22nd

1,174

1,213

Rush Yds

1,115

739

167.7

62nd

173.3

55th
Rush/Gm

159.3

61st

105.6
11th

4.3

4.1

Rush Avg

4.5

3.2

935

1,314

Pass Yds

1,574

1,110

133.6

121st

187.7

97th
Pass/Gm

224.9

71st

158.6
5th

2,109

2,527

Total Off.

2,689

1,849
301.3

122nd

361.0

97th
Total Off./Gm

384.1

62nd

264.1
5th

14.8

127th

19.9

90th
KR Avg

16.8

11th

14.0
2nd

10.4

32nd

8.1

56th
PR Avg

9.4

91st

8.3
79th

31:11

42nd

33:10

11th
Avg TOP

28:49

26:50
35%

98th

32%

110th
3rd Down%

30%

22nd

23%
1st

6-49

11th

23-151

118th
Sacks-Yds

7-36

122nd

22-156
12th

21

19

TDs

19

16

4-6 (67%)

14-16 (88%)

FG-ATT

11-13 (85%)

6-10 (60%)

19-23 (83%)

72nd

19-20 (95%)

8th
Red Zone

21-22 (95%)

125th

14-17 (82%)
65th
15-23 (65%)

8-20 (40%)

 RZ TD

12-22 (55%)

11-17 (65%)

1.52

122

1.82
103
OFEI/DFEI

1.88

60

0.96
6

20.7

117

26.2
85
S&P+

22.8

33

17.5
14
Rutgers still isn't anywhere close to competing for the Big Ten East, but in Year 2 of the Chris Ash era they are ahead of where they were last season. The offense is one of the worst in college football — yes, even worse than Michigan's — but the defense is halfway decent.
Rutgers ranks approximately midway nationally in nearly every defensive statistic. Their 51st in scoring defense (23.6 points per game), 62nd in rush defense (159.3 yards per game), 71st in pass defense (224.9 yards per game), and 62nd in total defense (384.1 yards per game). They're 60th in DFEI, which measures defensive efficiency adjusted for strength of opponents faced. But they're all the way up to 33rd nationally in defensive S&P+, which measures play-by-play data of five factors: efficiency, explosiveness, field position, finishing drives, and turnovers. By comparison, Michigan's defense ranks 14th in S&P+, so not much ahead of Rutgers.
Does that mean Rutgers' defense is in the same league as Michigan's? Absolutely not. But they are better than their stats indicate. They held Purdue to 12 points in a 14-12 win this past Saturday — the same Purdue team that Michigan let score 10 points — and it took Purdue until 25 seconds remaining to score their first touchdown of the game (they failed the two-point conversion attempt to tie the game). They held Washington to 30 points — their second-lowest output this season — and Eastern Michigan to 13 points — their lowest of the season.
But before we get carried away praising a Rutgers defense, let's also consider that they haven't faced the toughest schedule to date (as noted by the DFEI ranking). Yes, they hung with Washington into the third quarter, but that was the first game of the season which can always be unpredictable. The only other S&P top-50 teams they've faced are Purdue (48th) and Ohio State (1st). And the Buckeyes soundly beat the Scarlet Knights 56-0, nearly matching their 58-0 score from 2016. Ohio State piled up 628 total yards, averaging 6.2 yards per play. Illinois passed for 308 yards two weeks ago and Purdue, despite scoring just 12 points, piled up 474 total yards, so in the last three weeks Rutgers is allowing an average of 499 yards per game. If ever there's a week for Michigan's offense to taste some success it's this one. On the other hand, if the offense struggles, it will truly be time to worry.
On the other side of the ball, Rutgers ranks 103rd nationally in scoring (22.6 points per game), 62nd in rushing (167.7 yards per game), 121st in passing (133.6 yards per game), and 122nd in total offense (301.3 yards per game). Yes, only seven teams nationally rank worse in total offense than Rutgers.
Interestingly, Rutgers actually averages more rushing yards per game than Penn State did entering the Michigan game last week. But much of that is inflated by a 326-yards performance against Morgan State, which ranks 74th nationally in the Football Championship Subdivision (FCS) in rush defense. Against FBS competition, Rutgers is averaging just 141.3 rushing yards per game, which would rank 89th. Except for a 274-yard rushing game against Illinois' 107th-ranked rush defense, Rutgers hasn't topped 131 yards on the ground. They managed just 68 yards on 2.4 yards per carry against Nebraska and 2.9 yards per carry against Ohio State.
The passing game is even worse. Rutgers hasn't reached 200 passing yards in a game this season and has been held below 100 twice. In the last three weeks, they've averaged just 93.7 passing yards per game while completing just 45.6 percent. By comparison, Michigan's passing offense the last three weeks is averaging 140.7 passing yards per game and 50.6 percent completions. That's how bad Rutgers' passing game has been.
If there's one bright spot for the Rutgers offense it is the fact that they've allowed just six sacks through seven games, a figure that ranks 11th nationally. That's 17 fewer sacks than Michigan's offensive line has allowed.
As you can see, Rutgers is slightly improved over last year and has a decent defense and an offense even worse than Michigan's. Given all that has transpired this season I wouldn't expect a repeat of last year's result, but anything but an easy Michigan win this Saturday should definitely be cause for real, legitimate concern.