---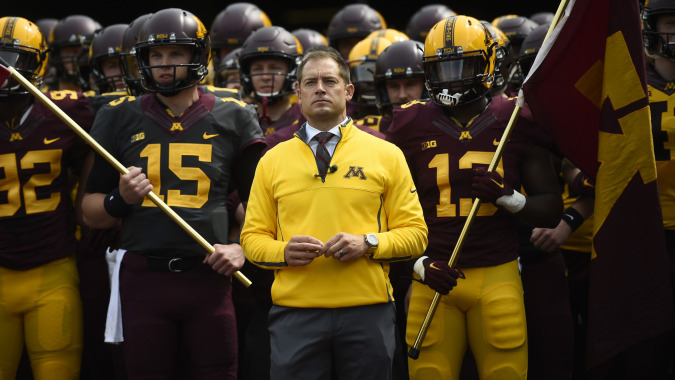 (Gophersports.com)
Michigan got back in the win column last Saturday with a Homecoming victory over Rutgers. Not only that, but they also saw the emergence of Brandon Peters at quarterback, something fans have been clamoring for all season. The redshirt freshman threw just 14 passes (completing 10) for 124 yards and a touchdown, but it was a solid opening performance that warrants a likely start this coming Saturday when Minnesota comes to town for a night game. Let's take a look at how the two teams compare so far this season.
Minnesota & Michigan team stats comparison

Offense
Defense

Average

Rank

Average

Rank

Average

Rank

Average

Rank

25.1

86th

26.4

78th
PPG

18.8

21st

18.0
16th

1,458

1,547

Rush Yds

1,062

833

182.2

47th

193.4

38th
Rush/Gm

132.8

36th

104.1
8th

4.1

4.4

Rush Avg

4.1

3.2

1,251

1,451

Pass Yds

1,472

1,211

156.4

115th

181.4

103rd
Pass/Gm

184.0

23rd

151.4
2nd

2,709

2,998
Total Off.

2,534

2,044
338.6

110th

374.8

87th
Total Off./Gm

316.8

20th

255.5
4th

20.7

73rd

19.8

86th
KR Avg

22.6

94th

15.1
5th

4.5

104th

8.3

57th
PR Avg

5.2

38th

8.3
80th

32:12

24th

33:37

9th
Avg TOP

27:48

26:23
36%

96th

32%

110th
3rd Down%

36%

51st

24%
1st
8-47

11th

24-164

106th
Sacks-Yds

12-60

100th

27-181
5th

24

24

TDs

18

18

11-15 (73%)

14-17 (88%)

FG-ATT

8-13 (62%)

6-10 (60%)

25-32 (78%)

94th

23-25 (92%)

14th
Red Zone

18-22 (82%)

55th

15-18 (83%)
63rd
18-32 (56%)

12-25 (48%)

 RZ TD

13-22 (59%)

12-18 (67%)

2.03

66th

1.91
109th
OFEI/DFEI

1.81

18th

1.33
14th

21.6

116th

27.0
73rd
S&P+

20.7

23rd

19.6
15th
Minnesota is 4-4 so far this season under first-year head coach P.J. Fleck and will be looking to avoid falling below .500 for the first time this season. The Gophers opened with wins over Buffalo, Oregon State, and Middle Tennessee before starting Big Ten play with three straight losses to Maryland, Purdue, and Michigan State. They bounced back with a 24-17 win over Illinois before falling at Iowa last Saturday.
Statistically, Minnesota is a slightly better Rutgers. They rank about 10-20 spots higher nationally in each offensive category and about 20-30 spots higher defensively than Rutgers did entering last week's game. According to S&P+, however, which takes into account efficiency, explosiveness field position, and finishing drives, Minnesota actually ranks one spot lower than Rutgers' offense does, at 116th nationally.
The Gophers rank 86th in scoring (25.1 points per game), 47th in rushing (182.2 yards per game), 115th in passing (156.4 yards per game), and 110th in total offense (338.6 yards per game). The rushing game has been held below 100 yards twice this season — 80 yards on 2.6 yards per carry against Maryland and 74 yards on 2.7 yards per carry against Michigan State. Conversely, they've topped 200 yards rushing four times with a high of 292 yards on 5.3 yards per carry against Illinois' 108th-ranked rush defense two weeks ago. They also rushed for 227 yards on 4.8 yards per carry against Purdue. By comparison, Michigan managed just 139 yards on 3.2 yards per carry — on just three fewer carries — against the Boilermakers.
Minnesota's passing game, however, leaves a lot to be desired, averaging about 25 yards fewer per game than Michigan's. They've thrown for 200 or more yards just three times in eight games with a high of 239 yards in the season opener against Buffalo and they were limited to just 47 yards on 5-of-15 passing against Illinois. In fact, Minnesota hasn't had a game with more than 50 percent completions since Week 3. In the last five weeks, they have completed just 54-of-127 passes, which is a miserable 42.5 percent, for seven touchdowns and seven interceptions.
Like Rutgers last week, Minnesota doesn't allow a lot of sacks. They've given up just eight through eight games, a total that ranks 11th nationally and first in the Big Ten. However, as we saw last week, Michigan's defense doesn't care. The Wolverines nearly matched Rutgers' seven-game sack total last Saturday.
Defensively, Minnesota is pretty solid, ranking above average in the Big Ten in most categories. Nationally, they rank 21st in scoring defense (18.8 points per game), 36th in rush defense (132.8 yards per game), 23rd in passing (184.0 yards per game), and 20th in total defense (316.8 yards per game). They made it through the non-conference portion of the schedule with just 24 points allowed, but they've given up an average of 25.2 per game in Big Ten play.
None of those first three opponents topped 80 yards rushing, but they did average 180 yards in the air and a 56.6 percent completion rate. In Big Ten play, however, Maryland and Michigan State — both of whom have running games slightly worse than Michigan's — found great success on the ground, rushing for 262 and 245 yards on 5.6 and 4.9 yards per carry, respectively. Michigan State did so without a single explosive run — their longest run of the day was nine yards.
Minnesota's pass defense has been pretty consistent, allowing between 120 and 211 yards in seven of eight games. The one outlier was against Purdue, who passed for 307 yards on 12.3 yards per completion with a 69.4 percent completion rate.
Minnesota isn't great on special teams either, ranking 73rd in kick returns, 104th in punt returns, 94th in kick return defense, and 38th in punt return defense. In the kicking game, they've converted 11-of-15 field goal attempts with a long of 49 yards.
This is obviously a game that Michigan should win, especially at home under the lights, but it won't be a complete pushover. The Wolverines should be able to have success on the ground, especially if the offensive line performs like it did last week. As Purdue showed, there is potential to attack Minnesota through the air, but with Peters likely making the first start of his young career don't expect Michigan to open things up too much.