---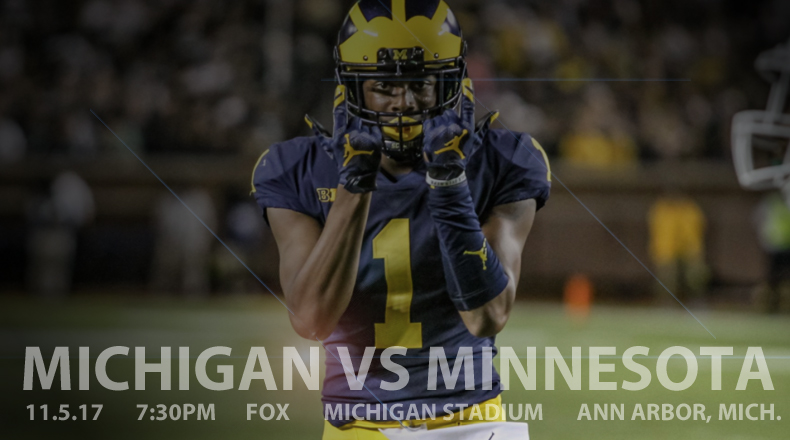 Michigan turned to the future in the second quarter of last week's win over Rutgers, inserting redshirt freshman quarterback Brandon Peters to replace John O'Korn. While Peters wasn't perfect he showed enough potential to give Michigan fans hope — something O'Korn couldn't do.
Quick Facts

Michigan Stadium – 7:30p.m. EST – FOX
Minnesota Head Coach:
PJ Fleck (1st season)
Coaching Record:
34-26 (4-4 at Minn)
Offensive Coordinator:
Kirk Ciarrocca (1st season)
Defensive Coordinator:
Robb Smith (1st season)
Last Season:
9-4 (5-4 Big Ten)
Last Meeting:
UM 29 – Minn 26 (2015)
All-Time Series:
Michigan 74-25-3
Record in Ann Arbor:
Michigan 39-13-1
Jim Harbaugh vs Minnesota
1-0
Last Michigan win:
2015 (29-26)
Last Minnesota win:
2014 (30-14)
Current Streak:
Michigan 1
Record in Little Brown Jug:
Michigan 70-23-2
Minnesota schedule to date
Opponent
Result
Buffalo

W 17-7

at Oregon State

W 48-14

Middle Tennessee

W 34-3

Maryland

L 24-31

at Purdue

L 17-31

#21 Michigan State

L 27-30

Illinois

W 24-17

at Iowa

L 10-17
Peters is likely to get his first start tonight in a FOX primetime matchup with Minnesota. The Gophers are looking to avoid falling below .500 for the first time since PJ Fleck took over. Fleck rose to stardom last season when he took Western Michigan to a MAC championship and a Cotton Bowl appearance where they held their own with Wisconsin.
When Tracy Claeys was fired following the season, Fleck jumped at the chance to take the reigns of a Big Ten West team, a better situation than Chris Ash and DJ Durkin put themselves in with coaching gigs at Rutgers and Maryland in the loaded Big Ten East. If Fleck is able to rebuild the Gophers he'll have a chance to compete with Wisconsin for the division title.
It's not going to happen this year, however, as Minnesota is just 4-4 overall and 1-4 in conference play. They started the season 3-0 with wins over Buffalo (17-7), Oregon State (48-14), and Middle Tennessee (34-3) before dropping their first three conference games to Maryland (31-24), Purdue (31-17), and Michigan State (30-27). They bounced back with a 24-17 win over Illinois before falling to Iowa 17-10 a week ago.
Now, Fleck gets his first taste of the Little Brown Jug, one of the oldest rivalries in college football. Michigan has owned the series, winning 75 percent of the all-time matchups including 40 of the last 44. But Minnesota got the better of the Wolverines the last time they visited Ann Arbor. Fittingly, it was the game that sealed Brady Hoke's fate when Shane Morris was concussed
With a new quarterback behind center Michigan will try to put that behind them and build some momentum heading into the final three games of the season.
Offensively, Minnesota ranks 86th nationally and 9th in the Big Ten in scoring (25.1 points per game), 47th and 4th in rushing (182.2 yards per game), 115th and 13th in passing (156.4 yards per game), and 110th and 11th in total offense (338.6 yards per game).
Quarterback play has been erratic as Conor Rhoda lost his job to Demry Croft two weeks ago. Croft has completed just 42.7 percent of his passes with four touchdowns and four interceptions. In the last two games, he's just 14-of-43 for 186 yards. Michigan's defense will be the best he has faced to date.
The running game, however, has been pretty steady, rushing for more than 200 times in four of eight games. Rodney Smith, who rushed for 1,185 yards a year ago, leads the team with 670 yards on 4.3 yards per carry.
Defensively, Minnesota ranks 21st nationally and 6th in the Big Ten in scoring (18.8 points per game), 36th and 7th against the run (132.8 yards per game), 23rd and 4th in pass defense (184.0 yards per game), and 20th and 6th in total defense (316.8 yards per game).
In conference play, the Gophers are allowing a touchdown more per game than their season-long scoring defense indicates. Maryland, Purdue, and Michigan State all scored 30 or more points on the Gophers, while Maryland and Michigan State both found success on the ground, rushing for 262 and 245 yards.
The biggest thing to watch in this game is how Peters handles his first start. He had success coming in as a backup last week when the opponent was not only Rutgers, but had no tape on him. Now, Minnesota has a little bit of tape and can throw things at him that he hasn't seen yet. Can he rise to the occasion against a decent pass defense? Expect Michigan to look to establish the running game and utilize a simpler offense than the first half of the season to give Peters easy reads and greater chance for success.
Defensively, Michigan should be able to stop Minnesota's offense with very little threat of a passing game. Like usual, the Wolverines might give up an early score, but Don Brown's defense will adjust and shut down the Gophers the rest of the way. Michigan wins comfortably.
Score Prediction: Michigan 31 – Minnesota 7