---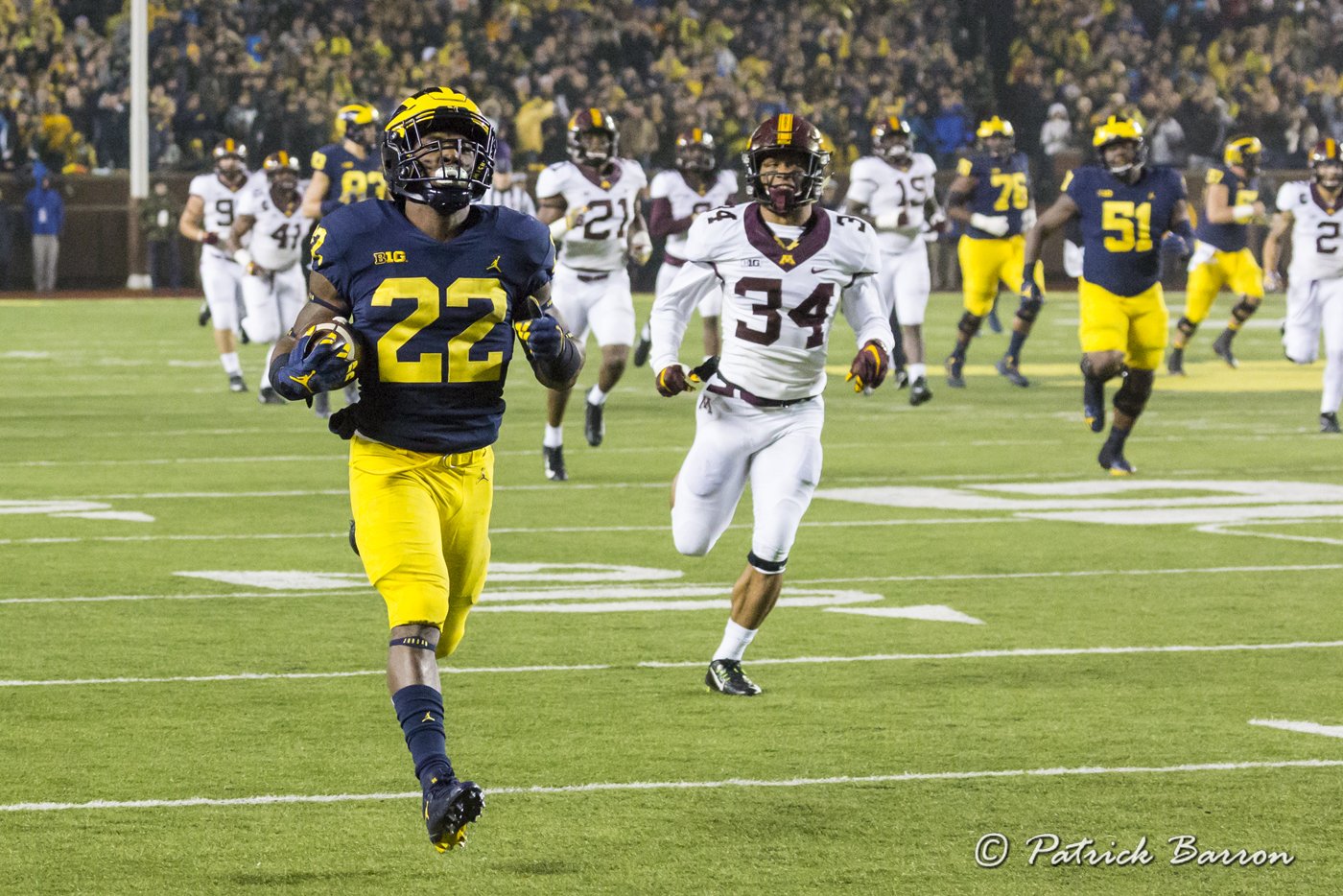 (Patrick Barron)
Redshirt freshman Brandon Peters got his first start, but he didn't have to do much but hand the ball off as Karan Higdon and Chris Evans stole the show, rushing for 393 yards and four touchdowns in a 33-10 win over Minnesota.
Final Stats
Michigan
 Minnesota
Score
33
10
Record
7-2 (4-2)
4-5 (1-4)
Total Yards
427
164
Net Rushing Yards
371
90
Net Passing Yards
56
74
First Downs
14
13
Turnovers
0
1
Penalties-Yards
9-85
3-10
Punts-Yards
5-204
8-388
Time of Possession
27:35
32:25
Third Down Conversions
4-of-11
4-of-13
Fourth Down Conversions
0-of-0
0-of-0
Sacks By-Yards
5-46
3-23
Field Goals
0-for-1
1-for-1
PATs
3-for-4
1-for-1
Red Zone Scores-Chances
2-of-2
2-of-2
Red Zone TDs-Chances
2-of-2
1-of-2

Full Box Score
Storms that swept through the Midwest postponed the start of the game, but in front of a mostly packed Big House Higdon and Evans gave Minnesota a dose of thunder and lightning. The pair became the first duo in Michigan history to rush for at least 191 yards in the same game and Higdon became the first Wolverine to top 200 yards in a game twice in a season since Mike Hart did so three times in 2004.
Higdon wasted no time getting the party started, taking Michigan's second play of the game 47 yards to set up a 20-yard screen pass from Peters to tight end Sean McKeon for a touchdown. After a Minnesota touchdown, Higdon took the second play of Michigan's second possession 77 yards for a touchdown.
Two drives later, Evans got in on the action with an 18-yard run followed by a 60-yard touchdown run to put Michigan ahead 20-7.
It took Michigan a while to get going in the second half, but on their third possession of the third quarter, Higdon scored his second touchdown of the game, this time from five yards out to cap a 9-play, 46-yard drive.
The defense forced a three-and-out and Evans raced 67 yards on the first play of the ensuing possession for another touchdown.
The fourth quarter was all smooth sailing for the Wolverines and fourth-string quarterback Alex Malzone even got to lead a possession. Minnesota tacked on a garbage time field goal to reach the games' final score of 33-10.
All told, Michigan rushed for 371 yards, sacks included, the second straight big rushing week for the Wolverines. They piled up 334 yards on the ground against Rutgers last week.
Higdon finished with 200 yards and two touchdowns on 16 carries (12.5 yards per carry), while Evans tallied 193 yards and two scores on 13 carries (14.7 yards per carry). Peters completed eight of 13 passes for 56 yards and a touchdown. McKeon caught three passes for 30 yards and a score.
Defensively, Michigan held Minnesota to just 164 total yards, 90 on the ground and 74 through the air. But after having a little bit of success early on, the Gophers managed just 36 yards on 28 plays in the second half. Running back Rodney Smith, who rushed for nearly 1,200 yards in 2016, managed just 38 yards on 18 carries (2.1 yards per carry). Sophomore linebacker Khaleke Hudson led Michigan with 13 tackles (11 solo), 7.5 tackles for loss, two sacks, and a force fumble.
Next week, Michigan hits the road to face Maryland (4-5, 2-4) in a 12:30 kickoff on Big Ten Network.
Karan Higdon (16 carries for 200 yards and 2 touchdowns) & Chris Evans (18 carries for 193 yards and two touchdowns)
Higdon gets the nod for the third time this season after notching his second 200-yard rushing game of the season. The sophomore has established himself as the lead back in a crowded backfield the past few weeks, averaging 150.8 yards per game with eight touchdowns in the past month. He's now fourth in the Big Ten in rushing, just 60 yards behind Saquon Barkley on 33 fewer carries, and ranks second in rushing touchdowns behind Wisconsin's Jonathan Taylor.
Not to be outdone, Evans, who most assumed would be the breakout back this season after a promising freshman campaign, had his best game of the season, nearly matching Higdon's big night. Evans had touchdown runs of 60 and 67 and averaged 14.7 yards per carry. It was the first time this season he has topped 100 yards.
Previous:
Week 1 – Quinn Nordin (4-of-6 field goals, 2-of-3 from 50-plus)
Week 2 — Ty Isaac (20 carries for 133 yards, 6.7 yards per carry)
Week 3 — Donovan Peoples-Jones (2 receptions for 52 yards, 2 punt returns for 104 yards and 1 touchdown)
Week 4 — John O'Korn (18-of-26 for 270 yards, 1 touchdown, 1 interception, 5 rushes for 12 yards)
Week 5 — Karan Higdon (12 carries for 65 yards, 5.4 yards per carry, 2 receptions for 33 yards)
Week 6 — Karan Higdon (25 carries for 200 yards, 3 touchdowns, 8.0 yards per carry)
Week 7 — None
Week 8 — Brandon Peters (10-of-14 for 124 yards and 1 touchdown)
Khaleke Hudson (13 tackles — 11 solo — 7.5 tackles for loss, 2 sacks, 1 forced fumble)
For the second time in three weeks Khaleke Hudson takes the defensive game ball. The sophomore was all over the field on Saturday night, harassing Minnesota ball carries in the backfield and sacking quarterback Demry Croft twice. He forced a fumble and set a school record with 7.5 tackles for loss. That performance catapulted him to the top of the Big Ten in tackles for loss and that game all by itself would have nearly been enough to put him in the top 20 in the conference.
Previous:
Week 1 – Devin Bush (7 tackles, 5 solo, 3 tackles for loss, 2 sacks)
Week 2 – Tyree Kinnel (9 tackles, 8 solo, 1 tackle for loss, 1 sack, 1 interception return for touchdown)
Week 3 – Chase Winovich (9 tackles – 3 solo – 2 tackles for loss, 1.5 sacks, 1 quarterback hurry)
Week 4 — Chase Winovich (6 tackles — all solo — 4 tackles for loss, 3 sacks
Week 5 — Maurice Hurst (8 tackles — 6 solo — 2.5 tackles for loss)
Week 6 — Rashan Gary (7 tackles — 3 solo — 2.5 tackles for loss, 1 sack, 2 quarterback hurries)
Week 7 — Khaleke Hudson (4 tackles — 4 solo — 1 tackle for loss, 1 quarterback hurry, 1 pass breakup)
Week 8 — Maurice Hurst (8 tacles — 2 solo — 2 tackles for loss, 1 sack)