---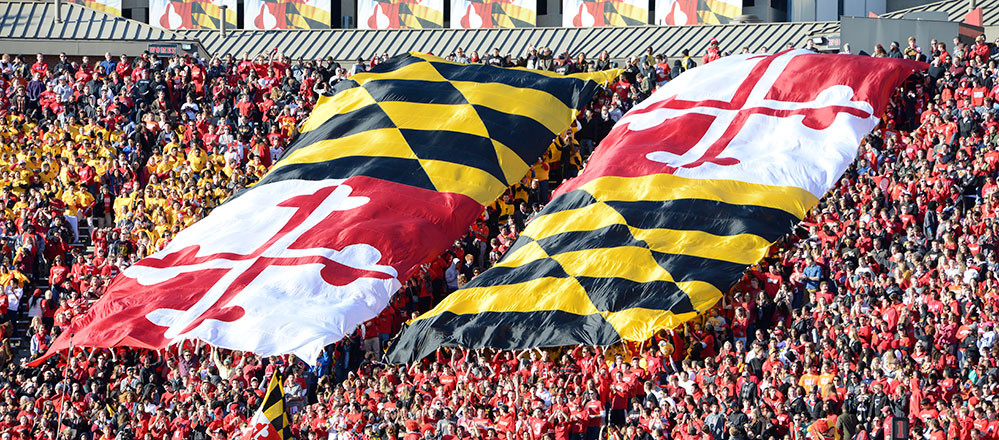 (umterps.com)
Brandon Peters got the start of his career, but last Saturday was all about the running game and the defense. Karan Higdon and Chris Evans combined for 391 rushing yards and four touchdowns, while Khaleke Hudson set a Michigan and Big Ten single-game record with eight tackles for loss, matching the NCAA record. The Wolverines will look to carry that momentum into College Park, Md. when they face Maryland this Saturday afternoon. Here's a look at how the two teams compare so far this season.
Maryland & Michigan team stats comparison

Offense
Defense

Average

Rank

Average

Rank

Average

Rank

Average

Rank

29.9

55th

27.1

73rd
PPG

36.3

115th

17.1
11th

1,553

1,918

Rush Yds

1,573

923

172.6

56th

213.1

29th
Rush/Gm

174.8

77th

102.6
7th

4.5

5.0

Rush Avg

4.5

3.0

1,480

1,507

Pass Yds

2,330

1,285

164.4

114th

167.4

111th
Pass/Gm

258.9

104th

142.8
1st

3,033

3,425
Total Off.

3,903

2,208
337.0

112th

380.6

85th
Total Off./Gm

433.7

101st

245.3
3rd

24.2

22nd

20.0

86th
KR Avg

20.0

53rd

14.6
3rd

12.6

17th

8.2

57th
PR Avg

11.7

108th

7.7
75th

27:27

108th

32:57

13th
Avg TOP

32:33

27:03
32%

115th

33%

113th
3rd Down%

50%

127th

24%
3rd
24-124

108th

27-187

111th
Sacks-Yds

15-75

88th

32-227
3rd

36

29

TDs

43

19

6-10 (60%)

14-18 (78%)

FG-ATT

9-16 (56%)

7-11 (64%)

25-32 (78%)

97th

25-27 (93%)

13th
Red Zone

32-37 (86%)

86th

17-20 (85%)
75th
20-32 (63%)

14-27 (52%)

 RZ TD

28-37 (76%)

13-20 (65%)

2.39

48th

2.31
52nd
OFEI/DFEI

2.82

107th

1.40
15th

26.8

73rd

28.6
58th
S&P+

29.7

88th

19.5
13th
If you thought Minnesota was bad last week, Maryland is even worse — statistically at least. Yes, Maryland beat Minnesota 31-24 to open Big Ten play, but they seem to have gotten worse as the season has progressed, dropping four of their last five and five of their last seven. The only wins in that span have come over Indiana (42-39) and Minnesota. Last week, they lost to Rutgers.
The offense is fairly similar to Michigan's with a decent running game and virtually no passing game. It ranks 55th nationally in scoring (29.9 points per game), 56th in rushing (172.6 yards per game), 114th in passing (164.4 yards per game), and 112th in total offense (337.0 yards per game).
The Terrapins rushed for over 260 yards in three of their first four games, tallying 263 against Texas in the opener, 367 against Towson, and 262 against Minnesota. But UCF held them to just 42 yards on 37 carries in Week 2. Ohio State and Northwestern also held the Terps' running game in check, combining for just 135 yards on 73 carries (1.8 yards per carry).
The passing game hasn't topped 255 yards in a game all season and has failed to reach 175 yards in six of nine games. Against Ohio State, Maryland completed just 3-of-13 passes for 16 yards and it wasn't because the running game was working so well. The Terps managed just 66 total yards that game.
Defensively, Maryland is one of the worst in college football. D.J. Durkin's defense ranks 115th nationally in scoring (36.3 points per game), 77th against the run (174.8 yards per game), 104th against the pass (258.9 yards per game), and 101st in total defense (433.7 yards per game).
UCF, Ohio State, Northwestern, Wisconsin, and Rutgers all rushed for over 200 yards against Maryland. Three of those (UCF, OSU, and Wisconsin) have fairly similarly-ranked running games as Michigan, while Rutgers and Northwestern rank 62nd and 96th, respectively. Opponents are averaging 4.5 yards per carry.
The passing game is even worse. Much worse. Maryland is allowing almost twice as many passing yards per game as Michigan and that's an improvement after holding Rutgers to 107 passing yards last Saturday, although "holding" may not be the right word as the Scarlet Knights threw just 18 passes and found plenty of success on the ground. Indiana passed for 410 yards and Ohio State for 303.
One of the big reasons Rutgers' defense is so bad is that it hasn't been able to get off the field on third downs, allowing opponents to convert 50 percent of the time. They rank ahead of only Oregon State and Eastern Carolina in that category. By comparison, Michigan's defense allows just a 24 percent conversion rate, meaning that they get off the field twice as often as Maryland's defense does.
Another figure that bodes well for Michigan in this one is that Maryland has given up 24 sacks this season, an average of 2.7 per game. It's three less than Michigan's line has allowed and that's good news for a Wolverine defense that ranks third nationally with 32 sacks. In the past two weeks, Michigan has faced offenses that entered that game allowing a total of 14 sacks all season, and the Wolverines got to the quarterbacks 10 times themselves — five each game.
Last week's craziness with Iowa toppling Ohio State and Michigan State taking down Penn State brought an outside shot at at least a share of the Big Ten East title into play. With Wisconsin and Ohio State looming the next two weeks, Saturday's game at Maryland is Michigan's best shot at another win, so expect them to take full advantage of it.