---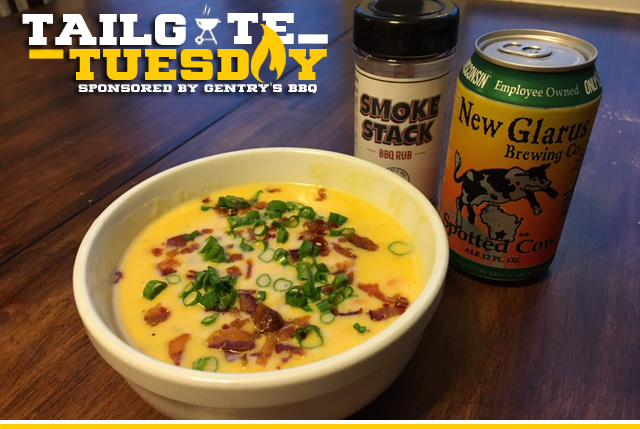 Tailgate Tuesday has traditionally been our weekly contribution from our resident pitmaster, Joe Pichey from GoBlueBBQ. Due to a new job, Joe has had limited time this season, so I have taken the reigns as interim Maize and Go Pitmaster. These tailgate recipes will be posted each Tuesday throughout the football season and will feature a variety of appetizers, main courses, and sides to help you be the king of your next tailgate. Gentry's BBQ, a Orlando, Fla. based BBQ and catering company, sponsors this season's feature by providing their killer rubs and sauces for use in the recipes. Buy them here. In addition, Fogo Charcoal provides charcoal to use in each recipe. Buy it here.
Previous: Gator kabobs; Steak tacos nortenos with bacon fat flour tortillas; Brisket burnt ends; Fried pork tenderloin sammy with fire roasted green chile jam and savory corn casserole; Smoked onion dip; Jalapeno balls; Sous vide french dip cheesesteak; Western style chopped pork and red slaw; Carolina hush puppies; Smoked beef empanadas; Home-cured applewood smoked bacon; 
Recipe Archive
I couldn't let Wisconsin week go by without combining two of my favorite Wisconsin products: beer and cheese. This recipe is an adaptation of the beer cheese soup that Southern Soul BBQ in St. Simon's Island, Ga. makes. I've made it many times and it's always a crowd pleaser, especially on a cold fall or winter Saturday.
Ingredients
1 stick butter
1-2 minced onions
2-3 minced celery stalks
1-2 minced carrots
1 tsp salt
1 tsp white pepper
1/8 tsp cayenne
Gentry's Smoke Stack BBQ Rub
1/2 cup flour
1 cup chicken stock
5 cups whole milk
3 cups sharp cheddar cheese
1 cup monterrey jack cheese
1 TBSP worcestershire sauce
2 cans beer
Chopped green onions
Crumbled bacon
There aren't a lot of steps to this recipe. It's mostly chopping vegetables, shredding cheese (unless you buy pre-shredded), and whisking.
Start by dicing your onions, celery, and carrots. In a large stockpot, melt your butter and add your diced veggies, a teaspoon of salt, a teaspoon of white pepper, 1/8 teaspoon of cayenne, and a few shakes of your Gentry's Smoke Stack BBQ Rub. Sautee your veggies until they are cooked through and starting to soften.

Next, whisk in a half cup of flour, stirring constantly until the whole mixture thickens and turns a medium blonde color. Quickly pour in your warm chicken stock (try not to keep it in the fridge prior to using). This will deglaze your pan. Then whisk in your five cups of whole milk — because we don't use that candy ass two percent! Keep whisking until the whole mixture thickens.
Now reduce your heat to a simmer and add all of your cheese in batches, stirring constantly until it is melted and well incorporated. Once it's fully melted, add a tablespoon of Worcestershire and two cans of beer. Any cheap beer will do, but since it's Wisconsin week I used New Glarus Spotted Cow. If you've never had this stuff, get up to the badger state and pick some up. They make a lot of great beers and they're not sold outside of Wisconsin, but Spotted Cow a cult favorite. Stir it all together and let simmer until it's ready to serve.

Spoon it into soup bowls and serve along with some nice hearty bread and of course some more Spotted Cow. Top with chopped green onions and crumbled bacon — that bacon you made last week will work great! — for even more flavor and sprinkle some more Smoke Stack Rub on top.
Visit Gentry's to purchase their great rubs and sauces. You can follow them on Twitter at @gentrysbbq and you can also follow our resident pitmaster Joe at @mmmgoblubbq.