---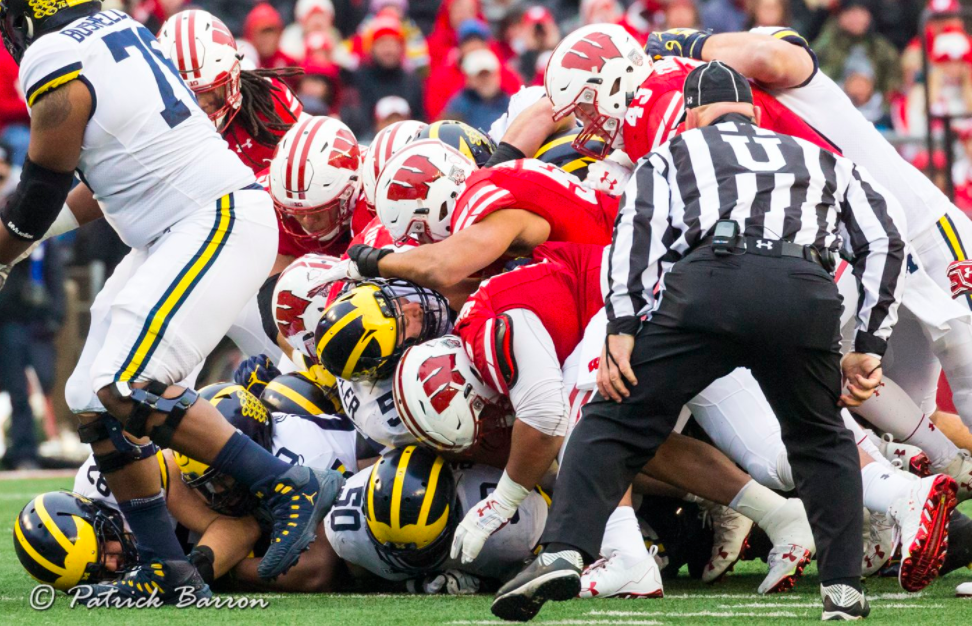 (Patrick Barron)
Michigan hadn't beaten a top 10 team on the road in over a decade but had a 10-7 third quarter lead over fifth-ranked Wisconsin on Saturday. But freshman quarterback Brandon Peters got knocked out of the game with a head injury and from that moment on, the Wolverines were lifeless on both sides of the ball and suffered a 24-10 loss.
Final Stats
Michigan
 Wisconsin
Score
10
24
Record
8-3 (5-3)
11-0 (8-0)
Total Yards
234
325
Net Rushing Yards
58
182
Net Passing Yards
176
143
First Downs
13
14
Turnovers
1
1
Penalties-Yards
4-28
4-35
Punts-Yards
9-363
8-298
Time of Possession
28:15
31:45
Third Down Conversions
5-of-17
5-of-15
Fourth Down Conversions
0-of-1
0-of-0
Sacks By-Yards
2-18
3-18
Field Goals
1-for-1
1-for-1
PATs1
1-for-1
3-for-3
Red Zone Scores-Chances
2-of-3
2-of-3
Red Zone TDs-Chances
1-of-3
1-of-3

Full Box Score
Peters wasn't perfect — he committed his first turnover since assuming the job four weeks ago — but he was running an efficient offense midway through the third quarter. But a big hit in which he was driven to the ground head-first resulted in being carted off the field and taken to a local hospital and it seemed to take all the air out of the Wolverines. John O'Korn went just 2-of-8 for 19 yards the remainder of the game as Michigan's offense couldn't get anything going.
Michigan began the game with a few offensive wrinkles with Chris Evans taking snaps out of the wildcat, but Michigan couldn't sustain drives against the nation's best defense. Likewise, Michigan's defense was holding Wisconsin's offense in check, but the Badgers got a break when Nick Nelson returned a Brad Robbins punt 50 yards for a touchdown.
Two possessions later, Michigan got a 1st-and-goal at the Wisconsin 6-yard line thanks to a 35-yard pass from Peters to tight end Zach Gentry. Karan Higdon gained one yard on first down and Peters found Donovan Peoples-Jones in the end zone on second, but the call was ruled incomplete on the field. Review showed that he got a foot down prior to stepping out of bounds, but the officials ruled that it wasn't conclusive enough to overturn the call. On third down, Peters scrambled to his left and tried to make a play, but fumbled and Wisconsin recovered at the one.
Michigan's defense forced a punt and the Wolverines finally found the end zone in the ensuing possession. Peters connected with Peoples-Jones for 48 yards to set up a 1-yard Ben Mason touchdown run to tie the game at seven.
On Wisconsin's third possession of the second half, Devin Bush intercepted Alex Hornibrook at the Wisconsin 29-yard line, but Michigan had to settle for a 39-yard Quinn Nordin field goal to take a 10-7 lead.
Wisconsin responded with a 7-play, 77-yard touchdown drive that was aided by a dubious pass interference call on Tyree Kinnel on 2nd-and-14 from their own 19-yard line on a play in which the receiver didn't know where the ball was and wasn't even looking back for it as it was thrown behind him. Without that flag, Wisconsin likely fails to convert on third and long and Michigan gets the ball back with the lead.
Instead, Michigan got the ball back trailing 14-10 and three plays later Peters was knocked out of the game. Again, Michigan came up on the wrong side of the flag as none was thrown on Wisconsin's defender for driving Peters into the ground. Michigan was forced to punt and five plays later Wisconsin scored again to take a 21-10 lead.
From there, Michigan gained just 34 yards on three possessions under O'Korn and didn't come close to sniffing the end zone. Wisconsin tacked on a 30-yard field goal to reach the games final score of 24-10.
Michigan had out-gained Wisconsin 200 yards to 170 yards prior to Peters' injury, but gave up 155 yards in the final 20 minutes of the game. Michigan was held to just 58 yards rushing but passed for 176. Peters went 9-of-18 for 157 yards. Evans gained 25 yards on 11 carries, while a hobbled Higdon had 20 yards on seven carries. Peoples-Jones had four catches for 64 yards.
Now 8-3 overall and 5-3 in the Big Ten, Michigan hosts Ohio State (9-2, 7-1) in the regular season finale next Saturday at noon. Ohio State clinched a spot in the Big Ten championship game against Wisconsin with a win over Illinois on Saturday, and although they don't have anything to play for conference-wise, they're still hoping for a spot in the College Football Playoff if they can take care of business against Michigan and then Wisconsin in Indianapolis.
Donovan Peoples-Jones (4 receptions for 64 yards)
This one wasn't obvious as Michigan didn't do much on offense, but it was arguably Peoples-Jones' best game of the season as a receiver. He proved he can be a deep threat with a 48-yard reception in the second quarter and led the Wolverines with four receptions. He also made a nice catch on the touchdown that was ruled incomplete, outjumping a Wisconsin defender on a fade route.
Previous:
Week 1 – Quinn Nordin (4-of-6 field goals, 2-of-3 from 50-plus)
Week 2 — Ty Isaac (20 carries for 133 yards, 6.7 yards per carry)
Week 3 — Donovan Peoples-Jones (2 receptions for 52 yards, 2 punt returns for 104 yards and 1 touchdown)
Week 4 — John O'Korn (18-of-26 for 270 yards, 1 touchdown, 1 interception, 5 rushes for 12 yards)
Week 5 — Karan Higdon (12 carries for 65 yards, 5.4 yards per carry, 2 receptions for 33 yards)
Week 6 — Karan Higdon (25 carries for 200 yards, 3 touchdowns, 8.0 yards per carry)
Week 7 — None
Week 8 — Brandon Peters (10-of-14 for 124 yards and 1 touchdown)
Week 9 — Karan Higdon (16 carries for 200 yards and 2 touchdowns) & Chris Evans (18 carries for 193 yards and 2 touchdowns)
Week 10 — Chris Evans (15 carries for 80 yards and 2 touchdowns, 2 receptions for 29 yards)
Khaleke Hudson (9 tackles — 3 solo — 1.5 tackles for loss, 1.5 sacks, 1 pass breakup, 1 quarterback hurry)
It wasn't quite the performance he put on against Minnesota two weeks ago, but Hudson made an impression in Wisconsin's backfield on Saturday, recording another 1.5 sacks and 1.5 tackles for loss, adding to his Big Ten lead in both categories. He finished the day with a team-leading nine tackles and also added a pass breakup and a quarterback hurry. It was his third game ball in the past five weeks. Hudson has now put up very similar defensive numbers to those Jabrill Peppers put up a year ago. Hudson has recorded 68 tackles, 16 tackles for loss, seven sacks, two interceptions, six pass breakups, four quarterback hurries, and two forced fumbles. Peppers recorded 72 tackles, 16 tackles for loss, four sacks, one interception, eight quarterback hurries, and one forced fumble in 2016.
Previous:
Week 1 – Devin Bush (7 tackles, 5 solo, 3 tackles for loss, 2 sacks)
Week 2 – Tyree Kinnel (9 tackles, 8 solo, 1 tackle for loss, 1 sack, 1 interception return for touchdown)
Week 3 – Chase Winovich (9 tackles – 3 solo – 2 tackles for loss, 1.5 sacks, 1 quarterback hurry)
Week 4 — Chase Winovich (6 tackles — all solo — 4 tackles for loss, 3 sacks
Week 5 — Maurice Hurst (8 tackles — 6 solo — 2.5 tackles for loss)
Week 6 — Rashan Gary (7 tackles — 3 solo — 2.5 tackles for loss, 1 sack, 2 quarterback hurries)
Week 7 — Khaleke Hudson (4 tackles — 4 solo — 1 tackle for loss, 1 quarterback hurry, 1 pass breakup)
Week 8 — Maurice Hurst (8 tacles — 2 solo — 2 tackles for loss, 1 sack)
Week 9 — Khaleke Hudson (13 tackles — 11 solo — 7.5 tackles for loss, 2 sacks, 1 forced fumble)
Week 10 — 4 tackles — 3 solo — 1 pass breakup, 1 interception returned 80 yards)