---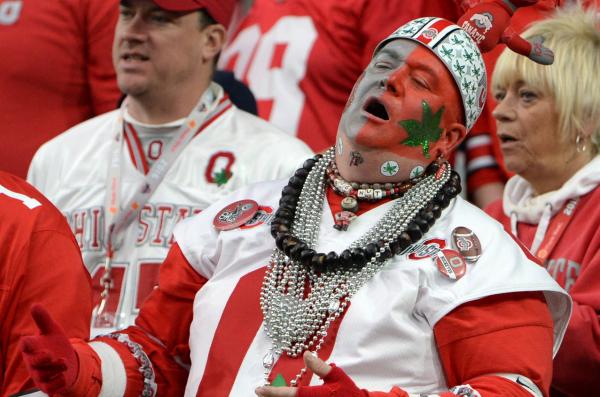 Michigan put up a fight for 40 minutes in Madison last Saturday, leading the fifth-ranked Wisconsin Badgers 10-7 until midway through the third quarter, but disaster struck in the form of a head injury to quarterback Brandon Peters and the Wolverines suffered a 24-10 defeat to drop to 8-3 on the season and 5-3 in Big Ten play. They have one regular season game remaining and it's the big one — the one that is simply referred to as The Game. It presents one last chance to salvage what most consider to be a disappointing season and spoil Ohio State's hopes of a College Football Playoff berth.
Ohio State & Michigan team stats comparison

Offense
Defense

Average

Rank

Average

Rank

Average

Rank

Average

Rank

44.9

3rd

26.3

82nd
PPG

19.8

22nd

17.1
11th

2,778

2,136

Rush Yds

1,254

1,285

252.5

12th

194.2

35th
Rush/Gm

114.0

12th

116.8
15th

6.0

4.6

Rush Avg

3.2

3.4

3,230

1,828

Pass Yds

1,953

1,588

293.6

20th

166.2

111th
Pass/Gm

177.5

15th

144.4
1st

6,008

3,964

Total Off.

3,207

2,873

546.2

4th

360.4

102nd
Total Off./Gm

291.5

8th

261.2
3rd

25.0

15th

19.5

99th
KR Avg

17.6

14th

15.6
2nd

3.8

117h

7.5

63rd
PR Avg

1.0

1st

10.5
100th

28:40

91st

32:02

22nd
Avg TOP

31:20

27:58
50%

4th

33%

112th
3rd Down%

30%

14th

25%
1st
16-96

30th

29-205

102nd
Sacks-Yds

29-208

23rd

36-251
8th

65

35

TDs

29

23

13-15 (87%)

15-20 (75%)

FG-ATT

5-10 (50%)

9-14 (64%)

54-61 (89%)

36th

31-36 (86%)

53rd
Red Zone

23-30 (77%)

22nd

21-26 (81%)
45th
41-61 (67%)

19-36 (53%)

 RZ TD

18-30 (60%)

15-26 (58%)

3.79

2nd

2.27
57th
OFEI/DFEI

1.39

15th

1.35
11th

40.9

4th

27.8
69th
S&P+

18.8

12th

18.1
8th
When everything is clicking Ohio State may have the most upside of any team in the country. But as their two losses indicate, they also may have the lowest floor of any of the teams in contention to make the final four. The Buckeyes have two good wins, both at home, over then-No. 2 Penn State (39-38) and then-No. 12 Michigan State (48-3). But their two losses to then-No. 5 Oklahoma and then-unranked Iowa have come by a combined 46 points.
The Iowa loss was the most surprising as the Hawkeyes took a 31-17 lead into the half and kept piling on in the second, eventually winning 55-24. They have since dropped their last two games at Wisconsin and at home to Purdue by a combined 33 points to fall to just 6-5 overall and 3-5 in conference play. They're simply not a very good team, and yet they handed Ohio State a 31-point loss. In fact, in their two games before the Ohio State game and their two games since, they've combined to score a total of 56 points — one more than they scored against the Buckeyes.
So is there hope for Michigan? Objectively, sure. The Wolverines average about a half a point more than Iowa does, have a slightly better offense, and a considerably better defense. And in a rivalry game like this, anything can happen. But when applying recent history, its hard to imagine Michigan breaking out of the slump that has seen them lose 14 of the last 16 meetings.
This season, Ohio State features one of the nation's most explosive offenses, ranking 3rd nationally in scoring (44.9 points per game), 12th in rushing (252.5 yards per game), 20th in passing (293.6 yards per game), and 4th in total offense (546.2 yards per game).
The Buckeyes have been held below 25 points just twice this season and both were losses — 24 points against Iowa and 16 against Oklahoma. They've scored 48 or more points in eight of 11 games with a high of 62 against Maryland. The only game in which they scored fewer than 48 but more than 24 was the 39-38 come-from-behind win over Penn State.
The running game hasn't been held below 163 yards in a single game this season. Michigan's rush defense, which ranks 15th nationally, allows just 116.8 yards per game and has allowed 163 or more just four times in 11 games, although it has done so in each of the past two. Ohio State has topped 200 yards rushing eight times and 300 yards in each of the last two weeks. The same Michigan State defense that held Michigan to 102 rushing yards on 39 carries yielded 335 yards on 42 carries to OSU.
The passing game isn't quite as good under senior quarterback J.T. Barrett, but it's still dangerous and the Buckeyes' receivers have matured throughout the season. In the two losses, Barrett has thrown a combined five interceptions — four of which came against Iowa — and in the nine wins, he has thrown just three. Iowa and Oklahoma held the Bucks to just 195.5 passing yards per game on just a 53.6 percent completion rate. Those other nine games? He's averaged 315.4 passing yards on a 69.6 percent completion rate.
Michigan boasts the nation's top pass defense, allowing just 144.4 yards per game, and with a healthy Lavert Hill back, they'll present the toughest matchup OSU has faced to date. Michigan has allowed just one opponent — Penn State — to pass for more than 200 yards.
Defensively, Ohio State isn't nearly as good as they were a year ago but they still rank among the nation's best. The Buckeyes rank 22nd nationally in scoring defense (19.8 points per game), 12th against the run (114.0 yards per game), 15th against the pass (177.5 yards per game), and 8th in total defense (291.5 yards per game).
With the exception of two games, OSU's defense has been tough against the run. One of those two, Army, is excusable because they're a service academy that runs a wacky offense like Michigan's defense saw with Air Force. The other was Iowa, who inexplicably rushed for a season-high 243 yards on 6.4 yards per carry. To put that in context, Iowa has rushed for more than 200 yards just one other time (against North Texas) and has been held to just 89 yards or fewer four times.
Ohio State's pass defense has been more susceptible, though it rebounded from a very poor start to the season. In the season opener, Indiana passed for 420 yards and Oklahoma threw for 386 a week later. Since then, Ohio State has allowed more than 200 yards passing just twice and has held three opponents — Army, Maryland, and Illinois — to fewer than 20 passing yards. The exceptions were Nebraska's 27th-ranked passing offense which threw for 349 yards and Iowa's 87th-ranked passing offense that passed for 244.
On special teams, Ohio State is one of the nation's best in kick returns, but one of the worst in the punt return game. They're also among the nation's best at defending both kick and punt returns. Kicking-wise, Ohio State has converted 13-of-15 field goals.
The Buckeyes will be the most talented team Michigan has faced this season, but as Iowa showed three weeks ago, they're beatable. Just how much of a chance Michigan will have will likely depend on the health of Peters.