---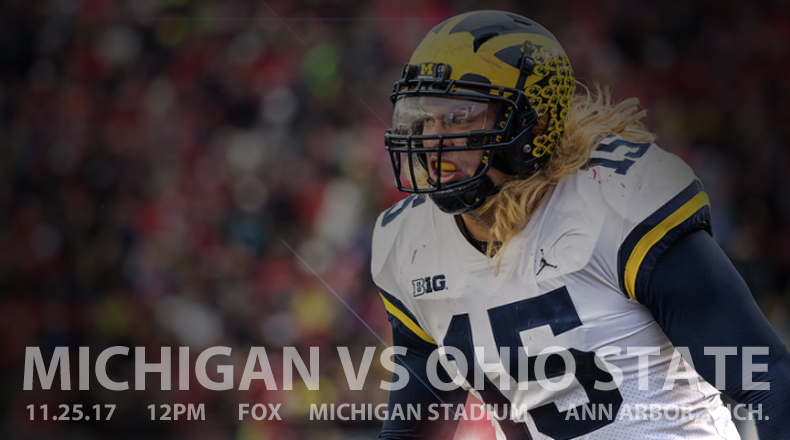 (Patrick Barron)
It seems like just a few weeks ago that we were eagerly anticipating a big season opener against Florida, hopeful of a big win to kick off a good season despite losing nearly every major contributor from 2016. Michigan did win, 33-17, but it raised expectations and set up what has seemed to be a disappointing season to date. Saturday offers one last chance at redemption as Michigan hosts 9th-ranked Ohio State.
Quick Facts

Michigan Stadium – 12p.m. EST – FOX
Ohio State Head Coach:
Urban Meyer (6th season)
Coaching Record:
174-31 (70-8 at OSU)
Offensive Coordinator:
Kevin Wilson (1st season)
Defensive Coordinator:
Greg Schiano (2nd season)
Last Season:
11-2 (8-1 Big Ten)
Last Meeting:
OSU 30 – UM 27 2OT (2016)
All-Time Series:
Michigan 58-49-6
Record in Ann Arbor:
Michigan 31-22-4
Jim Harbaugh vs Ohio State
0-2
Last Michigan win:
2011 (40-34)
Last Ohio State win:
2016 (30-27 2OT)
Current Streak:
Ohio State 5
Ohio State schedule to date
Opponent
Result
at Indiana

W 49-21

#5 Oklahoma

L 16-31

Army

W 38-7

UNLV

W 54-21

at Rutgers

W 56-0

Maryland

W 62-14

at Nebraska

W 56-14

#2 Penn State

W 39-38

at Iowa

L 24-55

#12 Michigan State

W 48-3

Illinois

W 52-14
The national narrative surrounding the Michigan football program has become that the Jim Harbaugh tenure has been a failure and that he may be looking to get out of Ann Arbor. Kirk Herbstreit spewed the nonsense on ESPN College GameDay last Saturday, ESPN anchors discussed if Harbaugh is a candidate for UCLA's opening prior to Michigan's basketball game on Monday night, and Paul Finebaum has been shouting Harbaugh's demise from rooftops all season. Right or wrong, only one thing can change that narrative and that's beating the Buckeyes on Saturday.
Michigan hasn't done so since Brady Hoke took advantage of the Jim Tressel-to-Urban Meyer transition by topping Luke Fickell in 2011. Ohio State has won the last five, though if you ask anyone outside Columbus, J.T. was short last year. Michigan took the Buckeyes to double-overtime in the Horseshoe and appeared to have stopped J.T. Barrett short of the line to gain on 4th-and-1, but it was ruled a first down. One play later, Curtis Samuel scored the game-winning touchdown.
And so has been the torturous past decade and a half for one half of the sport's greatest rivalry. To say Michigan is due for a win and Harbaugh is due for a big rivalry win would be an understatement. But that's not how it works. Whether Michigan has won 14 of the last 16 or lost 14 of the last 16 it doesn't change the fact that they enter tomorrow's matchup as a double-digit underdog and will need to play their best game of the season to pull off an upset.
Ohio State may have the most upside as any team in the country, but they also might have the lowest floor of any of the teams still in contention to make the College Football Playoff. The Buckeyes have one of the nation's most potent offenses and have averaged 50.4 points in their nine wins, but have scored a total of just 40 points in their two losses.
Their performance against Iowa three weeks ago gives Michigan a sliver of hope that even the mighty Buckeyes can have an off day. Michigan averages a half point more per game than Iowa does, has a slightly better offense and a considerably better defense, so if they play well and catch a break or two, anything can happen.
Let's take a look at the matchup.
Last offseason, Urban Meyer did what many Michigan fans hope Jim Harbaugh does this offseason: go out and land a top-notch offensive coordinator. Meyer pulled in Kevin Wilson, who was fired from Indiana following the 2016 season for player mistreatment. Last year's co-offensive coordinator was hired by former offensive coordinator Tom Herman at Texas and the other co-offensive coordinator, Ed Warinner, was let go in favor of Wilson.
Wilson was known as a great offensive mind during his six years in Bloomington. Although he went just 26-47, he constantly featured one of the top offenses in the Big Ten. He was summoned to Columbus to bring back the tempo that Herman installed but Beck and Warinner got away from. All he has done is guide an offense than ranks 3rd nationally and 1st in the Big Ten in scoring (44.9 points per game), 12th and 1st in rushing (252.5 yards per game), 20th and 1st in passing (293.6 yards per game), and 4th and 1st in total offense (546.2 yards per game).
The obvious leader of the Buckeye offense is senior quarterback J.T. Barrett, who is looking to become the first quarterback in the history of the Michigan-Ohio State rivalry to win four games over the other. He's the team's second-leading rusher with 605 yards and eight touchdowns, but his passing acumen has always been his knock. However, he ranks third in the Big Ten with 245.3 passing yards per game and leads the conference with a completion rate of 66.9 percent. He also has a 32-to-7 touchdown to interception ratio, though five of those seven picks have come in the two losses and six of the seven have come in the last three weeks.
Barrett has the fortune of one of the nation's best true freshmen in the backfield. J.K. Dobbins ranks second in the Big Ten in rushing with 99.0 yards per game behind Wisconsin freshman Jonathan Taylor, who rushed for 132 yards on 6.9 yards per carry against Michigan last Saturday. Dobbins is averaging 7.3 yards per carry this season with four 100-yard rushing games, though he has done so just once in the past four weeks and twice since Week 3. He has found the end zone just once in the past month, but he has been sharing the backfield lately with redshirt sophomore Mike Weber, who has topped 100 yards in each of the last two weeks and has scored four touchdowns.
Junior Parris Campbell is the team's leading receiver, averaging 51.8 yards per game, though he hasn't been as much of a factor lately as he was in the early part of the season. He caught six passes for 136 yards and a score in the season opener and also topped 100 yards in Week 4 against UNLV, but has averaged just 2.8 catches for 32.7 yards over the last six weeks. Redshirt sophomore K.J. Hill leads the team in receptions with 49 thanks to a 12-catch, 102-yard performance against Penn State. He averages just 9.5 yards per reception, which is worst among all receivers.
Junior Johnnie Dixon is the big-play guy, averaging 24.3 yards per reception and he leads the team with eight touchdowns on just 17 receptions. But the oft-injured Dixon missed the Michigan State game two weeks ago and didn't catch a pass last week. Junior Terry McLaurin and sophomore Binjimen Victor have combined for 12 touchdowns and nearly 700 yards receiving.
While the Ohio State offense is operating under a new coordinator this season, the defense is in its second year under former Rutgers head coach Greg Schiano. His defense is good this season, but not quite as good as it has been in recent years. It ranks 22nd nationally and 5th in the Big Ten in scoring (19.8 points per game), 12th and 4th against the run (114.0 yards per game), 15th and 4th against the pass (177.5 yards per game), and 8th and 3rd in total defense (291.5 yards per game).
The strength of Ohio State's defense — like usual — is the defensive front, led by sophomore end Nick Bosa and senior tackle Tyquan Lewis. Bosa leads the team with 11.5 tackles for loss and five sacks, while Lewis, last year's Big Ten Defensive Lineman of the Year, is close behind with 4.5 sacks. Add in junior end Sam Hubbard, senior tackle Tracy Sprinkle, senior end Jalyn Holmes, and redshirt sophomore tackle Dre'Mont Jones, and it's enough to give Michigan fans nightmares given the Wolverines' troubles with pass protection this season. Like Michigan's, it's a deep and extremely talented defensive line.
Senior linebacker Chris Worley started 14 games at outside linebacker the past couple seasons but moved inside this year and ranks fourth on the team with 43 tackles and five tackles for loss. Junior Jerome Baker and senior Dante Booker are the outside 'backers, though both missed the Michigan State game two weeks ago. With those injuries, Worley moved back to the outside two weeks ago and redshirt freshman Tuf Borland filled in admirably in the middle.
The secondary got picked apart early in the season, but has gotten better as the season has progressed. In the season opener, Indiana threw for 420 yards and the Buckeyes couldn't stop Simmie Cobbs, who caught 11 passes for 149 yards and a touchdown. Oklahoma threw for 386 yards a week later, but OSU's secondary has been much better since. Still, it gave up 244 passing yards to Iowa's 87th-ranked passing offense three weeks ago.
Redshirt sophomore Damon Arnette and junior Denzel Ward are the starting corners and have combined for 66 tackles, five for loss, three interceptions, 20 passes defended, and 17 pass breakups. Sophomore Jordan Fuller and senior Damon Webb are the safeties and the two leading tacklers on the team with a combined 103 tackles. Webb leads the team with three interceptions.
Redshirt junior kicker Sean Nuernberger is dependable, having made 13-of-15 attempts this season with a long of 38. He was the team's kicker as a freshman during the 2014 national championship run, making 13-of-20, but lost the job the next season and redshirted in 2016. Sophomore punter Dru Chrisman was the top-rated punter in the 2016 class and ranks second in the Big Ten with an average of 43.5 yards per game.
Campbell leads the Big Ten in kick returns, averaging 36.6 yards per return with a long of 82, though he hasn't scored a touchdown. Hill is the team's main punt returner, averaging just 3.5 yards per return.
I'm not going to sugar coat it. If Brandon Peters is out tomorrow, I don't give Michigan much of a chance. John O'Korn is a great guy and clearly loves Michigan, but based on what we've seen this season, combined with the offensive line's struggles in pass protection, Ohio State's front seven is going to have a field day.
The hope is that Harbaugh, Tim Drevno, and Pep Hamilton have been able to come up with a few wrinkles that can squeak out some points and help get the running game going. Remember last week when they lined Chris Evans up in the wildcat to no avail? Hopefully that's not the wrinkle tomorrow, but perhaps it was put in against Wisconsin to set up another wrinkle against Ohio State. Who knows, but simply lining up and trying to run at Ohio State isn't going to work without at least some passing threat.
Defensively, Michigan needs to load the box to stop the run while keeping Barrett in sight at all times and forcing him to throw the ball. If he beats Michigan's top-rated pass defense with his arm, fine. But don't let him beat you with his legs. At least one of Barrett, Dobbins, or Weber will likely break a big run, but if the defense can't keep Barrett contained, it's going to be a long day.
I think Michigan holds close through the first half thanks to a strong defense, but fades in the second similar to the Wisconsin game. Ohio State simply has too much firepower to leave on the field for long periods of time if Michigan's offense can't sustain drives.
Score Prediction: Ohio State 31 – Michigan 13