---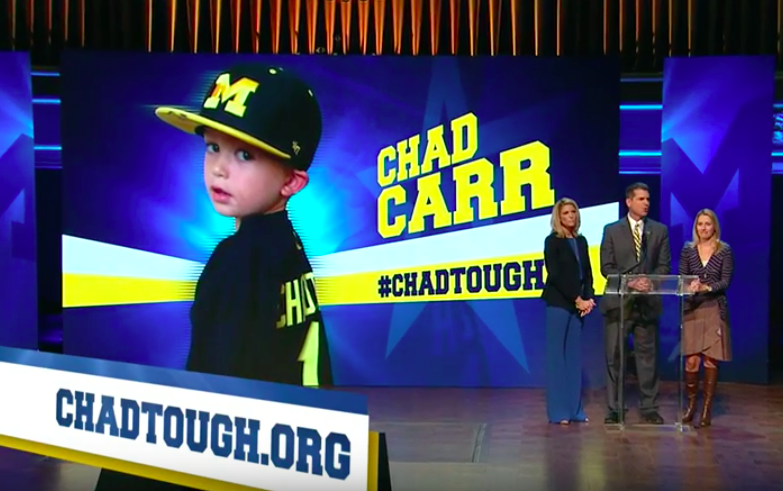 No, Jim Harbaugh didn't get fined $10,000 by the Big Ten this year, but that's not going to stop us from doing good. In partnership with Kerri from SupportUofM, Craig from The Hoover Street Rag, and Brad from Maize & Blue Nation we're out to raise another $10k for The ChadTough Foundation in this now-annual tradition.
Last year's fundraiser set out to match Harbaugh's $10k fine by raising $10k for ChadTough. Not only did we do that through the collective goodwill of the Michigan fan base, but we raised more than $28,000 what all was said and done. And we did that in less than a week!
That was great, but we're of the mindset that we should never stop doing good, so we're doing it again. Tuesday is Giving Tuesday, so we encourage you to donate to the cause. All proceeds will go directly to The ChadTough Foundation.
Last week, the Carr family marked the two year anniversary of Chad Carr's passing as a result of Diffuse Intrinsic Pontine Glioma (DIPG). It's a position no parent ever wants to be in and the goal of The ChadTough Foundation is to fund research and raise awareness of DIPG in hopes of someday finding a cure, or at the very least, treatment. It's already working as Michigan Medicine has gained brain tumor insight from studying Chad's tissue.
Let's once again pull together as one big Michigan family and continue to help fight this awful disease.
Please take a moment to do two things:
1. View the fundraiser page and donate
2. After you donate, share via social media to encourage others to donate as well
Together, we can help make a difference for kids who suffer from DIPG, and maybe someday kids won't have to suffer from it at all.
Go Blue!