---
Do you live in Ann Arbor? Would you like to earn some money during Michigan football weekends? If so, join our partner, Rent Like a Champion, for a happy hour on the back patio of Bar Louie this Thursday to learn how.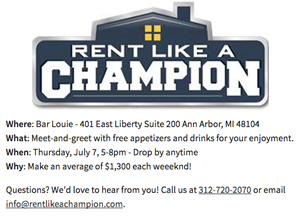 The Rent Like a Champion team will be on hand with some appetizers, an open bar, and a casual meet-and-greet from 5pm to 8pm. They'll be able to answer any questions you have about how to make money by renting out your home to Michigan fans and alums this fall. Current Rent Like a Champion homeowners will also be there to share their experience.
Rent Like a Champion runs a home rental platform similar to that of Airbnb, but focuses on college towns with major football programs. Homeowners can make an average of $1,300 per weekend to rent out their house to football fans, while fans and alums coming to town for fall football weekends can avoid the hassles and discomfort of hotels by renting homes that allow their entire party to stay together under one roof with all the amenities of home.
Rent Like a Champion won an investment from Dallas Maverick's owner Mark Cuban and billionaire Chris Sacca on ABC's "Shark Tank" in 2015.
If you have any questions, you can contact Rent Like a Champion at 312-720-2070 or email info@rentlikeachampion.com.