---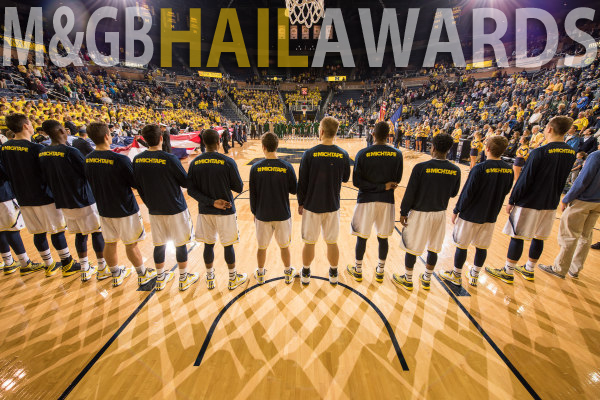 Michigan's basketball season has been over for more than a month and the Wolverines just held their annual awards celebration a couple weeks ago, but we've finally gotten around to handing out our M&GB HAIL Awards. Better late than never, I guess.
After reaching the national title game in 2013 and coming just short of the Final Four last season, the 2014-15 season was a major disappointment. Everybody knew Michigan was due for a letdown after sending five players from those two NCAA Tournament teams to the NBA, but no one expected it to be as bad as it became.
Early season wins over Oregon and Syracuse were fun, and nearly topping eventual No. 2-seed Villanova in the Legends Classing championship game gave Michigan hope for a successful season. But it all came unravelled with back-to-back home losses to NJIT and Eastern Michigan, followed by a 27-point loss at third-ranked Arizona and an 11-point loss to SMU. To make matters worse, Michigan lost its two best players, Caris LeVert and Derrick Walton for the season with injuries.
The Wolverines opened Big Ten play with an overtime win over Illinois on a celebratory night in which new football head coach Jim Harbaugh was honored for his triumphant return. But Michigan had trouble stringing together wins in conference play, beating the teams they were expected to beat — Penn State, Minnesota, Nebraska, Northwestern, and Rutgers — and falling to the teams in the top half of the league. Even so, Michigan had its share of near misses, taking Wisconsin and Michigan State — both Final Four teams — to overtime, but couldn't pull out either of them. Michigan found some fire in the Big Ten Tournament, topping an Illinois squad that was on the NCAA Tournament bubble by 18 points, but Wisconsin ended Michigan's season the next night.
It wasn't the type of season John Beilein, the players, or the fans wanted or expected, but when all was said and done there was plenty to be excited about heading into next season. For one, Michigan shouldn't lose anyone save senior Max Bielfeldt who likely won't get a fifth year. Secondly, the emergence of freshmen Aubrey Dawkins and Muhammad-Ali Abdur-Rahkman should give the Wolverines quality depth in 2015-16, something that likely wouldn't have happened with a healthy LeVert and Walton.
Let's take the time to honor the top players, plays, performances, and moments of the 2014-15 Michigan basketball season.
To revisit last year's HAIL Awards: 2014-15 or our football HAIL Awards: 2014, 2013, 2012, 2011.
Player of the Year

•
Zak Irvin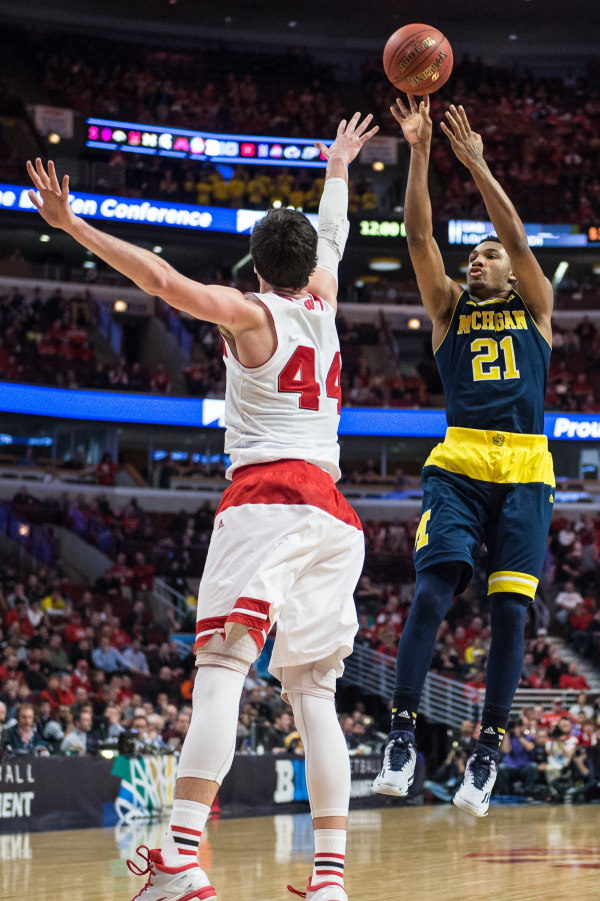 When Nik Stauskas and Glenn Robinson III departed for the NBA following last season, a void needed to be filled and most expected junior Caris LeVert and sophomore Zak Irvin to fill it. And for the most part they did just that. But when LeVert went down with a broken foot midway through the season Irvin had to step up and take on a larger role.
But Irvin hit a month-long slump in which he shot just 34.9 percent from the field and 32.1 percent from three-point range while averaging just 10.8 points per game. Over the final month of the season, however, Irvin hit his stride, averaging 16.9 points per game while shooting 43.4 percent from the field and 37.7 percent from downtown.
"After both Caris LeVert and Derrick Walton went down with season-ending injuries, Michigan had to rely on everyone to step up," said Sam. "It took a little bit longer for anyone to rise to the occasion and seize the opportunity, but by the end of the year, Zak Irvin was undoubtedly the most dynamic player on the team and the one that kept the Wolverines in most games even though the postseason was always going to be a tough proposition."
Votes: 2
Others Receiving Votes: Aubrey Dawkins (1)
Guard of the Year

•

Zak Irvin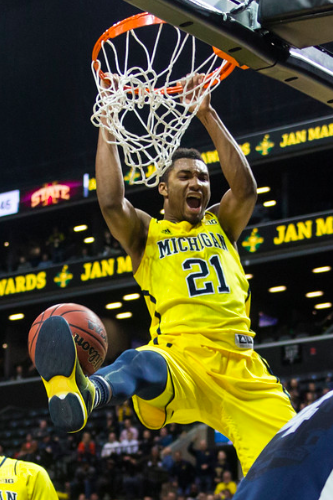 Irvin scored in double figures in all but five games this season and scored 20 or more points five times, including in three of the last nine games. He led the team in points 12 times and in rebounds nine times. He finished second in scoring (14.3 points) behind LeVert, second in rebounds (4.8) behind LeVert, and led the team with 33 steals.
His shooting percentage of 40.2 percent ranked seventh on the team, although he took 184 shots more than anyone else and 212 more shots than anyone other than LeVert. Likewise, his three-point percentage of 35.5 percent ranked sixth, but his 217 attempts were 121 more than the next closest, Spike Albrecht's 96 attempts.
"Last season, Zak Irvin recorded three assists in a game just one, and tallied zero dimes more often than not," said Sam. "This season, it looked like it might be the same Irvin with better hops early on, as the sophomore reached that magic number of three only once over the first three months of the season. Then, the light switch went on, and the Just a Shooter label came off. Over the last 12 games of the year, Irvin dished out at least three assists eight times (including the last six games of the season), while reaching double digit point totals in 10 of those games (with a low of seven points)."
Votes: 2
Others Receiving Votes: Aubrey Dawkins (1)
Big Man of the Year
•
Max Bielfeldt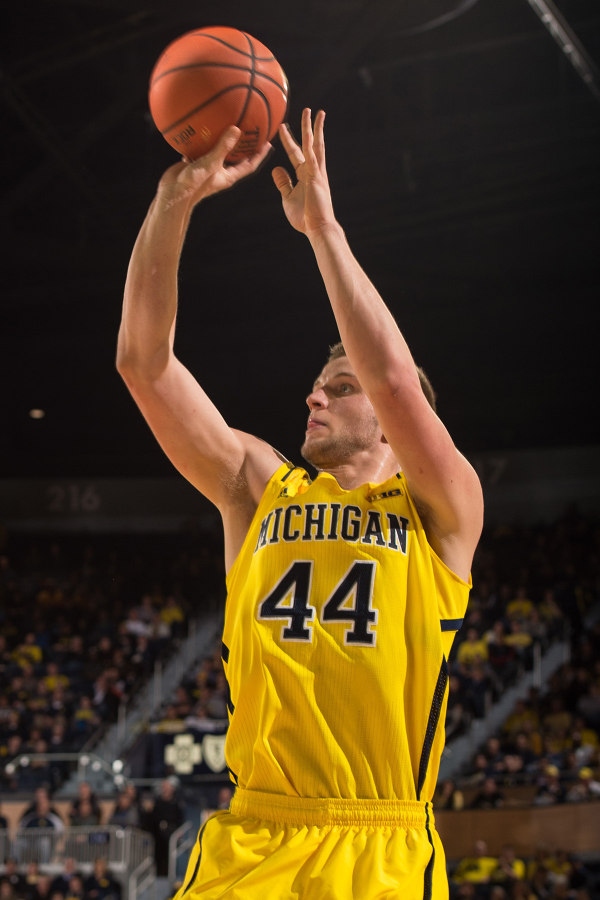 Losing Jordan Morgan to graduation and Mitch McGary to the NBA left a huge hole in the Michigan frontcourt entering this season. Most figured redshirt freshman Mark Donnal to be the logical replacement, but while he began the season as the starter it was obvious he still had a long way to go. True freshman Ricky Doyle succeeded him, and while he had his flashes, his youth and inexperienced was evident. By season's end, it was senior Max Bielfeldt who proved to be the most reliable.
Despite starting just three games — the final three of the season — Bielfeldt took Donnal's minutes and improved as the season went on. He finished seventh on the team in scoring, averaging 5.1 points per game, and fourth in rebounding with an average of 3.6. Despite playing 130 fewer minutes than Doyle, he grabbed 10 more boards to lead all big men. Over the final eight games, Bielfeldt averaged 7.8 points 4.9 rebounds and he went out in style with a 14-point, 11-rebound performance against Rutgers on senior night.
"I can't believe I'm saying this, but Bielfeldt was the most consisten center for Michigan down the stretch," said Derick. "The same guy that couldn't guard a stationary post early in the year became a confident player around the rim and an above average rebounder for Michigan. Though Bielfeldt was never a focus for Michigan on offense, he developed a small, but effective, arsenal of moves and improve dramatically on defense."
Votes: 2
Others Receiving Votes: Ricky Doyle (1)
Defensive Player of the Year
•
Muhammad-Ali Abdur-Rahkman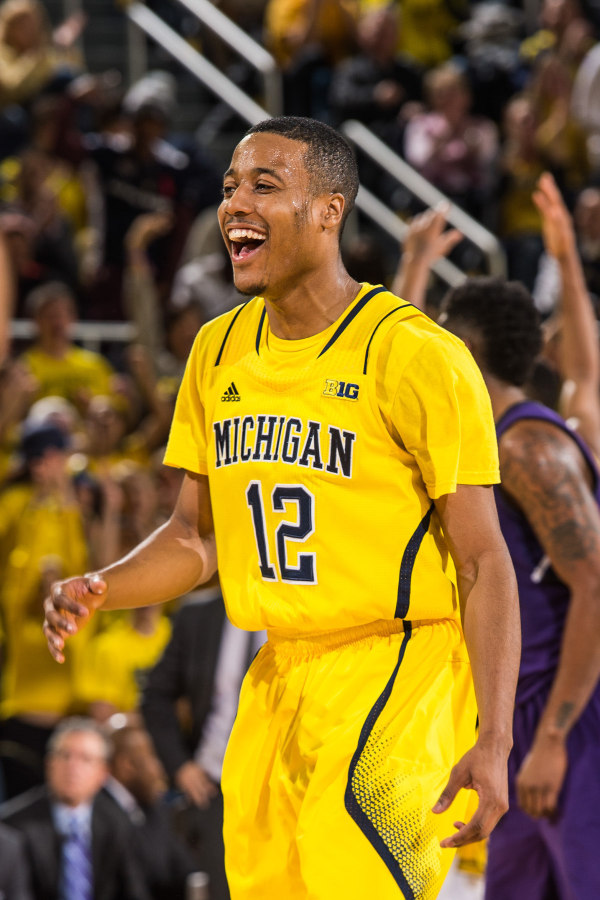 Prior to the season, unheralded freshman Muhammad-Ali Abdur-Rahkman didn't figure into many projections of significant contributors. But the Allentown, Pa. native who — along with Aubrey Dawkins — filled out Michigan's 2014 class, was thrust into action when Derrick Walton Jr. went down for the season with a foot injury.
He made his first career start on Jan. 17 against Northwestern and finished with nine points, five rebounds, two assists, and made the game-winning three. Two games after Walton went down, Abdur-Rahkman broke out with 18 points on 8-of-14 shooting at Michigan State. In Michigan's first Big Ten Tournament game against Illinois, Abdur-Rahkman nearly missed a double-double with 15 points and eight boards.
But it was his defensive prowess that earned him playing time, and by season's end he was called upon to clamp down on the opponent's top guard.
"Defense looked to be the surprising strength of this disappointing season early on before the offense started to flow near the end of the season," said Sam. "John Beilein has still yet to find one of those pesky defensive stoppers throughout his time in Ann Arbor, but it looks like Rahk might have a shot at being the first. The unheralded freshman out of Allentown, PA showed terrific poise in his head-to-head matchup with future lottery pick D'Angelo Russell and was easily the best player on the team at making a simple step-in to stop a potential fast break. I remember watching in awe a few times as Rahk stopped an opponent in his tracks multiple times when it looked like a layup was a sure thing."
Votes: 2
Others Receiving Votes: Ricky Doyle (1)
Game of the Year
•
64-57 win over #24 Ohio State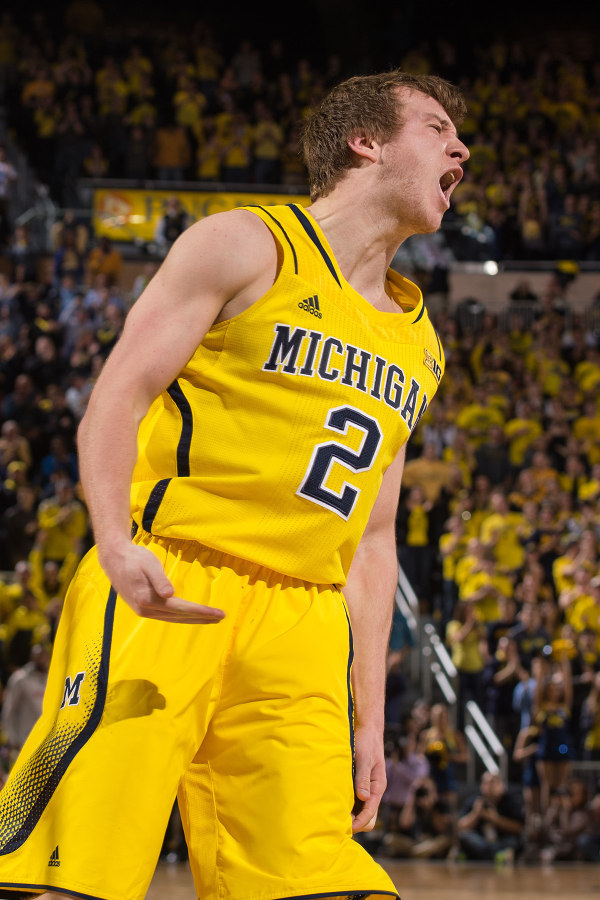 There were plenty of near-misses that could have been game of the year had they swung the other way. Early in the season, Michigan nearly topped 12th-ranked Villanova in the Legends Classic championship game. In Big Ten play, the Wolverines took both Michigan State and Wisconsin to overtime, but fell both times. And in the Big Ten Tournament, Michigan again took Wisconsin to the wire, but couldn't pull it out.
But the one game that Michigan did impress in was a 64-57 win over Ohio State on Feb. 22. Michigan was struggling, losers of five straight, when the Buckeyes came to town, but that didn't stop John Beilein's squad from dominating their rivals. Michigan raced out to a 23-9 lead and led by as many as 20 at 31-11, cruising to a 39-23 halftime margin. Ohio State cut the lead to 10 a few minutes into the second half, and then pulled within three with 6:59 remaining, but a timely Zak Irvin three put a stop to the Buckeye run and Michigan held on for a big win.
Irvin and Spike Albrecht combined to score 31 points on 11-of-22 shooting, 11 rebounds, and nine assists. Muhammad-Ali Abdur-Rahkman held Ohio State star D'Angelo Russell to just 16 points on 15 shots.
"Despite the awful slide to finish the season, Michigan did give fans one great memory: a wire-to-wire dominating win over Ohio State," said Derick. "Michigan jumped out to an early lead and never let go, while holding freshman phenom D'Angelo Russell to one of his least efficient games of the season."
Votes: 3
Others Receiving Votes: None
Play of the Year
•
Derrick Walton three to force OT against Wisconsin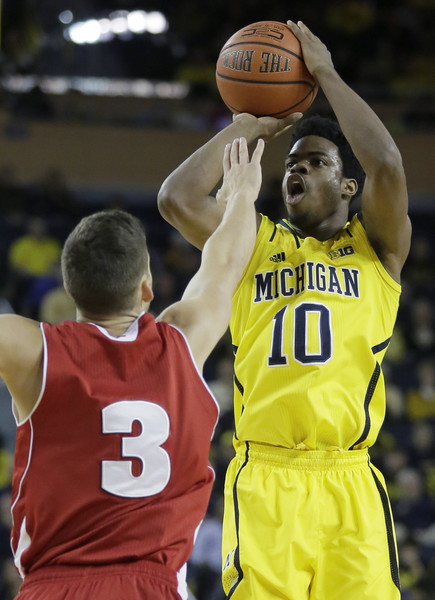 When sixth-ranked Wisconsin came to town in late January, Michigan's season was on the verge of collapse. Losses to NJIT and Eastern Michigan in non-conference play made Michigan's postseason hopes slim barring a great performance in conference play, and although the Wolverines won four of the first six Big Ten games, there wasn't much room for error. To make matters worse, Caris LeVert went down for the season two games prior. A win over the Badgers sans LeVert would be a huge boost.
Michigan started slow, managing just three points through the first six minutes, but took their first lead at 17-16 with 8:53 left in the half. But Wisconsin pulled away to a 30-23 halftime lead. The beginning of the second half was a different story, however, as Michigan used a 15-8 run through the first nine minutes to tie the game at 38. Wisconsin kept threatening to pull away, but Michigan wouldn't back down.
Trailing by three with under 20 seconds left, Derrick Walton Jr. took over. First, he made two free throws with 11 seconds remaining to pull within one, and then, after Wisconsin answers with a pair of free throws, Walton brought the ball up the court. He handed it off to Aubrey Dawkins who went up to shoot, but with a hand in his face, passed it back to Walton. Walton launched a three at the buzzer from the left wing and it found nothing but net to send the game to overtime. Unfortunately, Michigan couldn't prevail, falling 69-64, but Walton's shot was a lone bright spot in a dark season.
Votes: 2
Others Receiving Votes: Albrecht behind-the-back assist to Dawkins vs Illinois in Big Ten Tournament (1)
Performance of the Year
•
Aubrey Dawkins' breakout vs Illinois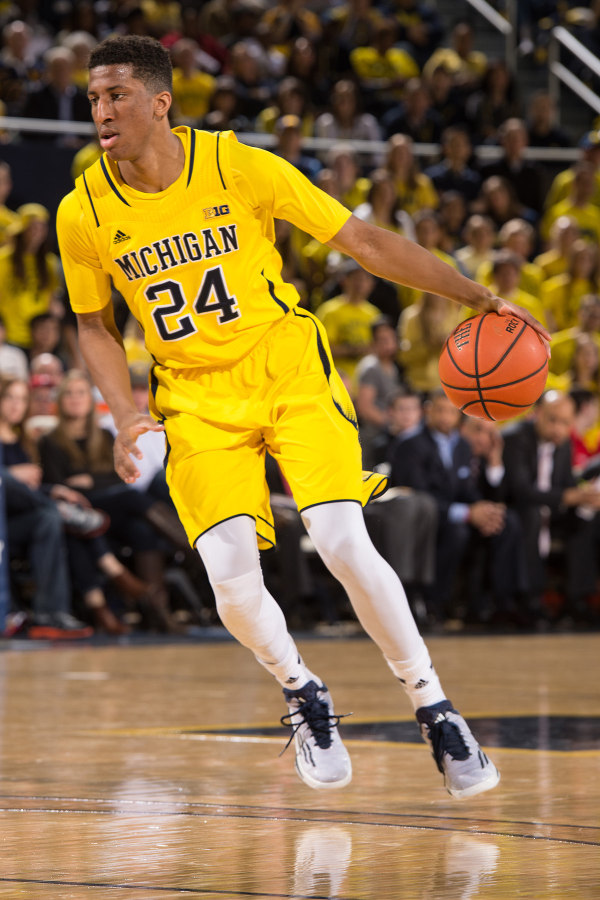 After dropping four of their last five non-conference games, Michigan needed a strong start to Big Ten play. On a festive occasion that saw the Wolverines welcome the return of Jim Harbaugh as head football coach, freshman Aubrey Dawkins led the way.
Dawkins scored 20 points on 6-of-7 three-point shooting and also grabbed five rebounds in a breakout performance. Prior to that game, Dawkins had scored a total of 15 points throughout non-conference play, but his breakout against Illinois set in motion a strong finish to the season for the freshman. From that point on, he averaged 9.7 points per game.
"This is perhaps the most telling category…three of the top "Performance of the Year" options came in losses," said Sam. "I have to go with the one that resulted in a win, wherein Aubrey Dawkins put the team on his back much to the enjoyment of a packed house celebrating the homecoming of Jim Harbaugh and led the team to a huge victory in their Big Ten home opener. He couldn't miss and we couldn't stop oohhing and ahhing."
Votes: 2
Others Receiving Votes: Dawkins' 31 points in regular season finale vs Rutgers
Newcomer of the Year
•
Aubrey Dawkins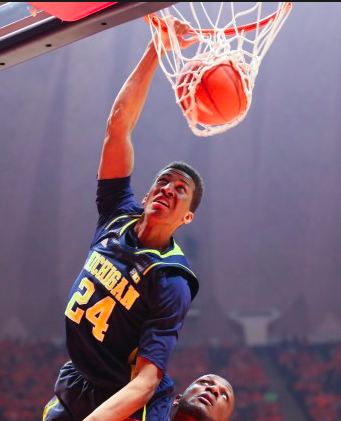 Losing an all-everything point guard to the NBA is never an easy task for any coach, but John Beilein got a superb season out of Derrick Walton Jr. The freshman from Detroit started 36 of the 37 games, averaging 7.9 points, three rebounds, and 2.9 assists per game. Most importantly, he provided a steady presence at the point guard position with nearly twice as many assists as turnovers.
Walton wasn't always counted on to score, but he could certainly do it when needed. His best performance came in the 80-75 win at Michigan State when he scored 19 points, pulled down six rebounds, and dished out four assists. His clutch free throw shooting down the stretch sealed the win. He also recorded a double-double with 13 points and 10 rebounds in the Feb. 11 win at Ohio State and finished the season with a 41 percent three-point rate.
"Zak Irvin had an impactful freshmen season, playing his role to perfection as a scoring threat off the bench," said Drew. "In most years, he would win this award. But it is difficult not to give it to a freshman starting at a position just vacated by the consensus national player of the year. Derrick Walton, Jr. averaged 7.9 points, made 41 percent of his threes, and had the second-highest defensive rebounding rate among Michigan's guards and wings despite being only 6'1″. Most importantly, he did not shy away in big moments, making clutch plays in the final minutes of critical road wins against Nebraska, Michigan State, and Ohio State."
Votes: 3
Others Receiving Votes: None
Those Who Stay Senior of the Year
•
Max Bielfeldt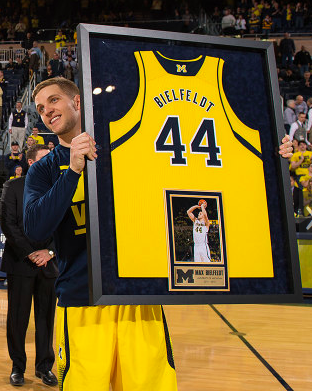 Like Jordan Morgan a year ago, Max Bielfeldt is the default winner of this award because he was the only senior on the roster. But as we mentioned in the Defensive Player of the Year category, Bielfeldt went from little-used big man to the best big man on the team as the season went along. By season's end he was the most trusted man inside, able to come up with a key rebound and score when needed.
On his senior night against Rutgers, Bielfeldt put together the best performance of his career, scoring 14 points and grabbing 11 rebounds for his first career double-double.
While Bielfeldt has a year of eligibility remaining, he was granted his release and will transfer elsewhere, and per Nick Baumgardner, he's down to Iowa State, DePaul, Boston College, and Stanford. However, since John Beilein wasn't able to secure a commitment from his top two targets — Jalen Brown and Kenny Williams — a scholarship remains open for next season and there's a slight chance Bielfledt could choose to remain in Ann Arbor.
Votes: 3
Others Receiving Votes: None
Most Improved Player
•
Zak Irvin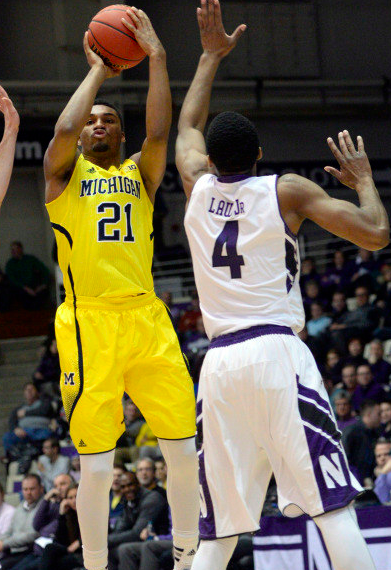 When Nik Stauskas, Mitch McGary, and Glenn Robinson III all departed for the NBA following the 2013-14 season, Michigan needed someone to step up and grab the reigns of the team. Last year's most improved player, Caris LeVert, was the prime candidate with many projecting him a Big Ten Player of the Year candidate. But his season was cut short due to a foot injury. Enter Zak Irvin.
Irvin rose to the occasion after a slow start to the season to steadily improve as the season went along. By season's end he had taken the team on his back and become the all-around player he was expected to be. He finished the season with double figures in eight of the last nine games, averaging 16.9 points per game during that span with three 20-plus games. He finished his sophomore campaign second on the team in points (14.3 points per game) and rebounds (4.8 per game), and shot 35.5 percent from three-point range.
"While I think Aubrey Dawkins and Muhammad-Ali Abdur-Rahkman were the best suprises of the season, Zak Irvin, in my mind, made the greatest improvement," said Derick. "The sophomore entered the season with expectations based solely on the one-year improvements fans saw with Trey Burke, Nik Stauskas and Caris LeVert, but struggled early on. He was a volume shooter with little else to offer, and his defense was among the worst liabilities on the team. But by the end of the season, Irvin's field goal percentage improved, he started finding the big men down low for easy buckets and he even became more active on the defensive end. He became the team's top rebounder and also picked up 13 steals in his  last nine games. If his improvement continues into next season, Michigan fans will see the Irvin they expected a year earlier."
Votes: 3
Others Receiving Votes: None