---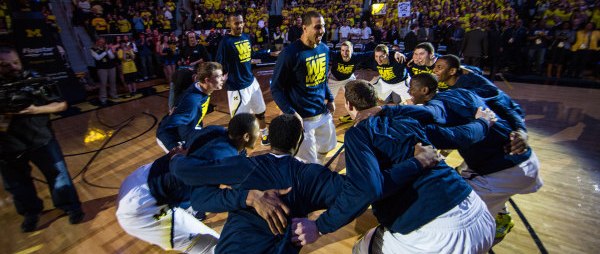 (MGoBlue.com)
With the 2013-14 basketball season in the books and the Michigan Basketball Awards Celebration approaching next week, it's time to hand out our own awards, the M&GB Hail Awards. This is the first time we've done this for basketball, and after doing it for the past three football seasons, we decided it was time to give the boys of the hardwood the same love.
After reaching the national title game and coming up just short a year ago, and then seeing the departures of Trey Burke and Tim Hardaway Jr. to the NBA, a step back in 2013-14 would be expected. But Michigan still had plenty of star power in Mitch McGary and Nik Stauskas, but just 10 games in McGary was lost for the season and the Wolverines stood just 6-4 with an embarrassing loss to Charlotte.
But then something started to click. A three-point win over Stanford in the Brooklyn Hoops Holiday Invitational started a 10-game winning streak that included wins over three straight AP Top-10 teams. Suddenly, a Michigan squad many had written off before December ended was now a Big Ten title frontrunner. And although the Wolverines lost three of their next five, they won the last five down the stretch to pull away from the crowd and win the Big Ten by a whopping three games.
Entering the Big Ten Tournament as the No. 1 seed, Michigan didn't have much to prove and needed only to avoid injuries that could derail another long NCAA Tournament run. John Beilein's squad survived a scare from Illinois in the quarterfinals and completed the season sweep of Ohio State in the semis, but then ran into a hungry and determined Michigan State squad in the championship. But the beauty of it is that the Wolverines still won the season series with the Spartans 2-1.
In the Big Dance, Michigan used its No. 2 seed to its advantage, topping Wofford by 17 points despite a lackluster performance. Texas was up next and the Wolverines answered any questions about their ability to handle a dominant frontcourt, winning by 14. Tennessee presented a similar problem, and after building up a big lead, Michigan committed a flurry of turnovers in the closing minute, needing a heroic charge taken by senior leader Jordan Morgan to pull out the win. The season then came to a close, one step short of a return trip to the Final Four, when Michigan had its hearts ripped out by an NBA-range three from Kentucky's Aaron Harrison.
Although the goal of a national championship was not reached, this Michigan squad still accomplished plenty, including its first outright Big Ten title since 1986. The offense became college basketball's most efficient offense in the past 12 years (the KemPom era). Two straight deep tournament runs proves that Michigan is here to stay, and doing so despite the personnel losses from a year ago are a testament to Beilein's coaching acumen.
Let's take the time to honor the top players, plays, performances, and moments of the 2013-14 Michigan basketball season.
To revisit our football Hail Awards: 2013, 2012, 2011.
Player of the Year

•
Nik Stauskas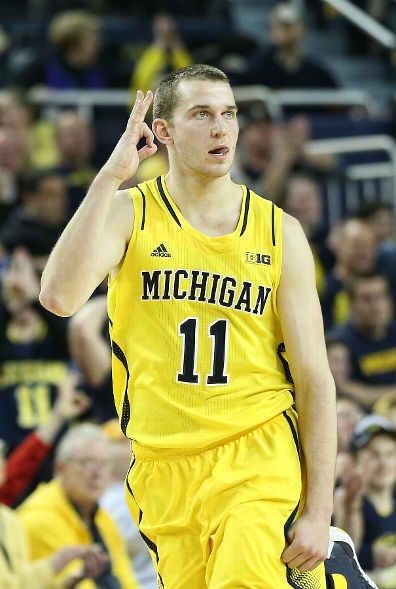 A year ago, Nik Stauskas played the role of sharpshooter, heeding the playmaker role to Trey Burke and Tim Hardaway Jr. He wasn't needed to do much more than stand behind the arc and toss in daggers. But this season, with Burke and Hardaway playing at the next level, there was a void and Stauskas stepped in to fill it.
Everybody already knew he was more than just a shooter, but in his new role, the Canadian was able to flourish, adding a good penetration game and an affinity for finding the open man to his already proven three-point stroke.
All he did was earn Big Ten Player of the Year and AP All-America second team honors while averaging 17.5 points and 3.3 assists per game. He scored in double figures in 32 of the 36 games and scored at least 20 points 14 times. He was named Big Ten Player of the Week a conference-leading four times and Oscar Robinson National Player of the Week once.
"This season was undoubtedly a team effort in every sense of the word, but it's hard to ignore Nik Stauskas's individual improvement and contributions," said Sam. "He was the one that I wanted with the ball in his hands late in the game and, more times than not, he delivered. Take a look at Michigan's losses and then look at the box score. When Stauskas struggled, the whole team usually struggled without his scoring and creating abilities as well."
Votes: 4
Others Receiving Votes: None
Guard of the Year

•

Nik Stauskas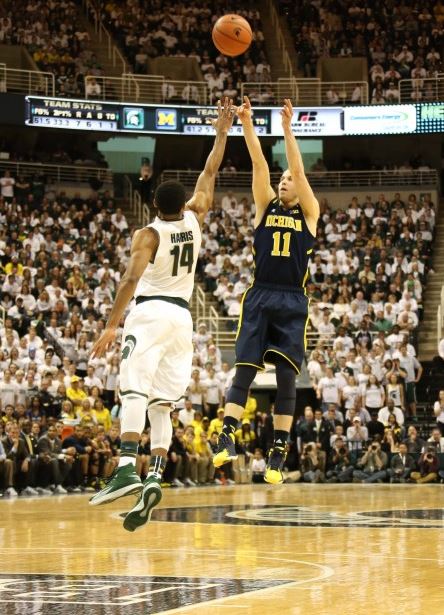 After opening the season with nine points against UMass Lowell, Stauskas scored at least 20 in each of the next five games before being sidelined with an ankle sprain. He was still hampered when Michigan traveled to Duke and managed just four points on two shots, but proceeded to average 18.6 points over the next 12 games.
In three games against Michigan State, he averaged 20.3 points and shot 11-of-16 from three-point range. In the Round of 32 win over Texas, Stauskas scored 17 points and dished out eight assists, and in the Elite Eight loss to Kentucky — what might be his final game in a Michigan uniform — he poured in 24 points. In addition to leading Michigan in scoring, he led the Wolverines in assists, field goals, three-pointers, three-point percentage, free throws made, and free throw percentage.
"Stauskas spearheaded the nation's most efficient offense of the past 12 seasons by being more versatile as a sophomore," said Drew. "He attacked the rim more frequently, attempting more than double the number of free throws he shot last year. He was more effective finding open teammates for easy buckets, especially out of the pick and roll, increasing his assist rate from 7.6 to 18.8 percent. And he still made 44 percent of his triples, proving that, despite his versatility, he will always be most dangerous as a shooter."
Votes: 3
Others Receiving Votes: Caris Levert (1)
Big Man of the Year
•
Jordan Morgan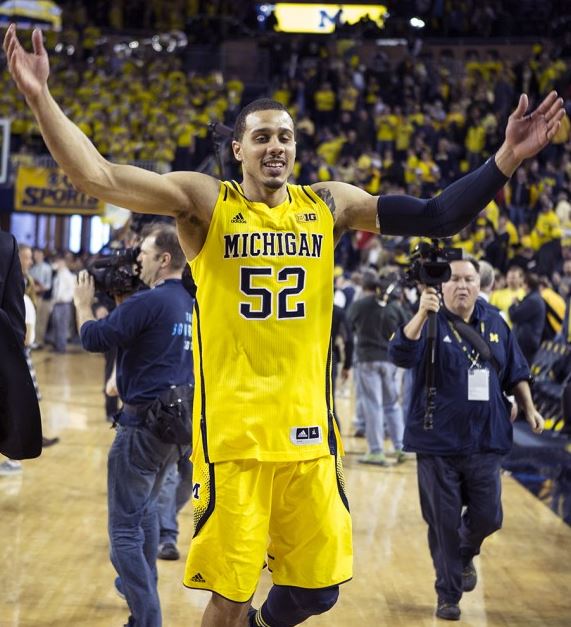 Entering the season, Michigan figured to have one of the Big Ten's best front courts with preseason All-American Mitch McGary and senior Jordan Morgan backing him up. But McGary began the season less than 100 percent and the back injury continued to linger, forcing him to undergo season-ending surgery. As a result, Morgan was thrust back into the starting lineup.
Morgan finished the season with a scoring average of 6.4 points and a rebound average of 5.0, but more than anything, he was a rock inside. The barely-recruited big man from Detroit especially came on late in the season, recording 15 points and 10 rebounds in the regular season finale against Indiana, and averaging 12.8 points and 7.8 rebounds per game in the NCAA Tournament. He also set the all-time Michigan records for single-season  (70 percent) and career (63.1 percent) field goal percentage.
"If you asked me this question in the middle of the season, I would have had a very difficult time picking one player here, but Morgan really solidified himself as one of the premier Big Men not only in the conference but in the whole country by March," said Sam. "JMo's play was all the more impressive when considering the bigger, more athletic opponents Michigan was facing on a day-by-day basis in the tournament."
Votes: 4
Others Receiving Votes: None
Defensive Player of the Year
•
Jordan Morgan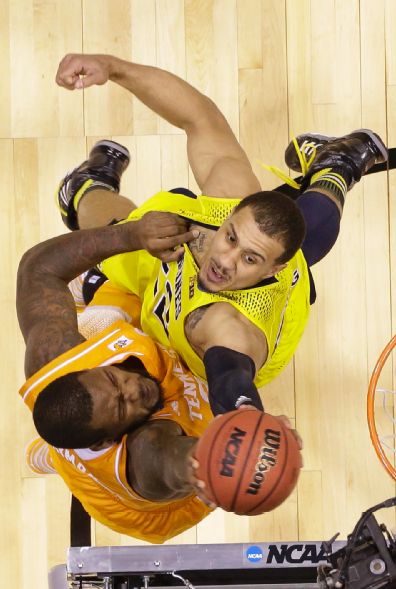 Not only did Morgan provide a reliable offensive threat late in the season, but he also lived up to his reputation as a solid defender. Although he was snubbed from the Big Ten All-Defensive team — which he was a part of last season — Morgan was consistent against some of the best big men in the Big Ten and the country.
No play provided bigger proof of his defensive prowess than his game-saving drawn charge in the closing seconds of the Sweet Sixteen win over Tennessee. With Michigan clinging to a one-point lead with six seconds remaining, UT big man Jarnell Stokes lowered his shoulder as he made his move to the basket. Morgan took the blow, drawing the charge, and giving Michigan the ball back to seal the win.
"They set a screen for him to come open, so I knew that the play was going to be for him," Morgan said of the play. "I just know he likes to play bully ball and was just in a stance ready. I don't know, I just was there. That's just something I do. I take charges. That's just what I do."
"Michigan's adjusted defensive efficiency was 102.1, which was U-M's worst under John Beilein," said Drew. "This was not Jordan Morgan's fault, though. Morgan may not be the biggest or most athletic defender, but he certainly was the smartest. He knew how to play the angles, whether it would be to prevent a post-entry pass or take a last-minute charge. In the NCAA Tournament, Michigan's defense noticeably declined when Morgan sat on the bench. It is a scary thought to imagine the Wolverines' defense this year without Morgan down low."
Votes: 3
Others Receiving Votes: Caris LeVert (1)
Game of the Year
•
79-70 home win over Michigan State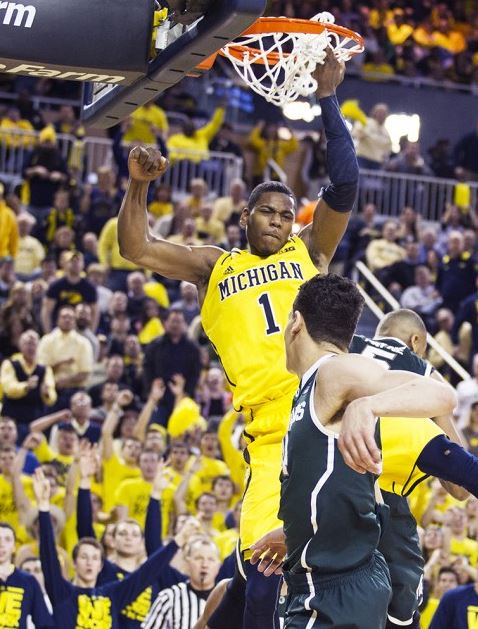 There were certainly plenty of memorable games, but in terms of importance, the Feb. 23 win over Michigan State takes the cake. Michigan had already beaten the Spartans 80-75 in East Lansing a month before, but many discounted it because MSU was missing both Adreian Payne and Branden Dawson. In this one, Payne was back, and the Spartans held a half-game lead over the Wolverines in the conference standings. The winner was in the drivers' seat, while the loser had some catching up to do.
Michigan State jumped out to a 22-11 lead in the first 10 minutes, looking as if the Spartans were going to exact revenge for the previous game. But a Spike Albrecht three ended a nearly-four-minute scoring drought and ignited a 10-0 Michigan run. The Wolverines pulled within two by halftime and then outscored MSU 45-34 in the second half. Stauskas and Caris LeVert combined for 48 points on 16-of-28 shooting as Michigan completed the regular season sweep and vaulted into the Big Ten lead.
"Never before had these two rivals played each other under similar circumstances," said Drew. "Michigan, thanks to 25 points from Nik Stauskas and 23 points from Caris LeVert, overcame an early 11-point deficit and used a 21-4 second-half spurt to beat the Spartans, 79-70. The Wolverines leapfrogged the Spartans into first place and never looked backed, winning their first outright conference title since 1986."
Votes: 2
Others Receiving Votes: 77-70 win at Wisconsin (1), 73-71 Sweet Sixteen win over Tennessee (1)
Play of the Year
•
Glenn Robinson III buzzer-beater at Purdue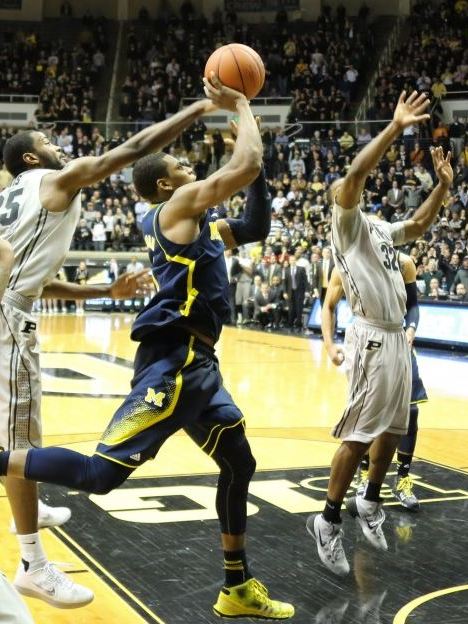 After the big home win over Michigan State that put Michigan in the drivers' seat for the Big Ten title, the Wolverines hit the road for a classic let-down game against Purdue. Michigan was expected to win, but games like this were never easy.
Purdue had nothing to play for except to throw a wrench into the title hunt and played inspired ball for 40-plus minutes. The Boilermakers led by as many as 19 points in the first half before Michigan cut it to 13 at the break. In the second half, Michigan began chipping away. Eleven points, nine points, seven points, four points, and suddenly it was a game again.
A Stauskas free throw made it a one-point game with 9:50 to play, but Purdue refused to let Michigan get over the hump. The Boilers maintained the lead the rest of the way, until Stauskas tied it up with a pair of free throws, sending the game into overtime.
In the extra stanza, Michigan took its first lead of the game, but every time the Wolverines tried to exert their force, Purdue answered. A pair of Ronnie Johnson free throws gave Purdue a 76-75 lead with 31 seconds remaining. Michigan missed a shot and was forced to foul, but Purdue missed the front end of a one-and-one, giving the Wolverines one more chance.
With the ball out of bounds on the sideline and 2.9 seconds remaining, Caris LeVert heaved a jump ball across the court to Glenn Robinson III, who came down with it, took one dribble and kissed a runner off the glass as time expired. Michigan survived 77-76.
"A loss at Purdue would have killed all the momentum from sweeping Michigan State, but luckily GR3 pulled it off," said Derick.
Votes: 4
Others Receiving Votes: None
Performance of the Year
•
Nik Stauskas' 25 points, 5 assists, 3 rebounds in 79-70 win vs MSU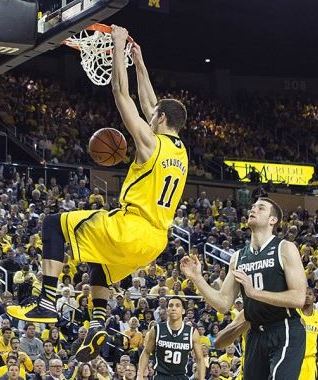 There were plenty of performances that could be considered here, especially by Stauskas, but his performance in the 79-70 home win over Michigan State was a thing of beauty. He followed up a 19-point, 5-of-6 three-point shooting first meeting by lighting up the Spartans for 25 points, five assists, and three rebounds on 9-of-13 overall shooting in the return trip.
That second meeting was an important game for both teams as Michigan State held a half game lead, and Michigan, despite winning in East Lansing, needed the win for its Big Ten title hopes. The Spartans jumped out to a big lead early in the game, but Michigan whittled it down to two at the half. And that's when Stauskas took over.
He opened the half with a layup to tie the game, and after a MSU dunk, hit a free throw and a jumper to give Michigan its first lead. A few minutes later, after the Spartans had pulled ahead by five, Stauskas scored seven straight to put Michigan back ahead. Gary Harris hit a three, but Stauskas responded with one of his own, and after a pair of LeVert free throws, Stauskas hit another three to give Michigan a seven point lead. He scored 21 of his 25 points in the second half, one of the few moments all season that when he shot you knew it was going in.
"Pick any one of about 10 Stauskas performances throughout the season and you're sure to be wowed, but his second half against Michigan State at home to help Michigan sweep the Spartans was probably the most exciting," said Sam. "After Michigan State came out looking like world beaters in the first half, Stauskas paired with Caris LeVert to put on the most impressive run of the season early in the second half, and by the end of it, everyone in the arena knew every Stauskas shot was falling no matter how off-balance or guarded he was."
Votes: 2
Others Receiving Votes: Stauskas' 23 points, four rebounds, four assists, two blocks, one steal at Wisconsin (1), Derick Walton Jr.'s 19 points, six rebounds, four assists in win at Michigan State (1)
Newcomer of the Year
•
Derrick Walton Jr.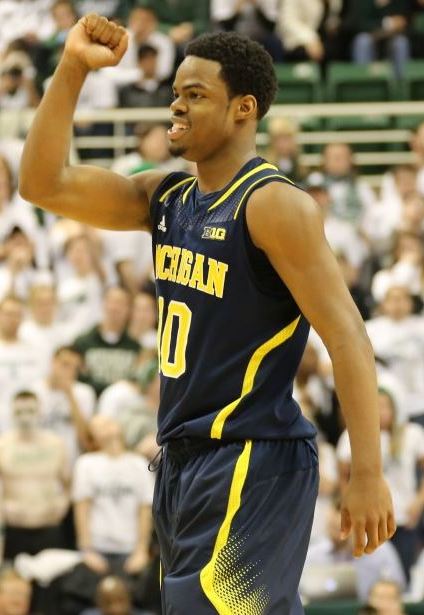 Losing an all-everything point guard to the NBA is never an easy task for any coach, but John Beilein got a superb season out of Derrick Walton Jr. The freshman from Detroit started 36 of the 37 games, averaging 7.9 points, three rebounds, and 2.9 assists per game. Most importantly, he provided a steady presence at the point guard position with nearly twice as many assists as turnovers.
Walton wasn't always counted on to score, but he could certainly do it when needed. His best performance came in the 80-75 win at Michigan State when he scored 19 points, pulled down six rebounds, and dished out four assists. His clutch free throw shooting down the stretch sealed the win. He also recorded a double-double with 13 points and 10 rebounds in the Feb. 11 win at Ohio State and finished the season with a 41 percent three-point rate.
"Zak Irvin had an impactful freshmen season, playing his role to perfection as a scoring threat off the bench," said Drew. "In most years, he would win this award. But it is difficult not to give it to a freshman starting at a position just vacated by the consensus national player of the year. Derrick Walton, Jr. averaged 7.9 points, made 41 percent of his threes, and had the second-highest defensive rebounding rate among Michigan's guards and wings despite being only 6'1″. Most importantly, he did not shy away in big moments, making clutch plays in the final minutes of critical road wins against Nebraska, Michigan State, and Ohio State."
Votes: 4
Others Receiving Votes: None
Those Who Stay Senior of the Year
•
Jordan Morgan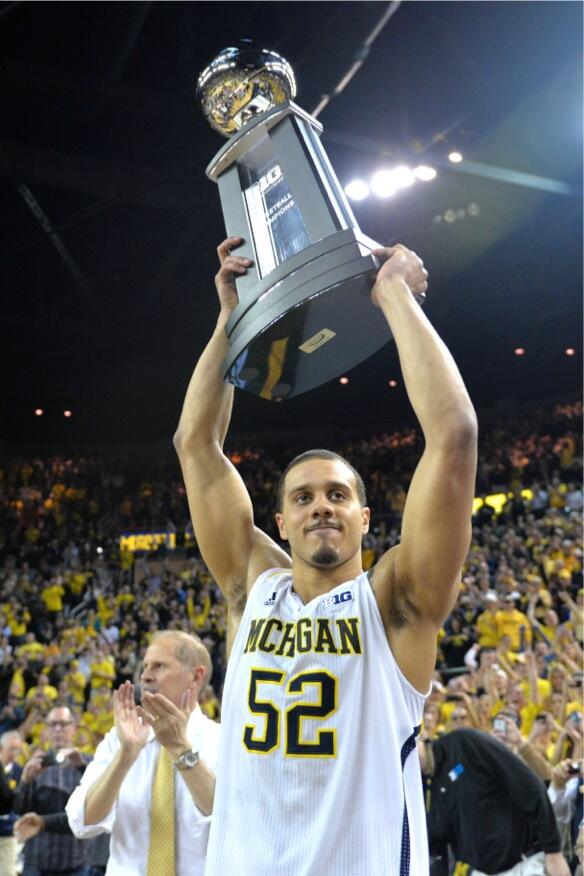 Morgan wins this by default, but even if he wasn't the only senior on the team, another would have had a tough chance of beating him. His exploits have already been talked about in the Big Man of the Year and Defensive Player of the Year sections, but his contributions this season should not be downplayed.
Morgan committed to Beilein in 2010 under very different circumstances, when simply making the NCAA Tournament was a major accomplishment. By the time his career came to an end, Morgan had played in more games (142) than any player in Michigan history and started the third most (122). He holds the single season and career field goal percentage records, played in four straight NCAA Tournaments, won two Big Ten titles, and this season was named to the Allstate Good Works Team.
"Morgan, along with Zack Novak and Stu Douglass, is the foundation of the program that John Beilein has built in Ann Arbor," said Drew. "Morgan committed to Michigan before U-M was considered one of the elite programs in the nation. And it sure did pay off. Most importantly, Morgan exemplified the leadership, determination, and heart that fans hope to see from every future player that dons the maize and blue."
"Morgan's grit, leadership, and confidence were absolutely crucial to this team, and were all the more impressive when considering Morgan's complete loss of confidence in last year's tournament," said Sam.
Votes: 4
Others Receiving Votes: None
Most Improved Player
•
Caris LeVert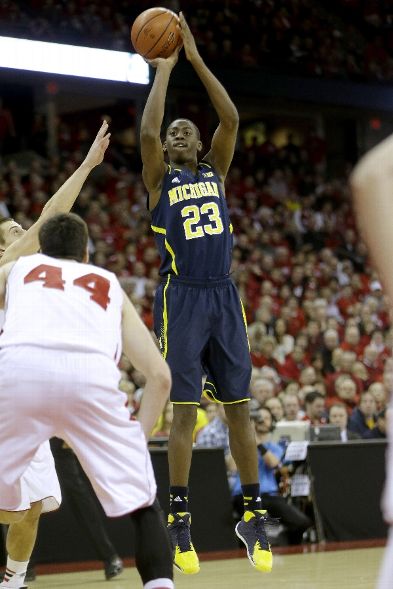 When Trey Burke left early for the NBA and Tim Hardaway Jr. graduated, Michigan was in need of playmakers to step up. A sophomore class that performed well as freshmen had plenty of options, and several showed significant improvement in 2013-14, but none more than Caris LeVert.
The Columbus, Ohio native that was once committed to Ohio University started all 37 games and improved his minutes from 10.8 to 34.0 and points per game from 2.3 to 12.9. He scored in double figures in 25 of 37 games and scored 20 or more points seven times. He also averaged 4.3 rebounds per contest and led the team with 141 defensive boards.
When Michigan struggled to find any offense in an early season matchup at Duke, LeVert carried the team with 24 points. He did the same in a loss to Wisconsin when the Badgers shut down Stauskas, scoring 25, and also poured in 23 in the home win over Michigan State. He earned All-Big Ten second team honors and was named to the NCAA Tournament All-Midwest Regional team.
"LeVert often drew an audible sigh from the crowd when he would make mistakes last season, and his inconsistency in limited minutes was certainly frustrating," said Sam. "Fast forward to this season, however, and one could argue that LeVert's out-of-nowhere contributions were just as important as Stauskas's dominance on occasion. And any time Stauskas was off, LeVert was the one picking up the slack. I don't think anyone truly believed LeVert could improve THAT much in just one offseason."
Votes: 4
Others Receiving Votes: None