---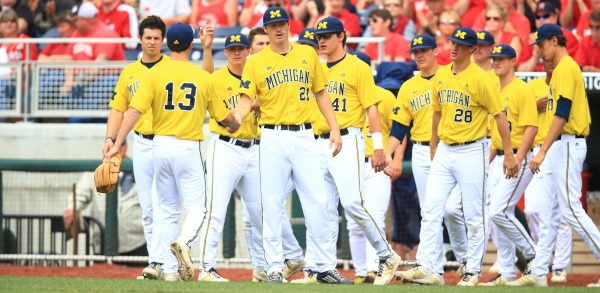 (MGoBlue.com)
Facing elimination from the Big Ten Tournament in Omaha, the Michigan baseball team needed to win two straight against Nebraska, which was playing in front of its home crowd. Instead, the second-seeded Cornhuskers took care of business, sending Michigan home with a 6-1 loss.
Freshman pitcher Keith Lehmann held Nebraska in check through the first three innings, but the 'Huskers got on the board in the fourth when Tanner Lubach singled up the middle to score Pat Kelly, who had walked. In the bottom of the sixth, Nebraska blew the game open with five more runs.
Michigan scored its only run of the day in the top of the ninth when junior Jackson Glines knocked in Travis Maezes with a sacrifice fly. Maezes got hit by a pitch to open the inning, then moved to second on a wild pitch and third on a fly out by Jacob Cronenworth.
Michigan managed just three hits for the game, two by Cronenworth and the other by Maezes. Lehmann went 5.1 innings, allowing two runs and four hits while striking out two.
The Wolverines' season ends with a 30-29-1 record. Head coach Erik Bakich will lose five seniors to graduation, but has the core of his team, which finished tied for fourth in the Big Ten regular season, returning next season.