---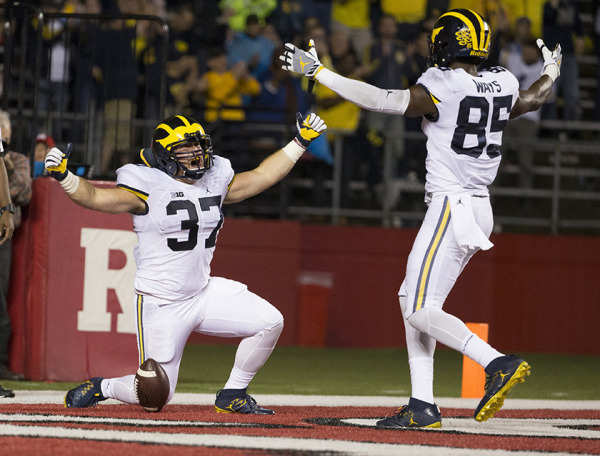 (MGoBlue.com)
Bobby Henderson took a quick handoff, bulled his way up the middle and crossed the goal line for a 13-yard touchdown. On that run, Michigan's nth-string fullback who hadn't had a single carry in his first four seasons at Michigan, outscored Rutgers 7-0. His three fourth-quarter carries for 26 yards finished just eight yards short of Rutgers' entire running game on Saturday night. It was that kind of night in Piscataway as Michigan demolished Rutgers 78-0.
Rutgers hung around longer than expected, taking advantage of rainy conditions early in the game, holding Michigan to just five yards on eight plays in its first three possessions of the game. The Rutgers offense, however, fared even worse, gaining just three yards on nine plays in its first three possessions.
Final Stats
Michigan
Rutgers
Score
78
0
Record
6-0, 3-0
2-4, 0-3
Total Yards
600
39
Net Rushing Yards
481
34
Net Passing Yards
119
5
First Downs
23
2
Turnovers
1
1
Penalties-Yards
3-25
7-41
Punts-Yards
4-169
16-603
Time of Possession
33:16
26:44
Third Down Conversions
6-of-11
0-of-17
Fourth Down Conversions
1-of-1
0-of-0
Sacks By-Yards
4-28
0-0
Field Goals
0-for-0
0-for-0
PATs
10-for-10
0-for-0
Red Zone Scores-Chances
8-of-8
0-of-0
Red Zone Scores-TDs
8-of-8
0-of-0
Full Box Score
Then Jabrill Peppers took over. On the third play of Michigan's fourth possession, Peppers lined up at quarterback, faked a handoff, and took off down the left sideline. Rutgers safety Anthony Cioffi pushed him out of bounds at the four after a 63-yard gain. Ty Isaac punched it in on the next play and Michigan never looked back.
The Wolverines rushed for 481 yards, averaging 8.6 yards per carry with 11 different players getting at least one carry. Two — Chris Evans and Karan Higdon — eclipsed 100 yards and Isaac and Peppers came close to joining them.
Michigan racked up 600 total yards and the only reason it wasn't more was because of the job the defense did in holding Rutgers to just 39. Michigan's average starting position for the entire game was its own 41 yard line. The Wolverines started four drives in Rutgers territory.
When Michigan came out of the locker room to start the second half already up 43-0, the starters' night was over. The Michigan bench in the second half out-gained Rutgers' full-game offense 286 to 39 and had four individual drives that went for more yards than Rutgers' entire game.
Defensively, Michigan was just as brilliant. It took Rutgers into the third quarter to get above water in total yards. The Scarlet Knights rushed for 35 yards — 25 of which came on their final two drives — and completed just 2-of-18 passes for five yards. They converted none of their 17 third downs and punted 16 times for 603 yards.
It was a thorough a beatdown as a game between two Division 1 college football programs could be. After Michigan's fourth touchdown, point-after holder Garrett Moores picked up the hold and ran it into the end zone for a two-point conversion. Whether Jim Harbaugh planned it to send a message to Chris Ash for challenging his summer satellite camp or whether he put it in simply to make future opponents spend time preparing for it is anyone's guess. But with a bye week looming, Michigan's performance on Saturday sent a message to the rest of the Big Ten that it is for real and it doesn't care who is in its way.
Khalid Hill (2 carries for 2 yards, 2 touchdowns, 2 receptions for 19 yards, 1 touchdown)
The entire Michigan offense could be nominated this week — aside for maybe De'Veon Smith who fumbled on Michigan's third possession — but since I have to pick one, I'll go with Khalid Hill. The senior H-back had one of the most efficient stat lines you will ever see. Hill is Harbaugh's favorite goal line back and got the ball at the 1-yard line twice in the first half on Saturday, powering his way into the end zone both times. On Michigan's first possession of the second half, he took a short pass from backup quarterback John O'Korn and found the end zone for his first receiving touchdown of the season. Through six games, Hill now leads Michigan with eight touchdowns and also leads the team in scoring, a stat that kickers usually dominate.
Previous
Week 1 — Chris Evans (8 carries, 112 yards, 2 touchdowns)
Week 2 — Wilton Speight (25-of-37 for 312 yards, 4 touchdowns)
Week 3 — Jake Butt (7 receptions for 87 yards)
Week 4 — Grant Newsome, Ben Braden, Mason Cole, Kyle Kalis, Erik Magnuson (326 rush yards, 0 sacks allowed)
Week 5 — Amara Darboh (6 receptions for 87 yards, 1 touchdown)
Taco Charlton (2 tackles, 2 tackles for loss, 2 sacks)
Like the offensive side, when a defense holds an opponent to just 39 total yards and no points, you could just close your eyes and point to someone on the stat sheet to choose the player of the game. But when I think about the player who made the most impact on the game, Taco Charlton comes to mind. Although they were his only two tackles of the game, senior defensive end recorded two of Michigan's four sacks. Like the other starters, he only played the first half, but made his presence felt in the Rutgers backfield. He's now tied with Chris Wormley for the team lead with four sacks on the season.
Previous
Week 1 — Mike McCray (9 tackles, 3.5 tackles for loss, 2 sacks, 1 forced fumble)
Week 2 — Rashan Gary (6 tackles, 2.5 tackles for loss, 0.5 sacks)
Week 3 — Jabrill Peppers (9 tackles, 3.5 TFL, 1 sack, 2 kick ret. for 81 yards, 4 punt ret. for 99 yards, 1 TD)
Week 4 — Maurice Hurst (6 tackles, 3 solo, 3 tackles for loss, 1 sack)
Week 5 — Channing Stribling (2 tackles, 2 interceptions, 2 pass breakups)