---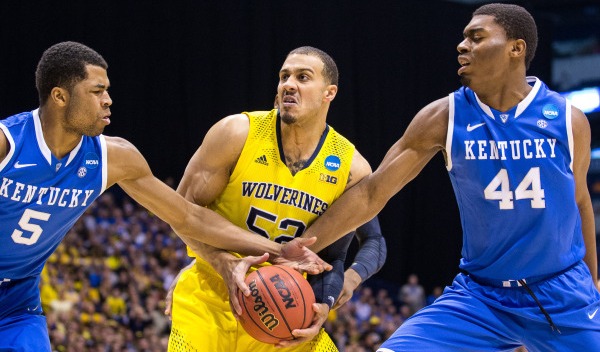 (MGoBlue.com)
A perfect juxtaposition of basketball styles put on a thrilling performance Sunday evening in Indianapolis with a trip to the Final Four on the line. One, the embodiment of college basketball in its truest form, a well-coached mixture of NBA talent and role players performing together as a team. The other, a high-flying collection of all-stars playing an NBA style, vying to extend their reluctant seven-month pit stop in Lexington a few more days before moving on to the next level and the riches that await them.
If games were won or lost by recruiting rankings alone this one wouldn't have been close. Yes, Michigan has elevated its recruiting over the past few years, but one of John Beilein's two five-stars was riding the bench as he has since mid-December after undergoing season-ending back surgery. When John Calipari's four-star big man suffered an ankle injury in Friday's Sweet Sixteen win over Louisville, forcing him to miss this game, he got a big lift from an unsung hero who just happens to have been rated even higher. No, this one shouldn't have been close. But it was.
When Michigan lost last season's national championship game and two NBA draft picks, Trey Burke and Tim Hardaway Jr., it was assumed that the team would take a slight step back this season. There was plenty of talent, sure, but the leadership of Hardaway and the game-changing ability of Burke would be tough to replace. Then, preseason All-American Mitch McGary was lost for the year and Michigan opened the season 6-4. But instead of wilting, this resilient group of overachievers tore through the Big Ten, winning the conference by three games, and marched right back to the Elite Eight, into this matchup with what had been considered just two weeks ago a highly-heralded group of underachievers.
Michigan raced out to an 11-4 lead in the game's first five minutes, sending a message to the young superstars that, despite the disparity in recruiting rankings and NBA potential, they wouldn't be taken lightly. Kentucky responded with an 8-3 run to pull within two, showing time and again that their sheer athleticism and skill was superior. Of the Wildcats' first eight baskets, seven were layups or dunks.
Michigan pulled ahead by six at 25-19, but Kentucky's five-star guard James Young — who went to high school an hour from Ann Arbor — answered with a three. Michigan scored the next seven to open up a 10-point lead and suddenly the pro-Kentucky crowd in Lucas Oil Stadium — a mere three hour drive from Lexington — was stunned. But Michigan went scoreless for the next two-and-a-half minutes and the Wildcats had closed the gap to two. By halftime, Kentucky had tied the game at 37 and captured all of the momentum.
Five-star Julius Randle opened the second half with a dunk to give Kentucky its first lead of the game, but two-star Caris LeVert answered with a jumper. Kentucky scored the next six and it looked like the big boys were finally starting to take charge. But the unheralded LeVert hit a shot, followed by a three from four-star Derrick Walton Jr. After a Randle layup, LeVert hit a three to tie the game at 47. Michigan wasn't going away.
Michigan regained the lead when lone five-star Glenn Robinson III threw down a dunk with 12:27 to play. Two-star Jon Hoford followed with a dunk of his own and Michigan was up four. But 11 straight points by Kentucky turned a four-point deficit into a seven-point lead before Robinson connected on a three to stop the bleeding. Michigan had gone five minutes and 25 seconds without a point.
After a rare defensive stop, Michigan got a three-point play from no-star Jordan Morgan and it was a game again, 62-61 Kentucky with 4:47 remaining. But Kentucky's five-star guard Aaron Harrison knocked down a three to keep Michigan from pulling even.
Back and forth went the final few minutes, neither team able to stop the other. Morgan dunk on one end, five-star Alex Poythress layup on the other. Robinson dunk on one end, five-star Dakari Johnson layup on the other. Four-star Nik Stauskas free throws on one end, Harrison three on the other. Robinson three-pointer on one end, turnover on the other. Kentucky's turnover with 1:39 to play was the first stop for either team since five-star Andrew Harrison turned it over with 5:25 to play.
Michigan found itself within two points, with the ball, with 56 seconds remaining and a chance to either tie the game or take the lead. Stauskas drove to his right, into the lane, but his contested layup attempt was no good. LeVert grabbed the offensive rebound and kicked it out Stauskas in the corner for three. His shot missed, but LeVert was there again for the rebound. He found Walton for three, but again it was no good. This time, Morgan was there to tip it in and tie the game at 72.
Just 27 seconds remained and Michigan needed a defensive stop to force overtime. Kentucky had had its way with the dribble-drive all game, consistently beating Wolverine defenders off the dribble and either finishing in the paint or giving their taller and more athletic big men a chance to grab the rebound or tip it in. But with the game on the line, Michigan's defense held firm, forcing Kentucky — which entered the game shooting just 32.6 percent from three-point range — a contested NBA-range three. It was just the shot Michigan wanted Kentucky to take. And Harrison nailed it. Stauskas' half-court heave at the buzzer fell just short and the book on Michigan's season was closed.
Kentucky's season extends for at least six more days, at most eight, before five — maybe more — players will declare for the NBA Draft and Calipari will reload with four of the nation's top 25 incoming freshmen. Beilein will await the decisions of sophomores Stauskas, Robinson, and McGary. He'll also lose Morgan, who defined the essence of pure college basketball, committing to a much different-looking Michigan program in 2010 as an unranked big man, and going out with a degree in industrial engineering as one of the most beloved Wolverines on the team.
Two very different programs. Two very different philosophies. The one that was supposed to win on Sunday evening won, but the difference on the court was virtually nonexistent. The one that didn't will go down as one of the best in Michigan history. Michigan's mixture of stars and unsung heroes — some of whom virtually nobody wanted — stood toe to toe with the nations best and proved they belonged. And that's nothing to be ashamed of.
***Nik Stauskas***
24 points (6-of-14 FG, 2-of-7 3PT, 10-of-11 FT), 1 rebound, three assists, three turnovers in 39 minutes
**Julius Randle (UK)**
16 points (7-of-16 FG, 2-of-2 FT), 11 rebounds (four offensive), one block, one steal, in 32 minutes
*Marcus Lee (UK)*
10 points (5-of-7FG), eight rebounds (seven offensive), two blocks in 15 minutes
• The 59 wins over the last two seasons are the most in program history and the highest two-year total since the 1991-92 and 1992-93 teams won 56.
• This year's team finishes the season as the seventh-highest scoring in Michigan history with 2,736 points.
• Jordan Morgan finished his career as the program's all-time leader in career field goal percentage (63.1) and single-season field goal percentage (70).
• Nik Stasukas passed Louis Bullock (1995-97) for the most made three-pointers in the first two years. He now has 172.
• Stauskas and Caris LeVert were both named to the Midwest Region All-Tournament Team, becoming the 25th and 26th players in program history to earn regional all-tournament teams.
Ten (!) teams allowed more PPP to Michigan than they did to the rest of their opponents (CSU, HBU, Zona, HC, OSU, MSU, IU, Tex, Tenn, UK).

— Drew Hallett (@DrewCHallett) March 31, 2014
Michigan finishes the year with the best Adjusted Offensive Rating in the kenpom era.

— Bisquiteen Trisket (@DAngelo_Vickers) March 31, 2014
Michigan made 7-of-18 threes for a solid 38.9%. But Kentucky (who's made 32.6% of its threes this year) made 7-of-11 (63.6%). Game.

— Drew Hallett (@DrewCHallett) March 30, 2014

_______________________________________________________________
Final Game Stats

#

Name

FG-FGA

3FG-3FGA

FT-FTA

OR

DR

TOT

PF

TP

A

TO

BLK

S

MIN

01
Glenn Robinson III*
6-14
2-2
0-0
1
3
4
1
14
1
0
0
1
37
10
Derrick Walton Jr.*
1-7
1-5
0-0
1
2
3
2
3
1
0
0
1
33
11
Nik Stauskas*
6-14
2-7
10-11
0
1
1
0
24
3
3
0
0
39
52
Jordan Morgan*
5-6
0-0
1-1
4
0
4
3
11
0
2
0
0
22
23
Caris LeVert*
4-7
1-3
0-2
2
1
3
4
9
5
1
1
2
31
02
Spike Albrecht
0-1
0-0
0-0
0
0
0
0
0
0
0
0
0
7
15
Jon Horford
3-5
0-0
0-0
2
1
3
2
6
1
0
0
0
14
21
Zak Irvin
2-2
1-1
0-0
0
0
0
2
5
0
0
0
0
13
44
Max Bielfeldt
0-1
0-0
0-0
1
1
2
0
0
0
0
0
0
4
Totals
27-57
7-18
11-14
14
10
24
14
72
11
7
1
4
200
Kentucky
31-58
7-11
6-11
17
18
35
14
75
8
11
6
2
200

Full Stats