---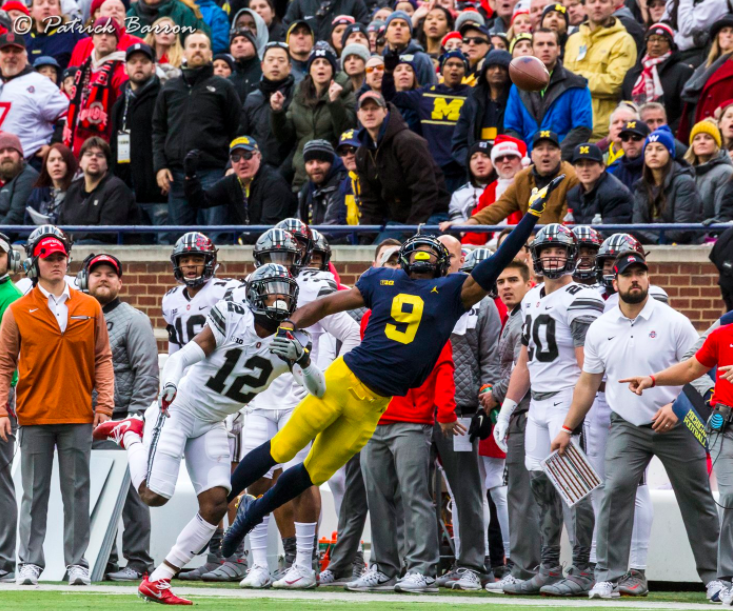 (Patrick Barron)
Michigan's offense took the field with 2:47 remaining and a chance to go win the ball game. Instead, John O'Korn dropped back to pass and heaved the ball downfield to a wide open Ohio State safety. With two open receivers on the play, the fifth-year senior misread the coverage, according to Jim Harbaugh after the game, and Michigan fell for the fourth time this season and the sixth straight time to rival Ohio State, 31-20.
The sequence of events perfectly summed up the entire game as Michigan often took a step forward, two steps back, three steps forward, and two more steps back. The game plan was good enough to win but the quarterback play wasn't. It's as simple as that.
Final Stats
Michigan
 Ohio State
Score
20
31
Record
8-4 (5-4)
10-2 (8-1)
Total Yards
295
350
Net Rushing Yards
100
226
Net Passing Yards
195
124
First Downs
16
17
Turnovers
1
0
Penalties-Yards
6-50
9-75
Punts-Yards
7-288
6-270
Time of Possession
28:43
31:17
Third Down Conversions
9-of-17
8-of-16
Fourth Down Conversions
0-of-1
0-of-0
Sacks By-Yards
3-13
5-43
Field Goals
0-for-0
1-for-2
PATs
2-for-3
4-for-4
Red Zone Scores-Chances
3-of-3
2-of-2
Red Zone TDs-Chances
3-of-3
2-of-2

Full Box Score
O'Korn loves the University of Michigan and has poured his heart and soul into it. He has been heavily involved off the field, paying visits to U of M Mott's Children's Hospital and befriending superfan Larry Prout Jr. For all of those things, he's the model Michigan Man and deserves to be commended. But he simply wasn't good enough on Saturday, and when you play big-time college football you have to accept due criticism as well.
Michigan got the ball first, but was forced to punt. After the defense forced an Ohio State punt, the offense went to work, driving 77 yards on 13 plays for the game's first touchdown. To his credit, O'Korn made some nice throws, including a 27-yard strike to Zach Gentry on 3rd-and-8 to set up the opening score.
At the end of the first quarter, facing a 4th-and-20, Urban Meyer called timeout to allow his punter to kick with the wind instead of letting the quarter run out. Donovan Peoples-Jones made him pay, returning the punt 42 yards to the Ohio State 11-yard line. An Ohio State holding penalty moved it to the six. Two plays later, O'Korn found tight end Sean McKeon in the end zone to put Michigan ahead 14-0.
But Ohio State answered, mounting an 11-play, 75-yard touchdown drive of its own on the ensuing possession. However, Michigan had a great chance to continue its momentum when Ohio State quarterback J.T. Barrett overthrew his receiver right into the hands of safety Josh Metellus. But he couldn't hold on and Barrett made him pay with a 21-yard touchdown scamper on the next play to pull OSU within 14-7.
After a Michigan punt that gave Ohio State the ball near midfield, the Buckeyes evened the score with a 26-yard touchdown pass from Barrett to tight end Marcus Baugh. The teams went into the half knotted at 14.
Ohio State began the third quarter with possession, but Michigan's defense forced a three-and-out, gaining the field position edge that resulted in a go-ahead score two drives later. Starting at their own 49, O'Korn hit Kekoa Crawford in the flat, who raced 43 yards to the Ohio State 8-yard line. Three plays later, Karan Higdon scored from two yards out, but Quinn Nordin's extra point attempt was blocked, putting Michigan ahead 20-14 midway through the third.
As has been the case much of the season, Michigan's stout defense surrendered a score following an offensive score, allowing Ohio State to drive 78 yards on 11 plays. Midway through the drive, Barrett went down with a leg injury and was replaced by Dwayne Haskins, who made two big plays. First, he connected with receiver Austin Mack for a 27-yard gain on 3rd-and-13. Mack held onto the ball despite a vicious hit by Tyree Kinnel that left Kinnel injured with a likely concussion. Two plays later, he evaded a rushing Maurice Hurst and galloped 22 yards to the 1-yard line. J.K. Dobbins finished the job to put the Buckeyes ahead 21-20.
Michigan's offense failed to get anything going the rest of the way as O'Korn was sacked four times and threw the game-ending interception. Ohio State added a 44-yard field goal and a 25-yard Mike Weber touchdown run in garbage time to expand the margin of victory.
For the game, Michigan rushed for 100 yards and passed for 195, essentially equaling the total yardage Ohio State's defense allows per game. O'Korn completed 17-of-32 passes for 195 yards, a touchdown, and the interception. Chris Evans amassed 101 total yards, rushing for 67 on 6.1 yards per carry and catching five passes for 34 yards, to lead the team in both rushing and receptions. Higdon added 55 yards on 5.1 yards per carry, while Crawford led the team with 57 receiving yards.
Defensively, Michigan held Ohio State to 350 total yards — 200 below their season average — and just 124 yards through the air. Barrett completed 3-of-8 passes for 30 yards and a touchdown, while Haskins completed 6-of-7 for 94. Dobbins topped the century mark with 101 rushing yards on 6.7 yards per carry, while Weber added 67 on 4.5.
Michigan finishes the regular season with an 8-4 record overall and 5-4 in Big Ten play, while Ohio State improves to 10-2 and 8-1 and will face undefeated Wisconsin in the Big Ten championship game next Saturday in Indianapolis. Michigan will await its bowl fate following next weekend's conference championship games. Most signs are pointing toward the Holiday Bowl in San Diego on Dec .28 with the Wolverines facing either Harbaugh's former team (Stanford) or Michigan's former coach, Rich Rodriguez's new team (Arizona).
Chris Evans (11 carries for 67 yards, 5 receptions for 34 yards)
It was apparent from the outset that Evans was playing determined football, fighting through tackles and gaining extra yards on Michigan's first few possessions. On Michigan's first touchdown drive, he had runs of nine yards and 24 yards and also a 13-yard reception on 3rd-and-11. On Michigan's next possession, he converted a 3rd-and-4 with a 5-yard catch. He finished the game with three explosive runs (of 10 yards or more) and three of Michigan's nine third-down conversions. It was his third game ball in Michigan's final four weeks.
Previous:
Week 1 – Quinn Nordin (4-of-6 field goals, 2-of-3 from 50-plus)
Week 2 — Ty Isaac (20 carries for 133 yards, 6.7 yards per carry)
Week 3 — Donovan Peoples-Jones (2 receptions for 52 yards, 2 punt returns for 104 yards and 1 touchdown)
Week 4 — John O'Korn (18-of-26 for 270 yards, 1 touchdown, 1 interception, 5 rushes for 12 yards)
Week 5 — Karan Higdon (12 carries for 65 yards, 5.4 yards per carry, 2 receptions for 33 yards)
Week 6 — Karan Higdon (25 carries for 200 yards, 3 touchdowns, 8.0 yards per carry)
Week 7 — None
Week 8 — Brandon Peters (10-of-14 for 124 yards and 1 touchdown)
Week 9 — Karan Higdon (16 carries for 200 yards and 2 touchdowns) & Chris Evans (18 carries for 193 yards and 2 touchdowns)
Week 10 — Chris Evans (15 carries for 80 yards and 2 touchdowns, 2 receptions for 29 yards)
Week 11 — Donovan Peoples-Jones (4 receptions for 64 yards)
Rashan Gary (10 tackles — 5 solo — 3 tackles for loss, 2 sacks)
The old sports adage is that great players rise to the occasion in big games. Michigan's star sophomore defensive end, Rashan Gary, did just that. He has been unfairly criticized at times this season for not posting gaudy numbers while taking on double teams and allowing others to make plays. Today, he was a force from the start. He sacked Barrett for a three yard loss on Ohio State's second possession and again on OSU's second possession of the second half, that time for a loss of six on 3rd-and-5 to force a punt. Then, when Michigan needed to get the ball back for a chance to win, he stuffed Weber for a loss of two on 3rd-and-1, setting up a 43-yard field goal, which the Buckeyes missed. To make the performance even more impressive, Gary injured his shoulder in the first half — some reports said he dislocated it but popped it back in and continued playing. It was an inspiring performance by the star of Michigan's defense.
Previous:
Week 1 – Devin Bush (7 tackles, 5 solo, 3 tackles for loss, 2 sacks)
Week 2 – Tyree Kinnel (9 tackles, 8 solo, 1 tackle for loss, 1 sack, 1 interception return for touchdown)
Week 3 – Chase Winovich (9 tackles – 3 solo – 2 tackles for loss, 1.5 sacks, 1 quarterback hurry)
Week 4 — Chase Winovich (6 tackles — all solo — 4 tackles for loss, 3 sacks
Week 5 — Maurice Hurst (8 tackles — 6 solo — 2.5 tackles for loss)
Week 6 — Rashan Gary (7 tackles — 3 solo — 2.5 tackles for loss, 1 sack, 2 quarterback hurries)
Week 7 — Khaleke Hudson (4 tackles — 4 solo — 1 tackle for loss, 1 quarterback hurry, 1 pass breakup)
Week 8 — Maurice Hurst (8 tacles — 2 solo — 2 tackles for loss, 1 sack)
Week 9 — Khaleke Hudson (13 tackles — 11 solo — 7.5 tackles for loss, 2 sacks, 1 forced fumble)
Week 10 — 4 tackles — 3 solo — 1 pass breakup, 1 interception returned 80 yards)
Week 11 — Khaleke Hudson — 9 tackles — 3 solo — 1.5 tackles for loss, 1.5 sacks, 1 pass breakup, 1 quarterback hurry)