---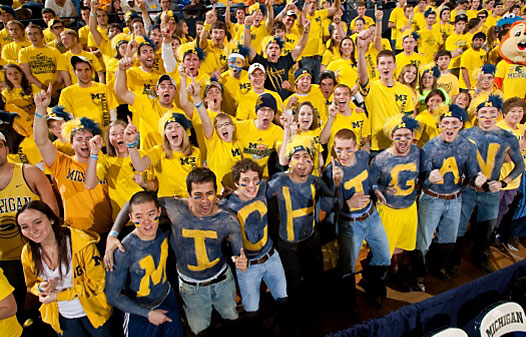 (Martin Vloet, U-M Photo Services)
Following the team's first Final Four run in 20 years, the University of Michigan's new basketball student ticket policy will likely have the Wolverines playing in a sold-out Crisler Center for the majority of their games this upcoming season. The policy, announced this week, is designed to penalize lazy students that fail to show up to games and leave purchased tickets unused.
Late Tuesday night, The Michigan Daily revealed that the Michigan Athletic Department oversold the 3,000 available student section seats in Crisler Center. This offseason, around 4,800 of the student season packages were sold. This may be alarming to those hoping to attend every home game to watch their Wolverines, but the Athletic Department's policy assures that every student will be able to attend the games they want, as long as they purchased the season ticket package.
Michigan's preconference schedule will be broken down into separate "groups" of tickets, as designated by the Athletic Department. Seventy-two hours before the first game of each group, students will be required to verify which of the games in that group they plan to attend. Afterwards, students will be given only the tickets that they requested. Tickets that aren't claimed will be resold by the Athletic Department, first to other students and then, if any remain, to the general public.
Students that fail to attend any game in which they claimed a ticket will receive a "strike," unless the ticket is sold to someone else who attends the game. Any student that receives three strikes during the preconference season may forfeit their Big Ten basketball tickets. Each student must claim a minimum of two nonconference tickets and attend those games in order to remain eligible to claim Big Ten student tickets.
In promising that no student season ticket holder will be turned away from a game they wish to attend, the Athletic Department is merely playing the percentages. Last season, an average of less than half of the total number of student ticket holders showed up to each game, and several students failed to claim their season tickets at all throughout the year. This attendance gap came during a year in which the tickets were transferred virtually onto every student's Michigan ID card in order to make it easier to sell tickets that wouldn't be used.
Though these new tactics have Ann Arbor in an uproar, Michigan is not the first school to "double sell" tickets. Other powerhouse basketball programs such as Duke University use this ticket policy to pack their arenas for every single home game. Duke's student section, "The Cameron Crazies" is regarded as one of the best in all of sports and creates a formidable atmosphere for opponents visiting Cameron Stadium.
Michigan students will not lose the opportunity to be at Crisler for games they wish to attend. The policy guarantees season ticket holders a ticket to any game they claim, as long as they aren't absent from three previously claimed games. Students can also claim and sell the tickets they can't use, but must be sure that the buyer will attend the game in order to avoid receiving a "strike."
What may have basketball fans so fired up, besides the inconvenience of claiming tickets a few days before the games, is the increasing boldness that Athletic Director Dave Brandon is willing to display in earning money for Michigan sports. During his short tenure running the Athletic Department, Brandon has drastically increased ticket prices for basketball. He also cashes in on the demand for Michigan football season tickets, charging those that wish to join or remain on the wait list.
However, this new basketball ticket policy may have the same effect as Brandon's newly-implemented general admission football seating system, which is improving student attendance in the Big House. Changes were made to the football student section in response to the late arrivals of many ticket holders to the games. Head Coach Brady Hoke was publicly disgusted with having a half-filled student section at the start of every game, and the prospect of getting the best seat available has been effective in bringing students to the game before kickoff.
Similarly, Brandon hopes that this year's basketball ticket process will fill both the lower and upper student sections in the Crisler Center. Double selling tickets is just the latest change in a series of improvements that have made Michigan Basketball one of the top programs in the country. A newly-renovated Crisler Center now boasts one of the nicest Player Development Centers in the nation, an addition that has brought some of the top recruits in the country like Glen Robinson III, Mitch McGary, Zak Irvin and Derrick Walton to Ann Arbor.
Michigan's recent success isn't a coincidence, as all of these changes have had an immediate impact on the basketball program. In 2012, the team spent a week ranked as the top team in the country and boasted a 17-1 home record; but it wasn't enough to bring 3,000 students to the Crisler Center for non-marquee matchups.
Throughout the year, the Maize Rage student section was often only half-full in the upper deck despite the team's top-five ranking and elite performance. Crisler's 12,721-seat capacity is the second-lowest among Big Ten venues (Northwestern's Welsh-Ryan Arena holds only 8,117) and should therefore be full for a men's basketball team currently experiencing so much success.
The major change to the ticket process is that rather than unclaimed tickets resulting in empty seats, they will be offered to fans that want to see the team play on a less-regular basis. Seats that become available through the "claiming" process will instead be filled by those that couldn't commit to a season ticket package.
Students that remain loyal to the team and attend the games they commit to will receive no penalty. An atmosphere that was often electric during the Big Ten season last year will be even more formidable when the Crisler Center is packed with students every game.
If students prefer, they may receive a full refund for their tickets next week, as this policy is a major change to the conditions under which the tickets were bought. The rest will be more inclined than ever to join the Maize Rage on October 29, when Michigan welcomes Concordia to Ann Arbor for the first exhibition game.