---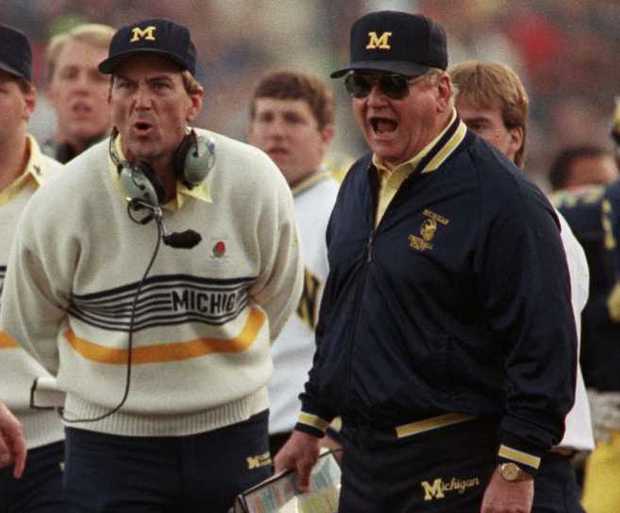 (AP)
The following story was written for our annual Michigan football season preview magazine, In the Huddle: Michigan by Lindy's Sports. However, due to the abrupt closing of their primary Midwest distributor in June, they were unable to publish the Michigan, Ohio State, or Notre Dame magazines this year. 
If Michigan's present-day football rut seems to be as low as it can go, it can get worse. And it has been. Forty-five years ago Michigan football was trying to recover from six losing seasons in a span of 11 years. After firing Bump Elliott, the next two decades would change that course, and when the man who brought about that change retired 25 years ago this season, the program would be back among the nation's elite.
When Bo Schembechler was hired on Dec. 28, 1968 from Miami of Ohio, many scoffed at the idea of a no-name coach from the Mid-American Conference taking over Michigan football. But when he guided the Wolverines to an 8-3 record in his first season, including a 24-12 win over a top-ranked and undefeated Ohio State squad that had beaten Michigan 50-14 the previous year, it was apparent that Michigan had someone special at the helm.
In the years that followed, Schembechler led Michigan to 13 Big Ten championships, 10 Rose Bowls, an overall winning percentage of .796, and a conference winning percentage of .850.
This season marks 25 years since Schembechler completed his illustrious career. As the 2014 edition of Michigan football gets set to take the field, let's relive Bo's final season on the sidelines.
Michigan closed the 1988 season with a 9-2-1 record and a 22-14 win over Southern California in the Rose Bowl, setting up high expectations for what would be Schembechler's final season. Although nobody knew that at the time.
Prior to the 1988 season the Board of Regents had asked Schembechler to take over as athletic director, but they wanted him to step down as football coach in order to do so. Schembechler had missed the Rose Bowl that ended the '87 season after undergoing heart surgery following his second heart attack. That the regents wanted him to step down from the pressures of coaching was no surprise, but Bo would have none of it. Two months later, interim president Robben W. Fleming offered him the position, allowing him to remain head coach. He accepted.
The Wolverines began the 1989 campaign ranked first nationally, but by the time defending national champion Notre Dame came to town for Michigan's season opener, the Irish had leapfrogged Michigan for the top spot thanks to a 36-13 win over Virginia in the Kickoff Classic two weeks earlier.
Second-ranked Michigan hosted top-ranked Notre Dame on Sept. 16, the earliest meeting of the top two ranked teams in college football history. Notre Dame head coach Lou Holtz had gotten the best of Schembechler each of the two previous seasons and Bo wanted revenge.
On a rainy and overcast Saturday in Ann Arbor, Notre Dame jumped out ahead, 7-0. After a Michael Taylor fumble set Notre Dame up at the Michigan 24, quarterback Tony Rice found running back Anthony Johnson from six yards out for the game's first score. It also happened to be Rice's only completion of the day.
Michigan answered with a nine-yard touchdown pass from Taylor to Chris Calloway just 25 seconds before the half. However, kicker J.D. Carlson missed the extra point, and the teams went into the locker room with Notre Dame holding a 7-6 lead.
A defensive struggle quickly turned into a shootout when Notre Dame receiver Rocket Ismail took the opening kickoff of the second half 88 yards for a touchdown, the first kickoff returned for a touchdown against Michigan in 32 years. A 30-yard field goal increased the Irish lead to 17-6 before redshirt freshman quarterback Elvis Grbac, who took over for an injured Taylor, found tight end Derrick Walker for a touchdown. A two-point conversion attempt failed.
Ismail took the ensuing kickoff and raced 92 yards for his second touchdown of the day, putting Notre Dame ahead, 24-12. Grbac led another Michigan scoring drive, this time a four-yard touchdown pass to split end Greg McMurtry with 4:08 remaining, but an onside kick failed and Notre Dame held on for the 24-19 win.
"This won't ruin our season," proclaimed a defiant Schembechler after the game. On Ismail, Schembechler praised, "He may be the best I've seen. He is faster than the speed of sound."
The season didn't get any easier from there as Michigan traveled to Pasadena, Calif. to face off with 24th-ranked UCLA. The Bruins jumped out to a 14-3 lead, but Michigan got field goals of 36 and 43 yards from Carlson.
In the third quarter, Tripp Welborne took a UCLA punt 63 yards to set up a one-yard Leroy Hoard touchdown run to give Michigan its first lead of the game at 15-14. UCLA answered with a 45-yard field goal, and after recovering a Hoard fumble, punched in a touchdown. Michigan blocked the extra point, but UCLA led 23-15.
The Bruins had a chance to put the game away, but running back Shawn Wills fumbled and Michigan recovered at the UCLA 43 with just under four minutes remaining. Grbac found Walker for a three-yard touchdown with 1:35 to play, but the two-point conversion pass fell incomplete.
Trailing 23-21, Michigan recovered an onside kick, and Carlson kicked a 24-yard field to give Michigan a 24-23 win.
Michigan returned home for a pair of matchups with unranked foes, Maryland and Wisconsin. The Wolverines scored on four of their first six possessions against Maryland to race out to a 28-7 halftime lead. Hoard scored from yard out to give Michigan a 35-7 lead early in the third and Carlson kicked a pair of field goals in the fourth as the Wolverines closed out a convincing 41-21 win.
Michigan followed that up with a 24-0 shutout of Wisconsin, holding the Badgers to just 97 total yards. Grbac completed 16-of-23 passes for 167 yards and a touchdown, while Tony Boles led the way on the ground with 95 yards and a score.
In-state rival Michigan State, which had lost to No. 1 Notre Dame and No. 2 Miami by a combined 14 points, was up next. The teams traded turnovers on their first possessions before the Spartans moved the ball into Michigan's red zone. Michigan held strong on third-and-one, forcing a 37-yard field goal attempt. It was blocked and Michigan took advantage, going 61 yards in 14 plays for the games first and only touchdown, a one-yard run by Hoard on fourth-and-goal.
After forcing a three-and-out, the Michigan offense once again marched down the field. A 46-yard field goal attempt fell short, but Michigan State was called for offside, extending the Michigan drive. Four plays later, Carlson connected on a 35-yard field goal to put Michigan ahead, 10-0.
On their second possession of the second half, Michigan State moved inside the Michigan 10 where quarterback Dan Enos handed it off to Blake Ezor four straight times. Ezor made it to the four, then the three, then the one, setting up a fourth-and-goal just like Michigan faced in the first half. But Welborne stuffed Ezor for no gain and Michigan took over.
Michigan went three-and-out and Michigan State made another costly mistake on its ensuing possession, missing a 34-yard field goal. The Spartans finally got on the board midway through the fourth quarter when Enos threw a four-yard touchdown pass, but Michigan held on to win, 10-7.
"It was a nice, hard-hitting game," said a relieved Schembechler afterward. "Nice and physical. A lot of good collisions. And the best team won. There's not much more you can say."
Now 4-1 overall and 2-0 in the Big Ten, Bo didn't want to give any credence to the notion that his squad had the conference title locked up.
"What people have got to understand is that we still have to play Iowa and Illinois on the road and Ohio State at home," Schembechler said. "We've got the toughest schedule in the league. Hey, we're only 2-0, and we share the lead. We've got a long way to go."
Michigan rolled through a 3-2 Iowa team in Iowa City, 26-12, on the strength of 138 total yards by Boles. The Wolverines returned home to thump Indiana 38-10 and Purdue 42-27, setting up a big showdown at Illinois.
Like Michigan, the eighth-ranked Fighting Illini had just one blemish on the season, a 38-7 defeat at then-eighth-ranked Colorado on Sept. 16. Bo's squad wasted no time getting on the board, as Boles raced 73 yards on the game's second play and Jarrod Bunch punched it in one play later from a yard out.
Illinois came right back with a touchdown if its own and then gave Michigan a break on its next possession, running into punter Chris Stapleton and extending the Wolverine drive. Carlson kicked a 47-yard field goal to put Michigan on top, 10-7. Illinois tied the game with a 25-yard field goal on its next possession.
The two teams traded punts before Michigan put together another scoring drive, this time going 80 yards in 11 plays and a one-yard Taylor touchdown run. Michigan took a 17-10 lead into the half.
The second half was the defensive battle that most expected. Illinois intercepted Taylor on Michigan's second possession of the half and marched inside the Michigan 10. On fourth-and-one from the four, Jeff George's pass fell incomplete and Michigan retained its lead.
Midway through the fourth, Michigan put together the game-clinching drive, once again going 80 yards in 11 plays for a touchdown. Boles scored from 13 yards out to put Michigan ahead, 24-10, with just 2:31 to play. Welborne sealed the game with an interception and Michigan advanced to 8-1 overall and 6-0 in Big Ten play.
"It was a great team victory. I'm happy as the dickens for ya," Schembechler told the team in the locker room. "I want you to understand one thing though, men. We have not won the Big Ten championship yet. This is a big hurdle for us to get over, but we're healthy, we're eager, we're tough, and we're going to finish this season. We're going to finish with a flourish. We're going to finish tough, we're going to get better, we're going to stay after them until we win the championship again, head back to the Rose Bowl!"
A confident Michigan team easily disposed of Minnesota, 49-15, a week later, leaving Ohio State as the only team standing between them and a Big Ten title and return trip to Pasadena.
Michigan's offense crossed into Buckeye territory on each of its first five possessions, jumping ahead 14-0. It very well could have been more had Michigan not fumbled it away twice in the first half. Ohio State got on the board just before the half with a 20-yard field goal.
Taylor was intercepted on Michigan's first possession of the second half and Ohio State turned it into a field goal. Michigan went three-and-out and Ohio State went 40 yards in nine plays to pull within 14-12. At the beginning of the fourth, Michigan punted it back to the Buckeyes, but cornerback Todd Plate picked off OSU quarterback Greg Frey near midfield. Michigan capitalized with a five-yard touchdown pass from Taylor to Bunch.
Ohio State wasn't finished however. The Buckeyes strung together an 11-play touchdown drive, but Michigan blocked the extra point to keep a 21-18 lead. Ohio State's defense held strong, forcing Michigan to punt it back with under four minutes to play, but Plate came up big once again with his second interception of the day. Michigan put the game away on a 23-yard Bunch touchdown run, wrapping up a second straight outright Big Ten title and another Rose Bowl appearance.
"Ohio State really came at us and gave us everything they had," Schembechler said after the game. "We showed that we were our worst enemy, but we hung in there."
Two weeks after securing a career winning record against his rival from Columbus, Schembechler announced that he would retire following the Rose Bowl. He named offensive coordinator Gary Moeller his successor and delivered a poignant speech to those gathered at Crisler Arena.
"I've been a very fortunate coach," Schembechler started. "I've coached for 37 years and 27 of them as a head coach. I was given a job to coach Michigan football in 1969. That had to be, when I was in this room and appointed by Don Canham as football coach of Michigan, the greatest day of my life.
"Because Michigan is special. And the opportunity to coach here was tremendous. I couldn't ask for a better career. I'm a very happy man today. I'm not here to shed a tear; it's not because I'm sad at leaving. I hate to leave the players, I hate to leave coaching, but it's time to go. And yet, who could ask for a greater career than I've had? It's not that I've done everything in football, but I've coached at Michigan."
The Wolverines met 12th-ranked Southern California in the Rose Bowl for the second straight year, this time hoping to send their beloved coach off on top. It began as a defensive battle, neither team able to score a point in the first quarter. It was USC that did the damage first on a one-yard touchdown run by quarterback Todd Marinovich. Midway through the second quarter, Carlson kicked a 19-yard field goal to pull Michigan within four. A 34-yard USC field goal closed the first half with the Trojans ahead, 10-3.
Running back Allen Jefferson tied the game on a two-yard touchdown run on Michigan's second possession of the second half. Early in the fourth, Michigan faced a fourth-and-two from its own 46. The normally conservative Schembechler called a fake punt and it was executed beautifully as Stapleton raced 24 yards. But the Pac-10 officiating crew flagged linebacker Bobby Abrams for holding, negating the first down. Michigan punted and Southern Cal went 75 yards in 13 plays for the game-winning touchdown.
Instead of a storybook ending, perhaps it was more fitting that the fiery coach went out swinging. He was flagged for unsportsmanlike conduct on top of the holding penalty and issued a scathing assessment after the game.
"It was the most unbelievable call I've ever seen, and it came in my final game," Schembechler said of the holding call. "It was an absolutely ridiculous call. If I see the film and I'm wrong, I'll retract what I've said. But people who saw it in the press box said it was a ridiculous call."
"Whatever I do in my next job, I want nothing to do with officiating. Nothing! How do I want to be remembered? I'm just a coach."
And with that, Bo's career was over. He went out with the most wins of any active coach (at the time) in college football and the fifth-most all-time, 13 Big Ten titles, 17 bowl appearances, 16 top ten finishes, and a legacy that will live on forever. Although he passed away eight years ago this November, Bo won't soon be forgotten in Ann Arbor.