---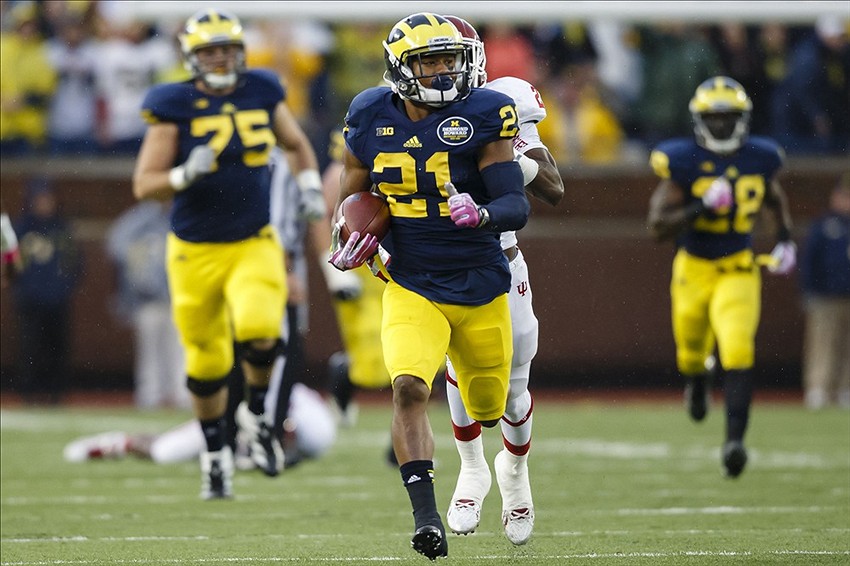 (Rick Osentoski, USA Today Sports)
For the third consecutive day Michigan had a player drafted. This time, it was receiver Jeremy Gallon, who was taken in the seventh round (244th overall) by the New England Patriots where he will join fellow Wolverine, quarterback Tom Brady.
Excited to join the @Patriots. Great opportunity to grow and learn.

— Jeremy Gallon (@JJGallon) May 11, 2014
The diminutive receiver who finished second in the Big Ten with 89 receptions for 1,373 yards and nine touchdowns in 2013 very likely would have been drafted much higher if not for his 5'8″ size. But heading to the Patriots, who have utilized small receivers such as Wes Welker and Julian Edelman, is the best case scenario.
"They're known for having smaller guys," Gallon said on a conference call with New England media on Saturday evening. "They're a team-oriented football team. They seem to just keep producing smaller guys that work in smaller spaces against big people. I just felt like it would be a good fit here as far myself and how I play and what I can bring and what they have for me to bring to the table.
"I try to model my game after them because they're great guys, they're great players. Everybody looks at the size and what they can bring to the table as like a 6-2 guy or as far as 5-7 or 5-10 guy. To me, I just think that doesn't matter. It's what you can bring to the table as far as your heart and your ability to play the game."
The Patriots have a crowded receiving corps that Gallon will have to work his way into. Edelman and Danny Amendola are the current starters after combining for 159 receptions for 1,689 yards and eight touchdowns in 2013, while Kenbrell Thompkins signed as an undrafted free agent out of Cincinnati last May and caught 32 passes for 466 yards and four touchdowns. Aaron Dobson was drafted in the second round of last year's draft and caught 37 passes for 519 yards and four scores. That's a lot of production from four guys.
New England also drafted Texas Christian receiver Josh Boyce in the fourth round last year and signed Brandon LaFell, a fifth-year receiver out of LSU, last month.
Gallon could also factor into the return game. Edelman is the current punt returner and seventh-year receiver Matthew Slater is the kickoff return man. While Gallon never had a return touchdown at Michigan, he was always reliable. He compiled 32 kick returns for 658 yards and 47 punt returns for 333 yards during his career.
Gallon finished his career third in receiving yards (2,704) and receptions (173), second in single-season receptions (89), and set the single-season record with 1,373 yards. He also set the Big Ten record for receiving yards in a single game with 369.