---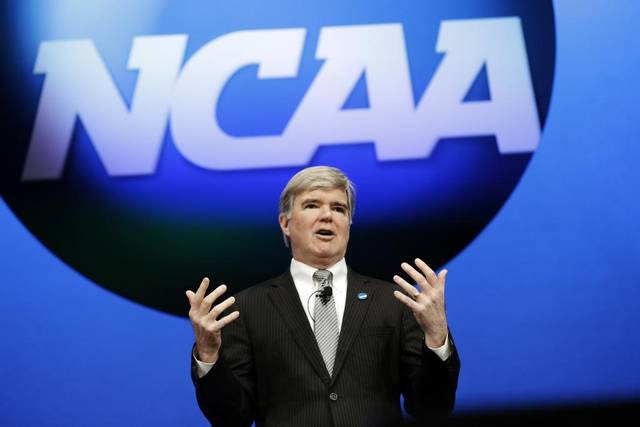 (LM Otero, AP)
Last fall, I posted up in the Starbucks on State and Liberty for a full day of interviews. In search of new writers for Maize and Go Blue I spoke with several current Michigan students — aspiring journalists with The Michigan Daily and engineering majors who enjoy writing alike — and alums interested in voicing their opinion on Michigan athletics.
I did the same in Chicago, Washington, D.C., and New York, and when all was said and done I brought three new writers aboard. I considered it a success. Not only did I improve my team, but I also gave three college students a chance to cover their favorite team. A chance that comes with media credentials and insider access only a small percentage get.
As I was planning to make this fall's hiring trip bigger and better, the fat cats at MGoBlog petitioned the World Wide Web to ban blogs from doing so. MGoBlog, of course, can sit back and wait for great writers to approach them, while blogs like us, Maize 'n Brew, Maize 'n Blue Nation, and Maize and Blue News have to get creative in order to find good writers. They reasoned that they shouldn't have to work harder to draw elite writers from their own territory of students and alums.
On Friday, the WWW approved a proposal that would require blogs to "hire only via the comments section on their own website or on websites normally used for blog hiring (Craigslist)."
The above scenario sounds completely absurd, doesn't it? And while it's completely fictitious, it's exactly what happened with the NCAA's banning of satellite camps last Friday. It's not a perfect analogy given that student-athletes and prospective student-athletes aren't employees. But that's where the NCAA's ruling is even more absurd than the fictitious blog scenario above.
The NCAA's stated description is "a member-led organization dedicated to the well-being and lifelong success of college athletics." One of the NCAA's seven core values is "an inclusive culture that fosters equitable participation for student-athletes and career opportunities for coaches and administrators from diverse backgrounds." One of the main pillars of the NCAA's web page is opportunity, with a description that reads, in part, "More than 1,100 member schools are united around one goal: creating opportunities for college athletes."
Every one of the items listed above is a direct contradiction to the NCAA's ruling to ban satellite camps. Rather than inclusive, opportunity-creating camps that help the pave the way for student-athlete well-being and lifelong success, the NCAA issued a self-serving, opportunity-limiting decree inclusive of only a select few.
The outcry from both high school and college athletes since Friday describing the opportunities that satellite camps created for them to be seen by a wider audience of coaches, and thus, broaden their opportunities has been backed by other college coaches as well.
"Those are the only two reasons, to selfishly guard your recruiting base — and that's the major motive — or laziness," said Washington State head coach Mike Leach. "OK, so we're going to elevate those over the interests of, in particular, low-income student-athletes and providing them an opportunity? It's by far one of the most absurd things ever. If we're even close to who we say we are, this idealistic sport, student-athlete, college football — if we're even remotely close to what we say we are, that needs to be overturned immediately."
Leach also questioned the supposed vote that saw his conference, the Pac-12, along with the SEC, Big 12, ACC, Mountain West, and Sun Belt, approve of the ban. According to Leach, "the vast majority of the schools in our conference were in favor of the satellite camps."
Jim Harbaugh, whose publicity of his own satellite camps led to the ban, has yet to publicly comment about the vote. But rest assured he has something up his sleeve to counter it.
"In my America, you're allowed to cross the state borders. That's the America I know," Harbaugh said last June amid criticism of his Summer Swarm satellite camp tour.
The fact that a select few can get a rule changed simply because someone else's ingenuity was threatening their cozy spot atop the landscape is deeply troubling. But even more so due to the fact that it flies in the face of what their profession pretends to serve. And it shines a large spotlight on what NCAA president Mark Emmert, SEC commissioner Greg Sankey, ACC commissioner John Swofford, and others truly serve: themselves.