---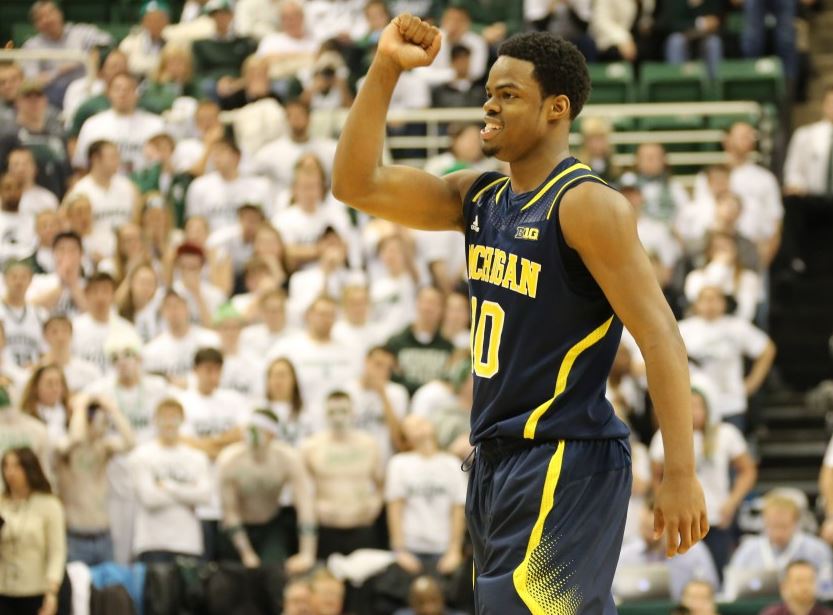 (Dustin Johnson, UMHoops)
When Michigan knocked off rival Michigan State in East Lansing on Jan. 25 it was freshman point guard Derrick Walton Jr. who led the way, pouring in 19 points, six rebounds, and four assists. On Sunday, the Spartans pay a return visit in what should decide the regular season Big Ten title and Michigan will need some more magic from its rising star.
As former Michigan stars Trey Burke and Tim Hardaway, Jr. played on the same team last Friday night in the NBA Future Stars game, it brought back memories of the two tearing through the Big Ten in Ann Arbor. Burke, who received the Wooden Award as college basketball's best player last season, left an especially unique mark on the Maize and Blue faithful after leading his team to the national championship game and returning the program to its former prestige.
But great college players all have something in common: they move on. Burke entered the NBA Draft after just his second season at Michigan and the Minnesota Timberwolves drafted him with the No. 9 pick for the Utah Jazz. Burke has shined in the first half of his first NBA, averaging 12.5 points and 5.5 assists per game. Jazz began the season 1-11 with Burke out with an injury, but since Burke's return, the team stands at a much-improved 18-22.
Elite college programs separate themselves by reloading and maintaining levels of success even when great players move to the next level. Certainly, Michigan expected a decline in production from the point guard spot when Burke left.
The question remains, however, how much of a drop-off it has experienced.
Walton accepted the challenge of following the Burke show when he committed to John Beilein, and his play through 25 games suggests less of a difference than anticipated.
Through the first 25 games of his freshman season, Trey Burke averaged 14.0 points, 3.6 rebounds, and 4.9 assists per game. To date, Walton averages 8.4 points and 2.8 rebounds, and 2.9 assists per game. Burke's stats clearly overshadow those of his successor, but Michigan needs much less from Walton than it did from Burke.
Burke's 11.6 shots per game through 25 games as a freshman nearly doubles Walton's average of six. While Walton has taken 10 or more shots in a game just four times this season — and only once since Nov. 21 — Burke did so in 19 of his first 25. Percentages actually suggest that with more shot attempts, Walton would easily surpass the numbers recorded by Burke.
Burke shot an impressive 47.6 percent inside the arc and 39.1 percent from deep as a freshman. Although his sample size pales in comparison to the number of shots Burke took, Walton shoots 49.4 percent from two-point range and over 40 percent from three-point range. These numbers suggest that overall the freshman Walton plays more efficiently than Burke did.
During his freshman campaign, Burke led the Wolverines to the same 18-7 record through 25 games as Walton has done this season. Burke's freshman run resulted in a Big Ten title and Walton's is on pace to do the same.
Much like last year's Wooden Award winner did during his college career, the young Walton demonstrates the ability to take over games when his team needs it. Burke's miracle shot against Kansas in the Sweet 16 kept the Wolverines alive for their run to the national championship game, while Walton's last-second and-one layup against Nebraska in early January christened the 2014 team as the only one to win in Lincoln's new Pinnacle Bank Arena.
Freshman year comparison – First 25 games
Burke
Min
PPG
Shots/Gm
Ast/Gm
Reb/Gm
2FG%
3FG%
2011-12
35.2
14.0
11.6
4.9
3.6
47.6
39.1
Walton
Min
PPG
Shots/Gm
Ast/Gm
Reb/Gm
2FG%
3FG%
2013-14
26.4
8.4
6.0
2.9
2.8
47.1
39.4
Burke's most iconic regular-season moment came in the form of a steal at half court, victimizing Michigan State's Keith Appling for a Michigan victory. Walton similarly shattered the hearts of Spartan fans, scoring 19 points on just seven shot attempts to win in the Breslin Center, something Burke never accomplished. Instead, Burke did it in reverse during his freshman campaign, leading Michigan with 20 points in a 60-59 home win over Michigan State. He struggled in the second match, scoring 11 points on 4-of-11 shooting. Walton has a chance on Sunday to earn a reputation as a Spartan slayer.
Raw numbers never sufficiently tell the whole story in college sports. In 2011-12, Michigan needed its freshman point guard to score points, so Trey Burke took double-digit shots each game. Walton's remarkable season comes in a different form: the youngster accepts his role as the fourth scoring option behind Nik Stauskas, Caris LeVert and Glenn Robinson III and lets the offense flow.
Despite his youth, Walton never forces his shots and finds other ways to contribute when his teammates take care of the scoring. In Columbus last Tuesday, Walton grabbed 10 rebounds and dished out six assists while Stauskas led the team in scoring.
Comparing Walton to the greatest player in college basketball from a year ago reeks of disaster just 25 games into his career. But the freshman point guard plays with the poise and confidence of a much older player, and that maturity generates excitement among Michigan fans.
Derrick Walton Jr. isn't Trey Burke. Not yet. But his first several months suggest a special future for Michigan's newest star point guard. And another standout performance in leading Michigan to victory over Michigan State this Sunday would be another notch in his belt.