---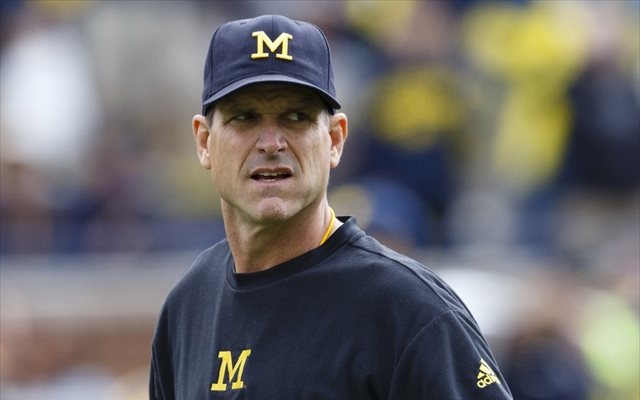 (USATSI)
Alabama may have put the Southeastern Conference back atop the college football world last month, but Jim Harbaugh isn't backing down. The Michigan head coach has captured headlines since returning to his alma mater less than 14 months ago and his most recent ploy has shone a light on the hypocrisy of southern schools.
Harbaugh announced following Michigan's Signing of the Stars event on Feb. 3 that he would be taking the team south for Spring Break to practice at IMG Academy in Bradenton, Fla. But just like his Summer Swarm football camp tour of the south and west coast last summer, the move is drawing the ire of SEC and ACC brass.
"Our primary reaction [is] that, in the face of the time-demand conversations, we've got one program taking what has been 'free time' away," said SEC Commissioner Greg Sankey on Tuesday. "Let's draw a line and say, 'That's not appropriate.'"
In other words, Jim Harbaugh is doing something within the rules but we don't like it so let's change the rules so he can't do it anymore.
He continued:
"This seems completely counter to the dialogue," Sankey said. "We have work to do on [giving athletes a] day off. We have work to do on, how do you provide a postseason break? It seems where this is one where reasonable people could say we just shouldn't be in this space."
One of Harbaugh's stated reasons for the Spring Break trip is to give the student athletes two weeks off — discretionary weeks as he called them — to focus on finals, which start April 20. By starting spring practice in late February and utilizing Spring Break for outdoor practice, team bonding, and yes, visibility to recruits, Michigan can close spring practice with two weeks off to focus on academics.
"We're going to have swim meets, we're going to have putt-putt golf, we're going to have football meetings, we're going to have practice," Harbaugh said. "I think it gives us a chance to win on a lot of different levels. We'll be outside, we'll be in Florida, we'll go to the beach. It will be a good time for our team to connect and be together. That's a lot of levels right there to win on, so I'm very much looking forward to it."
Sankey, of course, didn't address that fact because it didn't fit his narrative. Think of the kids, he said. Meanwhile, Ole Miss has been charged with 28 NCAA violations, 13 of which have come from the football team, and Tennessee is facing a lawsuit from six women who claim that the university — and its football program in particular — create a culture that enables sexual assault by student athletes. Guess who has been silent about thinking of the kids in these situations thus far? You guessed it, Sankey.
The conference that Sankey inherited from Mike Slive a year ago, and has been a part of for over 13 years, has faced numerous major infractions in the past six years, but hasn't received more than a slap on the wrist since Mississippi State was stripped of scholarships and banned from postseason play in 2004. Sankey, coincidentally, serves on the NCAA Committee on Infractions, which he has chaired since 2014.
But the disagreements with Harbaugh's Spring Break trip aren't limited to the SEC. Atlantic Coast Conference commissioner John Swofford joined the fray on a Thursday interview on Sirius XM College Sports.
"It is creative," Swofford said. "It's kind of like we're going to take you on vacation but you've got to practice while we're on vacation … it's a huge intrusion on a college student's life and taking his ability to have a break out of his hands. I guess it depends on how you look at it."
All of a sudden the commissioners of the two conferences that make up the southeastern United States — where a large portion of the nation's top recruits year in and year out reside — are worried about student athletes. Yet Swoffod's conference has been littered with NCAA sanctions in recent years from Miami to North Carolina to Georgia Tech to Florida State to Syracuse basketball, and most recently, Louisville basketball.
"I'm not concerned about the league's image," he said.
Well as long as the league's image is intact, who cares that Jameis Winston's actions were swept under the rug while he lead the Seminoles to a national championship? Who cares that over 1,000 student athletes from the North Carolina football and basketball programs received extra benefits and were involved in academic fraud? It's all about the kids, remember?
College basketball teams regularly travel to holiday tournaments in Puerto Rico, Hawaii, and the Bahamas during winter break. College baseball, softball, golf, swimming, and gymnastics teams regularly travel south in the spring to open their seasons in the sun. And college football itself eschews winter break in favor of traveling south or west for a week of practice culminating with a bowl game. The student athletes' winter breaks were further consumed by football when college football expanded to the College Football Playoff in 2014. Where were Sankey's and Swofford's protests when Florida State and Alabama student athletes missed out on a week of a break before spring semester began?
Just last month, Clemson, a school from Swofford's conference, was granted an NCAA waiver to practice more than the 20-hour a week limit. Why? Because their opponent, Alabama, hadn't yet begun spring semester and thus, wasn't bound by the practice limits. Where were Sankey's and Swofford's concern for the students' time then?
The argument for the welfare of the kids is the easy one, the political one, to make. Because it gives the appearance — even if dishonest — that his main concern is based on academics. But it's not the real one. While Sankey denies that he's trying to protect his conference's built-in competitive advantage of most of the nation's top recruits residing in their schools' back yards, that's exactly what his argument is about. The reality is that Harbaugh is out-thinking and out-working his coaches and he doesn't want to be caught flat footed.
Harbaugh often turns to Twitter to issue quotes and thoughts of the day that give a glimpse into his line of thought. An old Irish proverb comes to mind for this situation.
You will never plough a field if you only turn it over in your mind.
It's possible that Nick Saban and Dabo Swinney have had ideas similar to the Summer Swarm tour or Signing of the Stars or destination spring practices. Whether they have or not, they haven't put them into practice. In just over a year on the job, Harbaugh has, and it's allowing him to quickly make up ground on his counterparts.
He took a sinking, 5-7 team and doubled its win total, culminating with a 41-7 thrashing of SEC East champion, Florida. He followed that up by signing a top-five recruiting class that includes the top overall player in the nation, Rashan Gary, who included Clemson and Alabama among his final choices. The roster Harbaugh inherited in 2015 was the least talented he will have during his tenure in Ann Arbor, and his continued success on the field will breed success on the recruiting trail. Snakey, Swofford, and the coaches of the schools they preside over want to do everything they can to preserve their own success.
Harbaugh hasn't broken the rules. He's just a step ahead of the rest and forcing them to try to change the rules in order to keep up. And soon enough it will pay off, which is why, not only is he the target of commissioners pleading the NCAA to slow him down, but also other coaches spreading rumors about him to recruits and their families. Gary's mother, Jennifer Coney, said as much after her son picked Michigan.
"That was a turn off," Coney said of the negative recruiting. "Bring your program up. Tell me about all the good things that your program, your school, and the people on your staff do. Don't kick this person in the back.  Nobody likes Michigan. Nooobody likes Michigan.  When Rashan picked Michigan, my phone stopped ringing. It was a blessing."
Fellow defensive tackle commit Michael Dwumfor, who flipped from Penn State to Michigan in late January, agreed.
"When I was at Penn State, I heard jokes about Harbaugh and stuff like that," Dwumfour said. "In the back of my head, I'm thinking 'What he's doing is working, obviously. Instead of criticizing him, you might want to take some of his techniques to try and help yourself out and get some recruits.'"
The SEC, ACC, and coaches within his own conference — who, not-so-coincidentally, came from the SEC — can say all they want, but Harbaugh will continue pushing the limits within the rule book to succeed in the cutthroat world of college football. And if they don't match his enthusiasm, work ethic, and imagination, it won't be long before they are dethroned.
That brings another Irish proverb to mind.
It is not the same to go to the king's house as to come from it.