---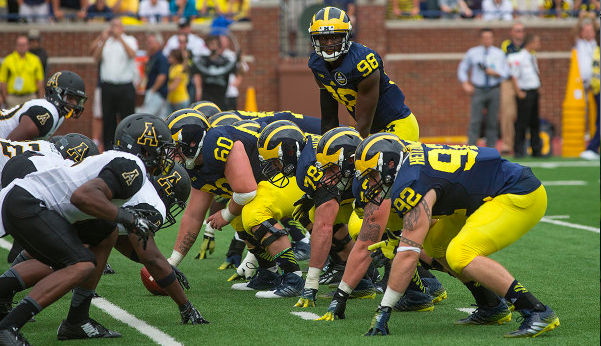 (MGoBlue.com)
Michigan's offense has been the subject of great concern through the first third of this season. It looked great against Appalachian State in Week 1, but of course, that was against Appalachian State, a first-year FBS school and a team nowhere close to the three-time FCS champion team it was when it beat Michigan in 2007. The offense was exposed against Notre Dame in Week 2, failing to reach the Irish red zone or score a single point, resulting in Michigan's first shutout in 30 years. While it sputtered a bit in the first half against Miami (Ohio) in Week 3, the end result showed a solid performance. But the problems came back last week against Utah as the offense once again failed to reach the red zone or score a touchdown.
So what gives? Is there any hope for a turnaround as the season goes on, or is it simply a lost cause? Let's take a look at a recent comparison that could provide a sliver of hope.
Offensive Comparison through four games
Team 1
Team 2
22.0
Offensive points per game
20.5
10
Offensive touchdowns
10
1,363
Total yards
1,617
340.8
Total yards per game
404.2
748
Rushing yards
844
187.0
Rushing yards per game
211.0
4.6
Rushing yards per carry
5.6
615
Passing yards
773
153.8
Passing yards per game
193.2
6
Turnovers
12
We need to look no further than our friends 60 miles up Interstate-96 for a recent example of an inept offense turning things around over the course of a season. A year ago at this time we were all mocking the Michigan State offense for its inability to move the ball and find the end zone.
In the chart above, Team 1 is last year's Michigan State offense through its first four games. Team 2 is this year's Michigan offense through its first four games. As you can see, they compare rather favorably. Both offenses scored 10 touchdowns, but Michigan State made two more field goals than Michigan's has. Michigan's offense averaged 64 more yards per game, 24 more rushing yards, a whole yard more yard per carry, and 40 more passing yards. The main difference is that Michigan's offense turned the ball over twice as many times as Michigan State's did.
But how did the quality of opponents compare? I'm glad you asked. Actually, the four teams Michigan has played this season have been tougher than the four Michigan State opened with in 2013. Michigan State played Western Michigan, South Florida, Youngstown State, and Notre Dame, four teams that finished the season with a combined record of 20-29. Essentially, three cupcakes and Notre Dame.
Youngstown State was an FCS program and can be compared to this year's Appalachian State. Western Michigan, which finished 1-11, can be compared to this year's Miami (Ohio). Notre Dame is obviously the only shared team, although this year's Notre Dame is likely a little bit better than last year's. So that leaves last year's South Florida compared to this year's Utah. South Florida went 2-10 last season with wins against Cincinnati (26-20) and UConn (13-10). They lost to McNeese State and Florida Atlantic. Utah is a top-25 caliber team that would likely be in the top third of the Big Ten this season. Much better than last year's South Florida.
So now that we've established that Michigan's offense has actually been better than 2013 Michigan State's through four games, and has done so against better competition, let's look at three factors that could bring about improvement.
1. New quarterback
It appears that Brady Hoke will turn to sophomore Shane Morris this Saturday. Morris has one career start under his belt — the 2013 Buffalo Wild Wings Bowl. He completed 24-of-38 passes for 196 yards and an interception. In spot duty so far this season, he has completed just 7-of-20 for 79 yards and two interceptions. Those numbers don't suggest much, but given the start to the season, it can't hurt to give him a shot as the starter and see if he can provide a spark.
One of the main keys to Michigan State's offensive turnaround last season was the progress of quarterback Connor Cook as the season went on. He didn't begin the season as the starter, but once he officially won the job, he took it and ran with it. After that Notre Dame game, the job was fully his, and he finished the season with 200-yard passing games in seven of the final 10 games, including back-to-back 300-yard passing games against Ohio State and Stanford.
We know that Devin Gardner is capable of putting up big numbers (see: Notre Dame, Indiana, Ohio State in 2013). But we've also seen him struggle with consistency, decision-making, and footwork, which have led to turnovers galore. Whether his issues are physical or mental, perhaps it will help him to watch from the sidelines for a bit. Morris doesn't have the baggage that Gardner has — three different offensive coordinators in five years, switch to receiver, beaten up thanks to a porous offensive line last season — and thus, could show the same type of progression throughout the season that Cook showed a year ago.
2. Growth of Nussmeier's offense
After three years of Al Borges running the offense, Hoke fired him and brought in Alabama offensive coordinator Doug Nussmeier. The early returns on his offense have been underwhelming, but the towel shouldn't be thrown in just yet. Keep in mind that it has only been four games. Everyone wants to win and win now, especially after the last six years, but installing a new offense takes time.
"[The offense is] still in infancy stages here, we're still learning to play consistently well," Nussmeier said after the Notre Dame loss. "It's about 11 guys on every play, doing the right thing…If it's 10 guys doing the right thing, and one guy doing the wrong thing, you're doomed. We've got to get 11 guys, on every play, doing the right thing."
The offense has shown that it can move the ball, but it has been plagued by untimely mistakes — a sack here, a holding penalty there — that have stalled drives, created third-and-longs, and led to turnovers. As Drew Hallett pointed out this afternoon, every team in college football in 2013 combined to score either a touchdown or field goal or reach the red zone 69 percent of the time they crossed midfield. Based on that data, the odds of an offense crossing midfield 12 times and failing to score or reach the red zone 11 of those times was 0.002 percent. Yet that's what this Michigan offense has done against Notre Dame and Utah.
Eventually, that's going to improve. As players get more comfortable with the offense and it continues to expand throughout the season, drive-killing mistakes won't continue to happen — at least with as much frequency. And as that improves, Michigan will score more points.
We've already seen Derrick Green show improvement from last season. He has 391 yards through four games. Michigan State running back Jeremy Langford, who finished last season with 1,422 yards — fifth-best in the Big Ten — had just 268 through his first four games last season. In addition, we know the explosiveness Devin Funchess can bring, but much of Gardner's problems had to do with locking onto Funchess. Perhaps Morris will go through his progressions more than Gardner has and find receivers other than Funchess, which is important for the offense to continue to grow, and allow fellow receivers Jehu Chesson and Amara Darboh to take on a larger role. Keeping with the Michigan State theme, no one thought much of Michigan State's receivers heading into last season, but Bennie Fowler, Tony Lippett, Macgarrett Kings, and Keith Mumphrey played a big part in their success as the season went on.
3. Turnovers evening out
Michigan has averaged three turnovers per game so far this season. It's impossible to beat good teams when that happens. To make matters worse, the defense, as solid as it has been, only has two takeaways, which means it isn't setting the offense up with field position that it can take advantage of. Michigan currently ranks last nationally in turnover margin (minus-10). Those numbers are bound to even out during the final two-thirds of the season.
Interceptions are, most of the time, the fault of the quarterback, but which team recovers fumbles is largely a result of luck — the luck of the bounce or being in the right place at the right time. Michigan has lost four of the six times it has fumbled and hasn't recovered either of the two opponent fumbles. So that's six of eight fumbles that have bounced the wrong way. Turn those around and the turnover issues aren't quite as grim. That's why, as the season goes on, the numbers are bound to equal out.
Conclusion:
Of course, Shane Morris might end up being farther behind than we hope, the team might not get a good grasp of Nussmeier's offense, and it might continue turning the ball over and failing to force turnovers defensively. And just because Michigan State's offense turned around last season, it doesn't mean Michigan's will follow suit. But at the very least, there is recent precedent for it happening and signs that it could. As long as Michigan's defense continues to play at the high level it has been, any improvement by the offense as the season goes on will give Michigan a chance to win every remaining game.