---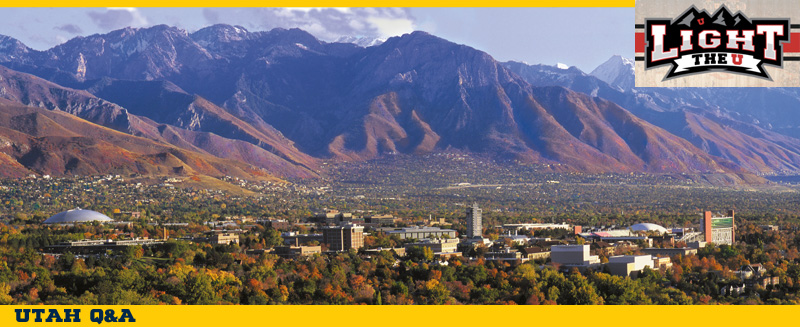 Each Thursday throughout the season we collaborate with that week's opponent blog to get some questions answered by the guys who know more about their team than we do. This week, we partnered with Steve Bartle of the Utah blog, Light the U. He was kind enough to answer questions about the how Utah fans view Michigan, how new offensive coordinator Dave Christensen has changed the offense, how Utah can stop Devin Funchess, and more. You can follow Light the U on Twitter at @LightTheU and you can follow Steve at @bartle21_56.
1. When Utah came to Ann Arbor in 2008, Michigan hadn't really begun its downfall. It was the first season of Rich Rodriguez and there was a lot of excitement around the program. Now, after six down years, do Utah fans view Michigan in a different light? How is Michigan's prestige now viewed to those out west compared to six years ago?
No, I don't think Utah fans view Michigan much differently since our last trip there, in fact, there is a great amount of excitement among the fans. You would think with the lack of success that Michigan has had recently, coupled with Utah joining the Pac 12 and playing in stadiums like The Rose Bowl and The Colosseum that it may not be as big a deal, but to fans its still THE Big House… One of the most majestic and iconic places in all of college sports. It's still a BIG, big deal.
Not only that, but the fact that our athletic director chose to schedule a 1-1 with Michigan by taking a two-year break from our heated and hated rivals, BYU (and I'm sure you guys can relate to how big of a deal it is to take a break from an Independent Religious Institution rivalry), I think speaks volumes about how highly regarded Michigan still is, at least out here. Rest assured, while the Wolverines have struggled more than the sports world is accustomed, to Utah fans UM will always be a big name program with a target on its back.
2. Utah's offense was average to slightly below average last season (66th nationally in scoring, 76th in total offense, 72nd running, 62nd passing) and scored more than 40 points just twice. It has scored 56 and 59 in its first two games this season and averaged 557 yards. Is there really a big difference, or is it a result of the quality of opponents played so far? In what ways has Dave Christensen changed the offense?
With six offensive coordinators in six years, there has been a good amount of change to Utah's offense. One thing that Dave Christensen brings, more so than the others, is know-how. Christensen knows what he wants out of the offense and he knows how to get it, which is something we've lacked. The No. 1 thing Christensen preaches is "ball protection," he does not want to turn it over. The next big change is tempo. Christensen wants to score, and he wants to score fast. The first three possessions versus Fresno State totaled 17 points in only 5:49 of possession. Again, he knows what he wants and how to get it.
Honestly, the offensive production was probably a little bit of both. Make no mistake, the first two games were not very difficult. Idaho State is… well, Idaho State… and if you can't put up that kind of produciton against them you probably don't belong in a Power 5 conference. Most of us at Light The U thought that Fresno State would present a much bigger challenge than they actually did, but after three straight games of giving up at least 52 points to the opposition, its obvious they just aren't very good either. So, of course, the quality of opponent begs the question of how legitimate this improvement actually is. An interesting thing to keep in mind though, the starters only played the first half of each game. The second unit kept up the offensive pressure in the second half and scored 14 of the 56 against Idaho State, and 21 of the 59 against Fresno State, which leads to my next point…
Utah has added more quality depth at the quarterback and skill positions. Something we've learned since joining the Pac12, is it's one thing to have front line talent, and another to have talent in your second and third units. Depth is not only good in case of injuries, but also for production. Utah has been hurt by injuries the past few seasons, but it seems like we've added the necessary depth to be competitive among the "big boys."
Probably the most important "addition" to the depth chart is 6'3", 208-pound receiver Kenneth Scott. I say "addition" because he was a starter last year but is returning from a season ending injury that he suffered on the very first play of the season. A bigger, crisp-route-running, possession receiver, Scott has totaled 10 receptions for 134 yard and three touchdowns. Not only will he provide good production, but he'll also keep defenses honest in defending Dres Anderson too. An explosive playmaker and statistically one of the best returning receivers in the Pac-12, Anderson is picking up where he left off last year with seven receptions for 194 yards (a 27.9 avg.) and two touchdowns.
Another good addition to the team is running back Davontae Booker. Part of a two-headed attack with Bubba Poole, Booker has been awfully impressive running the ball so far to the tune of 20 carries for 145 yards and two touchdowns. A typical running back, he has the ability to pound the rock up the middle or bounce it outside. Poole is more of a pass catching running back who thrives in space. Not necessarily explosive, Poole has an uncanny ability to create something and will consistently get 7-8 yards per touch.
All of this would mean little without mentioning the return of starter Travis Wilson. At one point, the thought was he would be forced to medically retire after discovering an intracranial artery injury, he was medically cleared in the summer and has returned looking much better. He is making better decisions, and has been pretty accurate with his throws. Much like Wolverine quarterback Devin Gardner, Wilson has struggled with consistency. Often locking on to one receiver and forcing throws into coverage last year, so far Wilson has thrown six touchdowns and 0 interceptions. If he continues to play like this, his improvement will be the biggest difference from last year.
3. Michigan quarterback Devin Gardner struggles when facing pressure, but has a huge target in Devin Funchess (he didn't play last week, but hopefully will this week). Does Utah's defense have anyone that can cover Funchess, and do they also have the ability to force Gardner to make mistakes? I saw that Fresno State passed for almost 300 yards against Utah two weeks ago. Is the secondary vulnerable?
Do we have the ability to get pressure on Devin Gardner? The simple answer is yes. Kalani Sitake, the defensive coordinator, has earned a strong reputation in big games and will be dialing up something special for the UM offense. Nate Orchard is the name you'll want to pay attention to. He's going to be all over the field, lining up at defensive end and linebacker. Not only Orchard, but Hunter Dimick, Jason Fanaika, and Pita Taumoepenu are going to be doing all they can getting after Gardner. Dimick and Fanaika are your typical defensive ends, whereas Pita is a 6'2", 230-pound edge rusher that is just explosive and relentless in pursuit. Not only that, but Utah will rotate anywhere from four to six defensive tackles throughout the game to stay fresh and on the attack.
Ok, lets be honest, at 6'5″, 230-pound and 4.3-4.4 forty time, Funchess is a freak of nature. With his size and athleticism, I'm not sure there is a player out there that would be able to cover him alone. We're going to give it a shot though, and the player that you'll most likely see cover him is Eric Rowe. At 6'1", 201-pounds and a reported 4.4 forty-yard dash, he possesses pretty good measurables. Even with those measurables, this is Rowe's first season at cornerback after playing the previous three at free safety, Rowe has looked just decent in coverage. All I'm saying is, if I were Devin Gardner, I'd be throwing it to Funchess as often as possible.
The other cornerback you'll see is Dominique Hatfield or "Domo", who is also in his first season as a corner after spending last year at receiver. Domo is quite the natural, having only been playing on the defensive side for about a month, he has already taken over the starting spot opposite of Rowe. Even though he's only been on the defensive side for a month, I can't stress enough just how impressive he has been. Even though a majority of the 300 yards passing we gave up was against our second unit, Devin Gardner is a far superior quarterback to what we saw from Fresno State. So yes, I would say that our secondary is vulnerable, which makes it that much more important for us to get pressure on Gardner.
4. What matchup worries you the most? And what matchup do you feel Utah has the biggest advantage?
As I said previously, Funchess is a freak, and absolute match-up nightmare. He is my biggest worry, period. If he and Gardner find a rhythm, it could be a very long afternoon. Outside of that, Coach Hoke has talked about establishing the run and when you have Derrick Green, who is averaging 6.6 yards per carry, and De'Veon Smith averaging 7.9, yeah that is a big…no, a huge worry. Especially when our defensive line was called "soft" by Idaho State coaches, after we got torched by them for 179 rushing yards. We bounced back against Fresno State limiting them to 55 yards. We are inexperienced and somewhat light at defensive tackle, and that leaves me concerned. Basically, which rush defense do we see?
Our biggest advantage is in the passing game with Dres Anderson and Kenneth Scott. Michigan's cornerbacks have not been very impressive so far, probably due to injuries to some key players, but it is what it is. Anderson and Scott have looked great, and are out to prove that they are the best duo in Pac-12. Besides those two, a key for Utah is getting a third pass catcher going. Westlee Tonga is a solid receiving tight end, but something I'm very interested to see is how much we get Kaelin Clay involved in the passing game this week. Clay, if you remember, was a SportsCenter No. 1 play for returning a kickoff and punt for touchdowns, he's a very explosive athlete.
5. What's your prediction? Who will win and why?
While this isn't a conference game, this is an important game for both teams. For Utah, a road victory is something that has come few and far between. For Michigan, needing to re-establish themselves after that Notre Dame loss. While I don't have the same access to Michigan, the vibe I get from Utah players is quite positive. There is a belief that hasn't been there recently.
Drum roll please…
My prediction – Utah 31 Michigan 27
Trust me, I can easily see this game going the other way. Utah has not won a big game on the road in forever, and Michigan has a very solid home record versus non-conference opponents. Like I said, there is a belief at Utah and I'm totally sippin the kool aid. Now, outside of winning the turnover battle, priority No. 1 for Utah has to be stopping the run. I feel keeping Gardner in third-and-long situations plays to our strength, which is getting pressure on the quarterback. If Michigan establishes the run, all bets are off. Travis Wilson has to continue to take care of the ball, get it to his skill guys, and let them create.
This should be a very competitive and fun game to watch. Both teams have so much on the line. Ute fans are definitely looking forward to Saturday. Here's to an injury free and very competitive game. Go Utes!