---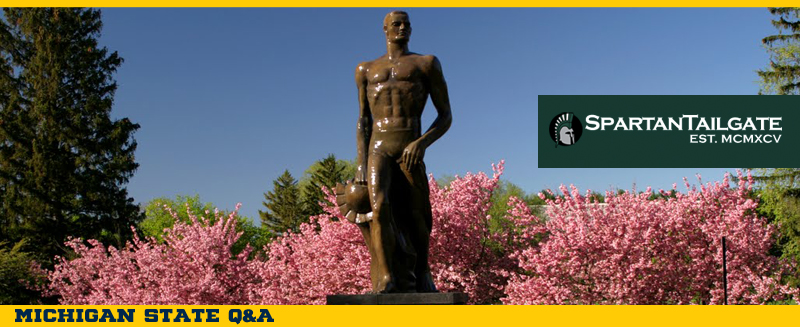 Each Thursday throughout the season we collaborate with that week's opponent blog to get some questions answered by the guys who know more about their team than we do. This week, we partnered with Chris Vannini, writer for SpartanTailgate.com, part of the 247 Sports Network. He was kind enough to answer questions about the way Michigan State fans view Michigan at the moment, how the MSU offense got so good, what — if anything — Michigan's offense can exploit on Saturday, and more. You can follow him on Twitter at @ChrisVannini.
1. Michigan State has five wins in the past six years, and is big favorites again this week. It's got to be getting old, right?
It's certainly something no one saw coming, having only happened once before, when MSU went 6-0-2 from 1956-63. Yet even in the build-up to this week, it's clear more intensity is coming from one side, and that's the MSU side. Now, part of that is certainly because of U-M's struggles and a developing apathy amongst U-M fans, but this won't last forever, so MSU fans are making sure they enjoy as much as they can.
2. But seriously, how do Michigan State fans view the current state of the Michigan program and Coach Hoke? With glee, with pity, or what?
More than anything, I think it's a feeling of, "I told you so." When Hoke came in and started cleaning up in recruiting, many stories were written about the second coming of a 10-Year War between U-M and OSU, especially after MSU's 2012 struggles. But it turned out that was an anomaly, and a program that had developed players for five years continued to do so. No one is wondering if MSU can sustain under Mark Dantonio anymore. Years of top recruiting classes and fast starts followed by players not developing and seasons falling apart have taken away any benefit of the doubt U-M receives, while MSU is getting that benefit for the first time, as shown by their high ranking despite the Oregon loss.
3. Since Mark Dantonio took over, the Spartans have had great defenses and average offenses. What's different about this season? How did the offense get so good, especially after how bad it was the first half of last season?
I've never seen a unit improve as much as MSU's offense did throughout last season, and I don't think I ever will again. Even MSU's offensice coaches were surprised, because the offseason is typically when that development happens. With where things ended last year, and with all the skill players coming back (other than Bennie Fowler), we figured the offense could have to carry the team early in the season. But we didn't see this coming, an offense that is on pace to be the most prolific in school history.
The passing game and Connor Cook continued where they left off, and Cook has played himself into NFL first-round pick consideration. Replacing holes on the offensive line was the question mark. They've dealt with some injuries, and aren't as deep as a year ago, but the results have been promising. MSU is still a solid, not great, running team, and MSU has allowed the fewest sacks per game in the country. Cook has time, and he can find his bevy of receivers, especially Tony Lippett, who has gone from being benched early last season to being one of the best receivers in the country this year, catching everything.
4. By now, we're used to a vaunted MSU defense, but it seems that MSU has taken a minor step back defensively so far this season. Michigan is actually allowing 0.2 fewer points per game and fewer rushing yards per game. Is there anything that Michigan's offense has any hope of exploiting this week?
The biggest issue for this defense has been big plays, and it's because the safeties have struggled. Kurtis Drummond has been inconsistent, and RJ Williamson and true freshman Montae Nicholson have been sharing time at the other safety spot. MSU has allowed 19 plays of at least 30 yards, which is No. 103 nationally. Unfortunately for the Wolverines, they've been really bad at getting explosive plays on offense. But it's something most teams have been able to do to MSU this season. The defense as a unit has gone from "elite" to "good," and the big plays are the biggest problem.
5. Where do you see Michigan State having the biggest advantage this week, and why?
I think it has to come down to MSU's defensive line against U-M's offensive line, as it did a year ago. Shilique Calhoun and Marcus Rush are both playing great on the outside, and Lawrence Thomas, Joel Heath and Malik McDowell have the tackles more disruptive than a year ago. I don't expect minus-48 rushing yards, but I think Michigan will have trouble getting anything going on the ground, especially with Derrick Green out.
6. Finally, what's your prediction and how will it happen?
I'm going to go with a 38-24 MSU victory. With the weather looking nice, I think both teams will be able to move the ball (yes, including U-M). MSU will be able to move up and down with the pass, and I think U-M will be able to hit some big plays. Everyone has done it to MSU this year. I don't see why U-M won't. But I think it'll be MSU's offense that's the difference in this one, unlike years past.