---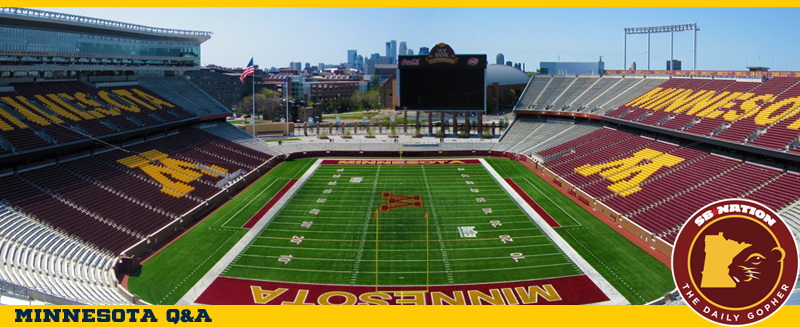 Each Thursday throughout the season we collaborate with that week's opponent blog to get some questions answered by the guys who know more about their team than we do. This week, we partnered with JDMill of the Minnesota SB Nation blog, The Daily Gopher. He was kind enough to answer questions about the stagnant Gopher passing game, whether Minnesota can run on Michigan's defense, how Minnesota fans view the Michigan current state of affairs, and more. You can follow The Daily Gopher on Twitter at @TheDailyGopher and you can follow JDMill at @jdmill.
1. What's up with the Minnesota passing game? Less than 100 yards a game? Only seven yards last week? What's the deal?
What came first, the chicken or the egg? That's kind of the deal with the Gophers. Do they not pass very often because the running game is so good, or do they not pass very often because the passing game is so bad?
If you ask the coaches, they will tell you that the running game has been working, so there hasn't been a need to pass. I think the fans are a little bit more nervous. Take a look at the TCU game. The Gophers were forced to pass because they got behind early and the run game wasn't as effective as needed. As such, Mitch Leidner threw 26 times, completing just 12 for 151 yards, no touchdowns and three interceptions. Not. Pretty.
So while the coaches will tell you that if the running game is working there is no reason to pass, they have also admitted this week that they are going to need to be able to throw the ball more effectively to keep teams honest now that we're hitting the conference schedule.
2. The running game on the other hand has been pretty good, especially David Cobb. Michigan's rush defense has only allowed one of its four opponents (Appalachian State in Week 1) to rush for over 100 yards. Do you think Minnesota will be able to run on Michigan?
I do think we'll be able to run a bit on Michigan, but we've been averaging over 230 yards rushing per game in the non-con, and I don't think we'll be able to do that against the Wolverines. The trump card, however, is quarterback Chris Streveler. With him behind center the Gophers have a true, fast addition that seems to be able to run the read-option pretty effectively. I could see a scenario where Minnesota puts up 150 yards rushing with at least half of that coming from the quarterback.
3. Minnesota also has a pretty good run defense, but three of the four opponents have thrown for over 250 yards. Michigan's offense has had well-publicized problems against the only power-five teams it has played (Notre Dame and Utah). Do you think Minnesota's defense can force Michigan's offense into those same types of mistakes?
This is a defense that gives up a fair number of yards, but not a lot of points. The Gophers give up 122 yards per game more than Michigan, but we've allowed the exact same number of points. In fact, Minnesota has given up more yards than it has produced in three out of our four games this season so far.
The Gopher defense is opportunistic and that's an important characteristic for a team that is going to struggle to throw the ball. The defense has given this team points and short fields, and I believe they will continue that trend and win the turnover battle with Michigan.
4. What's your view on the current state of the Michigan program? Things are falling apart at the seams here, but what does it look like from the outside? And do Gopher fans enjoy seeing Michigan struggle like this?
Well, from the outside it looks like things are falling apart at the seams
I think the biggest eye-opener for everyone else in the conference was when Notre Dame took the Wolverines behind the wood shed. For me, anyway, that was just shocking. We expect Michigan to at least be competitive and they just didn't even show up. And then to follow that up with the effort against Utah…well, you guys lived it so I won't go on.
I'm hard pressed to say that Gopher fans enjoy it. I mean, I think schadenfreude is always alive and well in the B1G and Michigan has beaten the tar out of us for 45 years, so it certainly doesn't hurt us to see this happening and I think Gopher fans smell blood in the water and a chance to get a trophy back. But the reality is that a competitive Michigan is good for the B1G, and I think deep down we know that.
The interesting piece of the puzzle here is that Brady Hoke is who many Gopher fans wanted as coach when Minnesota got Jerry Kill. The rumor is that Hoke turned down the job knowing that the Michigan job was probably in his grasp.
5. What's your prediction, and why?
I REALLY want to predict a Gopher win here. I REALLY want to believe that Michigan is down on itself enough that Minnesota will be able to take advantage, dominate defensively, and do enough on offense to put up some points. In order for that to happen I think we'd be looking at a 17-10 type of game and one of the Gopher touchdowns would be from defense or special teams.
However, I've been around long enough to know that weird things happen to Minnesota when we play Michigan. Things fall apart for the Gophers. Michigan wakes up. Quarterbacks have career days against our defense. And knowing the history of this rivalry, my fragile psyche just won't let me predict a Gopher win. To paraphrase the Gin Blossoms, if I don't expect to much of the Gophers I might not be let down.
Michigan 24 – Minnesota 17.