---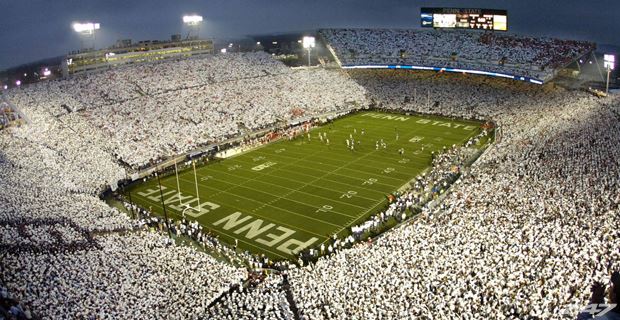 Michigan got back in the win column on Saturday, topping Indiana 27-20 in overtime to advance to 5-1 overall and 2-1 in the Big Ten. Their reward? A trip to State College to face the No. 2 Penn State Nittany Lions in a primetime "White Out" game.
A year ago, Michigan humiliated Penn State in Ann Arbor to the point where James Franklin kicked a field goal on 4th-and-goal from the Michigan 2-yard line in the third quarter while trailing 28-0. Penn State went on to win the Big Ten despite that 49-10 loss and you can bet Franklin hasn't forgotten that game. The Nittany Lions have won 15 of their last 16 games and had a bye week this Saturday to prepare. Let's take a look at the matchup.
Penn State & Michigan team stats comparison

Offense
Defense

Average

Rank

Average

Rank

Average

Rank

Average

Rank

39.7

17th

27.2

79th
PPG

9.0

1st

14.7
8th

990

1,110

Rush Yds

704

515

165.0

66th

185.0

49th
Rush/Gm

117.3

24th

85.8
6th

4.8

4.4

Rush Avg

3.1

2.6
1,747

1,148

Pass Yds

1,007

828
291.2

22nd

191.3

94th
Pass/Gm

167.8

9th

138.0
3rd
2,737

2,258

Total Off.

1,711

1,343
456.2

33rd

376.3

86th
Total Off./Gm

285.2

9th

223.8
1st

30.9

1st

18.5

104th
KR Avg

18.6

40th

13.9
2nd

15.8

12th

8.7

49th
PR Avg

1.3

12th

8.0
72nd

29:56

63rd

33:12

11th
Avg TOP

30:04

26:48
38%

77th

32%

116th
3rd Down%

34%

41st

20%
1st

16-99

101st

16-102

101st
Sacks-Yds

17-111

19th

20-145
6th

31

17

TDs

7

10

6-13 (46%)

14-16 (88%)

FG-ATT

2-4 (50%)

6-10 (60%)

23-27 (85%)

58th

17-18 (94%)

10th
Red Zone

6-10 (60%)

4th

10-12 (83%)
67th
19-27 (70%)

6-18 (33%)

 RZ TD

4-10 (40%)

7-12 (58%)
OFEI/DFEI

22.4

3

27.6
76
S&P+

21.7

22

15.3
8
Penn State is the nation's hottest team with 15 wins in their last 16 games since their loss at Michigan last September. The only loss was a 52-49 defeat by USC in the Rose Bowl on Jan. 2 to end last season. They're 6-0 so far this season and have looked dominant in doing so, but how good are they really?
The non-conference slate featured Akron (now 3-3), Pitt (2-5), and Georgia State (3-2). Penn State handled those three by a combined score of 141-14. The Nittany Lions opened Big Ten play with Iowa, nearly getting tripped up, but scoring from seven yards out on the final play of the game to pull off a win. They then beat Indiana 45-17 and Northwestern 31-7.
Have they looked better than Michigan this season? Of course. But are they unbeatable? Absolutely not, as proven by the near defeat in Iowa City. Iowa is a good team, but isn't the team it has been the past few seasons. But the next three weeks will decide Penn State's fate. Michigan comes to town and then they travel to Ohio State and Michigan State in back to back weeks. Get through that gauntlet unscathed and they'll have a date with Wisconsin for the Big Ten title for the second straight year. But that's easier said than done.
Penn State features the best offense Michigan has faced yet this season but also the best defense. The Nittany Lions have a scoring margin of 30.7 points, which is one of the best nationally, behind Alabama, Ohio State, and UCF. They have two shutouts, have held three of six opponents to a touchdown or less, and haven't allowed an opponent to score more than 19 points yet this season. Their offense, meanwhile, hasn't scored fewer than 21 points and has topped 45 points in three of six games.
They do it mostly through the air with the 22nd-best passing offense, averaging 291.2 passing yards per game. By comparison, Michigan's nearly nonexistent passing offense is averaging 100 yards fewer. Quarterback Trace McSorely leads the Big Ten and ranks 27th nationally with 266.2 passing yards per game and he carries a 13-to-4 touchdown to interception ratio and leads the conference with a 67 percent completion rate. Penn State has thrown for at least 300 yards in three of their six games with a high of 360 against Georgia State, but Pitt's 110th-ranked pass defense held the Nittany Lions to just 164 passing yards on 5.9 yards per attempt.
While the running game is just middle of the pack statistically (66th nationally, averaging 165.0 yards per game), it does feature one of the nation's top running backs in Saquon Barkley, who ranks third in the Big Ten with 108.2 yards per game. He leads the conference with 217.0 all-purpose yards per game — nearly 50 more than the next-best — as he factors heavily into the run game, pass game, and kick return game. But there's not much in the way of a run game beyond Barkley. Penn State topped 200 yards rushing twice in six games, against Iowa's 57th-ranked and Akron's 69th-ranked rush defenses. But PSU managed just 39 yards on 37 carries against the same Indiana team that Michigan thrashed for 271 yards on Saturday. Barkley averaged just 2.8 yards per carry on 20 carries with a long of eight yards. Last week at Northwestern, they failed to break 100 yards for the second straight game, managing just 2.5 yards per carry.
Defensively, opponents have been able to have some success on the ground as Pitt, Georgia State, and Indiana all rushed for at least 150 yards, though they did so on 3.4 yards per carry. But none of those three have highly-ranked running games. Indiana's is the best at 92nd nationally, while Georgia State's ranks 104th, and Pitt's ranks 113th. The other three opponents — Akron, Iowa, and Northwestern — averaged just 74 yards per game, though all four rank in the 90s nationally as well, which means that Michigan's 49th-ranked running game will be twice as good as any running game Penn State has faced this season, which isn't saying much.
The pass defense is another story. Penn State hasn't allowed a 200-yard passing game yet this season and they boast the nation's ninth-best pass defense, allowing an average of 167.8 yards per game. By comparison, Michigan's third-ranked pass defense allows about 30 yards fewer per game. With the exception of the season opener, when Akron threw for just 85 yards, the last five opponents have been pretty consistent against Penn State, throwing for 187, 170, 191, 175, and 198 yards. Michigan's passing game has been anemic the past couple weeks since the injuries to Wilton Speight and Tarik Black — John O'Korn threw for just 58 yards against Indiana on Saturday — so I wouldn't expect the Wolverines to have much more success through the air than Akron did.
In the special teams game, Penn State ranks pretty highly across the board, leading the nation in kick returns with an average of 30.9 yards and ranking 12th in punt returns, averaging 15.8 yards. The good news is that Michigan ranks second nationally in kick return defense and a big reason for that is James Foug's ability to kick it deep and prevent returns.
There are a couple of reasons for hope that Michigan's defense can slow down Penn State's offense. First, the Nittany Lions rank 77th nationally in third-down conversion rate (38 percent) and the Wolverines defense leads the nation, allowing just a 20 percent clip.
The other area is sacks, where Penn State has allowed 16 just like Michigan, a total that ranks 101st nationally and 10th in the Big Ten. They've given up 14 sacks in the last three games (four to Iowa, and five each to Indiana and Northwestern). Outside of their matchup with Penn State, those teams have averaged 1.6, 1.8, and 1.6 sacks per game against their other opponents. Michigan's defense leads the Big Ten and ranks sixth nationally in sacking the opposing quarterback, averaging 3.3 per game.
Finally, when Penn State has been forced to settle for field goals, which it has attempted more than anyone else in the Big Ten except for Michigan, it has made just 6-of-13 — worst in the conference. Kicker Tyler Davis is just 2-of-8 from beyond 30 yards and has had two blocked.
So if Michigan can stop Barkley on early downs, force Penn State into long passing downs and pressure McSorely, and hold the Nittany Lions to field goal attempts, they'll have a chance to pull off the upset on Saturday night.