---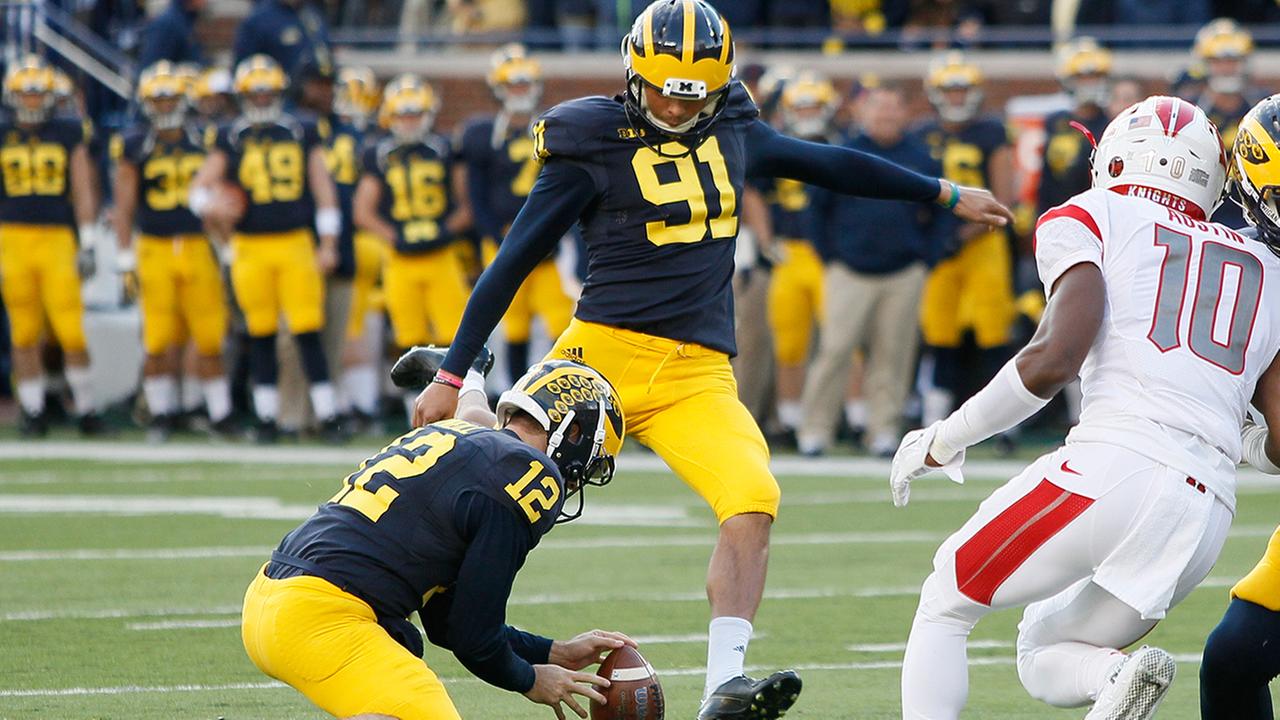 (Duane Burleson, AP)
Previous: Quarterbacks, Running Backs, Wide Receivers, Tight Ends, Offensive Line, Defensive Line, Linebackers, Secondary
Michigan's special teams units was a bit of a train wreck during the tenures of Rich Rodriguez and Brady Hoke, but Jim Harbaugh helped shore things up in his first season.
Well, mostly.
Michigan did have some special teams blunders – none as infamous as the botched punt against Michigan State. But, in general, Michigan was solid in the kicking and return games.
Most of the major special teams contributors return, with the exception of Blake O'Neill at punter. Here's how Michigan should stack up on each unit.
Michigan's starting field goal kicking job was a bit of a mystery heading into 2015, but former walk-on Kenny Allen stepped up and took control of the job. Allen converted 18 of 22 chances as a redshirt junior – including 15 of 16 successful attempts from fewer than 40 yards. Allen was perfect on extra points, converting all 46 attempts.
Allen was steady enough last season to assume he'll take the field Saturday as the starting field goal kicker. But if he struggles, Michigan recruited a capable backup who should provide some insurance.
Quinn Nordin committed to Harbaugh after a recruiting slumber party and a decommitment from Penn State. He was the No. 1 ranked kicker in his class and projects as an accurate field goal kicker. Nordin's career long field goal came from 51 yards out in high school.
Allen has proven himself as a reliable kicker, so Nordin would probably have to be phenomenal to steal that job from him preseason.
Career Stats – Allen

Year
FG Made
FG Att
FG%
Long
PATs
2013
0
0
0
0
0
2014
0
0
0
0
0
2015
18
22
81.8
47
46-46 (100%)
Totals
18
22
81.8
47
46-46 (100%)
Allen was also very solid on kickoffs last season, averaging 61.4 yards over 78 kicks. He recorded 34 touchbacks.
In his senior year of high school, 19 of Nordin's 23 kickoffs went for touchbacks. He has a bigger leg than Allen, but, as I said with the field goal kicking, will have to outshine Allen enough to take the job away from a steady starter.
Career Stats – Allen

Year
Kickoffs
Yards
Avg
Touchbacks
2013
0
0
0
0
2014
0
0
0
0
2015
78
4,791
61.4
34
Totals
78
4,791
61.4
34
With O'Neill out of eligibility and Michigan looking for a new starting punter, Harbaugh has a few legitimate options he could turn to.
Allen has punted twice in his college career: A 51-yard boot in 2013 and a 57-yard blast for a touchback in the 2016 Citrus Bowl. Allen has a big enough leg to handle punting duties, but Harbaugh might want to split things up with Allen already likely handling the majority of the kicking.
Nordin averaged 52.9 yards per punt as a high school senior, with seven of his 10 attempts going for at least 50 yards. Six of his punts were downed inside the 20-yard line and he notched a career-long of 67 yards.
Nordin can handle punting, but would Harbaugh hand such an important job to a true freshman after punting burned the Wolverines last season? We can only guess. Nordin will be anxious to have a starting job with last year's starter gone, but it's possible Allen will take all three starting spots.
The other kickers and punters on the roster are James Foug, Ryan Tice, and Will Hart.
Career Stats – Allen

Year
Punts
Yards
Average
Long
TB
FC
In-20
Blk
2013
1
51
51.0
51
0
1
0
0
2014
0
0
0
0
0
0
0
0
2015
1
57
57.0
57
1
0
0
0
Totals
2
108
54.0
57
1
1
0
0
For the first time since Steve Breaston wore the Maize and Blue, Michigan posed legitimate home run threats in both the kick and punt return games last season. And the Wolverines return all five players who returned a pick or kick last season.
Jabrill Peppers leads the way on punt returns, averaging 11.4 yards per punt return in 17 attempts last season. He's clearly the most athletic player on the team, so his big play potential is through the roof. Peppers only returned eight kicks last season, but averaged nearly 30 yards per return. He'll be a weapon in both return games again in 2016.
Career Stats – Peppers

Year
Ret
Yards
Yds/Ret
Long
TD
2014
1
6
6.0
0
0
2015
17
194
11.4
41
0
Totals
18
200
11.1
41
0
Jourdan Lewis was nearly as good as Peppers returning kicks, averaging 25.2 yards over 15 returns. Lewis is fast and can change direction quickly, but he doesn't have the vision of Peppers, who refined his skills as a return specialist in high school. The All-American cornerback will likely be among the team's primary kick returners to start the season.
Career Stats – Lewis

Year
Ret
Yards
Yds/Ret
Long
TD
2013
1
18
18.0
18
0
2014
1
6
6.0
6
0
2015
15
378
25.2
55
0
Totals
17
402
23.6
55
0
Star wide receiver and team MVP Jehu Chesson dipped his toes into the kick return pool, returning four kicks for an average of 41.5 yards. Chesson exploded for his first return touchdown during the opening play vs. Northwestern, setting the tone for a blowout Michigan win. Chesson is a versatile offensive weapon, so he'll likely get his turn on special teams as a redshirt senior.
Career Stats – Chesson

Year
Ret
Yards
Yds/Ret
Long
TD
2012
0
0
0
0
0
2013
2
36
18.0
19
0
2014
0
0
0
0
0
2015
4
166
41.5
96
1
Totals
6
202
33.7
96
1
Other returners to watch include Dymonte Thomas, Amara Darboh, Chris Evans, Khaleke Hudson, Eddie McDoom, Nate Johnson, Kekoa Crawford, and David Long.