---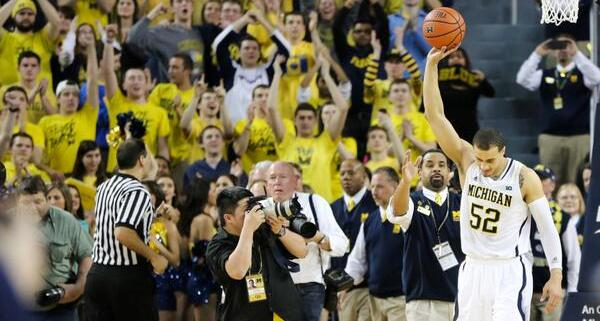 On Monday, we took a look at how Michigan's wings performed relative to the expectations that Sam set in his season preview series back in November. Nik Stauskas and Caris LeVert outperformed in most statistical categories (Stauskas for the second straight season), while Glenn Robinson III and Zak Irvin under performed. The latter, however, was tough to forecast as a true freshman and had some of his potential production eaten up by the emergence of LeVert.
Today, we take a look at the point guards and big men to see how Derick Walton Jr., Spike Albrecht, Jordan Morgan, Jon Horford, and Mitch McGary performed.
For a look back at Sam's preseason team preview and player previews, here they are: the wings, the big men, the point guards. He made his predictions for each player's points, rebounds, assists, steals, turnovers, and minutes. Later this week, Sam will take a very early look ahead at what the 2014-15 season could bring.
Derrick Walton Jr.
Points
Rebounds
Assists
Steals
Turnovers
Minutes
Predicted
6.0
2.5
4.0
1.5
2.0
25.0
Actual
7.9
3.0
2.9
0.6
1.5
26.7
Difference

+1.9

+0.5

-1.1

-0.9

-0.5

+1.7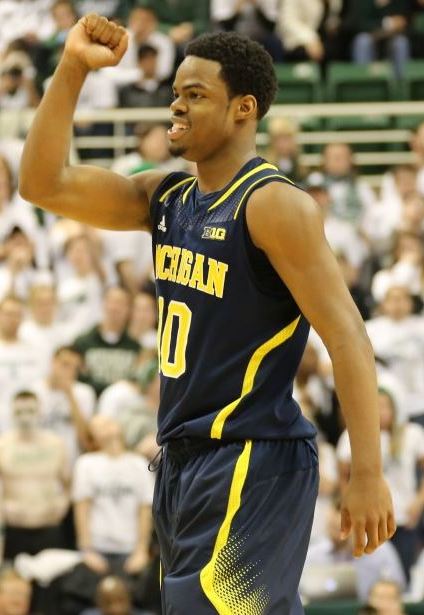 Recap: While Nik Stauskas had the challenge of replacing Trey Burke's production, it was Walton that was tasked with replacing his command of the offense. The freshman from Detroit wasn't expected to score at Burke's rate, but needed to run the offense effectively, finding the open man and taking care of the ball.
In Sam's preview, he wrote, "Walton is a very quick player with the ball in his hands who will be looking to create for others before looking to shoot himself. He will never be the same player that Trey Burke was in Ann Arbor, but Walton clearly has the potential to make a similar impact, and with the talent of this Michigan team, it should be felt instantly."
And it was, as he finished with a 2:1 assists-to-turnover ratio while contributing just under eight points a game. He had a season-best 19 points to go along with six rebounds and four assists in Michigan's win at Michigan State on Jan. 25. He also recorded a double-double with 13 points and 10 rebounds, in addition to six assists, in the win at Ohio State.
Future: Walton finished third on the team in assists behind Stauskas and Caris LeVert. With Stauskas gone, and LeVert stepping into his role of go-to guy, it will be up to Walton to make a big sophomore leap. He will still likely share time with Spike Albrecht, but will need to keep his assists-to-turnover ratio roughly the same and increase his scoring production by a few points. He proved  to be a capable three-point shooter this season. Now he needs to show he can create off the dribble like Burke did.
Spike Albrecht
Points
Rebounds
Assists
Steals
Turnovers
Minutes
Predicted
3.5
1.2
1.5
0.5
0.8
10.0
Actual
3.3
1.1
2.0
0.5
0.4
14.7
Difference

-0.2

-0.1

+0.5

0.0

-0.4

+4.7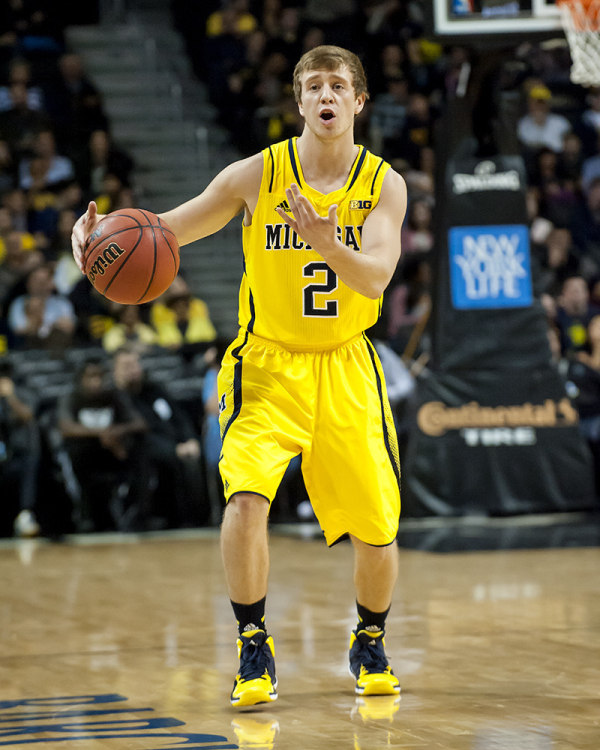 Recap: Albrecht burst onto the scene in last year's national championship game with 17 points, his first and only double-digit performance of the season. While no one is confusing him with Trey Burke, the performance eased at least some concern following Burke's departure.
Sam wrote, "This year, expect a year of practice against Burke to pay dividends for Albrecht and a few more girls to flutter their eyebrows while walking by the boyish-faced Spike on the Diag. But most of all, expect to be happy with Albrecht's contributions. Those contributions won't be great, and oftentimes they will go unnoticed, but a back-up point guard who flies under the radar is usually a back-up point guard who is doing his job."
Albrecht did just that, providing a steady hand in 15 minutes a game while splitting time with Walton. He turned the ball over just 16 times in 545 minutes — an average of once every 34 minutes of action — with a 4:1 assist-to-turnover ratio. He contributed 3.3 points per game and was usually good for one big three-pointer per night.
Future: Albrecht will continue to play an important role for John Beilein as a four-year guy who provides consistency while others leave early for the NBA. His role next season will be about the same as this season, sharing time with Walton, taking care of the ball late in games, and knocking down the occasional open three. He's the perfect point guard option off the bench and will remain so.
Jordan Morgan
Points
Rebounds
Blocks
Steals
Turnovers
Minutes
Predicted
3.5
3.0
0.2
0.5
0.8
10.0
Actual
6.4
5.0
0.4
0.4
0.9
20.1
Difference

+2.9

+2.0

+0.2

-0.1

+0.1

+10.1

2012-13 Difference

-3.9

-1.5

 

-0.5

 

-6.1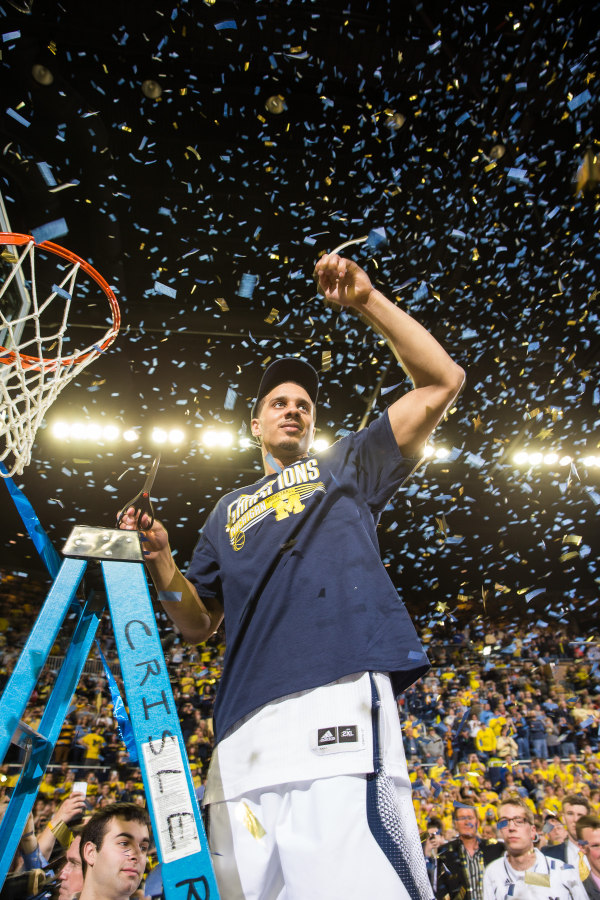 Recap: Perhaps the feel-good story of the season was the senior-year emergence of Jordan Morgan. He committed to Michigan in 2010 when the program was very different than it is now, stuck with the program despite losing his playing time to Mitch McGary last season, and became one of the most beloved players on the team by season's end. A year ago, Sam held fairly high expectations for Morgan, but he performed below every one. This year, he over-performed.
In his preview, Sam wrote, "A couple seasons ago, Morgan's own dad admitted that he was very surprised when Beilein called Morgan in the first place to express interest and ultimately offer him a scholarship. After all, Morgan's future would be as an engineer. But Beilein did give him that chance, and Morgan has embraced his role in playing basketball for Michigan, no matter what it might be.
"This season, his last, might be Morgan's most unspectacular in the scoring column, but his leadership and experience will undoubtedly be needed if Michigan is to make another run. Many fans will end up forgetting Morgan's seemingly insignificant contributions, but Morgan himself will never forget his own journey."
He was never a star, but Michigan fans most certainly won't be forgetting his contributions any time soon. Just like the charge he drew late in last year's Final Four win over Syracuse, Morgan saved Michigan's season with a drawn charge in this year's Sweet Sixteen win over Tennessee. Those are the kind of plays that don't show up in the stat sheet, but are just as important.
Future: Morgan was the lone senior on this year's team and got a fitting sendoff on Senior Night. He leaves Ann Arbor with an engineering degree, two Big Ten titles, and the program's career and single-season field goal percentage records. Those are some great accomplishments for a big man out of Detroit that wasn't highly recruited.
His departure leaves a gap both inside and in terms of leadership. If McGary opts to return next season Michigan will still be in good shape, but if he follows Stauskas and Robinson to the next level, Beilein will need some young guys to step up.
Jon Horford
Points
Rebounds
Blocks
Steals
Turnovers
Minutes
Predicted
4.5
3.0
0.8
0.5
0.8
12.0
Actual
3.8
4.2
0.7
0.3
0.5
13.8
Difference

-0.7

+1.2

-0.1

-0.2

-0.3

+1.8

2012-13 Difference

-3.8

-2.3

-1.4

-0.3

 

-6.2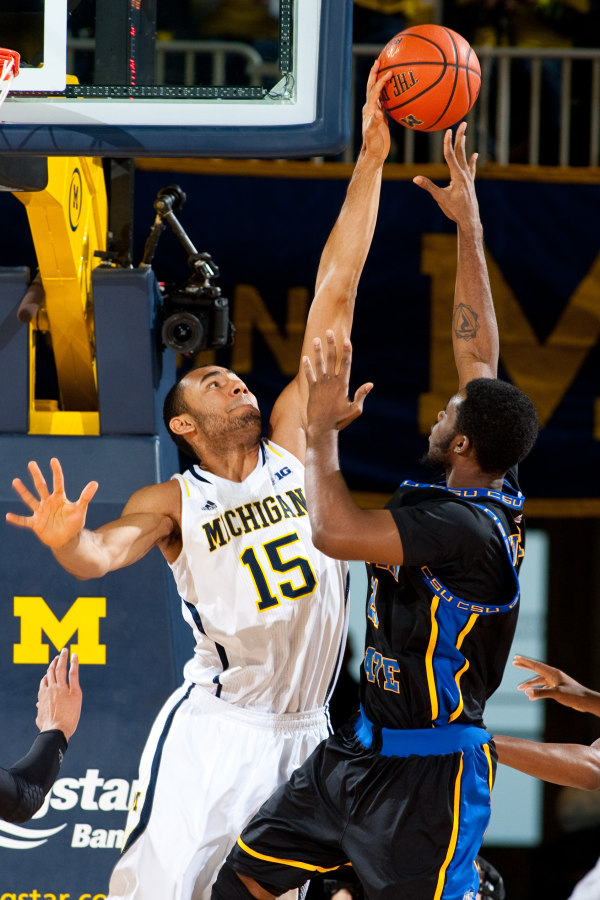 Recap: Horford has battled the injury bug throughout his career at Michigan, but entered the 2013-14 season as healthy as could be. He was still battling Morgan and McGary for playing time, but as the season went on it became apparent that even with McGary sidelined with a back injury, it was Morgan who had earned the coaches' trust and Horford was left coming off the bench. He proved a capable rebounder, averaging over four per game in less than 14 minutes, but struggled on the offensive end of the court.
In Sam's preview, he wrote, "Over the course of two preseason games, Horford recorded four blocks and 21 rebounds, 17 of which came on defense. If he can continue to provide that kind of production while finishing wide open looks in the paint, Horford will see a nice uptick in minutes and could occasionally see the floor next to McGary – a potentially devastating look for opponents."
Unfortunately, it didn't work out that way as Horford scored in double figures just three times all season — all in a five game stretch at the start of Big Ten play — and had just one more double digit rebounding performance the rest of the way.
Future: Horford could have returned to provide leadership as a fifth-year senior next season and likely see more playing time as a result of Morgan's graduation, but he announced his decision to transfer elsewhere for his final year of eligibility. This leaves a hole in the front court, depending on what McGary decides to do and means redshirt freshman-to-be Mark Donnal is in line for a big role next season.
Mitch McGary
Points
Rebounds
Blocks
Steals
Turnovers
Minutes
Predicted
12.0
9.5
1.0
1.5
2.0
28.0
Actual
9.5
8.3
0.8
1.9
1.6
24.6
Difference

-2.5

-1.2

-0.2

+0.4

-0.4

-3.4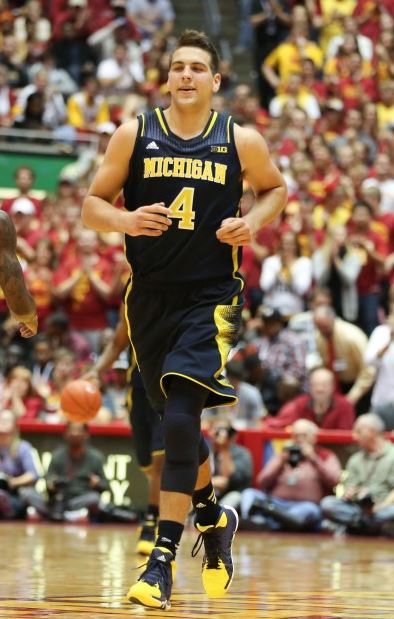 Recap: Sam's predictions for McGary were made with an asterisk because his status was unknown at the time, so any under- or over-performance should also be noted with an asterisk.
In his preview, Sam wrote, "Already this season, McGary has been deemed a preseason AP All-American, but he has one more physical hurdle to climb before fulfilling his vast potential – a lower back "condition" that has severely limited McGary's practice time this fall and has many wondering when he'll be back to full strength. Beilein maintains that Michigan is just being extremely cautious with McGary right now, and McGary himself is constantly wearing a smile as he says he feels "fine", but any back injury for a guy of McGary's size is worrisome.
"If the super sophomore is completely healthy by Michigan's first big game, though, the Wolverines should be one of the most talented teams in the country and one of the few with exceptional players at every position. And of course, if McGary picks up where he left off, this condition will just be the latest bump on the rise to stardom."
Ultimately, McGary played in just eight games, starting four, before he had back surgery and was shut down for the season. It's impossible to tell how healthy he actually was in the games he played, but he certainly wasn't 100 percent. Still, he averaged 9.5 points, 8.3 rebounds, and two steals per game.
Future: McGary is the one remaining piece of the puzzle that needs to be placed for next season. He hasn't yet announced his decision of whether to return or to enter the NBA Draft. In one sense, it seems like an easy decision — will an NBA team want a player coming off back surgery who has really only had a dominant NCAA Tournament run that shows his potential? On the other hand, he's old for his class and his NBA future is getting shorter the longer he waits. If his back is healthy enough for pre-draft workouts, he could work his way solidly into the first round.
A return to Michigan would immediately solidify Michigan's front court, allowing McGary to play the five and Donnal the four with Zak Irvin and Caris LeVert as the wings and Derrick Walton Jr. handling the ball. That would be a lineup worthy of Big Ten title consideration. If he doesn't return, however, there will be plenty of questions to be answered inside.
______________________________________________________________________________
Check back at the end of the week for Sam's look ahead to the 2014-15 season with some very early team and player predictions.