---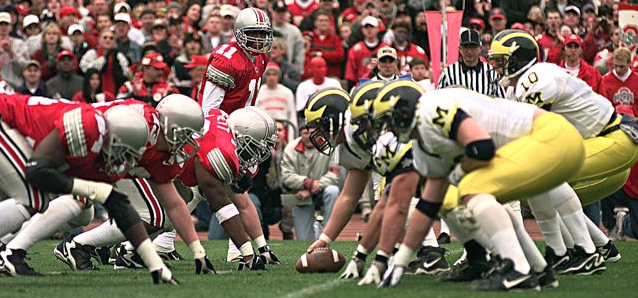 There isn't much hope for Saturday's game against Ohio State, unless of course it's hoping for a miracle. Michigan is near the bottom of the Big Ten Legends Division, having only the poor Wildcats of Northwestern beneath them. Going into Saturday the Maize and Blue are looking pretty downtrodden and the gridiron cry for this week seems to be 'Let the opposition be merciful and our potential be miraculously fulfilled.'
Will it happen? Well, it's not impossible.
Two decades ago, Michigan played the Bucks and came away with an improbable win. Going in they were 6-4 – not exactly an impressive or fear-inducing number for the fifth-ranked Buckeyes. But when the game clock expired on that cold November day the score read 28-0 and team with the goose egg was Ohio State. The Wolverines had pulled off a stunner.
Can the 2013 team pull off such a victory? They're 7-4 and the Buckeyes are third in the nation. So at the first glance the circumstances are similar to those in '93.
The coach of our rival all those years ago? John Cooper, the man who is remembered not for his worthy credentials on the field, but for his inability to beat 'That Team Up North'.
Urban Meyer isn't likely to suffer such infamy, though time will tell. For all we know, this could be the beginning of the reverse of fortune for Michigan in this time-honored rivalry. But if it is, going by the results of the early '90s game, the Wolverines are going to have to put forth an excellent defensive game.
Four interceptions helped to lift the home team over their highly touted opponent that day, as well as an impressive 100-yard game by Tyrone Wheatley in only two quarters. It also helped that Ohio State used two different quarterbacks, and the one that Cooper stuck with saw his passes in the hands of Michigan defenders about as often as his teammates'.
Will Braxton Miller, who has thrown for 19 touchdowns and just four interceptions, make the same poor decisions and give up the football? It could happen. But what's more likely is that the problems Michigan has faced all year will not be washed away by the fervent and inspired play of their defense.
Devin Gardner's touchdown to interception ratio is 17:11. The Wolverines are 100th in the nation in rushing. The '93 Buckeyes? Their rushing game was nearly as ineffective and led to situations where they were forced to pass. Being transparent and passing poorly, Ohio State suffered.
This year however, the Buckeyes are third in the nation in rushing yards, and it's unlikely that they will make a mistake like accidentally downing the ball on a punt near their own red zone. But stranger things have happened in football than an underdog victory.
I think then-head coach Gary Moeller said it best at the time: "It was probably our lack of success during the season that helped in our victory. We played like we should have all season – with emotion."
If Michigan can do that, maybe, just maybe they'll be play an outstanding game and redeem the season.