---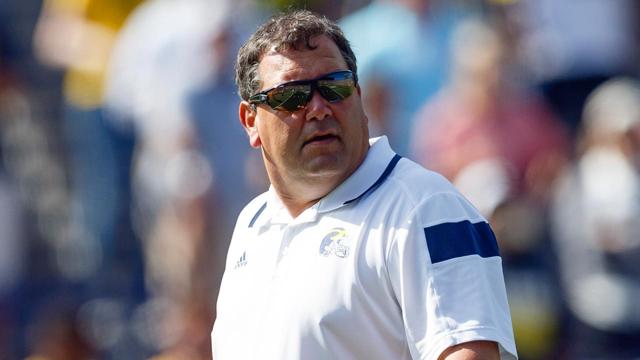 I have refrained from posting or commenting about the fallout from the Minnesota game, both on this site and on Twitter to this point. It's not because I didn't want to or had nothing to say. As happens every now and then the real world stole my time, and since this is such a hot-button topic, I felt I would be doing it a disservice by commenting on it if I couldn't commit my full attention to it. What a week for that to happen, huh?
Unlike the chorus of sudden Twitter doctors I wasn't going to rush to conclusions and shout accusations without facts. And unlike other sites I wasn't going to post controversial snippets and rumors just for clicks. There's certainly nothing wrong with asking questions and challenging those in the know for answers, but I believe in doing due diligence before speaking, especially on a subject such as this.
That said, here's my stance on everything that has transpired over the last few days.
On Brady Hoke and the Shane Morris injury
There's nothing wrong with criticizing Hoke's results on the field, but the criticisms about his character are flat out wrong. We have seen some of his former players come out publicly in support of Hoke and to defend his character and love for his players:
No one cares more for his players than Coach Hoke. Anyone that says anything different doesn't know. Love that man #GoBlue #GoHoke

— Denard Robinson (@DenardX) October 1, 2014
100% behind Brady Hoke and this team. That will never change. Go Blue

— Jordan Kovacs (@JKovacs32) September 28, 2014
???? #GoBlue #GoHoke #StayTheCourse pic.twitter.com/vMuPG1SJjT

— Elliott Mealer (@el_mealer) September 29, 2014

Other former players I've talked to since Saturday have backed that up as well. One didn't agree with the way Hoke prepared him for the next level, but stood up for Hoke's character, describing Hoke and his staff as "some of the most kind-hearted people you can meet…loving and very welcoming." I have yet to find a former player who didn't share that sentiment.
It's easy from a fan's point of view to watch what transpired on TV on Saturday and claim that Hoke knew Morris was concussed and put him back in. We had the benefit of instant replay and commentators stating their disgust for the handling of the situation. I was listening to the radio broadcast in the car at the time and had no idea there was even the possibility of a concussion until I got home and looked on Twitter. Jim Brandstatter and Dan Dierdorf said nothing about a head injury or a hit to the head and kept talking about him limping because of his ankle.
On the field, Hoke and the rest of the staff didn't see the close-ups and replays that were shown on TV. So when Hoke says he was following the pass down the field and didn't see the hit, that makes complete sense. And in the aftermath of the play, going from would-be fourth down to now first down because of a roughing the passer penalty, the likeliness of Hoke not knowing about the head injury, or seeing Morris stumble into Ben Braden, is very, very probable. Like he said in his Monday press conference, it's his job to coach, and regardless of whether or not anyone feels he's doing a good job at that, it's the medical staff's job to determine and evaluate injuries.
So if you take Hoke's word that he didn't see the hit and Morris stumble into Braden, then when Morris waved off offensive coordinator Doug Nussmeier, it would have been assumed that he felt he could still play based on his ankle injury. They pulled him one play later and he was evaluated by the trainers on the sideline.
As The Concussion Blog points out, coaches and trainers don't step out onto the filed to remove a player that got up and "shook it off." Had Morris stayed down, warranting an injury time out, the trainers would have come out, evaluated him, and removed him from the field. Or if he had come out after the hit and told the trainers his head hurt, this situation could have been avoided. But he didn't. That's not to say this was all his fault; that's just the mindset of a player, especially when you consider that he was the backup quarterback getting his first start of the season, fighting to win the job. In retrospect, Morris should have stayed down or taken himself out in this instance, but you can't fault him for not doing so. I have personally suffered a concussion in a high school soccer game many years ago and stayed in and finished the game. It's in a player's nature to shake off an injury and try to play through it.
So if Hoke didn't see the Morris hit or see him stumble into Braden, and Morris waved off the staff trying to get him to come out of the game, when Devin Gardner had to come out for a play because of his helmet coming off, Hoke didn't put Morris back in for a play to hand the ball off knowing he had a concussion. So let's put to rest the vitriol directed towards Hoke about willingly playing a concussed player. If you want to argue whether or not he's the right coach for Michigan, fine. But stop the baseless attacks on his character.
That said, there certainly was a breakdown in communication as someone should have seen the hit and stumble and relayed that to the training staff on the field. According to the statement released by Dave Brandon (more on that below), the team neurologist didn't see the hit, but did see Morris stumble, and "determined he needed to head down to the sideline to evaluate Shane." The breakdown appears to have been between the neurologist who saw the symptoms (stumble) and the team physicians who evaluated Morris for his ankle injury when he was taken out of the game a play after the big hit and determined he was okay to go back in the game for one play when Gardner's helmet came off.
Brandon has promised changes to improve that communication in the future, such as having a dedicated physician staff in the box to review each play and look for injuries, and then be in contact with the on-field training staff about them. Hoke wearing a headset or not is irrelevant in the situation that occurred last Saturday. That, like this whole situation, is blown out of proportion because of the results on the field.
The public relations aftermath
The program did itself no favors in the aftermath of the situation, allowing it to balloon into a national story instead of getting out in front of it and killing it right away. Had the program or Brandon released a statement Saturday night or Sunday morning admitting the mistakes and promising to put new processes in place to prevent it from happening again, and allowed Hoke to be forthright in the Monday press conference, the story wouldn't have gained so much traction.
As former Michigan athletic director Don Canham used to say, and John U. Bacon pointed out on Twitter, never turn a one-day story into a two-day story. Michigan turned it into a story that is still all over the mainstream media by waiting until after midnight on Monday to release the statement. It became less about the situation that happened, and more about the final straw for those already wanting Brandon and Hoke ousted. Waiting more than two days to release the statement, and allowing Hoke to go into a press conference not answering questions about the injury and promising a statement from the medical staff, lost the public's trust and made it look like Michigan was trying to cover it up.
By not killing the story up front, they allowed people to speculate about Brandon trying to persuade the medical staff to lie, Brandon and Hoke's job status, secret meetings between the regents, and more. And it led to a student petition calling for Brandon's dismissal and a "Fire Dave Brandon" rally in the Diag, which culminated outside the house of new university president Mark Schlissel. Then, of course, ESPN sent Joe Schad to campus to report throughout the day from in front of Schembechler Hall.
All of it has amounted to a major black eye for the university and the football program that could have been avoided — or at least greatly reduced — if handled properly.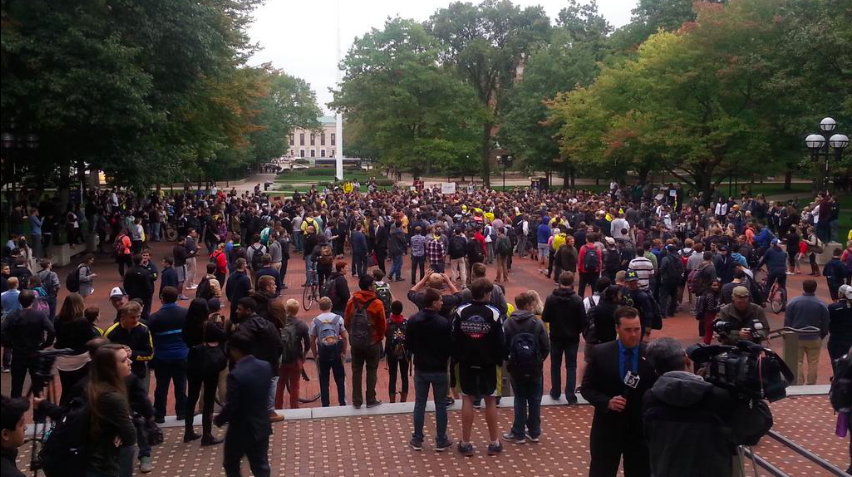 (Derick Hutchinson, M&GB)
Our own Derick Hutchinson attended the rally on Tuesday and wrote the following:
Hundreds of students milled around the diag on Tuesday evening to protest the actions of an athletic department that faces national scrutiny in the wake of Shane Morris' handling against Minnesota. Students began the rally with chants of "Fire Brandon," "We want Harbaugh," and "Down with Dave." By 6:20 there were at least 1,000 frustrated students in the small section of the Diag near the Graduate Library, some yelling and others walking around with signs.
Perhaps the most noticeable fan stood in the center of the crowd with an Ohio State sweatshirt on in protest of his team's AD, holding a standard "Fire Brandon" sign. Others brought bottles of Coke to mock the university's 'buy two Cokes get two tickets to Minnesota' promotion.
Finally, the mass made its way over to the home of university president Mark S. Schlissel. Once there, the chants increased in intensity and frequency as one student took to the front steps with a megaphone. A police officer stood to the right of the steps, but the rally remained peaceful throughout as the students tried to make their points heard. At around 7:10 p.m. the students cleared out.
Though the turnout from the rally was substantial, the president's statement that no further action will be taken has not changed. It's strange that after doing nothing on the field started this mess, and doing nothing afterwards until 1 a.m. Tuesday made it much worse, that the president's response to the national outrage is to do exactly nothing.
Michigan just released a statement outlining the new player-safety measures that will be in place beginning this Saturday at Rutgers. The new system will incorporate three measures:
1. Putting a certified athletic training professional in the press box to view the entire field and identify players that might need evaluation by a trainer on the field. This person will have access to the television video feed and direct communication with the trainers on the field.
2. Added two-way radio communication, which includes mandatory radios possessed by the individual in the press box and the trainers on the field, with hard-line phones and cell phone communication as backups.
3. Taking helmets from players determined to be unable to continue playing. The medical team will take the player's helmet to ensure he cannot return to the game.
Those safety measures will hopefully ensure a situation like this doesn't happen again. Saturday cannot get here soon enough and hopefully the players rally together around the adversity and do the only thing that can turn down the heat: win.