---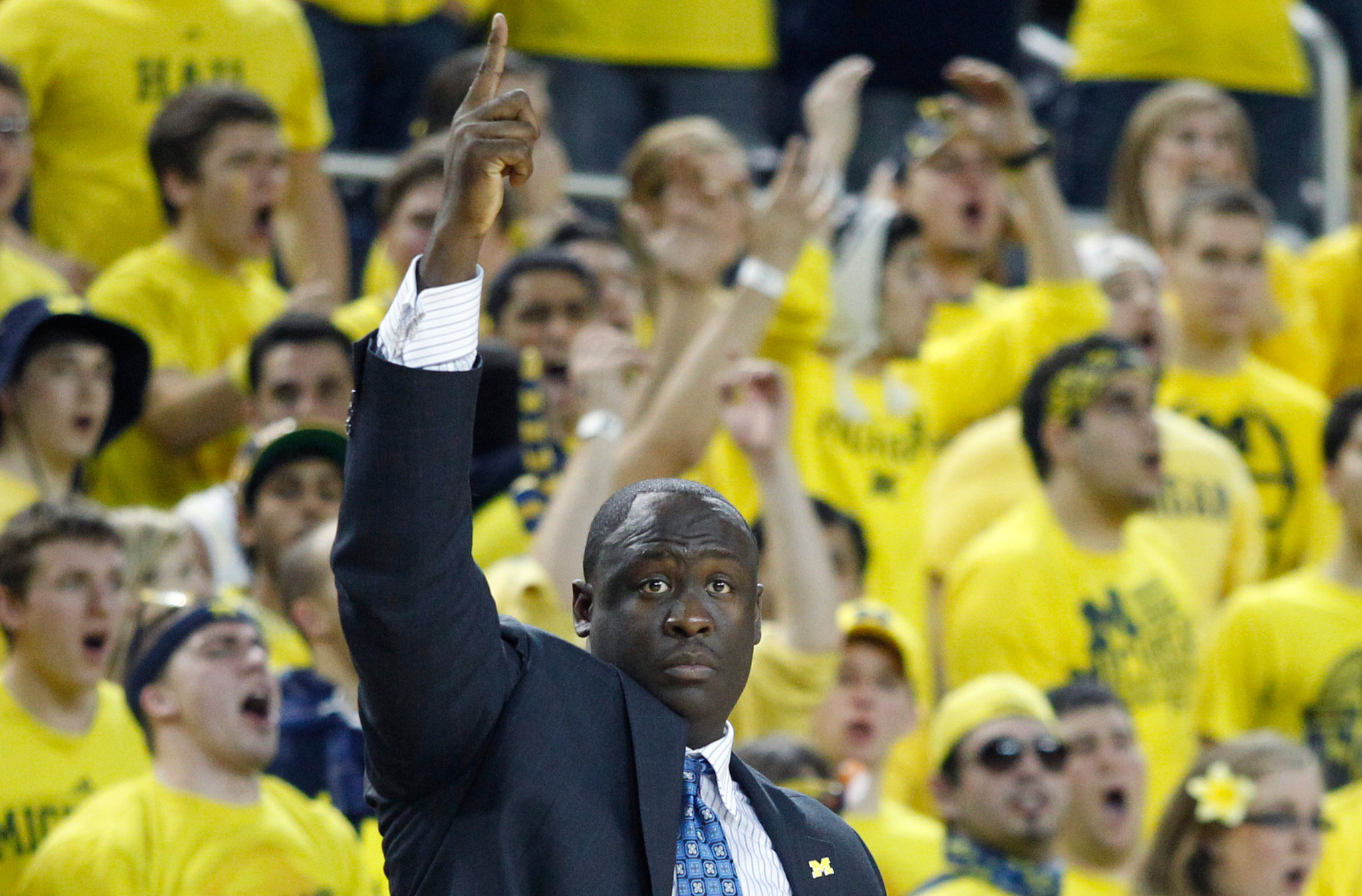 (Duane Burleson, AP file photo)
Michigan basketball held its 2014 media day on Thursday afternoon at the Crisler Center and our lead basketball writer, Sam Sedlecky, was there to gather quotes and observe the hour-long open practice. Here's the transcript from assistant coach Bacari Alexander's media session. He answered questions about rebounding, losing Jordan Morgan and Jon Horford, how much he thinks about the Final Four loss to Kentucky, how to deal with so many new faces, and more.
Q: On rebounding with the current team
BA: Whenever you lose the collective prowess of a guy like Jordan Morgan who's a fifth-year senior, Mitch McGary who we felt could be a double-digit rebounder, Jon Horford, who grabbed his share. You know, when you look at that unit, you do have some initial concerns. I think what we discovered over in Italy, the combination of Mark Donnal, along with Ricky Doyle, what we tried to do is look at them as one player, and now you add Max Bielfeldt into the mix, and you set a kind of template for them to shoot for.
We mentioned before 15 rebounds being our goal as a unit, and if you add D.J. Wilson into that mix, who may see some time in that position as well, I think it gives them an opportunity to take some of the pressure off while we develop the skills of rebounding. There's a lot of nuances that go into being good on the glass in terms of knowing shooting angles, knowing the geometry where shots are being shot on the outer third of the floor, where they will likely bounce to, things of that nature. As they learn those things, we're discovering in practice they're becoming better rebounders, but until we go up against real competition, we really don't know.
Q: On Doyle/Donnal rebounding
BA: Yeah, the competition is really allowing them to sharpen each other's iron, if you will. Ricky Doyle walked in the door as a contact seeker. Mark Donnal learned how to be a contact seeker going against Jordan Morgan and Jon Horford banging, so I think it's something we welcome, it provides a great competitive environment which allows them both to improve, so I encourage it.
Q: Can D.J. Wilson be a shot-blocking force?
BA: Yeah, there's potential for all four of the guys, maybe not so much Max Bielfeldt, to be great rim protectors. D.J. Wilson has great length in terms of wingspan, so does Ricky Doyle. Mark Donnal has average wingspan, but he has experience, he blocked shots in high school, so that's something that we could explore. Right now with their inexperience, I think the game moves so fast for them that they don't necessarily process the opportunities to get those shot-blocking chances within the flow of the game. Once things kind of settle down, and the dust settles, I think they'll see those opportunities.
The first thing we've gotta teach them is that most shot blocks generally come from the weak side, it's not so much the primary defender. A lot of guys think because of their length, being the tallest guys on the floor in high school, think that they can block the guy's shot that they're guarding, which can ensue foul trouble.
Q: What did Jordan know without thinking about that these guys have to learn along the way?
BA: The rules of rebounding. Jordan Morgan, if you look back early in his career as a redshirt freshman, in those first maybe 6-10 games of the Big Ten, he was one of the tops in our league in offensive rebounding. So he understood when Tim Hardaway Jr. was shooting a shot on one side of the floor, how to get to the other and get an early weak-side wedge in air time as the ball was traveling from the fingertips to the basket. He understood maybe the importance of not dwelling on a missed chippy and retrieving that rebound for a stick back. He knew all of those different things as a fifth-year senior that these guys are learning on a daily basis.
Q: On dealing with extra motivation, how do you use or have you used that last shot from the Kentucky game?
BA: Not so much. I think when you look at the way that game ended, and how closely contested the shot was, it reminds us all that the game is a game of inches, and what we try to do with our veteran guys that are returning, like Caris in that particular situation, Zak, Derrick Walton, and Spike who were actually in the game, is we use that as a catalyst to understand the importance of valuing possessions. So when you look at that situation as a microcosm of a thought, valuing possessions is key. We shared a poem with the team the other day (titled) "It's Only One Possession", and I believe the author is Jeff Smith. We're just trying to build that foundation to get these guys to understand that the cumulative effect of winning possessions throughout the course of a 40-minute game is vital.
Q: How often does it cross your mind that you were two seconds away from, potentially, back-to-back Final Fours?
BA: Every day.
Q: You think about that shot every single day?
BA: Every day.
Q: The idea of how far you went two years in a row, now you got six new guys who have to kind of deal with a certain level of, not expectations, but a standard, that you don't want that dip, how do you deal with them, in expecting to keep it at that level, but not driving yourself too crazy?
BA: Well one of the things that's fun when you try to compartmentalize the game for young, inexperienced players, is you make sure they understand that they have to beat drills before they beat opponents. So what's gets measured gets done and we put them in a series of situations where we put measurements on it, whether it's shooting drills, defensive stop drills, rebounding drills, free throws, etc. that sets the stage for them to be able to maintain those expectations, but before you can get into what the expectation is, whether it be from your fan base or from inside the locker room, you have to put one foot in front of the other, so winning and beating drills before you beat opponents is at the epicenter of our teaching.
Q: How are they doing on beating drills at this point?
BA: I think they're doing a pretty good job. When you have so much inexperience, it can be sort of a seesaw approach. There's great days or great stretches of days and then sometimes there's that early pre-season fatigue that sets in where they're not so good, but this group of guys has shown a great deal of hunger and a great deal of concentration, and an expectation amongst themselves of not wanting to let that enthusiasm and momentum subside.
Q: What did you take away from Italy from your bigs?
BA: The number one thing that came out of Italy in my mind from the post position is getting those guys to understand we can't coach effort and strategy simultaneously, so playing as hard as you can and as long as you can was so key to both of those young guys because they hadn't seen game reps, and they did a marvelous job of that, I think as a result that's carried over into our practices, and it becomes an expectation. Now we can work on skill refinement, situations, things of that nature to allow them to at least be familiar with some of the scenarios that they'll see in upcoming scrimmages and games.
Q: On rebounding with guards, specifically Caris, Derrick, Zak
BA: Yeah, we'll rebound by committee, and one of the things that you might see early is big guys really learning to prioritize blocking their man out. OK, I may not get the carom, but my opponent isn't either, and now when you get your guards rebounding, it ignites the fast break and gets us into our transition game quicker.
Q: Thoughts on Zak Irvin from last year taking a sixth man role with no public complaints
BA: Our core values govern everything we do. Zak Irvin, and anyone else on our roster, understands that unity, passion, appreciation, integrity, diligence, is right at the core of our culture, and so it's very easy when you come into a program with such great examples being fed by his predecessors in Trey Burke, Tim Hardaway, Darius Morris, Zack Novak, Stu Douglass, Jordan Morgan – all these guys that are so selfless – how difficult is it really to complain when you see Jordan Morgan encouraging Mitch McGary, who became a starter in the NCAA Tournament, and handled that like a champ, only for him to come right behind that and be a sixth man for us. So it's those examples, that success, that leaves footprints that allows a guy like Zak Irvin to relish that role.
Q: Is it fair at all to say right now that Ricky (Doyle) might be a little bit more polished down low and Mark (Donnal) might be a little bit more polished outside?
BA: I think 'polish' wouldn't be the word that I'd use to describe the disparity between the two. With Ricky you're dealing with a guy that's inexperienced obviously, and Mark, being a redshirt freshman, he's inexperienced, but is a different level of inexperienced. What we've learned is that if one guy is ying, the other guy is yang. There's days where Mark Donnal is pretty dominant on the practice floor, there's days where Ricky Doyle is (dominant) on the practice floor. Right now it's a toss-up. It's a coin flip.
Q: On the length that the team has now compared to with Jordan Morgan and how that affects charges and blocking
BA: What we're trying to do is get them to those spots early in possessions. A lot of times, whether you talk about the block/charge call or the shot-blocking call, it takes great timing. A lot of times our guys, because of the stimulus of the game moving much faster than a high school level, they're a little tape-delayed on rotations. Oftentimes we get there and we may think about blocking a shot and it leads to a foul; other times we may get there thinking about taking a charge and it leads to a foul, so there's still some timing that has to be invested that has to get those guys to that level, but with the length, I think one of the things that you'll see defensively that we'll do is quite a bit is chart deflections. How much can we deflect a ball, disrupt people, pressure passes, and pressure shots to see if we can affect field goal percentages that way as well?