---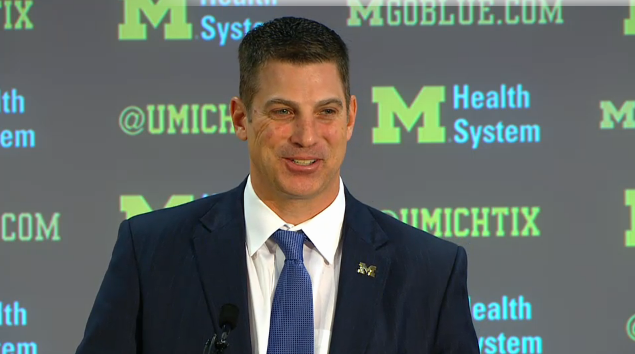 Michigan officially welcomed new offensive coordinator Doug Nussmeier with a press conference on Friday morning. Below is the full transcript. You can watch the full presser on MGoBlue.com.
Brady Hoke
Opening statement
"First I would like to say we addressed what we were going to do as a program on Wednesday and I want to thank Al Borges and his family for their commitment that they've made to Michigan and at San Diego State. It's not easy when you've spent five years with a coach and a family and all those things, but we consider him more than just a colleague.
"But as you know, as you go through coaching and the profession itself, we took this job three years ago to make Michigan better. And we took this job knowing that every decision that's going to be made by me is going to be made what's best for Michigan and the kids in this program and the legacies and 134 years of teams that have come before. So it's an exciting day because this change I think is going to be one that we're all going to benefit from.
"As we look forward and as you move forward, the direction of where we want to go is, we have a vision, we know what that is, and that's why Doug is here today. It's a great day for Michigan football in a lot of ways and we're excited to have Doug here and what we'll do as an offense and as a football team. A couple things: Doug and I first crossed paths when I was the head football coach at Ball State. We have a mutual friend that I played with and also just happened to be the guy who was representing Doug while he was playing in the National Football League. So Doug and I had a brief conversation and I have tracked his career, obviously, for a long time.
"He's a great fit and will do a tremendous job with what we're doing offensively. With Doug himself, number one, he's got a great family. Christie and Derrick and Ashlan and Colton are a great fit to our football family. We're excited about that, excited about Doug and his background.
"Obviously, it's a guy with national championship experience which is the highest goal that we all have, coached in the National Football League, coached in college, and and developed some outstanding quarterbacks. AJ McCarron, Jake Locker, Marc Bulger, at every level, and his tutoring of those guys is excellent.
"I think what's also exciting is the balance from an offensive perspective that Doug brings. He's had six 1,000-yard rushers over the last six years and obviously that's something that we want to do as a program – we want to have that balance and we want to be able to run the football. We've talked about that since day one and we will improve that game and what we're doing. Developing quarterbacks, developing young talent as an offense is something he's done and proven, and we are a team that is young in a lot of ways but we're getting older and we're getting better every day. So we're excited about that.
"He was a finalist for the head coaching job at the University of Washington. Tells you a little bit about nationally how people think of Doug and his character and what he represents. But the passion that he has for the game of football, the passion that he has for the young men he leads is really what being a coach is all about and having him here to lead our offense and to be a part of this great university and this program and having his family being a big part of it we're truly excited.
"Today is about Michigan and it's about Doug in a lot of ways and what he brings, so we couldn't be more excited and I'm going to have Doug come up here and share. But we're excited, and we're excited because of what the Nussmeier family brings to Michigan and also we're excited because of the fit that we feel we have.
"Doug Nussmeier, please."
Doug Nussmeier
Opening statement
"I want to say first off, this is a really special day for our family and I can't say enough how special it is that we are here together, my beautiful wife Christie, my sons Colton and Garrett, my daughter Ashlyn. I want to thank you guys for all that you sacrifice day in and day out.
"We're very very blessed to be here and I want to say a special thanks to Coach Hoke for giving us this opportunity. Dave Brandon, our athletic director, thank you very much. This is a special place, a special, special place, and that's why we're here. We talk about 11 national championships, 42 Big Ten championships, three Heisman Trophy winners. It's Michigan football and when you say the word Michigan everybody knows about Michigan football.
"I was fortunate enough to be in this conference before. I have a great amount of respect for this league and for all the things that Michigan football stands for. I just can't say enough about how excited we are to be here, to be a part of the family, and really look forward to working with a great coaching staff.
"Talking about Coach Hoke and how we met each other a long time ago, the respect that I've developed over the years for what he's accomplished as a head football coach. To watch him start at Ball State and to go onto San Diego State and to come here at Michigan, not only as a quality coach when you talk about wins and losses and being a coach of the year in the nation, but you talk about the type of man that he is, the type of person that he is.
"When you talk about Coach Hoke with other people in our profession you hear nothing but class, family, all the right things, cares about his players, as we all do – we want to win – but he also sees the big picture about developing young men both on and off the field. To have the chance to be a part of that, like I said before, we just feel so blessed, and to work with such a great quality of staff. I've known Greg Mattison for a long time and what he's accomplished and the defensive staff, great coaches. To have the ability to come here and work with Heck and Doug and Dan and Fred, just really really excited about that opportunity and I want to thank, once again, coach and Dave for them believing in us as a family and the commitment they've made to us and we're just very very excited to be here. With that, I'll open it up to questions."
You've talked about the direction and vision with Coach Hoke. In your interpretation, what is that?
"Tough. Physical. Explosive. That's what we want to be. We want to be able to run the football and we want to be able to put points on the board. We want to force the defense to defend all different elements of the game."
How much do you know about the Michigan offense? The biggest issue was the offensive line. How quickly do you think you can fix it?
"Well, correct me if I'm wrong but we're 11 points away from being 11-1, so this is a good football team here with good young talent. If Coach Hoke recruits players, which I know he does because you look at our recruiting rankings over the last years, as well as he recruits coaches – he recruited me – we're going to do really good with our young players and developing and moving toward the future.
"There is young talent on this team. We've got to develop it. We've got 45, 46 days before we go to spring football, so getting those young players on the same page, and player development is all about how you view it, and with any young player there's a steep learning curve. So day to day continuing to improve, that's going to be the focus. We've got to get better each and every day and focus on that day and what that holds and get the players focused on what we're going to get better at today."
What does Michigan provide that you didn't have at Alabama? Why go from Alabama to Michigan?
"Well, obviously I can't say enough about Coach Saban and the opportunity that we had there at Alabama. It was a great opportunity. Like I said, Michigan football, the opportunity to be here in the Big Ten, to be a part of the winningest program in all of college football, to have the opportunity to integrate into a staff and to take this program to where we all want to go. You talk about the quarterback position, the great quarterbacks that have played here, you go down the list: Brady, Griese, Denard Robinson, Chad Henne. It's Quarterback U so to say, and the ability to be a part of that room here and help those guys develop and grow, I'm just really really excited about that opportunity."
What's your challenge in getting the players as ready to go in the spring as you can?
"I think that communication is essential. It's essential in anything you do, and it starts with that. We've got great communicators on this staff and the biggest thing is for us as we sit down as a staff to evaluate where we are, where we want to go, set like I said a clear path every day for these young men and how we're going to get better and the things we want to achieve on a day to day basis. As we grow daily, then the end product will evolve."
Schematically, what are your plans, what do you want to install?
"We're going to put our playmakers in the best possible position we can to make plays. That's the goal. What that means is we want to control the tempo of the game on offense, whether that means we need to go fast, we need to go slow, whatever it may be, we want to control the tempo of the game on offense and give our guys an opportunity to make plays. Schematically, look at ways that we can create competitive advantages for our players. So what that means is you could see us in one formation one week running one play and a different one the next week. But like I said, the identity is we're going to be physical, we want to play fast, we want to be explosive."
What are your head coaching aspirations? How does becoming offensive coordinator at Michigan fit into your long term career arc?
"I've said it before, I'd love to be a head coach in the right situation. As that relates to being here today, I'm excited about the opportunity to learn from Brady Hoke, who in my opinion is one of the best coaches in all of college football. To learn the system here that he has in place, to get into a room with who I feel are very, very good football coaches. Anytime you get a new group of guys together when it comes to football there are so many different ideas and so many different avenues and ways you can go. It's a really really exciting time for us as a family, I'm really excited, and can't wait to get here and really get grinding."
With the perception that Nick Saban likes to control things, do you feel like at Michigan you'll have some freedoms that maybe you didn't have at Alabama?
"Coach and I talked about his philosophy. Obviously, I wouldn't be here today if I wasn't all in on what Coach Hoke and I discussed and what he wanted to do on offense, how we wanted to be and how we wanted to move forward. So part of coming here was us being on the same page with what we want to do offensively, and we both agree on the identity we want like I talked about before. As far as schematically how we'll approach that, we'll adapt with our personnel. That's something he and I will work with the offensive staff on a day to day basis."
When you were at Michigan State, what kind of things did you learn about the Big Ten and how did you view the Michigan program?
"Well, I watched a lot of touchdown passes right here in this corner to Braylon Edwards the one year when we thought we were going to get a W. I have a lot of respect for that program. We had a wonderful time there in the three years we were there. But I said it before, when you say Michigan it's synonymous with football, and I don't care if you go to a mall in California, Texas, Florida, you're going to see somebody wearing Michigan. When you get an opportunity to coach at a place like this and to be a part of this, and let me say this, this isn't about me, this isn't about coaching, it's always about the players. The type of people that come to Michigan, the quality of kids, what they've achieved, not only on the field but look at the achievement off the field, it is a special, special place and there's not many of them. So to have the opportunity to come here and be a part of that was something that after we discussed it as a family was something that we felt was the right move for us."
What's the key to being able to run the football even in an era where you see a lot of stacked defenses?
"Obviously, you're always trying to identify the best way to do things. What's the best way we can create a fair box count for our linemen to get people blocked, or can we use a receiver with this type of motion to create a numbers advantage? Those are all schematical issues, and there are times too when our players have got to know that there may be a loaded box but you know what, we are who we are, we're tough, we're hard-nosed, we're physical, and we're going to come downhill and run the ball at people."
Have you had a chance to talk to any of the players?
"A little bit. Got to see a couple of them and great kids. Can't say enough about the look in their eye and like I said the quality of student athlete that we have here at Michigan is second to none in the country."
You've had success with quarterbacks. How quickly do you think it can take you to make Devin Gardner a very efficient passer?
"The biggest thing I think from a quarterback standpoint is trying to simulate a game type environment for them Sunday through Friday. When you get out on the field on Saturday, things happen fast, and if you're not prepared you can get exposed very quickly. So you never want to put a quarterback on the field who's not prepared and the way you prepare them is try to simulate as much as you can a gameday experience Sunday through Friday.
"The biggest thing is the amount of time we spend together in that media room, and obviously we're limited by NCAA rules, and I think it's really important at that position that the players possess a quality of self-determination. They've got to be self starters, they've got to be driven, because you've got to do more on your own because we just don't have the time that you would like with the NCAA rules. But we'll prepare our quarterback to play and play successfully, and we'll do whatever we need to do schematically to put him in the best position to have success."
On the timeline of the hiring
"Coach Hoke reached out to me recently and the conversations we had, like I said, having followed his career, knowing what type of football coach he was and what type of person he was, it escalated quickly. It's a great opportunity. We're fortunate to be here and like I said really looking forward to doing big things."
When did you and Hoke meet?
"We met, shoot coach, it was a long time ago…"
When did you start talking about the job?
"Just recently we spoke."
When will you get the ball rolling?
"Well, ideally as soon as possible. Obviously we're in the heart of recruiting season, it's important as they say, it's about Jimmies and Joes, not Xs and Os. So the first thing is on the recruiting front. Football will take care of itself. I'm really excited just to get to know these guys more and really dive in and integrate. As soon as we can we'll get going. Obviously we're in a little bit of a dead period here, so the convention's coming up next week and then after that we'll get rolling."
Have you sat down with Coach Hoke and discussed other assistants and what your recruiting role will be? Any specific regions or anything?
"I can tell you right now, it's got to be tropical, coach. No, I'm just kidding [laughter]. Just joking. No, we haven't and like I said I want to integrate into the staff and I'm willing to do whatever it takes to make Michigan football be successful, whatever that may be to recruit I'm all for that. We haven't gotten to that stage yet. We did have a brief recruiting meeting this morning as a full staff, but wherever I'm needed I'm willing to go."
How soon do you think this team can be all the things you want it to be?
"Well, like I said and coach talked about, we need to run the football. Just briefly look at statistically where we're at, we've got to eliminate the sacks. We can't have lost yardage plays, number one thing we've got to eliminate that. We can't have undisciplined penalties, pre-snap penalties. Any time you're trying to find consistency on offense you've got to start from the basis of we're not going to go backwards. So we're not going to have lost yardage runs, we're not going to take sacks, we're not going to have penalties. So that's the first thing we'll start from, as long as the ball's moving forward and we're ending every series in a kick we'll have a chance. That's where we want to start from, but that will be the key point of emphasis to start."
How confident are you now that you have the pieces in place to make this work quickly?
"Very confident. Like I said, this football team is 11 points away from being 11-1. That's a darn good football team and the young players on this roster, having known some that we recruited – Derrick Green and David Dawson and Wilton Speight and Shane Morris and those guys – I don't know the whole roster, haven't had a lot of time to familiarize myself with everybody, but knowing the players that we recruited when I was at Alabama that are here and part of this team, really feel good about where we're headed, and we need to get there quickly."
How far is this team from being SEC caliber?
"I can't answer that. I didn't see a lot of Big Ten football this season, obviously. We didn't really cross paths anywhere. I know this, when we prepared to play this football team last season down there in Dallas, I thought it was a very, very good football team we were getting ready to play. There were a lot of sleepless nights thinking about Coach Mattison and his blitzes and all the things that we might see the next day."