---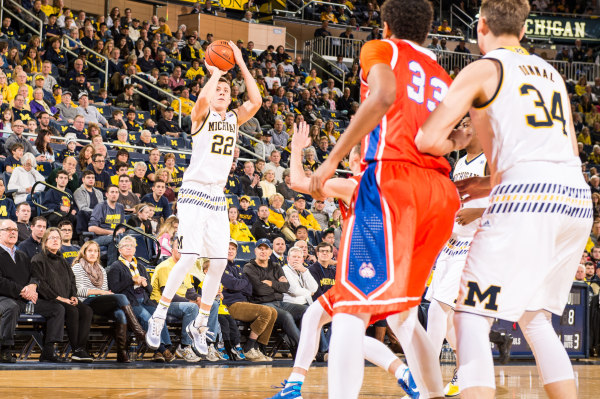 (MGoBlue.com)
On Saturday afternoon, Michigan took on Houston Baptist University at the Crisler Center for the third time in John Beilein's tenure in Ann Arbor. It went as you would expect.
The Wolverines stormed out of the gates on an 11-0 run, let the Huskies make a run to cut the lead to two with 4:34 left in the first half, then put it away with a 21-6 run to start the second half. When the final buzzer sounded, Michigan held a resounding 82-57 advantage.
Without starting point guard Derrick Walton available because of an ankle injury, Muhammad-Ali Abdur-Rahkman got the start and played a game-high 33 minutes with six points, two rebounds, an assist, a steal, and a block.
Caris LeVert and Duncan Robinson once again poured in the points, with 25 and 19, respectively, on 7-of-15 three-point shooting and 7-of-10 shooting inside the arc.
Aubrey Dawkins pitched in a season-high 16 points on 5-of-6 shooting while recovering veterans Zak Irvin and Spike Albrecht added a combined nine assists.
Nearly a year to the day of last week's shocking home upset less to the New Jersey Institute of Technology, Michigan gave its fans little reason to panic today. Sure, Houston Baptist made it a one possession game late in the first half behind some hot shooting from Asa Cantwell (who finished 3-of-3 behind the arc), and Duncan Robinson reminded us all that he is truly human by missing his first four triple tries.
But neither of those worries persisted. After the 13-5 Husky run cut it to 26-24, LeVert and Robinson put on a quick 8-0 spurt themselves to bring it back to double digits. The lead would never be smaller than seven the rest of the way, with the Wolverines cruising on a double digit lead nearly the entire second stanza. And Robinson answered his 0-of-4 start from downtown by making his remaining five three-pointers to finish out the game. Absurdly, that would actually drop his season shooting mark from deep to 59.5 percent (25-of-42) after entering the game at 60.6 percent.
The highlight of the afternoon snoozer came late in the second half, when the ball popped out of a scrum to Spike Albrecht, who promptly volleyball-tipped it – no-look style – directly behind him to D.J. Wilson, who threw down a vicious one-handed slam on the fast break.
Albrecht, who is continuing to rehab from off season hip surgeries, played 12 minutes today and recorded four assists. Following the game, he said he's continuing to feel better, but that it's going to take time to get back to his old self. He will sit out some time on the practice court to rehab, and noted that it helps for him to have some lead-in time before he enters a game in order to loosen his hips up on the stationary bike. Beilein said he is probably a month away from 100 percent, but also noted that there is a possibility Albrecht never gets to full strength and flexibility in his legs.
There's not much more to read into this game other than the Wolverines have taken care of business in the non-conference schedule so far much better than they did a season ago. Guarantee games have once again become guarantees, and four more remain on the schedule before Christmas and after this coming Tuesday's romp at SMU in Dallas.
Perhaps the biggest concern now is the health of Walton, who did not dress for the game today but was spotted walking around before the tip. His status remains day-to-day according to Beilein, and there is no indication as to whether he will give it a go against SMU. With an easy December ahead after the SMU game, it wouldn't be too surprising to see Walton take a couple weeks off depending on the severity of his injury if he doesn't play next week.
For now, though, Michigan is holding up just fine. Certainly Tuesday will give us a better indication overall, but with LeVert, Robinson, and Dawkins filling up the bucket, the Wolverines should have no problems scoring.
***Caris LeVert***
25 points (5-of-7 2pt, 2-of-6 3pt, 9-of-10 FT), eight rebounds (one offensive), one assist, two steals, one block, zero turnovers in 32 minutes
**Duncan Robinson**
19 points (2-of-3 2pt, 5-of-9 3pt), one rebound, one assist, one steal, one block, zero turnovers in 25 minutes
*Aubrey Dawkins*
16 points (2-of-2 2pt, 3-of-4 3pt, 3-of-4 FT), two rebounds, one steal, two blocks, two turnovers in 20 minutes
Season Three-Stars Standings
Caris LeVert – 10
Duncan Robinson – 8
Derrick Walton – 3
Spike Albrecht – 1
Moritz Wagner – 1
Aubrey Dawkins – 1
John Beilein is always quick to praise Michigan's opponent – whether playing against the worst team in the country or one of the best. Here's a look at a Beilein quote from this game's press conference followed by a rating from Completely Objective and Fair (1) to Pure and Utter Coachspeak (10) on the John Beilein CoachSpeakometer
Beilein did not give any specific quotes about the strength of Houston Baptist in today's post-game press conference, and therefore the CoachSpeakometer takes a week off.
Final Game Stats

#

Name

FG-FGA

3FG-3FGA

FT-FTA

OR

DR

TOT

PF

TP

A

TO

BLK

S

MIN

32
Ricky Doyle*
1-3
0-0
0-0
3
4
7
2
2
0
1
0
0
20
12
Muhammad-Ali Abdur-Rahkman
3-8
0-1
0-0
0
2
2
2
6
1
0
1
1
33
21
Zak Irvin*
3-8
1-2
0-0
1
2
3
1
7
5
1
0
1
37
23
Caris LeVert*
7-13
2-6
9-10
1
7
8
2
25
1
0
1
2
32
24
Aubrey Dawkins*
5-6
3-4
3-4
0
2
2
2
16
0
2
2
1
20
02
Spike Albrecht
0-1
0-1
0-0
0
0
0
0
0
4
0
0
0
12
03
Kameron Chatman
0-1
0-0
0-0
0
1
1
3
0
1
1
0
0
4
05
D.J. Wilson
2-3
0-0
0-0
0
1
1
1
4
1
0
1
0
6
13
Moritz Wagner
0-1
0-0
1-2
0
1
1
2
1
0
1
0
0
10
20
Duncan Robinson
7-12
5-9
0-0
0
1
1
1
19
1
0
1
1
25
34
Mark Donnal
0-2
0-0
2-4
0
0
0
0
2
0
0
0
0
7
Totals
28-58
11-23
15-20
8
25
33
16
82
14
6
6
6
200
Houston Baptist
22-51
5-8
8-11
6
23
29
17
57
10
16
2
0
200

Full Stats