---

M

MQ thinks Borges didn't do Bellomy any favors without Denard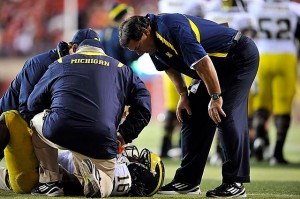 Oct. 30 by Chris
Aside from the way that Greg Mattison's defense played and some good kicking by Brendan Gibbons, there weren't a lot of positives to take away from Saturday's game against Nebraska. The offense without Denard was stale at best and made a much-maligned Nebraska defense look like the Blackshirts of old. Even before Denard went out with an elbow injury, the offensive line looked slow and unable to block effectively against Nebraska's front seven. Again, as has often been the case this season, there was no running threat aside from Denard in the Wolverine backfield.
Denard's injury was unfortunate, especially given the timing. We all knew that losing Denard would have major impacts on the effectiveness of the offense. With the lack of any other major offensive threats on the team, we all got a taste of reality while watching Russell Bellomy struggle through the second half. The reality is that there is still a lot of work to be done to get this Michigan offense back where it needs to be to compete for championships every year.
MMQ: win over Spartans shows Denard's maturity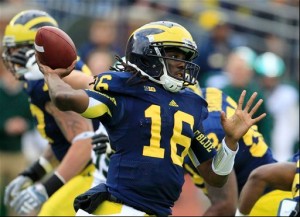 Oct. 22 by Chris
Well, it wasn't pretty, but Michigan got the victory against its in-state rival in what can best be summed up as a defensive battle. The stat lines were essentially the same for each team. Michigan was extremely balanced offensively, rushing and passing for 163 yards apiece (326 total), but probably not because it wanted to be. If you asked the coaches, they would likely tell you that if they could have more yards on the ground, they would have been ecstatic. MSU totaled 304 yards behind a good performance from quarterback Andrew Maxwell, who was 21-of-34 for 192 yards, one touchdown and an interception. The similarity in statistics goes even further: each team had the same number of first downs (16), same number of turnovers (one), same number of punts (seven), and almost the same number of penalties (six versus seven) and time of possession (28 minutes to 31).
So what we saw on Saturday were two pretty evenly matched teams. Michigan came out looking to contain MSU running back Le'Veon Bell, which it did to the tune of only 2.6 yards per carry, matching his lowest of the season. The plan was to force Maxwell to throw the ball to a group of young receivers and pressure Maxwell into making mistakes.
MMQ hopes to see more of the running back platoon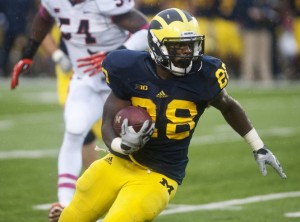 Oct. 15 by Chris
Another game, another win for the Michigan Wolverines. On Saturday, it looked to me like the team played its best all-around game this season – maybe even since Brady Hoke arrived in Ann Arbor. While it was obvious that Illinois was way overmatched in this game, the effort that the Wolverines displayed on both sides of the ball was impressive.
Denard Robinson ran the offense with perfection, as he continues to move closer to setting the NCAA career rushing record for a quarterback. He ran the ball effectively and also passed it well, as offensive coordinator Al Borges called a nice game, establishing the run early and passing at opportune times. Like I've pointed out in the past, when Denard throws less than 20 times per game, we are likely going to see the Wolverines adding a victory to the win column.
MMQ calls out Herbstreit and appraises the rest of the season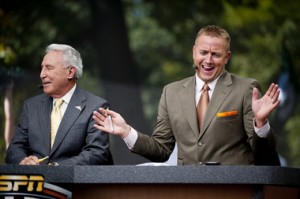 Oct. 9 by Chris
I love when I sit down to write this Monday Morning Quarterback segment and there's not much to say. Usually that means that the Wolverines played well over the weekend and likely won their game rather easily. That's exactly what happened this past Saturday as Michigan traveled to Purdue and came away with a 44-13 victory.
Before we go any further, I have to say that going into the weekend I was surprised at how many writers and commentators in the media doubted the Wolverines against Purdue. ESPN's Kirk Herbstreit not only predicted Purdue to beat the Wolverines, but he's also calling for Purdue to win the Leaders Division and also the Big Ten Championship! Now, if you have been watching College Gameday as long as I have, you know that sometimes Kirk has a way of making his predictions in a manner that will fire up certain teams to win. For example, he may make a pick on a game one way, but say it in a way that will light a fire under the players on the opposing team. As if he's trying to give them extra motivation to go out there and play harder. Are the players on that team actually watching Game Day? Maybe, especially if the game is a later afternoon or night game.
MMQ provides the blueprint for beating Notre Dame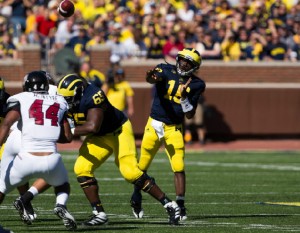 Sept. 17 by Chris
Week 3 is in the books and Michigan's game against UMass turned out just how everyone predicted: a dominating win for the Wolverines. Going into the game, I was a little concerned that offensive coordinator Al Borges would see this game against a less-talented opponent as an opportunity to work on his pro-style offense. Yes, he did call some of this, but I believe what we mostly saw was the kind of offense which Michigan will need to use throughout the remaining season – the offense which makes for the best utilization of quarterback Denard Robinson's skill set.
What we saw was a lot of Denard in the shotgun, with running back Fitzgerald Toussaint or one of the other backs next to him, running the zone-read option. Off of that, Michigan ran some quick-hitting pass plays, which got the ball out of Denard's hands quickly and didn't force him to sit in the pocket and make to many reads. Borges also called a good amount of play-action off of the zone-read, which kept the defense honest. In reality, the offensive play-calling was nothing more than what Michigan has already shown through three games. No doubt, this was by design. Michigan was going to win this game anyway and why show your future opponents, especially Notre Dame, anything more than they needed to? All Borges needed to do was polish things up for next weekend in South Bend and that's exactly what they did.
MMQ has more questions than answers through two weeks
Sept. 10 by Chris
Two weeks are gone and the Michigan football team is right where it should be at 1-1. No one expected this team to beat Alabama and everyone expected them to beat Air Force. So 1-1 is not a surprise. But does anyone else feel like I do – that we don't really know much about this team? I think there are some major question marks surrounding this team right now. For example, the running game. Does Michigan have one other than Denard Robinson?
How about a passing game? Yes, Denard threw the ball better in Week 2 against Air Force, as he was able to complete some passes to his tight ends and receivers using quick hitting passes and play action. But can Denard continue to do that against a defense that actually puts pressure on him and one that isn't returning only three starters from last season?
Monday Morning Quarterback breaks down Denard's strengths and weaknesses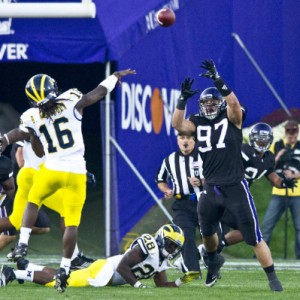 Aug. 15, 2012 by Chris
With just over two weeks remaining until the season opener, I'd like to take a look at some of the improvements that I'm hoping to see in quarterback Denard Robinson in his final season in the maize and blue. As you can see in the table to the right, nearly all of his numbers were down in 2011, but I believe that can be explained by a more productive running game and an overall better scheme called by offensive coordinator Al Borges.
While the numbers from 2011 don't show improvement, Robinson did what he needed to do to help the Michigan offense move the ball and put points on the board. Some of his intangibles which don't show up in his stats, such as leadership in the huddle and on the sideline, also contributed to the team's success. Overall, Borges and Brady Hoke did a great job of bringing in a new offensive philosophy, while at the same time still keeping in mind Denard's strengths as an athlete.
Monday Morning Quarterback Faults Borges More Than Denard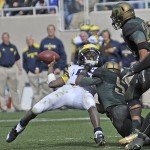 Oct. 17, 2011 by Chris
Having not yet read any of the post-game reaction to Saturday's 28-14 loss to Michigan State, I'm guessing that there is a lot of frustration among the masses about how the Wolverines played.  I'm also guessing that a lot of people are blaming Denard Robinson for the loss because of his performance.
While going 9-of-24 for 123 yards, a touchdown and an interception, and 18 carries for 42 yards and a touchdown are not great stats and are not typical of his usual performance, Denard is not completely to blame.  NO ONE should be questioning whether or not he should still be the quarterback, and NO ONE should be clamoring for a two-QB system along with Devin Gardner.  I'll discuss why below.
Monday Morning Quarterback Likes Second Half Adjustments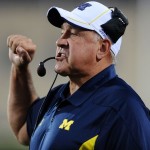 Oct. 10, 2011 by Chris
This week's game against Northwestern was about what I expected: a close game for three quarters before Michigan pulled away for the win. All in all, Michigan completely dominated the second half. In fact, the defense didn't give up a single point and came up with two big turnovers, and the offense scored almost every time it touched the football.
It was really a tale of two halves. In the first half, the Michigan offense seemed to get away from the things it had been successful with in the first five games: Denard Robinson in the shotgun, running the zone-read and using that to help set up the play-action pass. Not deep passes, but short, quick passes which gave Denard the ability to get rid of the ball quickly and not force him to sit in the pocket while trying to look down field to make a read.
Monday Morning Quarterback Needs Denard to Stay Healthy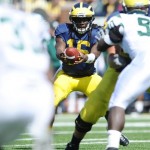 Sept. 19, 2011 by Chris
Well, it wasn't pretty, but it was exactly what I predicted in my Friday Pick'em prediction.  Actually, I shouldn't say it wasn't pretty, because the Michigan offense was a lot crisper than it was in the first two games.  But shouldn't that be expected?  This was the third game of the year and it was against Eastern Michigan.
The Michigan offense did a lot of good things on Saturday, including establishing a running game using the zone-read as a base play, using play-action pass off of the run, and at some times getting Denard Robinson out of the pocket and allowing him to create plays with his feet.