---

R

ival Rewind is ready for Sparty and still thinks Stanford scored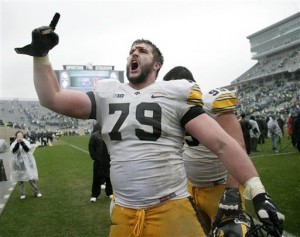 Oct. 17 by Justin
#7 Notre Dame 20 – #17 Stanford 13 OT
Record: 6-0
This Week: Home vs BYU (4-3) – 3:30pm – NBC
The  hype surrounding the Irish was taken up a notch following Notre Dame's overtime victory over Stanford, but it wasn't without controversy. After scoring a touchdown on its first possession of overtime, Notre Dame stopped Standford at the goal line on fourth down to win the game. Stanford running back Stepfan Taylor seemed to have thrust the ball across the goal line on his second effort, but the call on the field stood and the Irish remained undefeated.
The game started out slow with Notre Dame getting on the board at the end of the first quarter with a 29-yard field goal. Stanford took the lead halfway through the second quarter with an Everett Golson fumble recovery in the end zone. The Cardinal added a field goal just before the half to take a 10-3 lead into the locker room. It was Notre Dame's first deficit of the season.
Rival Rewind still doesn't believe in Notre Dame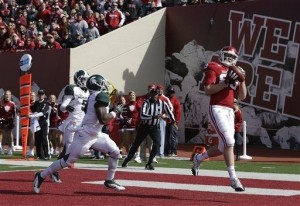 Oct. 10 by Josh
Michigan State 31 – Indiana 27
Record: 4-2 (1-1)
This Week: Home vs. Iowa  (3-2, 1-0) – 12pm – ESPN
Last week I predicted Michigan State would roll over Indiana. They won, but the Hoosiers almost pulled off the upset. Indiana opened up the game with a 17-point first quarter while holding the Spartans scoreless. MSU bounced back with 14 straight points to cut it to 17-14 but IU rattled off another 10 before halftime to go up 27-14. Things were not looking well for MSU.
In the second half the Hoosiers showed why they are bottom dwellers in the Big Ten as they gave up 17 points and put up zero. MSU scored its last 14 (two touchdowns) within a minute and a half of each other midway through the fourth to go up for good.
When I looked back at the box score the thing that stood out to me most was the 33-for-48, 282 yard, three touchdown performance by Indiana quarterback Cameron Coffman. MSU's defense is not what it was last year and has some serious issues against the pass. The Spartans' pass offense, however, is picking up as Andrew Maxwell gets more comfortable with the system and the players around him. As of right now I'd say State is prime for the picking as we look down the road a bit to the matchup next week.
Rival Rewind helped Michigan last week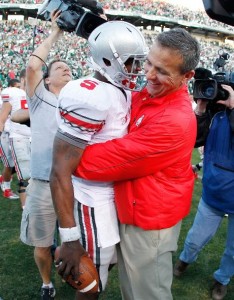 Oct. 4 by Josh
Two bitter rivals did battle last Saturday as Ohio State invaded East Lansing to take on the Spartans. I don't like either team at all, but I dislike the Spartans less despite their inclination for dirty play. However, due to the conference divisions, it was in Michigan's best interest that Ohio State win and so I reluctantly rooted for the Buckeyes. But ONLY for the sake of our beloved Wolverines.
Ohio State came out on top, 17-16, in a classic Big Ten battle. It was once again the Braxton Miller show for the Buckeyes as he accounted for 315 yards of total offense and one touchdown. He also accounted for several turnovers but none fortunately for him, none affected the outcome of the game. Miller was injured twice and had to leave the game but he returned both times.
Ohio State kept the MSU run game in check, holding Le'Veon Bell (who, per ESPN, was hit within two yards of the line of scrimmage on 15 of his 17 carries) and the rest of the Spartan attack to 34 total yards – a paltry 1.5 yards per carry. Despite the extremely poor play of the Spartan run game (or was it the exceptional play of OSU's defense?) Andrew Maxwell played fairly well. He threw for almost 300 yards, adding one touchdown and no picks, though he was 22-for-42 for a less than stellar passing percentage of 53 percent.
Rival Rewind hates all the rivals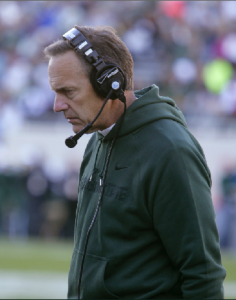 Sept. 27 by Justin
#21 Michigan State 23 – Eastern Michigan 7
Record: 3-1
This Week: Home vs. #14 Ohio State (4-0) – 3:30pm – ABC
The Spartans faced a trap game, sandwiched in between a tough loss to Notre Dame and the impending matchup with Ohio State. But a winless Eastern Michigan squad shouldn't have put up much of a fight, right? Wrong. It was the Spartans that didn't put up much of a fight – at least for three quarters of the game.
Eastern held a 7-3 halftime lead before MSU kicked a pair of field goals to take a 9-7 lead with 1:11 remaining in the third. The fourth quarter was all Spartans as Dion Sims caught a 10-yard touchdown pass from Andrew Maxwell and Le'Veon Bell ran in a 1-yarder with two minutes left to seal the deal.
Rival Rewind sees Ohio survive, ND thrive, and is Sparty alive?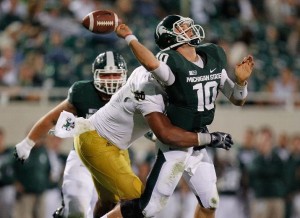 Sept. 18 by Josh
#20 Notre Dame 20 – #10 Michigan State 3
Record: 3-0
This week: Home vs. #18 Michigan (2-1) – 7:30pm – NBC
Notre Dame and Michigan State made it easy on us this week by playing each other. The outcome was not even close to what I expected. In fact, it was just about the opposite. The Irish snapped a six game losing streak to ranked teams and had their best defensive showing against a top ten team since beating Texas A&M 28-3 in 1993, per ESPN. Oddly enough, 1993 is largely regarded as the last year ND football was actually relevant, but who's keeping score?
Notre Dame opened the scoring with Everett Golson rolling right and throwing across the field to receiver John Goodman, who one-handed it in the end zone. For those of you not keeping track, it was the first touchdown scored against the Spartan defense this season. Golson scored with his feet early in the second quarter to make it 14-0. Overall, Golson's numbers were nothing to admire, 14-of-32 for 178 yards and one TD. As a team, the Irish pounded the rock for 122 yards on 34 carries. But the key was the return of Cierre Wood, a tough nosed runner who gave the Golden Domers some spark in the run game.
Rival Rewind is still unbeaten, but not for long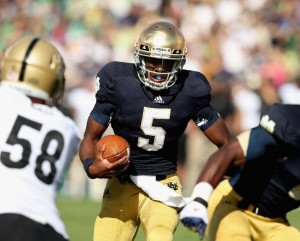 Sept. 11 by Josh
Notre Dame 20 – Purdue 17
Record: 2-0
This week: At #10 Michigan State (2-0) – 8pm – ABC
Unlike last week, Notre Dame did not dominate its opponent this past weekend. In fact, the Irish were almost downed at home against an underrated Purdue squad. It took a near-last second field goal to surpass the Boilers, after being led down the field by backup quarterback Tommy Rees on the last possession.
Everett Golson got the nod as the starter but apparently Brian Kelly said if it came down to it, Tommy Rees would be their "closer." His strategy worked this time, but whether he employs this method going forward is yet to be determined. Rotating quarterbacks has its benefits and its drawbacks, so we'll keep an eye on this as well.
Golson played a great game, going 21-for-31 for 289 yards and a touchdown. The rushing game didn't produce much as they only managed 52 yards for the game.
Rival Rewind is still unbeaten, but not for long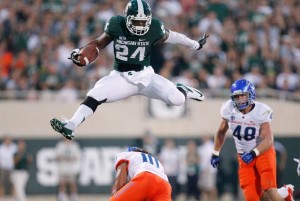 Sept. 5 by Josh
#13 Michigan State 17 – # 24 Boise State 13
Record: 1-0
This week: at Central Michigan (1-0) – 3:30pm – ESPNU
Michigan State and Boise State didn't end up being quite the game many thought it would be. The Broncos had won six straight against BCS-conference teams, but last weekend the perennial giant killer seemed overmatched against a more physical Michigan State team as the Spartans out gained the Broncos 461 yards to 206 (the fewest since Chris Petersen became head coach in 2006).
Spartan back Le'Veon Bell carried the ball an astounding 44 times for 210 yards and two touchdowns and added with six receptions for 55 yards. Bell was clearly the workhouse for MSU this weekend and the Spartans needed every bit of his production. Boise State did manage a couple of good drives but their offense just couldn't punch it in; their lone touchdown came on a 43-yard interception return in the second quarter.