---

2

013 Basketball commit Mark Donnal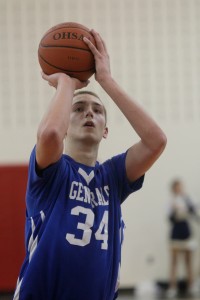 Jan. 21, 2013 by Sam
If Nik Stauskas is the wing shooter that John Beilein craves in his offense, Mark Donnal is the stretch four/five man that the coach is drooling over. Donnal is listed at 6'10? right now but is closer to 6?8? with a body that is nearing college-ready. His arms are not extremely long, but he has the length to be a good defender and an adept blocker, and showed that with one huge rejection in the second half. And while Donnal is probably facing guys that are giving up four to five inches night in and night out, Maumee fans wore t-shirts reading "Three 6'6? Mafia" to acknowledge the trio of 6'6? big men on the Panthers' roster.
The Three 6'6? Mafia's size, however, was simply no match for Donnal's inside-out game. The 2013 Michigan signee did the majority of his damage down low early on, posting up in the heart of Maumee's 2-3 zone and showcasing an array of moves to lead his team to a 34-21 halftime lead with 18 points and eight rebounds. His inside go-to move was a post catch with a quick spin to his right and easy finish on the left hand side of the bucket using nice touch off the glass. He also had one very nice spin to his left that resulted in a beautiful fade-away swish from the elbow. If Donnal can consistently make the shot, he will be nearly unstoppable regardless of who is guarding him.
2014 Basketball prospect A.J. Turner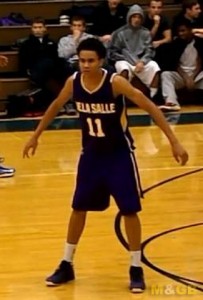 Jan. 8, 2013 by Sam
For a college basketball coach, recruiting is a non-stop job duty, the lifeblood of each team. As we continue to develop our college basketball coverage here at Maize and Go Blue, we are going to look to include recruiting as often as possible. When we analyze recruiting, we hope to not only give you an idea of the future of Michigan basketball, but also provide scouting reports on up-and-coming high school talent of today as we constantly wrestle with the questions of who is worth the hype and who is worthy of a coveted offer.
Our first scouting report, then, comes on 2014 guard/forward A.J. Turner out of De La Salle High in Warren Mich. I caught him in the championship game of last week's holiday tournament in Grand Rapids going up against Grand Rapids Catholic Central. Turner reportedly struggled a little bit the previous night with John Beilein in the house, only managing about seven points in an easy 60-51 win over Lowell, but he came back with a strong performance on Friday to claim tournament MVP honors after leading his team to a 49-36 victory in the finals. Here is a look at Turner's strengths and weaknesses in the game I attended: