---

C

arolina hush puppies

Posted Oct. 24, 2017 by Justin Potts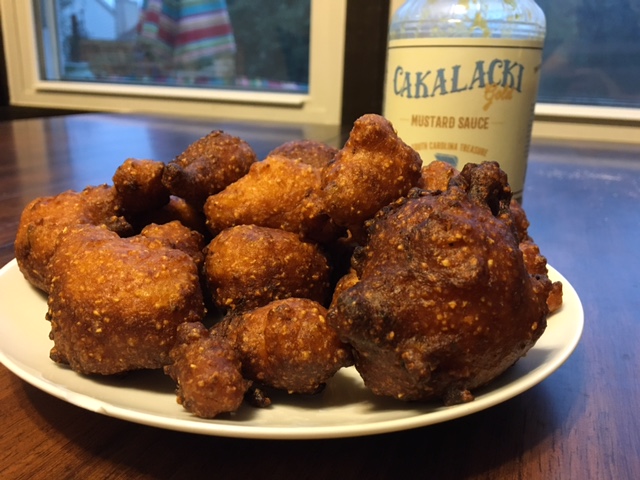 Did you know that hush puppies are a staple of barbecue sides in the Carolinas? I didn't until my trip to North Carolina a couple weeks ago when I visited Lexington Barbecue and Red Bridges Barbecue Lodge and both served hush puppies with each BBQ plate. You didn't even have to order them; they just came automatically like a roll or piece of toast.
I grew up going on family vacations to Myrtle Beach, S.C. every summer so I've always associated hush puppies with seafood. I never even considered them as a BBQ side. But they're actually a great fit. Dip them in some BBQ sauce and you've got a great pairing for your smoked meat. And the best part is they're easy to make and most of the ingredients are common items that you already have in your pantry.
Western style chopped pork with red slaw
Posted Oct. 17, 2017 by Justin Potts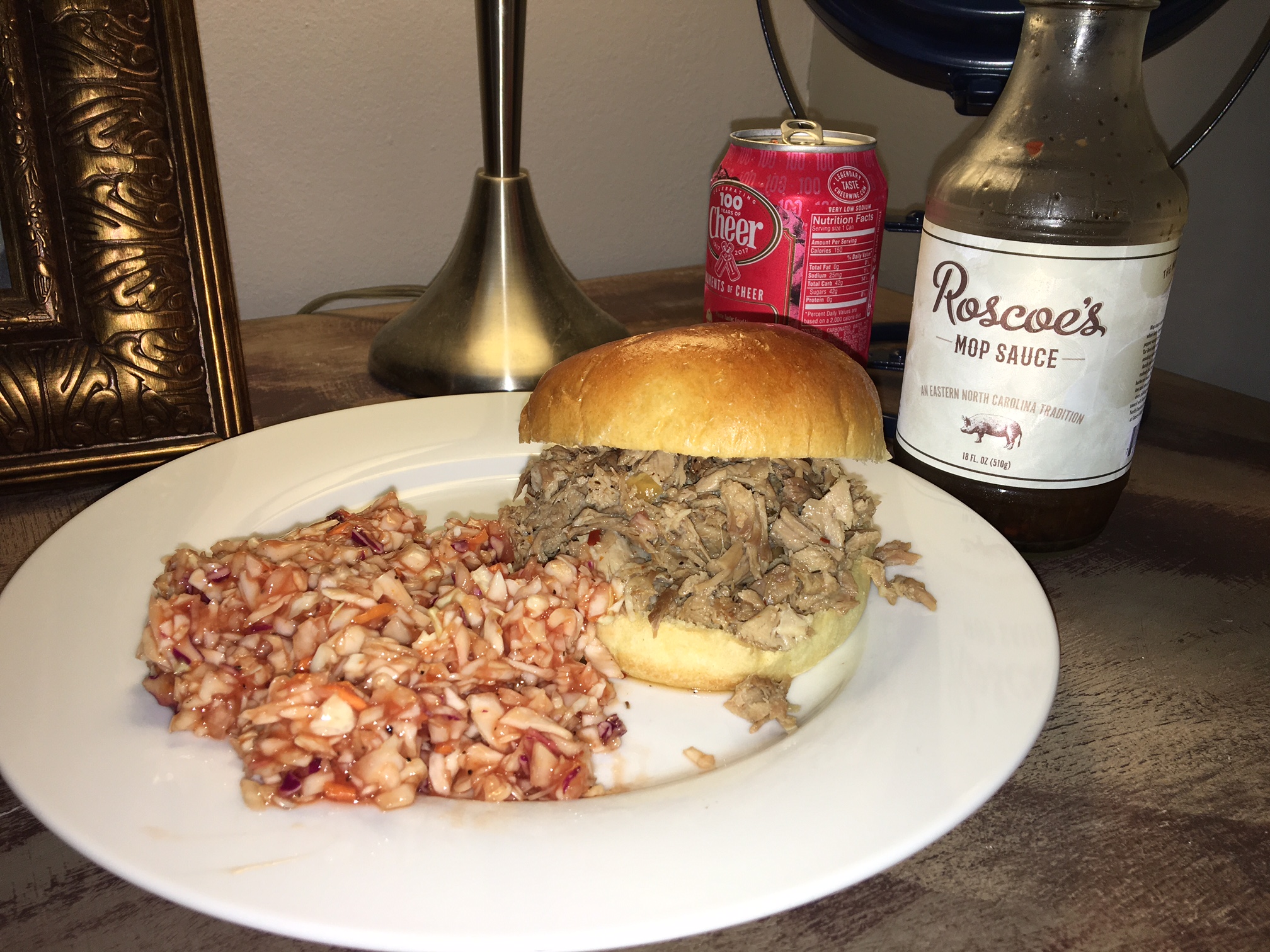 A couple weeks ago I had a work trip to Atlanta that included a one-day excursion to Charlotte. Since I got five days in the South on the company dime, I decided to visit as many barbecue restaurants as I could. I ended up visiting seven, but I was most intrigued with the Western (or Piedmont) style barbecue that I tasted at Lexington Barbecue in Lexington, N.C. and Red Bridges Barbecue Lodge in Shelby, N.C. I've always known of the style, but it has never been one of my favorites (I prefer Georgia, South Carolina, and Texas style BBQ). However, after visiting Lexington and Red Bridges, both of which rank highly in most "Best BBQ in the nation" lists, I had to try making it myself.
For the second straight week the weather got the best of me. I meant to do this on the Big Green Egg, but last Saturday was a monsoon in the Chicagoland area, so I had to keep the cook indoors, and with a hungry crowd coming over for the game, I couldn't put it off until Sunday.
Sous vide French dip cheesesteak
Posted Oct. 10, 2017 by Justin Potts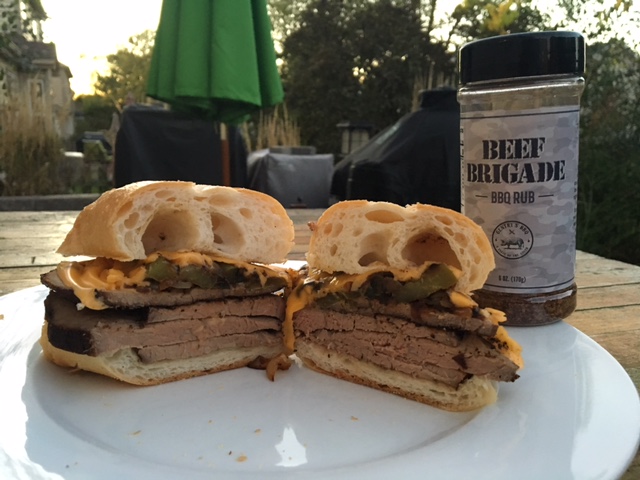 One of my favorite lunch spots in Chicago is a small spot in between River West and West Town called Nini's Deli. This place is awesome, and if you go in there tell him Justin sent you. My man Juan serves up Cuban-Mexican fusion cuisine inspired by his parents' ethnic background. One of the items that isn't on his regular menu, but makes an appearance every now and then is his sirloin tip cuban steak sandwich. That's what semi-inspired my recipe this week. It's not the same, but it gave me the vision to try out my own recipe and that became what I'm calling a french dip cheesesteak and it turned out great.
I was going to do this in the Big Green Egg, but Saturday turned out to be rainy, so I decided to toss it into the Sous Vide. If you don't have one, I suggest getting one…you can get a good one for $100-150 these days. I used to think that using a Sous Vide was cheating on my smoker, but I've learned to consider it an essential tool in my BBQ tool belt if you will. It really is convenient — if you have the foresight to plan ahead — and produces some great results. It's almost foolproof.
Jalapeno balls
Posted Oct. 3, 2017 by Justin Potts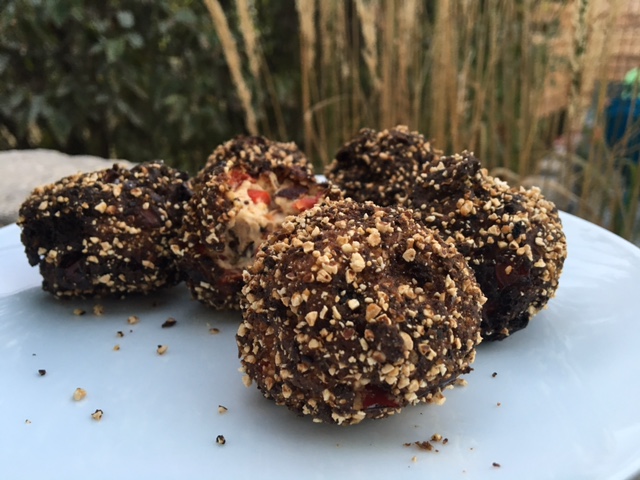 For the second straight week I give you an appetizer as our Tailgate Tuesday recipe. This one is a spin on the classic "Atomic Buffalo Turd" or "ABT" as those in the BBQ world like to call jalapeno poppers. This is basically that, but inside out.
I had a bunch of leftover jalapenos from my garden that were going to go bad a couple weeks ago so I sealed them in the foodsaver and tossed them into the freezer. Over the weekend, I decided to put them to use. This can obviously be done with fresh jalapenos, but that's all I had at the moment. Start by slicing them in half and removing the seeds. Put them onto a cookie sheet along with your cream cheese and toss into the smoker for a little bit with whatever type of wood you prefer. I used a mix of oak and hickory for this.
I let these go for about an hour and a half. There's not really a set time to smoke for this recipe. Just give it a look and use your best judgment based on the cream cheese. If it's starting to melt, it's done. You want to get a nice smoke coating on it.
Smoked onion dip
Posted Sept. 26, 2017 by Justin Potts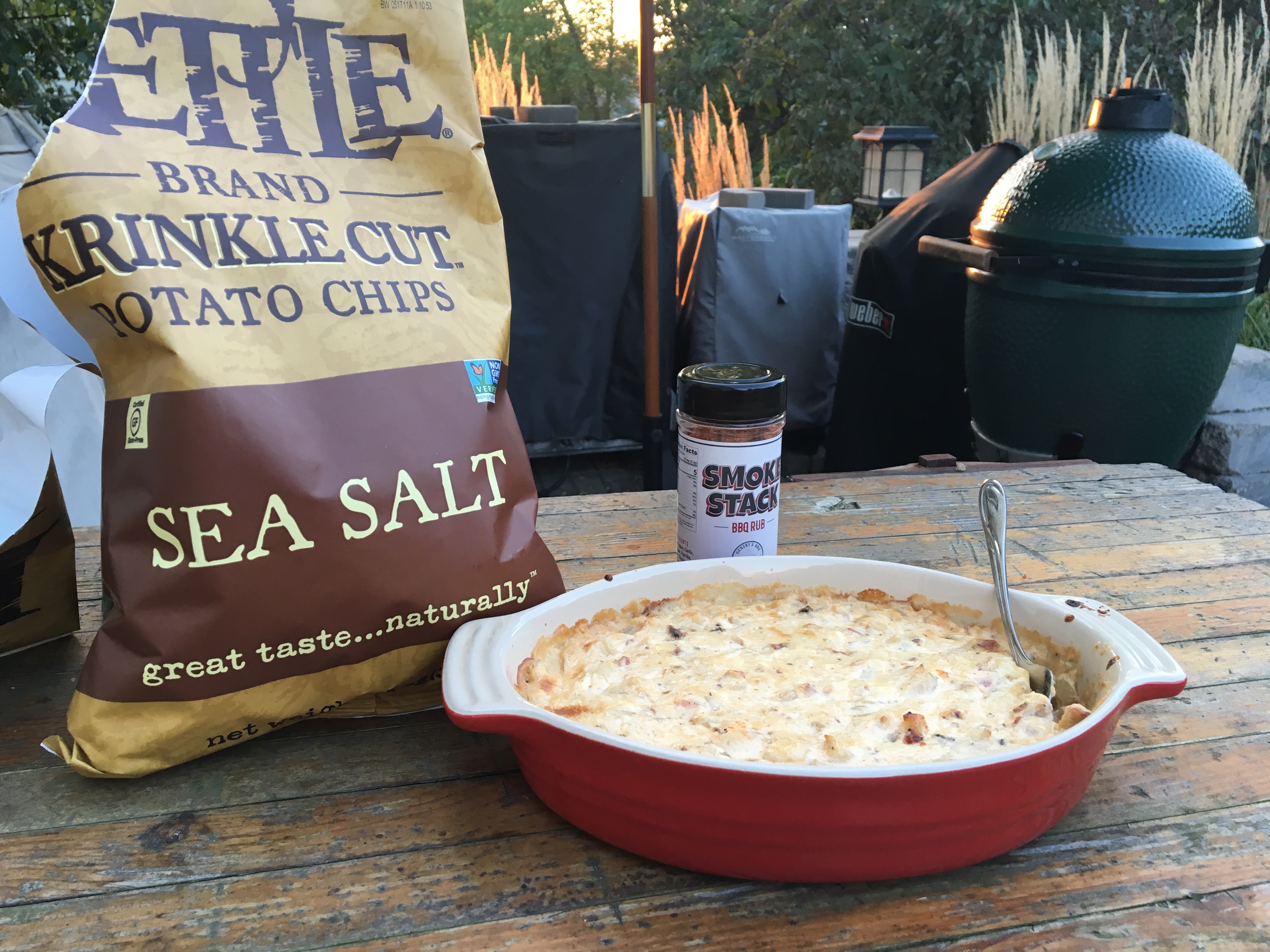 I usually don't post a Tailgate Tuesday during a bye week, but I made this over the weekend and just had to share it with you. After last week's super in-depth "homegating" recipe, I figured I should toss out a much easier one this week. It's quick and easy and will instantly become a tailgate favorite. I introduce you to smoked onion dip.
Fire up your smoker between 250 and 300 with your choice of wood. I used a mixture of oak and hickory. You're smoking onions, not tough cuts of meat, so they'll absorb plenty of smoke and you want to be sure not to overpower it.
Peel your onions and cut in half. Sprinkle some Gentry's Smoke Stack BBQ Rub on them and place them in your smoker. Let them sit for two or three hours until they are nice and brown.
Fried pork tenderloin sammy with fire roasted green chili jam and a savory corn casserole
Posted Sept. 19, 2017 by Justin Potts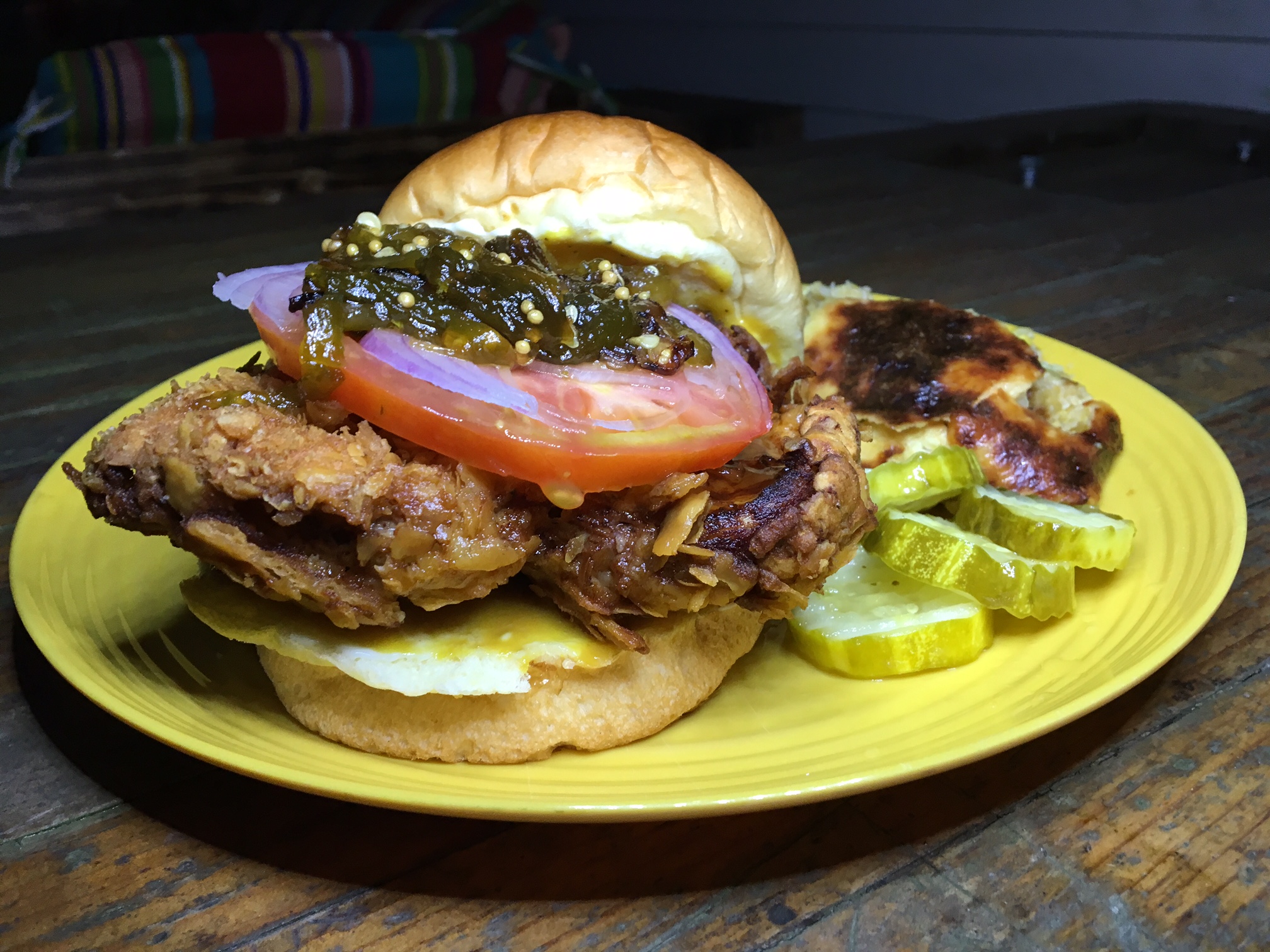 Those of you who read this site regularly probably know that I didn't actually go to Michigan. Even though my mom and grandfather are alums and I got accepted, I chose to attend a smaller school on a soccer scholarship. That school was in the state of Indiana, so when I started to think about what type of food I should cook for the Purdue week Tailgate Tuesday that had to do with Indiana, I didn't have to think long.
One of the food items served at the dining commons on campus that I remember the most is this huge, flat, breaded piece of meat sandwiched between buns. It may have had a piece of lettuce and a tomato slice on it, but mostly I remember having to take several bites just to get to anything but breaded pork. It was quintessential Indiana eatin' and although I haven't had one in about 13 years, I decided to try my hand at making one. In an effort to make it taste better than cardboard, I thought I'd top it with Jess Pryles' fire roasted green chili jam (every recipe of her's I've ever tried has been amazing) and pair it with a savory corn casserole.
Brisket burnt ends
Posted Sept. 12, 2017 by Justin Potts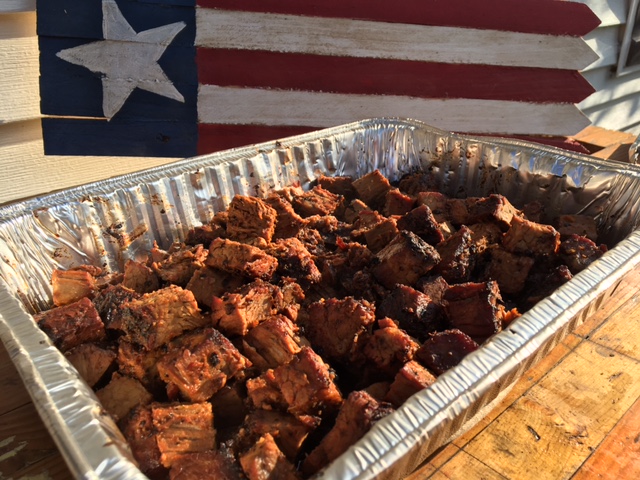 I had to travel to Ohio this past weekend to celebrate the life of my grandfather, who passed away last week at age 88, so I didn't have time to cook anything. Because of that, this week's Tailgate Tuesday will be a cook from last Fourth of July, so it doesn't include any product from this season's sponsor, Gentry's BBQ.
Ingredients:
• 12-14 pound packer brisket
• Your favorite beef rub
• Spray bottle
• Vinegar or apple juice
• Your favorite BBQ sauce
Directions:
First, you need to trim your brisket.
Steak tacos nortenos with bacon fat flour tortillas
Posted Sept. 5, 2017 by Justin Potts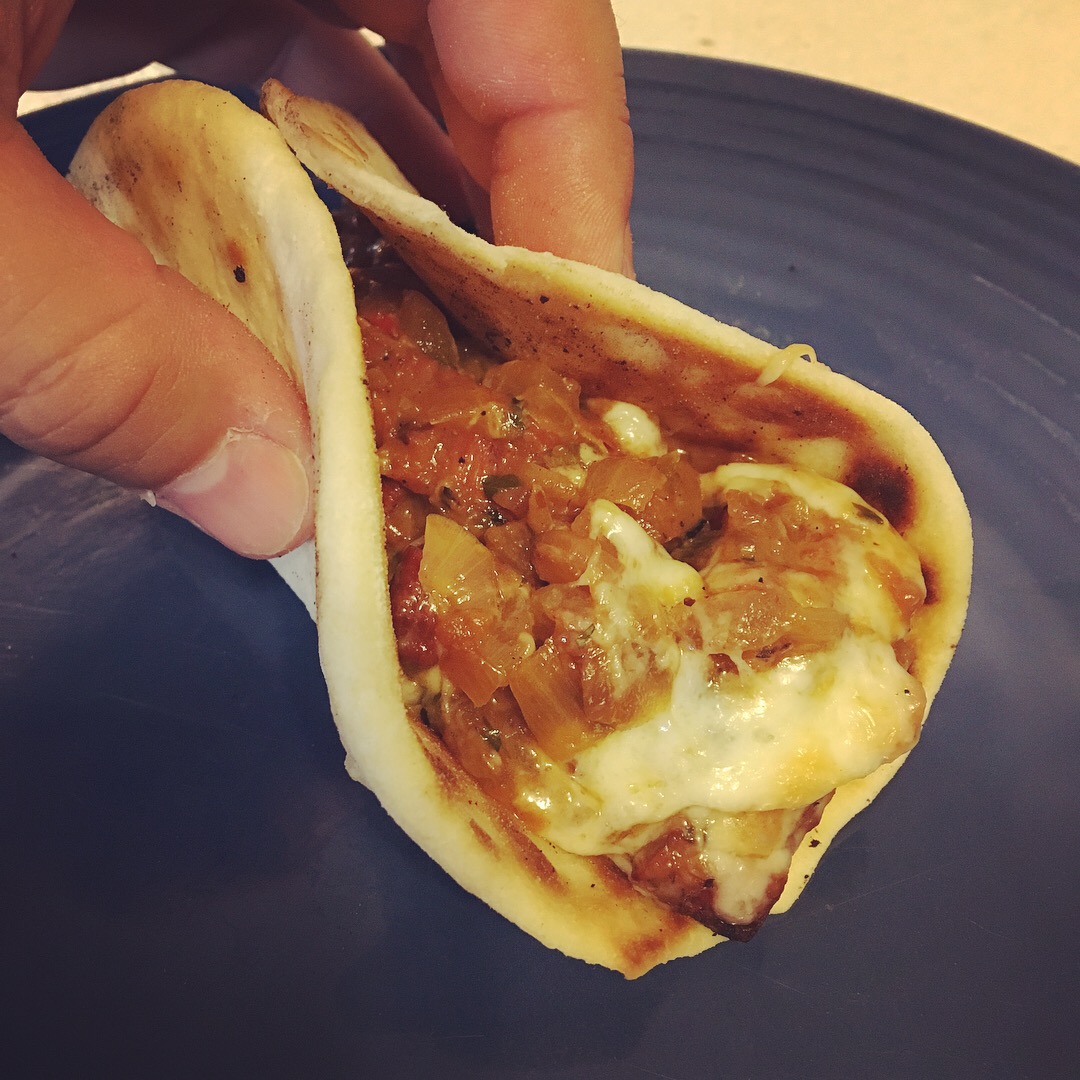 This week's recipe is one I found online this summer and had to try it, and it sure didn't disappoint. It's easy enough to make on a grill, so it's tailgate friendly, and it's a different and extremely tasty twist to the standard tailgate food. Give it a try and take your next tailgate to the next level.
Ingredients:
Tortillas:
• 1 pack of bacon
• 2 TBSP + 1/2 tsp vegetable oil
• 1 1/4 cups whole milk, divided
• 2 tsp baking powder
• 1 1/2 tsp Kosher salt
• 3 cups all purpose flour
Filling:
• Hangar or skirt steak
• Gentry's Beef Brigade BBQ Rub
Smoked sausage balls
Posted Nov. 25, 2016 by GoBluBBQ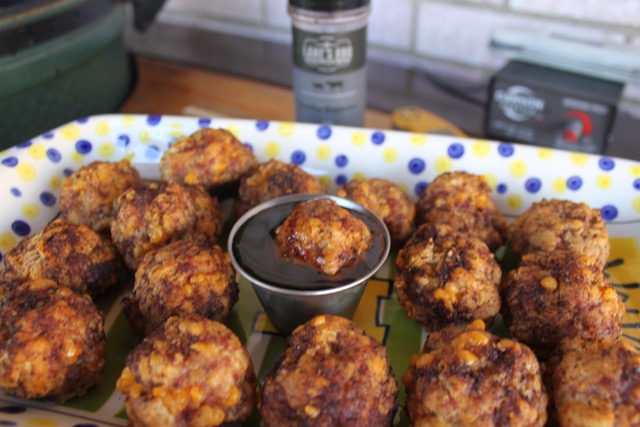 This is my favorite morning tailgate item. It's super easy and can be done in the smoker or in your oven. Trust me on this one, your guests will love you for this. It's a old standby. The was originally done by Bisquick, but I had to put my own twist on it by tossing them into the trusty smoker on gameday. If you don't have access to a smoker, just cook them in your oven and they will be almost as good.
Ingredients
• 1-lb breakfast sausage (I like the HOT)
• 2 Cups cheddar cheese
• 3 Cups Bisquick
• 2 TBSP Lane's BBQ Ancho Espresso Rub
• 1/4 Milk (optional)
• Maple syrup for dippin'
• Fogo lump charcoal
O'Korn and cheesy jalapeno bacon dip
Posted Nov. 16, 2016 by GoBluBBQ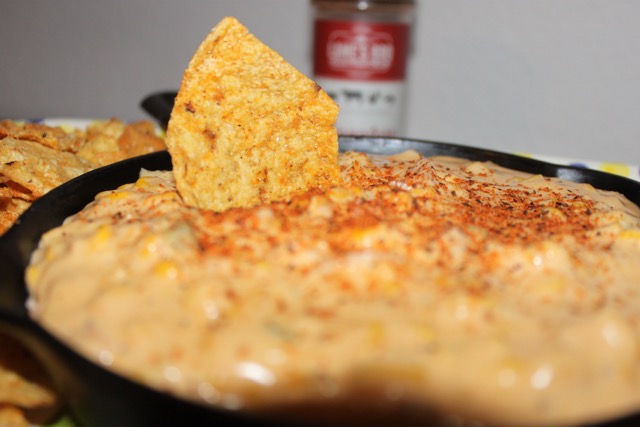 Sometimes it's necessary to break out the crockpot and do things the easy way. We're nearing the end of the regular season and the grills are tired. The bags of Fogo Lump Charcoal are running low and the crockpot wants some attention. I've been making this recipe for years and it's always a hit. You can make this on the grill or even on the smoker if you'd like. It would be fantastic either way. Since it's getting a little cooler and chili season is right around the corner, let's dust off the Michigan crockpot and set the temp knob to low. This one has all the big hitters in it. We have bacon….cheese….jalapeños……Lane's BBQ Signature Rub…….cream cheese, and of course O'KORN. Once it gets all OOEY GOOEY, grab a chip and go to town.
Ingredients
• 3 cans of whole kernel corn (drained – 15.25 OZ)
• 2 jalapeños – diced and seeded
• 8-oz cream cheese
• 2 TBSP Lane's BBQ Signature Rub
• 8-oz sour cream
• 6 slices crispy bacon (chopped)
• 16-oz Velveeta Cheese (1/2 a small brick)
• Tortilla chips
Brazilian style protein
Posted Nov. 8, 2016 by GoBluBBQ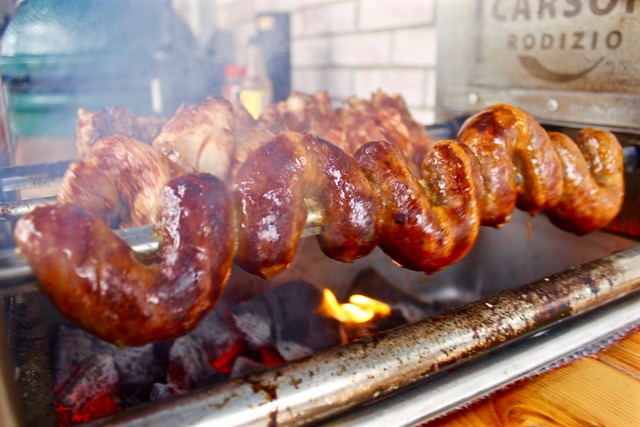 I have found the ultimate grill toy. This is the accessory of all accessories. This is the SUPERMAN, BATMAN, and HULK of grilling toys, all combined into one backyard, tailgating beast of a grilling toy. It's the Carson Rodizio Backyard Brazilian Rotisserie and it's taking over the BBQ world. I love all my grilling gadgets and try to use them as much as I can, but this one gets me excited when I know I get to use it. I start planning on Monday for a Saturday cookout when I know this is coming out to play. If you love the Brazilian steakhouse experience, then you are going to love this and most likely order one as soon as you read this. Trust me, this is the toy to have for any grill in the backyard.
Ingredients
Almost anything you want to grill.
Bacon cream cheese
Posted Nov. 1, 2016 by Stephanie Izard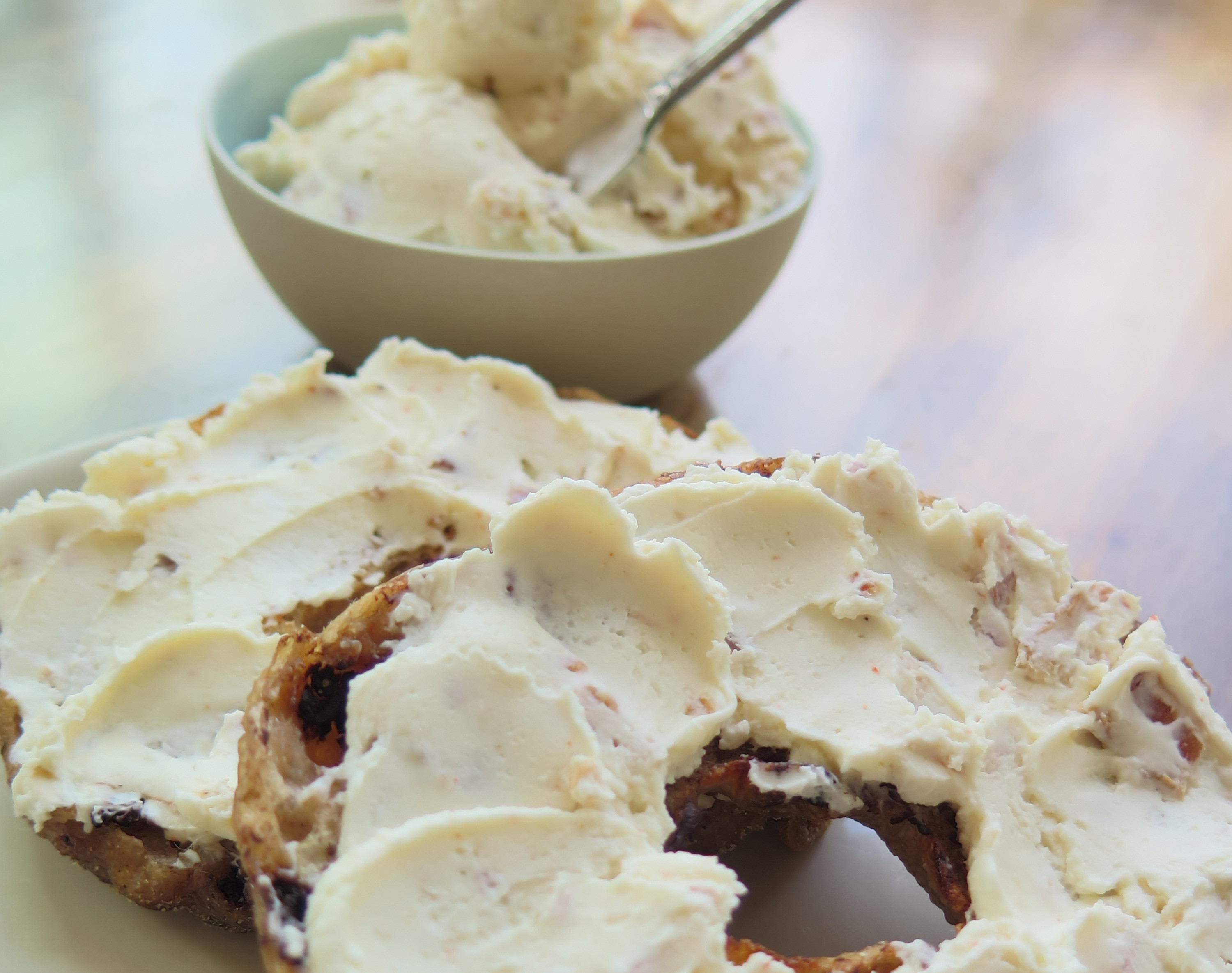 This week's recipe is for the morning tailgaters, those of you who get to the lot or golf course at dawn to maximize your time before kickoff and aren't quite ready for burgers, dogs, and brisket just yet. We are also proud to feature a guest chef this week, who also happens to be a Michigan alum — and a pretty successful one at that.
Stephanie Izard is a 1998 Michigan grad who then went to the Le Cordon Bleu College of Culinary Arts Scottsdale. After working on various restaurants in Phoenix and Chicago, she opened her first restaurant, Scylla, in Bucktown. In 2008, she became the first female winner of Bravo's "Top Chef" and then followed that up with her new restaurant, Girl & the Goat, which was named America's Best New Restaurant by Saveur. A year later, she opened Little Goat and published her first cookbook, Girl in the Kitchen. Earlier this year, she opened her third restaurant, Duck Duck Goat.
Sous vide steak and burgers
Posted Oct. 25, 2016 by GoBluBBQ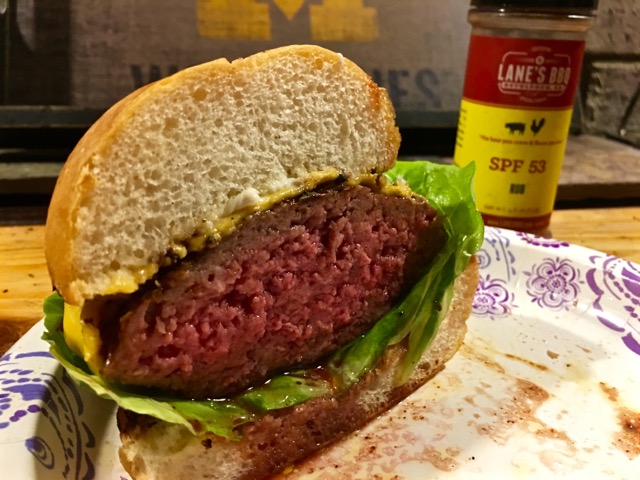 I realize this one might be a little different as most guys don't have a Sous Vide just laying around, but I'm hoping this recipe will help change that. My Sous Vide machine has quickly become one of my favorite kitchen toys and really pairs well with the grill. If you like kitchen gadgets, this one is a must. What is Sous Vide you ask? According to Wikipedia, Sous Vide is French for "under vacuum" and is a method of cooking in which food is sealed in airtight plastic bags then placed in a temperature controlled water bath. The outcome is an evenly cooked and super moist product. It's really easy and fun. I love the Anova Sous Vide machine, but there are several great models out on the market.
Ingredients
• T-Bone or ribeye steak (1-2 inch thick)
• 4 sprigs of rosemary
• 2 TBSP butter
• 1-pound ground beef (80-20 fat content)
• Cheese
• Hamburger buns
• Lane's SPF53 Rub
Maple planked salmon
Posted Oct. 18, 2016 by GoBluBBQ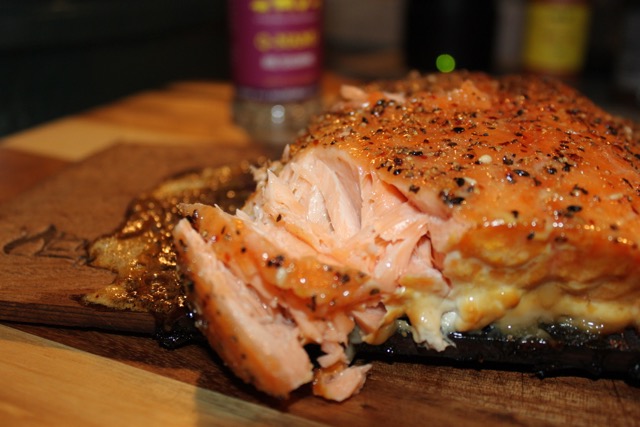 There are very few things I like better than planked salmon on the grill. Tops has to be a sweet and spicy rack of pork ribs followed closely by a peppery rubbed Texas style brisket. Both of these require at least five hours of my time and typically involve me waking up prior to sunrise for a noon kickoff. While I don't have a problem doing this and typically enjoy the smell of pecan smoke mixing with my 4am coffee, sometimes I need something a little more healthy and easy to prepare. Planked maple salmon is fantastic and is always a crowd pleaser. Give this one a go for the big homecoming game and give your smoker a well-deserved break.
Ingredients
• Salmon filet – skin on
• Lane's BBQ Q-Nami Rub
• Maple syrup or honey
• Chayder Cedar Plank (soaked in water for 30 minutes)
• Fogo Lump Charcoal
Smoked corn pudding
Posted Oct. 4, 2016 by Justin Potts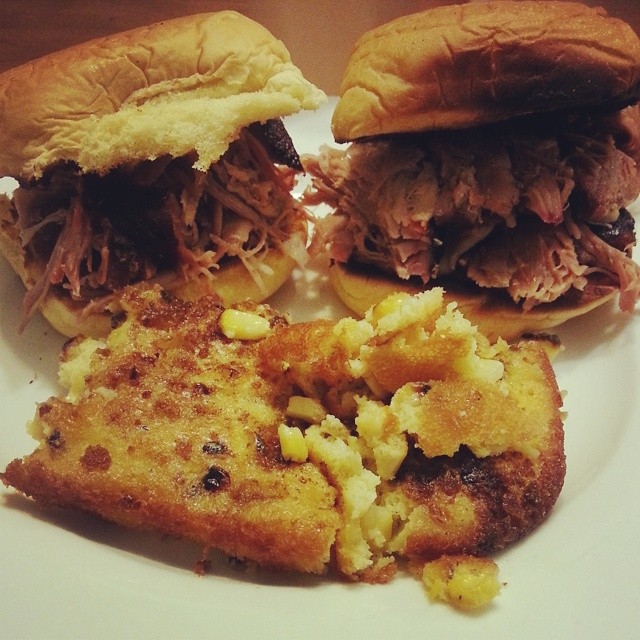 Joe is still on his extended bye week, so I'm filling in again. If you judge my barbecue style solely from last week's recipe and this week's, you'd probably think I never cook meat. That's not true, of course, but since Joe is our resident pit boss I'll let him bring the big guns.
Like anyone, I love going to a BBQ joint and getting brisket or pulled pork or ribs or beef ribs, or hot links — or all of the above! But a place that serves up top-notch sides along with its meat will always win over my stomach. So when I'm cooking for family and friends I make sure to throw in at least one or two great sides. Like the tomato pie last week, this is another side that you and your guests will have a hard time not going back for seconds. It adds great sweetness to accompany the rich, bold flavors of your main course.
Ingredients
• 4 ears of corn
• 1.5 sticks unsalted butter
• Lane's Signature Rub
• 1 cup heavy cream
• 7 eggs
• 1/4 cup flour
• 6 TBSP sugar
• 2 tsp baking powder
• 2 TBSP dark brown sugar
• 1/4 tsp cinnamon
Tomato pie
Posted Sept. 27, 2016 by Justin Potts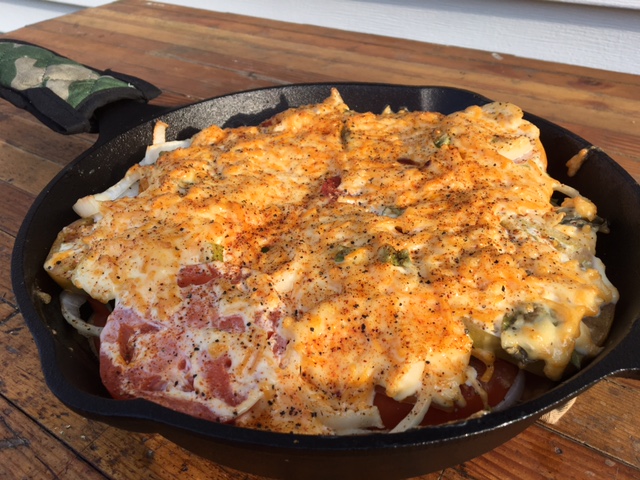 Joe is taking an early bye week, so I'm pinch hitting. This week's recipe may scare off some simply by the name, but I assure you it's a worthy side to add to your next cookout. It's full of flavor and an easy way to get your serving of veggies — nevermind that they're covered in cheese and mayo.
I first heard of tomato pie from my parents who had it at the Tomato Shed Cafe at Stono Market in Johns Island, S.C., just outside of Charleston. They raved about it, but I've never been a huge fan of tomatoes, so I thought how good could it possibly be? Finally, they took me to the Tomato Shed last summer and I saw what they had been raving about. So much flavor. It just pairs perfectly alongside your pulled pork or ribs or brisket. So naturally, I thought, if it's so good like this it has to be even better smoked. So I went home and gave it a try, and lo and behold it is.
Ingredients
• 6-8 tomatoes (any variety will work but I prefer heirloom)
• 1 yellow onion
• Fresh basil (can also use dried)
• Fresh chives
• 1 cup mayo
• 1 cup shredded cheddar cheese
• Biscuit dough
• Lane's BBQ Sweet Heat Rub
• Salt and pepper
Sausage and cheese poppers
Posted Sept. 20, 2016 by GoBluBBQ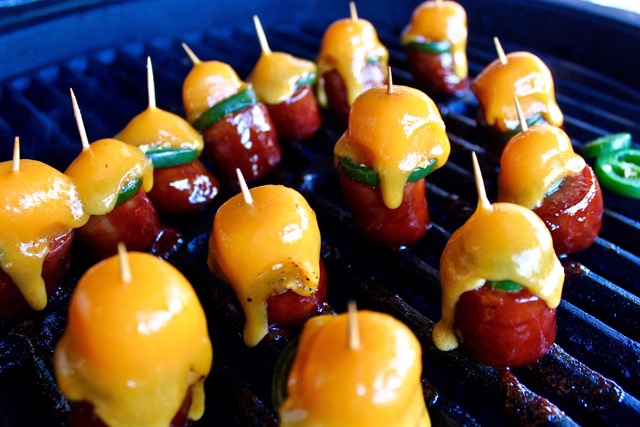 This is BY FAR the easiest tailgate recipe you will ever do. Short of opening a can of SPAM and digging in with a plastic fork, this one takes the cake. It's not only super easy, but will make your tailgate guests very happy. The sausage and cheese poppers have it all when it comes to flavor. You have the sweet sauce mixing with the salty cheese and spicy pepper all served on a tasty hunk of sausage. What else is there?
Ingredients
Chicken street tacos• Lane's Kinda Sweet sauce
• Keilbasa sausage
• Sharp cheddar cheese
• Jalapeños
Chicken street tacos
Posted Sept. 13, 2016 by GoBluBBQ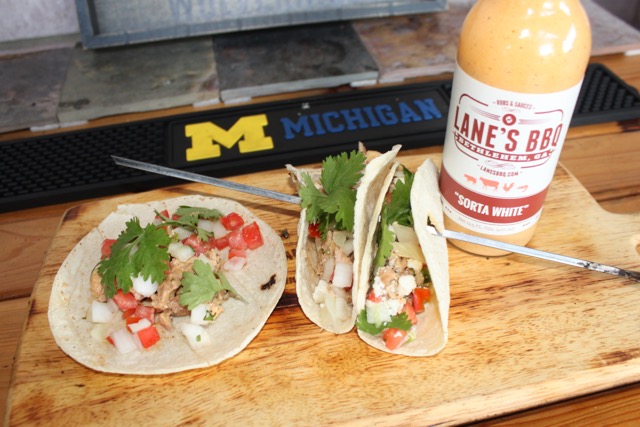 Here we are in Week 3 and the competition is getting better each Saturday. The Buffs will be a stiffer test for the Maize and Blue so our tailgate recipe needs to keep pace. I don't know about you, but I love a good taco. I don't care if it's beef or chicken as long as it's in a smaller soft tortilla shell. I want to be able to walk around with it and not make a huge mess. I don't want it crumbling in my hand after the first bite. I also want to grab it and go if needed. These chicken soft tacos are perfect for your tailgate and will make your guests very happy.
Ingredients
• Chicken thighs (boneless)
• Flour or corn soft tortillas
• Queso fresco
• Pico de gallo
• Cilantro
• Lane's "SORTA WHITE" Sauce
• Lane's SPF 53 Rub
Pork tenderloin sliders with grilled cheese
Posted Sept. 6, 2016 by GoBluBBQ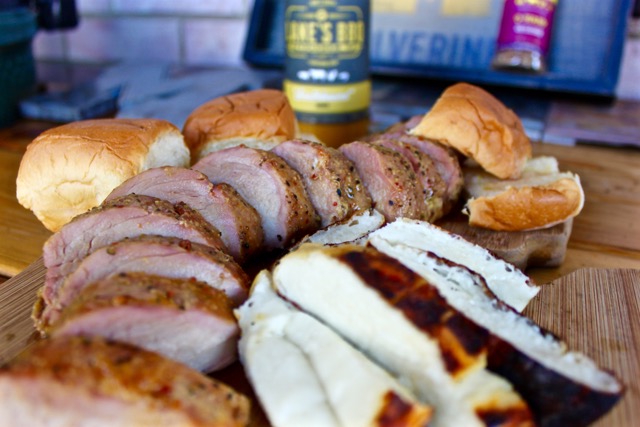 After last week's heart clogging, but nearly perfect tailgate recipe, let's bring our cholesterol down a few notches with my favorite healthy meat. The pork tenderloin is leaner than chicken breast and has fantastic flavor. When paired with a sweet and salty combination of grilling cheese and Lane's Southbound sauce, this recipe is a winner for sure. This recipe can be done in under an hour and will make everyone at your tailgate an instant fan of the "other white meat".
Ingredients
Cedar planked scotch eggs• Pork Tenderloin
• Halloumi Grilling Cheese
• Slider Buns
• Lane's Southbound Sauce
• Lane's Q-Nami Rub
• Fogo Lump Charcoal
Cedar planked scotch eggs
Posted Aug. 30, 2016 by GoBluBBQ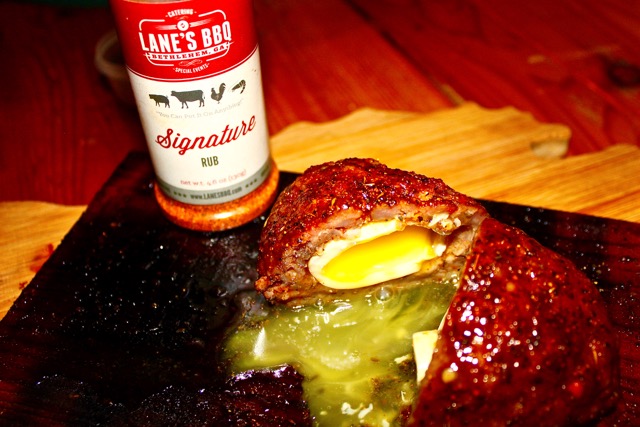 Sometimes, when we get the early game on Saturday, our tailgating options are a little limited. Sure, we can go with the brisket or pork butt at 10am and nobody will complain, but what about a breakfast tailgate treat to go with the morning Irish Coffee? The Scotch eggs are a perfect start to a long day around the pit. You can make these ahead and just toss 'em on when the grill is hot or make them while the smoker is heating up. Either way, your group will love 'em and thank you for working in a tasty breakfast sampling before the game.
Ingredients
• 1-pound breakfast sausage roll (hot or maple)
• 4 eggs – (soft boiled for five mins)
• Maple syrup
• Lane's Signature Rub
• Chayder Cedar Grilling Plank (a Michigan product)
Gator kabobs
Posted Dec. 30, 2015 by GoBluBBQ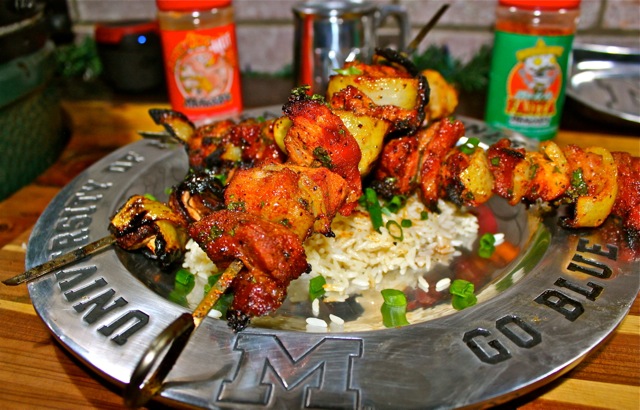 It's our last recipe of the year, so let's go out with a bang. Since we are facing the Florida Gators, Justin suggested I find some gator meat and come up with a tasty treat for the Citrus Bowl. I think we have done that and hope you will give this one a try. It's healthy, tender and extremely flavorful. I recommend that if you can find gator in your local meat or seafood market, you pick some up and toss it on the grill.
Ingredients
Planked brie with cranberry chutney1 pound gator tail meat (cut into 1-inch cubes)
Onions
Mushrooms
Polish sausage
Planked brie with cranberry chutney
Posted Nov. 24, 2015 by GoBluBBQ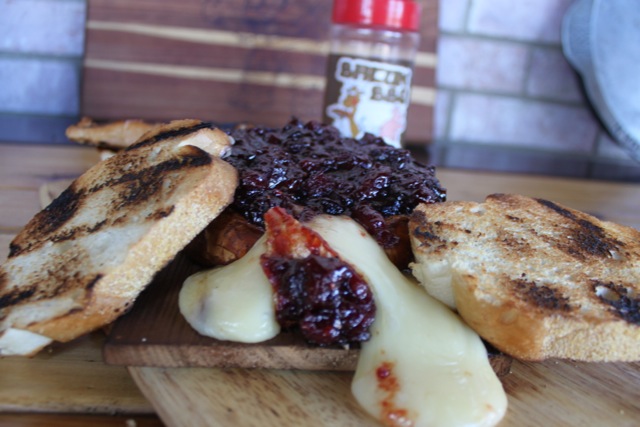 It's "The Game" week…AKA…Turkey Day week. Things are rolling along nicely for the guys in Maize and Blue with the biggest game of the year quickly approaching. I am so geared up for this one and wanted to try a new recipe for this week. This has been on my "t0 do" list for a long time and is a nice addition to any Turkey Day tailgate. This is sweet…oozy…gooey and delicious all in one. Give it a try for the big game as a perfect appetizer. I guarantee your guests will "GOBBLE" it up in no time.
Ingredients
1 Wheel of brie
1 Cedar plank
3 Cups cranberries (fresh or frozen)
1.5 Cups pure maple syrup
1.5 Cups sweet BBQ sauce (Stubbs Sticky Sweet or Sweet Baby Rays)
1 TBSP Meat Church Bacon BBQ Rub
Grilled shrimp and scallops
Posted Nov. 17, 2015 by MmmGoBluBBQ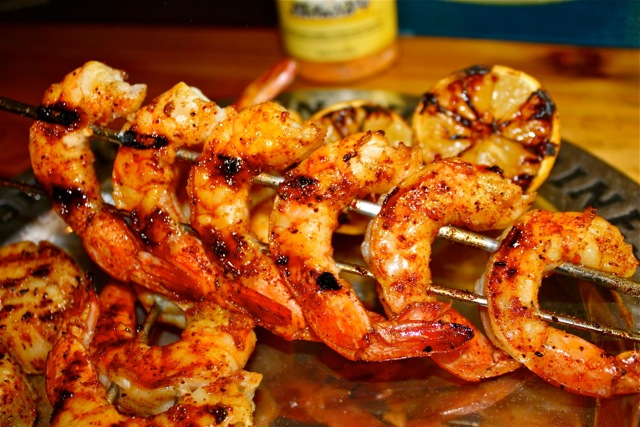 One of my favorite things to grill has always been shrimp. They are quick and easy and relatively healthy. Throw on some scallops and we have a great seafood feast. Add some Meat Church rub and we have one of the best meals of the season. Put it all on some skewers and now we have a PARTY. Everything is better on a stick (or skewer in this case).
Ingredients
Jumbo Shrimp (21-25 size) peeled and de-veined
Jumbo Scallops (20-30 size)
Meat Church Fajita Seasoning
Meat Church Honey Hog Rub
Lemon (cut in half)
Directions
Set grill up for high, direct heat. If you have a set of Grill Grates, get them scorching hot. If not, make sure your grates are hot and clean. While the grill is heating up, set your scallops and shrimp on paper towels and pat dry.
Smoked eggs
Posted Nov. 10, 2015 by MmmGoBluBBQ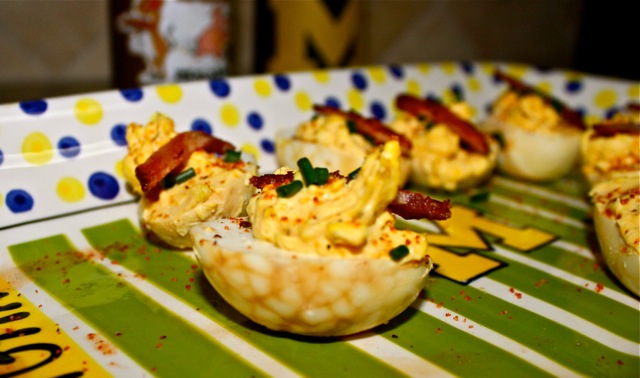 I've been wanting to do some experimenting on the grill for awhile and had the perfect opportunity over the weekend. I had a hot smoker and all the meats were done. It seems like a waste to have a smoker filled with smoking hot coals and EMPTY GRATES. So after finishing another chub of smoked bologna this past Saturday, I tossed on a dozen semi hard build eggs and and finished em off in some smoke. These will be great for smokey deviled eggs or a smoked egg salad and bacon sandwich….MEAT CHURCH STYLE.
Ingredients
12 large eggs
Meat Church Bacon BBQ Rub
Mayonnaise
Mustard
Bacon
Bread
Directions
Boil the large eggs for eight minutes. Once you reach eight minutes, move them to an ice bath and let cool. Once the eggs are cool, crack the shells by rolling under the palm of your hand. Apply medium pressure, assuring the entire shell cracks. Leave the shells on the egg.
Smoked bologna
Posted Nov. 4, 2015 by MmmGoBluBBQ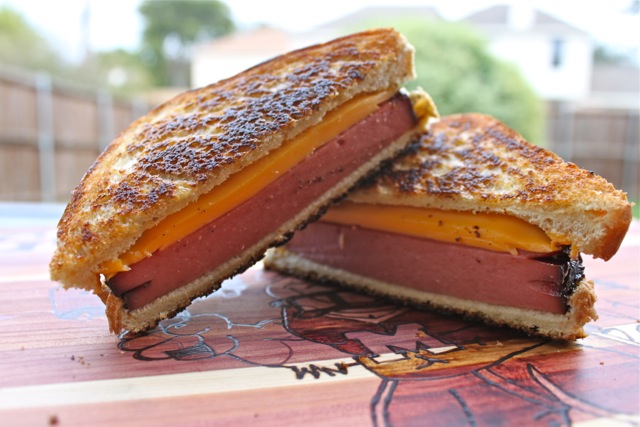 Trust me, you will fall in love with this recipe. You don't have to admit that you love it, but you will. This always gets the most "Huh" and "Whaaaat" looks, but disappears five minutes later. Don't forget your mustard, cheese and Texas Toast for this one. It makes a great sandwich and is as easy and cheap as it gets. Your guests will think you are a "BBQ Harbaugh".
Ingredients
5-pound chub of bologna
Mustard
Meat Church Deez Nuts Rub
Texas Toast bread
Directions
Fire up the smoker or grill for indirect heat. We're shooting for a grill temp of 225-250 degrees. I added a few chunks of apple and hickory wood for some tasty smoke. Any wood will do as you won't get a huge amount of smoke flavoring on this one. The bologna chub is already cooked so it won't take on much smoke. You can usually find this in the grocery section of your nearest Wal-Mart.
Pork belly sliders
Posted Oct. 27, 2015 by MmmGoBluBBQ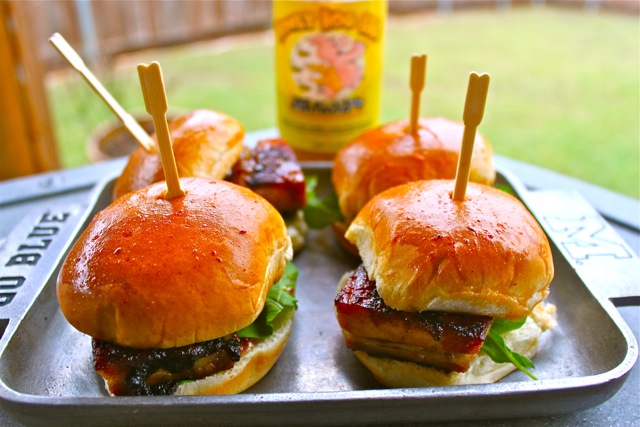 I'm a huge lover of bacon. All things bacon. Heck, who isn't? Whether it's wrapped around a onion ring forming my favorite grilled appetizer, the Oinkion, or served next to a few sunny side up eggs, bacon is greatness. One of my new favorite things to toss on the smoker is PRE-BACON. No, it's not a baby pig, it's a pork belly. This couldn't be any easier to prepare and is rather inexpensive. It's about a six hour process, which is perfect for a 7pm game against the Golden Gophers. Fire up the smoker around 10am and enjoy some pork belly sliders at kick-off.
Ingredients
• 2-4 pound pork belly
• Meat Church Deez Nuts Honey Pecan Rub and Honey Hog Rub
• Apple juice
• Slider buns
Mustard Maple Sauce:
• 2 TBSP stone ground mustard
• 2 TBSP pure maple syrup
Country style ribs with bock glaze
Posted Oct. 14, 2015 by MmmGoBluBBQ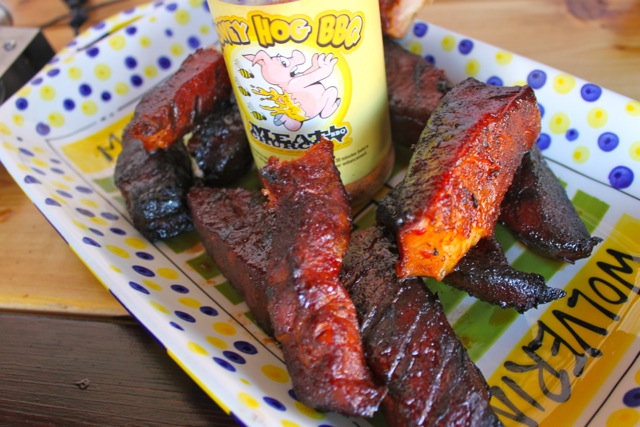 This week is the biggest week in 10 years where Michigan football is concerned. Not only are the state bragging rights on the line, but a probable top-8 ranking if things go as they should. I don't want to get too excited, but this is HUGE!!! Five-star recruits are in town and they want some tasty BBQ pre- and post game. I say we serve em some of the tastiest treats possible — a good batch of country style ribs. These are always easy and a crowd pleaser.
Ingredients
• Country style ribs
• Meat Church HONEY HOG Rub
• Ketchup
• Maple syrup
• Bock style beer
Flat Iron Fajitas
Posted Oct. 7, 2015 by MmmGoBluBBQ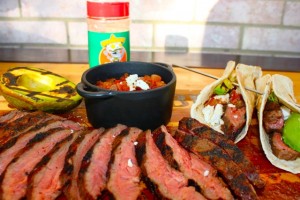 The flat iron steak is quickly gaining in popularity and for good reason. This cut is from the shoulder or chuck area and has some fantastic marbling throughout. While I typically go for the ribeye or t-bone, this is a close second when I'm firing up the grill. It is extremely versatile and flavorful and can be very tender when cooked properly.
I first discovered this steak when I was up in the Chicago area visiting some friends. We pulled out the Weber grill and and lit the coals. Several of the BBQ'ers were Northwestern Wildcat alum and swore by two things. The first was just how menacing and intimidating purple is on the football field. The second was how great the flat iron steak is. One out of two ain't bad, right? I decided to give this one a go with Meat Church's crazy tasty fajita rub and was not disappointed. Whether you are serving it as the main dish, steak style or slicing up for tacos, you will love this cut of beef.
Lamb Shank
Posted Sept. 30, 2015 by MmmGoBluBBQ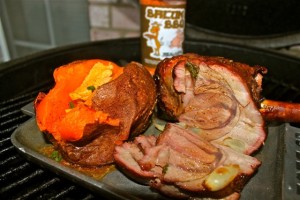 I am not sure the HYPE TRAIN could gain any more momentum than it has in the last four days. This thing is moving along much faster than anyone could have imagined. I don't want to get ahead of myself, but excuse me as I get way ahead of myself. At this time last year, Ohio State was ranked #22 in the nation. I think things turned out okay for them from what I hear. Keep it up boys. This HYPE TRAIN also picked up some lamb shanks along the way and tossed em on the BGE. Sure, it would have been easy to whip up some crab cakes or bacon wrapped squid skewers in honor of our Maryland tailgate pals, but I wanted to go outside the box a little. I hear lamb is huge on the east coast and goes great with a little bacon rub.
Ingredients:
• Lamb shanks
• Garlic cloves
• Rosemary
• Thyme
• Extra virgin olive oil
• Meat Church Bacon BBQ Rub
Pig Shots
Posted Sept. 22, 2015 by MmmGoBluBBQ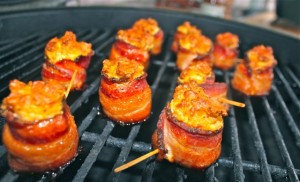 This is the week we see what the defense is made of. I assume coach has the team working on knocking down the Hail Mary as this accounts for 25 percent of BYU scores so far this year. Don't check my math as I may be exaggerating just a bit.
Anyway, I have a buddy that attended BYU back in the 90s and he claims this recipe was his "GO TO" on game days. I could not wait to make this as it includes several of my favorite grilling ingredients. I have bacon, polish sausage, and cream cheese, so how can this not be great? Sprinkle on some MEAT CHURCH Honey Hog rub and we're in business. You will love this quick and easy appetizer and your guests will too.
Ingredients
• Polish Sausage or Kielbasa
• Bacon
• Pineapple Cream Cheese
• Meat Church Honey Hog Rub
Build the perfect tailgate smoker
Posted Sept. 15, 2015 by MmmGoBluBBQ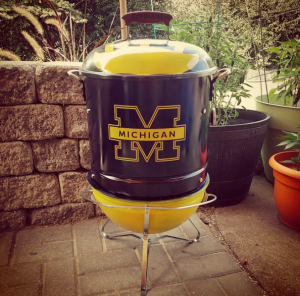 I am a sports junkie and I love my Michigan teams. I can't get enough of my Detroit Lions, Tigers, Red Wings, and of course the Michigan Wolverines. I even enjoy watching a game with Sparty every now and then. One weekend, while tailgating with some friends, we ran across a smoker covered in sports stickers. I can't begin to tell you how horrible this thing looked due to the stickers burning up on the side of a hot piece of metal. Go Figure. It got me thinking about tailgating and showing my team spirit. I started Googling smokers and tailgating and came across a several sites that featured this Mini WSM build. I had to give it a try. The sites I am referring to are Steve's BBQBros and Chris Allingham's The Virtual Weber Bullet. Both are great sites and full of great recipes, tips, and overall BBQ greatness. Give them a look.
WSM stands for Weber Smokey Mountain and is a great overall smoker. I love this Mini WSM for a few reasons. First, is the ease of operation. It's easy to transport and set up. It's perfect for tailgating. Just throw it in your trunk and head to the game. Secondly, it cooks great food. This little thing keeps it's temps like the big boys and holds a surprising amount of meat (or those veggie things, if your into that). I have cooked 50 stuffed jalapeños in the mini along with a Tri-Tip roast. I can also get six racks of Baby Backs (rolled) inside. 12-pound pork butt, also, not a problem. Thirdly, this smoker does not eat up a bag of charcoal like my big boys. Dare I say, it's the Prius of smokers. I can go 10 hours with this smoker on less than half a bag of charcoal and keep the temps in the 250 range. Simply awesome. Lastly, the team colors and logo make tailgating even more fun. Everyone wants one.
Smoky Spiced Beaver Nuts
Posted Sept. 8, 2015 by MmmGoBluBBQ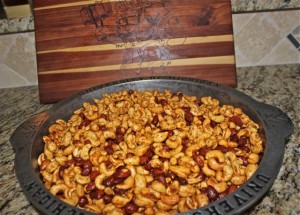 Trying to find a "go to" BBQ recipe that the Beaver fans prefer proved a little tougher than I expected. The one dish that kept coming up (thanks Google) was Buffalo chicken dip. While I love this dip and make it a few times each season, I wanted to make something that you can't find on the side of every single buffalo sauce bottle at your local grocery store. And since we have a brand new sponsor, I decided to go with one of Meat Church's favorites, the Smoked Spicy Nuts. Beavers like nuts, right?
Ingredients:
• 1 pound of nuts (almonds, cashews, and peanuts are all great choices)
• 2 TBSP olive oil
• 1/4 cup Meat Church rub (Bacon BBQ or Deez Nuts)
Frog Legs
Posted Sept. 1, 2105 by MmmGoBluBBQ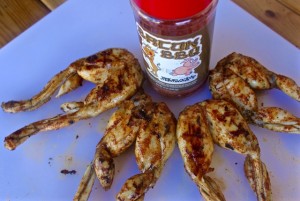 It's been a long off season with plenty of change. The hype train is operating at full speed and will only pick up steam as the season progresses. I cannot wait to see how this team matures and takes shape over the next few months. The same goes for our tailgatin' journey. We have some fun and tasty recipes on tap and a great new sponsor.
If you watch BBQ Pitmasters, you will no doubt recognize Meat Church, a.k.a. the "GREATEST HAIR in BBQ". Matt has agreed to sponsor our weekly tailgate posts as well as the weekly Five Spot Challenge. Matt is a HUGE Bama fan, but an even bigger football fan, so he's okay with us. He has some of the best rubs on the market and is a good dude, so give the MEAT CHURCH rubs a shot.
For this week's recipe, I decided to go with something a little off the wall and get things "HOPPING" in the right direction. (RIM SHOT).
Ingredients:
• Frog legs
• 12-pack of your favorite beer
– Note: only one will be used for the marinade. The other 11 can be disposed of at your leisure
• 1/4 cup sriracha sauce
• 1/4 cup honey
• 2 TBSP mustard
• Meat Church Bacon Rub
Beer Can Burgers
Posted July 1, 2015 by MmmGoBluBBQ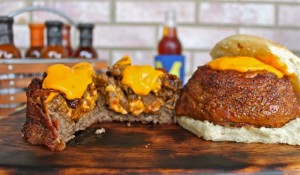 Nothing says 4th of July BBQ like a good ol' burger. Whether you grill it, smoke it, fry it in a skillet or pick one up at the local pub, it's the "go to" on this great holiday. Here is a new version on this old favorite that you should try. It's called the Beer Can Burger and is the new craze on social media. The options are endless on this one, so go nuts. Here is how it's done:
Ingredients:
• 2 pounds of 80/20 ground chuck (this will make 8 burgers)
• Onions and mushrooms
• 1 Tbsp butter
• Nacho cheese
• 16 slices cheddar cheese
• 16 slices of bacon
• 8 hamburger buns
Pull-apart Cheesy Bread
Posted Jan. 30, 2015 by MmmGoBluBBQ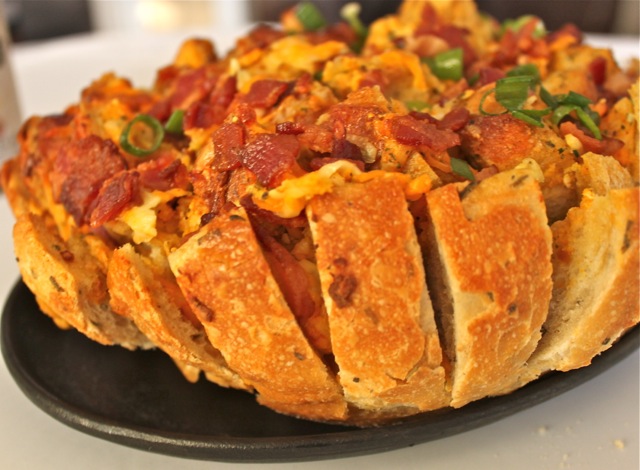 This is one of my favorites and your SUPER BOWL guests will love you for it. What is better than cheesy garlic bread topped with bacon? I can't think of anything, can you? Feel free to add some leftover BBQ that you have collecting frost in the freezer like a pulled pork or brisket. Both work well. Shrimp would be phenomenal here. Go crazy with your toppings and let me know how it turns out.
Ingredients:
• Loaf of crusty bread (French or Sourdough)
• 1 Stick unsalted Butter – melted
• 1 clove garlic – finely chopped
• 1 Tbsp dry Ranch seasoning
• 8 slices of crispy bacon – chopped into bacon bits
• 8-oz sharp cheddar cheese
• 8-oz mozzarella cheese
• 4-oz cream cheese, softened
Smoked Gobbler Legs
Posted Nov. 25, 2014 by MmmGoBluBBQ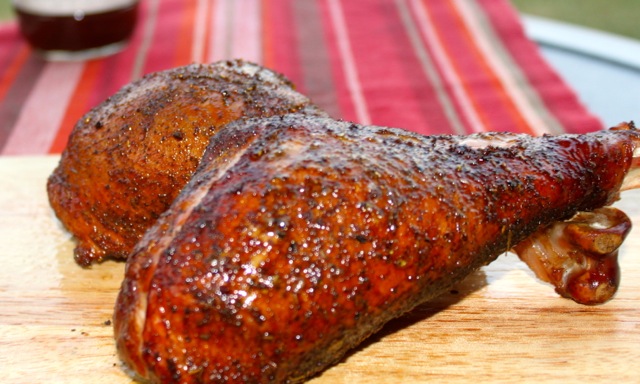 This is my favorite week of the year and for good reason. We have the best grilling day of the year and also have some huge football games on the schedule. Not only do I get to see my Lions play this Thursday, but I also get to watch the biggest rivalry in college football. We may be underdogs by more than 20, but it's still a huge game for the Maize and Blue. This recipe for smoked gobbler legs can be done a few days early and enjoyed as leftovers or done on the morning of the big game. Either way, you will love these. GO BLUE!
Ingredients:
• Turkey legs
• 1 Gallon of water (enough to cover turkey legs)
• 3/4 Cup brown sugar
• 1 Cup salt or Creole seasoning
• Your favorite rub (I will include a sample rub below)
• Cooking spray
Rub:
• Equal parts of each
• Paprika
• Onion powder
• Cavender's Greek seasoning
• Garlic powder
Caveman cowboy ribeye
Posted Nov. 18, 2014 by MmmGoBluBBQ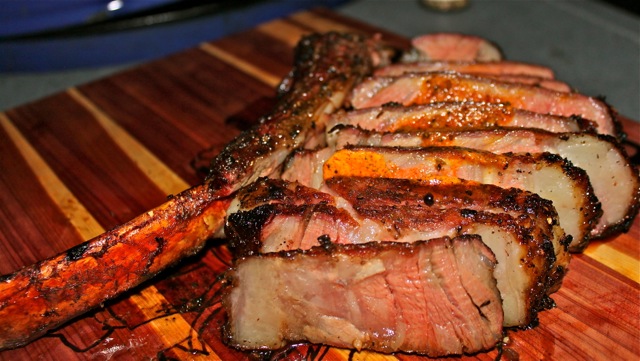 The CAVEMAN Style of grilling is my new favorite way to cook steaks. Not only does it produce one of the most tender steaks ever, but it will impress any BBQ guests that are lucky enough to be on that day's invite list. The concept is simple. We are going to cook this beauty like the cavemen did back in the day. Directly on the fire. The key to this recipe is using LUMP CHARCOAL ONLY. Lump charcoal does not ash like your regular briquettes and burns much hotter. It's a more pure form of charcoal and will produce a great tasting char on the exterior of the meat.
Ingredients:
• Steak (ribeye, t-bone or flank steak)
• Salt 'n pepper
• Compound butter (mix and refrigerate)
• 1 stick of butter (room temp)
• 3 Tbsp of your favorite BBQ rub
Directions
Set your grill up for direct heat. Light your lump charcoal up until they are WHITE hot. As the coals are heating up, remove your steak from the fridge and let it rest for about 15 minutes on the counter. We want to bring the meat temperature closer to room temperature. Once the coals are white hot, even them out as much as you can so that we have an even cooking surface. It doesn't have to be perfect.
Crockpot reuben dip
Posted Nov. 4, 2014 by MmmGoBluBBQ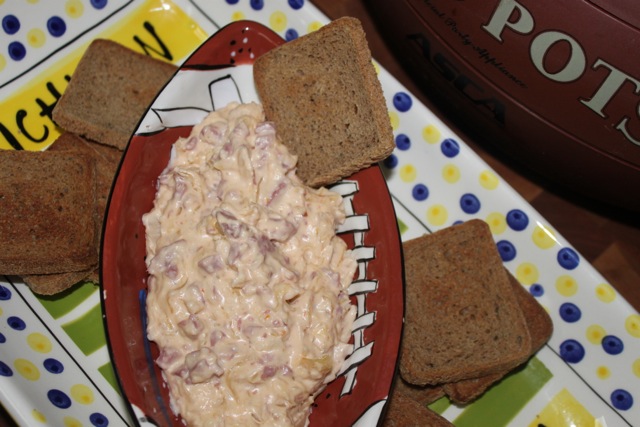 When I think of Northwestern, I think of the the windy city. I also think of some very good friends that live in the Chicago area. Like most cities, they all claim to have the best food around and will argue nonstop if you want to. And by nonstop, I mean until the beers are all gone. I've visited Chicago on several occasions and each time came away with tighter fitting jeans. Not sure how that happens every single time.
There are two things I always order in Chicago and they cannot be avoided. The first is a good deep dish pizza (shocker) and the other is a big ol' reuben sandwich. I think the reuben is the perfect sandwich. It has it all and Chicago knows how to do it right. The following recipe is a favorite of mine when the cold weather rolls in and could not be any easier. Anything that involved the crockpot has to be easy, right? This is the simplest recipe we will make all season. Here is what you will need.
Caveman style tri-tip
Posted Oct. 28, 2014 by MmmGoBluBBQ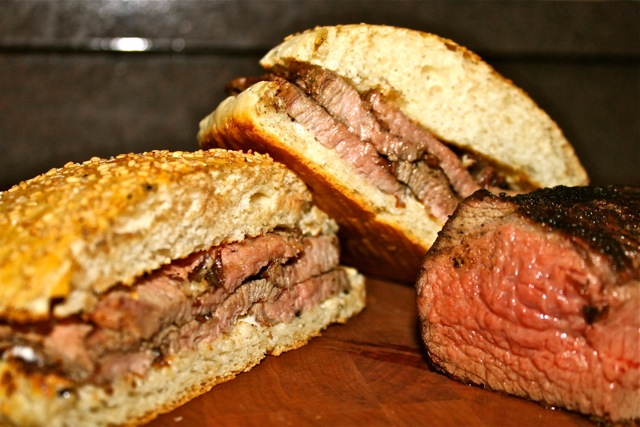 "Caveman style" grilling is quickly becoming a fan favorite in backyards everywhere. Not only does it create a SUPER juicy and tasty cut of meat, but it also has that "WOW" factor that will impress every guest in attendance. Let's be honest, every grill master loves his EGO stroked a little. And by a "little", I mean A LOT!!!! This is an extremely easy style of grilling that can be somewhat intimidating at first, but trust me, it shouldn't be. A good friend of mine is from Indiana and got me started on this style of cooking. I thank him for this weekly. Follow these simple guidelines for a great steak, or in this case, a Hatch Green Chili Tri-Tip. CAVEMAN STYLE.
Ingredients:
• 2-3-pound Tri-Tip Roast
• Stubbs Hatch Green Chili Marinade (my new addiction)
• Salt, pepper, and garlic combo or your favorite steak rub
Moink balls (a.k.a. Moinks)
Posted Oct. 21, 2014 by MmmGoBluBBQ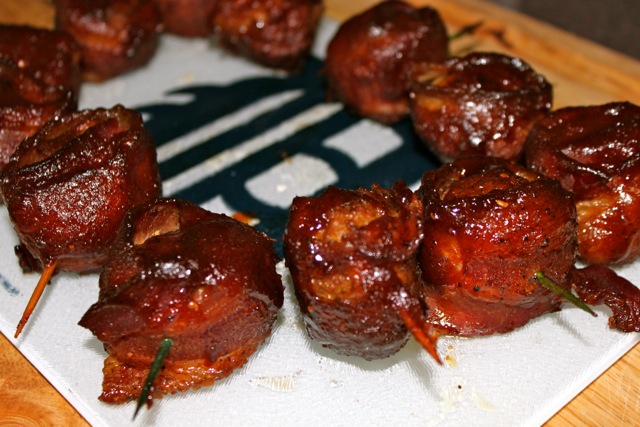 "MOINKS" are perfect for tailgating for a large crowd against 'Sparty.' Typically, this game gets the biggest crowds in my backyard, so let's make something that feeds a bunch of hungry people and are always a hit. They are easy to make. They include bacon, they are very tasty, they are wrapped in bacon, you can eat them with your fingers, and did I mention the bacon?
Anything that has two ingredients and 50 percent of those ingredients is bacon, I am a fan of. Whenever I make these for a party or at a tailgate, I get two questions. The first is always "What are these?" They are Moinks. The follow up is always "What the wha???" So begins my explanation of what Moink Balls are. Simply put, they are bacon wrapped meatballs. We have beef meatballs — "moo" — wrapped in yummy bacon — "oink." Combine them and cover with your favorite rub and sweet BBQ sauce and we have "Moinks," the perfect tailgating food.
Brady back ribs
Posted Oct. 7, 2014 by MmmGoBluBBQ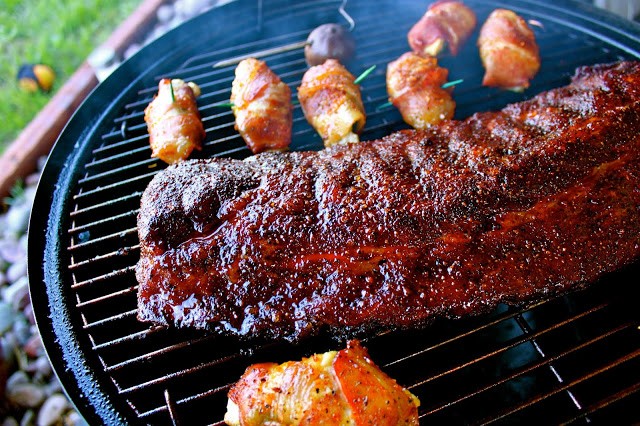 Well, this season isn't quite going as planned, but let's not allow it to ruin our Saturday afternoon quest for the perfect BBQ. When I am having a bad day/week/month, one thing always cheers me up. Okay, two things. I love an icy cold "barley pop" along with a great rack of baby back ribs. For the purpose of this recipe, let's call them Brady back ribs. You can choose which "Brady" works best for this recipe. I'll go with that guy up in New England. My good buddy Bob is from Pennsylvania and is a huge Penn State fan and says that ribs are the only thing they cook at their tailgates. Bob is a good pal, so I trust he wouldn't lead me down the wrong BBQ path. Here is my GO TO when smoking a few racks. And get this: no sauce needed!!!!
Ingredients:
• Baby Back Ribs
• Worcestershire Sauce or Tobasco
• Apple Juice or Apple Cider
• Rub – (equal parts kosher salt, granulated white sugar, dark chili powder, Montreal steak seasoning). Add some cayenne for some heat (optional)
Pork loin with mustard glaze
Posted Sept. 30, 2014 by MmmGoBluBBQ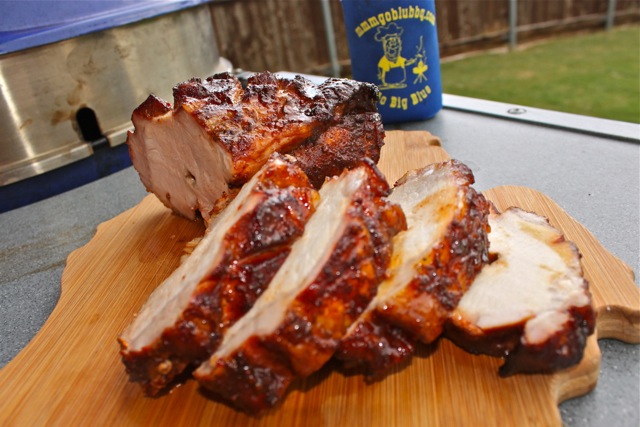 While researching Rutgers and their most popular tailgating recipes, three common ingredients kept popping up: PORK……PORK……..and more PORK. Since I couldn't get my hands on a New Jersey "Pork Roll", I went with the next best thing. A delicious pork loin fit the bill for this week's recipe. Yay PORK!!!!
Ingredients:
• 2-3-pound pork loin (not tenderloin)
• Basic BBQ rub (equal parts)
• Kosher salt
• White granulated sugar
• Dark chili powder
• Montreal steak seasoning
• A little cayenne or chipotle powder if you like some heat
Smoked "land of 10,000 lakes" catfish
Posted Sept 23, 2014 by MmmGoBluBBQ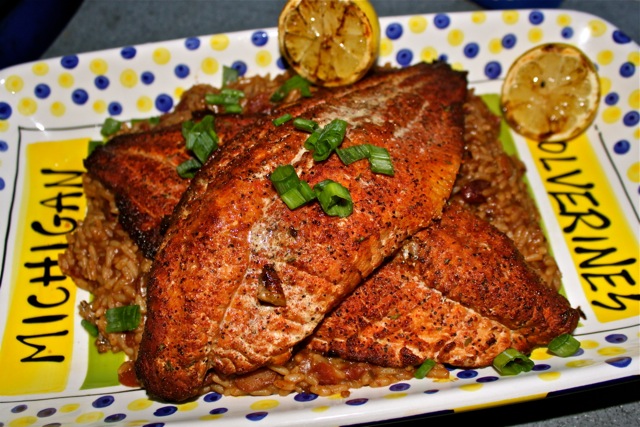 Bring on those Golden Gophers from the great state of Minnesota. Or, as they say, the land of 10,000 lakes. I wanted to venture out and try something new for the start of the Big Ten season. Since I didn't have any moose meat laying around and didn't know if gopher was even legal to eat, I decided to try some smoked fish. I went through the freezer looking for some walleye I had tricked into the boat last year on our Canadian fishing extravaganza but had no luck. The best I could do was a mess of fresh catfish filets a buddy of mine dropped off. They turned out to be extremely tasty and will be a staple moving forward for sure. Here is what you will need.
Ingredients:
• 1 Catfish filet (Per person)
• Buttermilk
• Hot Sauce (your favorite)
• Seasoning (your favorite BBQ rub will do)
Grilled Ravioli
Posted Sept 16, 2014 by MmmGoBluBBQ
Okay, I've gotta admit a little something. Trying to find a tailgate recipe with a "Utah Utes" theme was more difficult than trying to squeeze into my national championship t-shirt from 1997 last weekend. That darn dryer shrinks everything. I reached out to several friends with Utah connections and not a one of them could think of anything. Really guys??? Nothing??? Finally, one of my buddies mentioned they like to grill ravioli's on game day and that was more than good enough for me. I've made these before and had the ingredients on hand, so let's get to it. These are a crowd pleaser and super easy to make. Plus, 90 percent of the prep work can be done ahead of time, so it's WIN/WIN. The filling options are endless, so go nuts!
Ingredients:
• Won Ton Wrappers – (I like the Nasoya All Natural)
• Shrimp…..Shredded cooked chicken….beef….pork….veggies (Pre-Cooked)
• Havarti Cheese (Great melting cheese)
• Jalapenos (optional)
• Egg (egg wash)
• BBQ sauce for glazing (optional)
Spatchcock RedHawk
Posted Sept 9, 2014 by MmmGoBluBBQ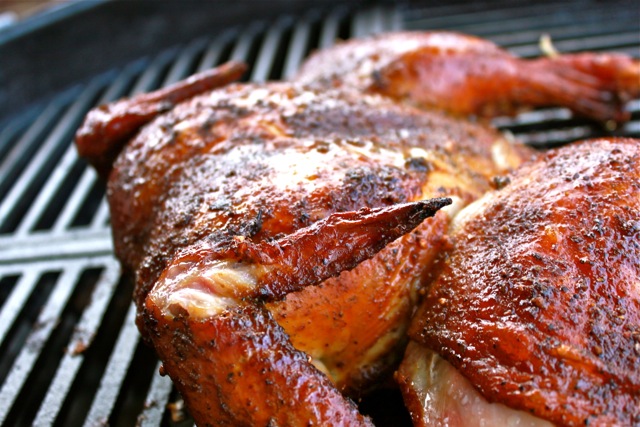 We need something to get that bad taste out of our mouth and I can't think of a better way than with a super juicy "Spatchcock" smoked chicken. This is my "GO TO" chicken recipe when I need to feed a group of hungry tailgating Wolverines and feed 'em rather quickly. While I love a good beer can chicken or a bird thats been brined overnight, this butterflied clucker could be the juiciest yet. The compound butter adds great flavor and keeps things extremely moist.
Ingredients:
• 3-4 lb. whole chicken fryer
• BBQ rub of your choice.
• Compound Butter (mix together and set aside)
•• 1 stick of butter, room temperature
•• 1/4 cup of your favorite BBQ Rub
Irish stout pepper beef
Posted Sept 2, 2014 by MmmGoBluBBQ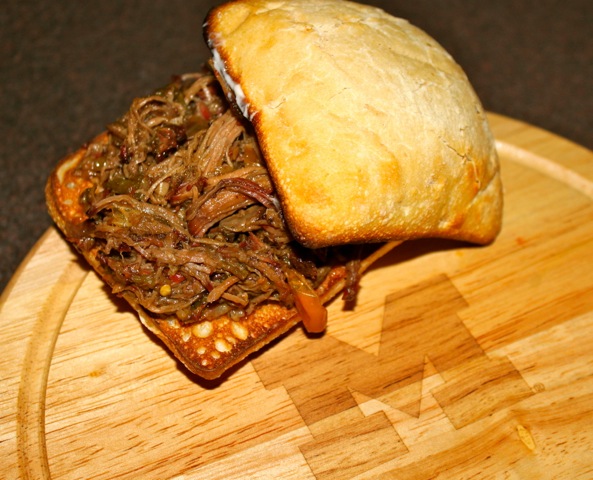 Now that we've got that Mountaineer monkey off our back, it's time to start focusing on those "Fighting Irish" in Week 2. Since I have a few Guinness Extra Stouts leftover from last week's drink recipe, let's put em to good use in this version of Pepper Stout Beef. This was not only easy, but could be my new favorite sandwich. It combines everything I love when tailgating: meat, peppers, onions and beer. Find something in that combo that is not good.  I dare ya.  It's not only tasty, but very versatile and freezes well. I love it on a toasted ciabatta roll, but could also be served on sourdough, hawaiian bread, french rolls, tortillas or even regular hamburger buns. This is perfect for a night game as it takes about six hours to complete. Here's what you will need.
Ingredients:
• 4-5 lb chuck roast
• 3 bell peppers. (I used three: one red, one green and one yellow)
• 4 jalapeños (I like it hot, but use two for less heat)
• 1 large red onion
Hot-'n-fast pulled pork with Carolina mustard slaw
Posted Aug 27, 2014 by MmmGoBluBBQ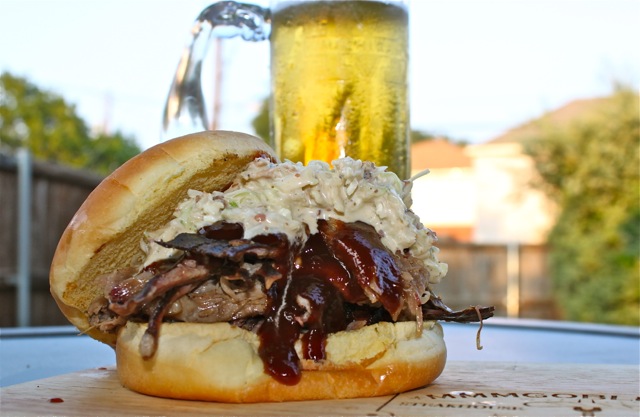 I can't believe the college football season is finally upon us. It's been way too long since I've had the guys over for a "GO BLUE Game day BBQ". This is my favorite time of the year as my excitement level couldn't be any higher. It's time to see how this new offense will function under new leadership and if the latest group of highly ranked recruits can make a difference. It's also time to fire up the grill or smoker and make our tailgate neighbors or next door neighbors extremely jealous. Because we have Appalachian State in town, let's do a little "Hot-N-Fast Pulled Pork" with some Carolina Mustard Slaw. Here is what you will need.
Ingredients (Pork Butt):
• Bone In Pork Butt (7-9 lbs., often referred to as Boston Butt)
• Regular Mustard
• Rub (Equal parts Kosher Salt, Granulated White Sugar, Dark Chili Pwd, Montreal Steak Seasoning). Add some cayenne for some heat (optional)
• Your favorite hamburger buns and BBQ sauce
Smoked or "Reverse Sear" Cheeseburger
Posted July 1, 2014 by MmmGoBluBBQ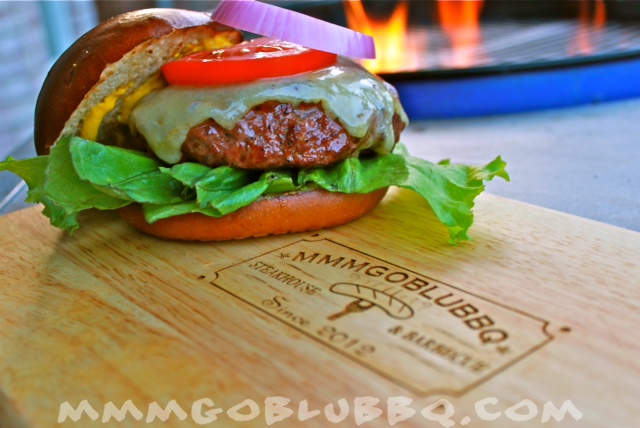 Friday is the Fourth of July. For most of us, that means a day off work, gathering with family and friends, and cooking out. With that in mind, we are introducing a new series that will run each week during the season. We teamed up with Joe from MmmGoBluBBQ to provide weekly recipe ideas for your tailgate or barbecue.
Today, we're just providing a quick meat recipe for your Fourth of July cookout, but during the season we will feature both a meat and a drink recipe themed around that week's opponent. Whether you'll be tailgating in the shadows of the Big House or barbecuing at home, we hope to provide you with new ideas to impress your friends and satisfy your hunger.
When I think back on past July 4th holidays, two great memories come to mind. The first is the annual herring fishing trip to Drummond Island with my dad and his co-workers. The second revolves around the Weber grill, usually overstuffed with hot dogs and hamburgers. Both hold great meaning for me and my family and will always be a fun source of "story telling" (that's code for fishing tales). When I was asked to write a recipe for our nation's birthday, there was only one true option — the all-American CHEESEBURGER.