---

T

he Michigan Medley was in the wrong stadium on Saturday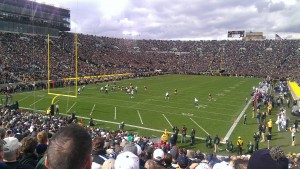 Oct. 23 by Justin
I have a confession. I wasn't perched high atop Michigan Stadium, looking down on Michigan's thrilling win on Saturday from the press box. I wasn't even in Ann Arbor. Nor was I watching the game from the comforts of my own couch. Instead, I was viewing it on a 4.8 inch HD Super AMOLED screen in section 16, row 34, seat 22 of Notre Dame Stadium.
My wife and her whole family are Notre Dame fans. Each season, her parents take one of their kids (and their spouse) to an ND home game. This was our year. Prior to the season, I gave a list of dates that would be optimal for me, the Michigan game being the obvious choice, but her dad didn't want to go to that one. During Michigan's bye week? Nope, ND's was the same week. Or maybe the day Michigan plays at Minnesota. Ultimately, they were going to pick the game they wanted to see, and they chose BYU.
The Michigan Medley defends Denard after South Bend meltdown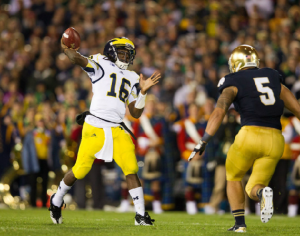 Sept. 24 by Justin
On a soggy field in South Bend, Michigan's offense struggled to find consistency and turned in a charitable effort, giving the ball away six times en route to an Irish victory. It was the third game of Rich Rodriguez's first season.
John U. Bacon's book Three and Out revealed a striking account of the final moments and what happend in the locker room. Several Michigan players were seen laughing on the sideline in the waning minutes, and Rodriguez let the team know how he felt.
"We're losing the goddamned game, getting our asses kicked, and we've got two guys laughing over there on the sidelines," Rodriguez shouted. "LAUGHING! We've got seventy guys out there busting their butts, right up to the very end, and a few guys who think it's funny."
The Michigan Medley is sold on Treadwell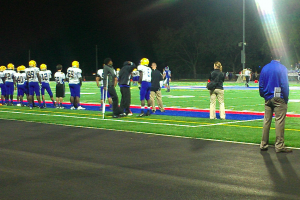 Sept. 19 by Justin
He's as good as advertised
Last Friday night I had the chance to go see the nation's top receiver, and one of Michigan's top remaining targets, LaQuon Treadwell, play in person. His Crete Monee Warriors played previously unbeaten Glenbard South and came away with a dominating 45-7 win. Treadwell racked up 181 yards and two touchdowns on seven catches through three quarters of play. With such a big lead, he didn't play the fourth.
Treadwell's team is loaded with talent, most notably linebacker Nyles Morgan, fellow receiver Lance Lenoir, and defensive backJaylen Dunlap, but it was ever apparent that the offensive game plan could have simply been to throw it to Treadwell on every single play. And it would be just as effective. But in a team sport on a squad with other Division 1 prospects, they have to spread the wealth.
The Michigan Medley channels the Verve Pipe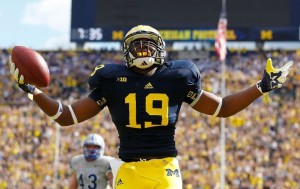 Sept. 12 by Justin
Rich Rodriguez's first recruiting classes are now the team's upperclassmen and they have produced some stars, most notably Denard Robinson. But there are considerable talent and depth deficiencies that Hoke's first two classes are beginning to fill. On Saturday against Air Force, we saw eight freshmen play considerable roles for the Wolverines and their roles are going to continue to expand throughout the season.
Tight end Devin Funchess had a breakout game with four receptions for 106 yards and a touchdown. Fellow freshman tight end A.J. Williams saw considerable time as a blocking tight end. The pair got thrust onto the field due to an injury to Brandon Moore, but they would have played eventually given the lack of depth at the position following the graduation of Kevin Koger. Funchess has a chance to be an outright star. Prior to the season, I predicted him to be the offensive breakout star this season. He has great length and athleticism to create a mismatch with a linebacker or safety every time he's targeted. Williams has a much bigger frame, which is more suitable for blocking. My only concern is that opponents will eventually catch on to this and see run every time Williams is on the field an pass every time Funchess is. But Al Borges knows this and will have plays to counter this.
The Michigan Medley looks for benefits of the 'Bama blowout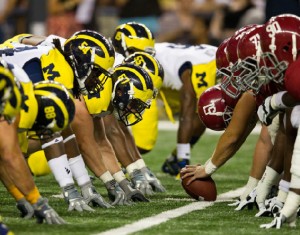 Sept. 5 by Justin
I'll never say a loss is a good thing, but perhaps losing the way Michigan did on Saturday can be beneficial going forward. Most of us can agree that Michigan was overrated at No. 8 entering the season. With the unfavorable schedule and key losses, we all knew it was going to be hard to repeat the successes of last season.
After the Week 1 blowout, all of the hype and high expectations are gone, and now the team and coaching staff can get back to work in the underdog role. Of course, this is Michigan and we're used to being the the ones at the top looking down. But the reality is that right now Michigan isn't there. Another couple of recruiting classes like Brady Hoke has been securing and they'll get there, but right now the underdog role suits his team quite well.
Most of us expected a loss to Alabama, but very few of us thought it would be as bad as it was. But, in my opinion, that speaks more to how good Alabama is than how bad Michigan is. Just listen to Al Borges talk about the game.
The Michigan Medley talks Roy's knee and beating Usain Bolt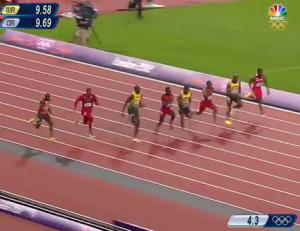 Aug. 14, 2012 by Justin
With last year's leading receiver, Junior Hemingway, on an NFL roster and Darryl Stonum no longer on the team, the last thing Michigan needed was an injury to the most experienced returning wideout, Roy Roundtree. Yet that's just what happened. But fear not, Brady Hoke says it's nothing to be concerned about.
"He had a little cartilage that he needed cleaned up," Hoke said. "We expect him back in two weeks. Everything went great. He feels great. It was just one of those things."
On the surface, hearing that Michigan's top receiver has gone under the knife sounds dreadful and basically eliminates any hope of beating Alabama on Sept. 1. But if presented with an option, this is the best scenario one could ask for. Roundtree is already established; though his 2011 numbers took a back seat to Hemingway, he finished second in the Big Ten in receiving in 2010. He has a good relationship with Denard Robinson and knows the offense, so the missed practice time isn't going to make much of an impact.
The Michigan Medley talks Denard's character and legends jerseys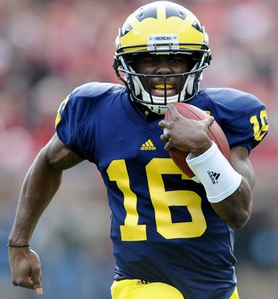 July 31, 2012 by Justin
From his first snap in a winged helmet, Denard Robinson has provided one highlight-reel play, record breaking performance, and thrilling moment after another. He has amassed a career that will go down as one of the greatest ever by a Michigan player and perhaps the best by a dual-threat quarterback in the history of college football. But what typically gets lost in the hype surrounding his speed and his shoelaces is his humility.
Earlier in the spring, he approached Michigan sports information director Justin Dickens about giving the keynote speech at the Big Ten luncheon. He wanted to conquer his fear of public speaking. Dickens set up a practice run in front of a few hundred school children in New York City and Robinson poured his heart into it.
The Michigan Medley talks uniforms, Toussaint, and media day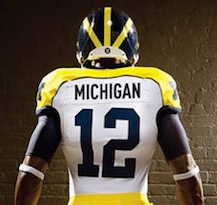 July 25, 2012 by Justin
On Monday evening, Michigan released its uniform plans for the season, which include a special edition uniform for the Cowboys Classic against Alabama.
The shoulders will have a thick maize stripe and a blue block 'M' and even though it's not shown in the rendering, the helmets will still have numbers. The gloves will have the lyrics to The Victors on them.
The school also announced that the helmet numbers will be discontinued following the Alabama game and there will be no other uniform iterations aside from the regulars the rest of the regular season. It leaves open the possibility of commemorative uniforms for the Big Ten Championship game or the bowl game, however.