---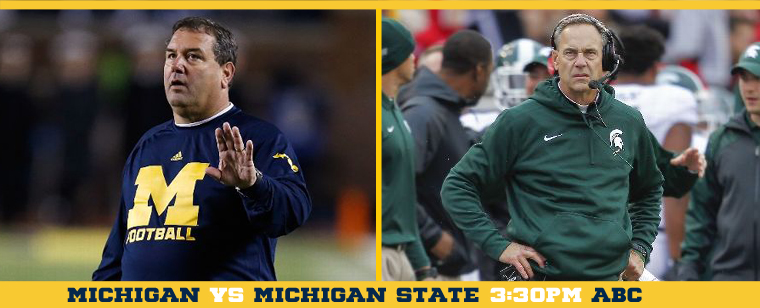 Ten years ago current Michigan offensive coordinator Doug Nussmeier was a part of the Michigan-Michigan State rivalry, but wearing the other colors. He felt the sting of one of the best Michigan wins in the history of the rivalry, on the losing end of what Michigan fans affectionately refer to as 'Braylonfest'. Now he hopes to help Michigan recapture that magic.
But Michigan will need to reverse a disturbing trend that started on the day of that epic comeback. In each of the past 10 years, Michigan has scored fewer points against Michigan State than the previous year. From 45 in 2004 to 34 to 31 to 28 to 21 to 20 to 17 to 14 to 12 to six. The first four of those resulted in wins, as did the 12 points scored two years ago. But if that trend continues Michigan will lose for the sixth time in the last seven years.
Quick Facts

Spartan Stadium – 3:30 p.m. EST – ABC
MSU Head Coach:
Mark Dantonio (8th season)
Coaching Record:
88-47 (70-30 at MSU)
Offensive Coordinators:
Jim Bollman (2nd season)
Dave Warner (8th season)
Defensive Coordinator:
Pat Narduzzi (8th season)
Returning Starters:
11 (7 offense, 4 defense)
Last Season:
13-1 (8-0 Big Ten)
Last Meeting:
MSU 29 – UM 6 (2013)
All-Time Series:
Michigan leads 63-33-5
Record at Spartan Stadium:
Michigan leads 17-13-1
Current Streak:
Michigan State 1
Last 10 Meetings: 
Tied 5-5
Last Michigan Win:
2012 (12-10)
Last Michigan Road Win:
2007 (28-24)
Michigan State has taken advantage of the instability of Michigan's program since Lloyd Carr retired following the 2007 season. Since then, the Spartans have been the Big Ten's most stable program, winning two of their eight all-time conference titles and three straight bowl games, including last year's Rose Bowl.
This season has been no different as Michigan State leads the Big Ten East division with a 6-1 record overall and 3-0 record in conference play. The only blemish was a 46-27 defeat at third-ranked Oregon in Week 2. But aside from the Ducks, Michigan State's schedule has been pretty light thus far with non-conference wins over Jacksonville State (FCS), Eastern Michigan, and Wyoming, and conference wins over #19 Nebraska, Purdue, and Indiana.
The Nebraska win was certainly a quality one as it stands as the Cornhusker's only defeat to date. In that game, Michigan State held a commanding 27-3 lead at the end of the third quarter before allowing Nebraska to pull within five points after three straight fourth quarter touchdowns. Nebraska actually had the ball at the Michigan State 37 in the final minute, but Tommy Armstrong Jr was picked off to end the game.
Since then, the Spartans have struggled against two of the Big Ten's bottom-feeders. Purdue scored two fourth quarter touchdowns to pull within seven points with six minutes remaining, and like Nebraska, had the ball in the closing minutes with a chance to tie it up. But Michigan State intercepted quarterback Austin Appleby and returned it for a touchdown to inflate the final score. Last week against an Indiana squad starting a true freshman quarterback in his very first collegiate action, Michigan State allowed the Hoosiers to hang around for the first half thanks to running back Tevin Coleman's 132 yards on 15 carries. MSU pulled away in the second half for a comfortable win, but Indiana exposed some gaps in the Spartan defense.
So what does that all mean? For one, Michigan State isn't as invincible as it seems. But can Michigan actually go into East Lansing and pull out a victory? Let's take a look at the matchups.
Michigan defense vs Michigan State offense: When Michigan State has the ball
The most surprising aspect of Michigan State this season has been its offense. Even MSU writers can't believe how much progress has been made since the first half of last season when the Spartans offense looked much like Michigan's has looked at times this season. Through the first seven games this season, Michigan State ranks third nationally in scoring (47 points per game), 12th in total offense (525.1 yards per game), 15th in rushing (260 yards per game), and 42nd in passing (265.1 yards per game). It also ranks first nationally in time of possession (36:22), first in sacks allowed (four), and 17th in third-down conversions (47 percent).
The main reason for the success of the MSU offense is the development of junior quarterback Connor Cook. While his completion percentage is down 2.7 percent from last season, Cook ranks second in the Big Ten in pass efficiency behind only Ohio State's J.T. Barrett and fourth in passing yards per game with 234.4.  He has thrown for at least 230 yards in five of seven games, and the only two he didn't — against Eastern Michigan and Wyoming — he attempted fewer than 10 passes and backups Tyler O'Connor and Damion Terry each saw extended action.
It certainly helps that Cook has a talented receiving corps to throw to, led by 6'3″, 185-pound senior Tony Lippett, who has caught 39 passes for 786 yards and eight touchdowns. He's the only receiver in the Big Ten averaging over 100 yards per game (112.3) and he leads the conference in touchdown receptions and yards per catch (20.2). He has scored in every game except last week and he also had a 32-yard touchdown run against Nebraska. Sophomore tight end Josiah Price is the second-leading receiver with 15 catches for 244 yards and four touchdowns, while five other receivers have over 100 yards and at least one touchdown: Junior Aaron Burbridge (158 yards and one touchdown), junior Macgarrett Kings Jr (142 and one), senior Keith Mumphery (123 and one), sophomore R.J. Shelton (102 and one), and junior A.J. Troup (100 and two).
The backfield is led by talented senior running back Jeremy Langford who ranks fifth in the Big Ten with 94.9 rushing yards per game, though he's a far cry from the top four. But Langford has eclipsed 100 yards in each of the last four games and scored three touchdowns last week. Unlike the four ahead of him, he shares the backfield, and while it's not a complete share, his backfield mate, senior Nick Hill, has 76 carries for 465 yards and six touchdowns. Last week he recorded the first 100-yard performance of his career with 178 yards and a touchdown on 16 carries. Sophomore Delton Williams also plays a role as a home run threat, averaging 7.2 yards per carry, and five touchdowns on just 33 carries.
The offensive line had to replace three starters from last season, but the unit has done a great job of protecting Cook. The Spartans lead the nation in sacks allowed with just four in seven games. The only lineman to start every game at the same position this season is sophomore left tackle Jack Conklin. Fifth-year senior Travis Jackson has started six games at left guard and one at center, while regular center Jack Allen has started five and should return from an ankle injury this week. Junior Donovan Clark has started every game, six at right guard and one at right tackle, and sophomore Kodi Kieler has started six at right tackle.
Michigan offense vs Michigan State defense: When Michigan has the ball
Defense is how Mark Dantonio built Michigan State into a power over the past few years, and while this year's version is good, it's not quite at the elite level it has been recently. Pat Narduzzi's defense ranks 34th nationally in scoring (21.6 points per game), ninth in total defense (292.7 yards per game), eighth in rush defense (100.3 yards per game), and 19th in pass defense (192.4 yards per game). Statistically, it's very comparable to Michigan's defense which most Michigan fans have been down on. The two areas that are considerably better than Michigan's are third-down defense (25 percent compared to 36) and sacks (26 compared to 18).
Narduzzi had to replace seven full-time starters, but returned a solid core including junior defensive end Shilique Calhoun, senior end Marcus Rush, and senior linebacker Taiwan Jones. Calhoun and Rush have combined for 14 tackles for loss and 8.5 sacks. The interior of the line is new this season, but juniors Joel Heath and Lawrence Thomas have held up well, but have given up some big runs up the middle the past few weeks.
Jones leads the linebacking corps with 30 tackles, 7.5 for loss, and three sacks, but junior SAM linebacker Ed Davis leads the team with six sacks and eight tackles for loss. Junior Darrien Harris rounds out the group at the STAR spot with 25 tackles, 1.5 for loss, half a sack, and an interception.
The secondary is led by senior safety Kurtis Drummond, whose 33 tackles, six passes defended, and two interceptions lead the team. The strong safety, freshman Montae Nicholson, is young and prone to mistakes, while junior safety R.J. Williamson, ranks second with 30 tackles to go along with five passes defended and a pick. Junior cornerback Trae Waynes is a star and definitely one of the top corners in the Big Ten. He has 23 tackles, two for loss, one sack, six passes defended, and two interceptions. The field corner is sophomore Darian Hicks and he's much more vulnerable than Waynes.
Special Teams: The other third
Sophomore kicker Michael Geiger is solid, having converted 7-of-11 this season with a long of 42, although he's just 2-of-5 from 40-plus. Senior punter Mike Sadler has been around forever and ranks 10th in the Big Ten with an average of 40.6 yards per punt. He has downed 11 of 31 inside the 20 while only two have gone into the end zone.
The return game is pretty lackluster, ranking 60th nationally on kicks and 89th on punts. Shelton ranks sixth in the Big Ten with an average of 22.2 yards per kick return, while Kings Jr ranks fifth with an average of 6.9 yards per punt return.
Prediction
Of course the most vulnerable Michigan State defense in several years gets to face the worse Michigan offense in several years. On Thursday, Spartan Tailgate writer Chris Vannini told us that he thinks Michigan will be able to make some big plays as teams have done on MSU this season. Apparently he hasn't watched Michigan much as the Wolverines have struggled to make big plays against anyone other than Appalachian State.
Michigan's defense will be one of the best Michigan State has faced this season, similar to Nebraska's which held MSU to just 27 points, their fewest of the season. But unlike last week when Michigan was able to pressure Christian Hackenberg all day, the Spartan offensive line will protect Cook. That will allow him to pick apart the secondary just like Notre Dame's Everett Golson and Rutgers' Gary Nova did.
Expect Michigan to hang around through the first half, but with the inability to make big plays Doug Nussmeier's offense will have a hard time stringing together enough scoring drives. Michigan State will pull away in the second half with efficient, time consuming drives and keep the Paul Bunyan Trophy in East Lansing for the sixth time in seven years.
Michigan State 33 – Michigan 13