---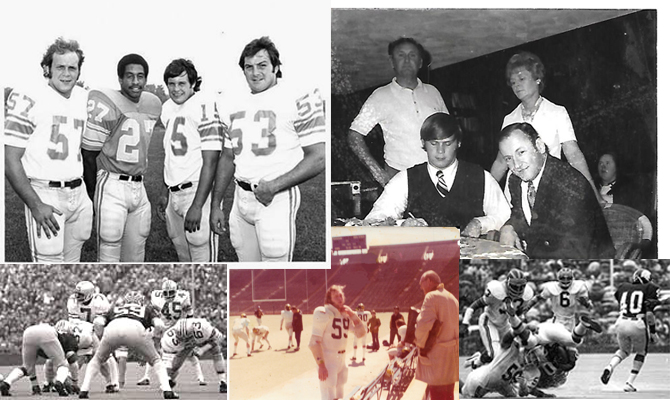 (Photos provided by Steve Strinko)
Last week we brought you a preview of our partner, Rent Like a Champion's story of former Michigan linebacker Steve Strinko graduating from Michigan more than 40 years after he left Ann Arbor early for the NFL. Today, with the University of Michigan's commencement upon us, we bring you part two of Strinko's long journey from football star to Michigan graduate.
Strinko left Michigan for the 1975 NFL Draft after being named first-team All-Big Ten, second-team All-America, and the team's Most Valuable Player during the 1974 season. But a knee injury that he suffered during that season, in which Michigan went 10-1, tied with Ohio State for the Big Ten title, and finished ranked third nationally, doomed his NFL career.
The Detroit Lions selected Strinko in the ninth round, 219th overall, but complications from an off-season knee surgery landed him on the injured reserve list. When it didn't heal properly, the Lions refused to sign him, despite his attempts to play through the injury and make the team. By the end of 1975, his NFL career was already over and he had never played a down in the league.
Without a degree and facing the sting of the end of his football career, Strinko "went on a wild hair chase," moving to Florida and living for some time on his unemployment check from the Lions. He bounced around to Houston, Denver, Washington, D.C., and then back to Florida, working various jobs and battling addiction. He got married and moved to Fort Worth, Texas, where he lived for more than 20 years. He had "a few business successes but would tend to self destruct."
In 2007, Strinko was deemed 100 percent disabled by the Social Security Administration and a few years later, finally entered recovery for his addictions.
"I can tell you unequivocally that coming to the place where I realized that I had to humble myself and surrender it all to God was the single most important decision I made," Strinko told Maize and Go Blue on Wednesday night. "I had to dismiss all preconceived thoughts and ideas that I was in control of my life. I made a commitment to honor God and my family and I worked with experienced professionals who helped guide me through the process. I committed to a one-year residential treatment program that I chose and set in my mind that I was going to do whatever necessary to put my addiction behind me once and for all."
With the addictions behind him, Strinko set his sights on finishing his degree. He enrolled in online classes in the fall of 2014 and completed the necessary coursework to earn his Bachelors of General Studies degree.
So why, after all these years, did he go back and finish his degree?
"Really it was a combination of things," Strinko said. "First, I had always had the desire to finish in the back of my mind. Second, being contacted by Sara Rechnitzer who works in Michigan's Athletic Department and her explaining the Degree Completion Program and how UM would reimburse me for the costs associated with getting my degree. Finally, knowing I could complete all of my coursework through the accredited Liberty University was the deal clincher."
Strinko admits that it wasn't easy to resume course work after so many years.
"Getting accustomed to online courses was a little challenging in the beginning. I had taken three, four credit hour courses at Miami Dade College in 2010 so I had already had a little bit of an idea of what would be required. I have to tell you that at 60 years of age you get pretty set in your ways and spending hours upon hours reading and writing was the hardest aspect of the challenge."
When Strinko returns to Ann Arbor this weekend, it won't be the first time he's been back since his playing days — he said he came back in 1989 for a Bo's Boys 20 year celebration and a few more times over the past two years — but this visit will certainly be the most significant. He's looking forward to sharing the occasion with his family, several out of town friends from high school who will be making the trip up, and several former teammates.
As he readied himself for the emotional trip, Strinko looked back on his playing days and counted the comradery with his coaches and teammates to be his fondest memory.
"The comradery, hands down," he said. "Playing four years and only losing 3 games and the closeness that kind of success promotes is not doubt the best feeling one can have. Also, running out of the tunnel on game day in front of 100,000 fans is like no-other feeling one can get anywhere.  Finally, the friends beyond the team and the people in Ann Arbor are incredible."
He also recalled one of his favorite stories about his coach, the great Bo Schembechler.
"In the summer preceding my senior year I had to take a summer school class in order to remain eligible. Unfortunately, my professor for that course went to Europe before officially entering the grade. Therefore, when we reported for two-a-days I was not eligible. The reason this was a big deal is that every senior is eligible to be voted on for captain.
"Bo called me into a separate meeting room before the announcement that we were voting for captains. He said, 'Strinko, you cannot be considered for captain of this squad because you are as of right now not eligible.' Of course I explained I had been given a four-hour "A" but to no avail. Not sure I would have been voted as captain but we will never know.
"This incident so irked Bo that he made me run ten, 100-yard dashes against him after the morning and afternoon two-a-day practices. He even gave himself a 10-yard head start. I will never forget on the first day as we lined up to race he turned and looked at me and said 'for every one that I beat you, you will have to run ten more.' He never beat me."
Tonight, when Strinko receives his degree during the student-athlete ceremony at the Crisler Center, Bo will undoubtedly be looking down from above on the linebacker from Middletown, Ohio, who he once stole away from Woody Hayes. And despite the 42 year gap, Strinko isn't about to look back and wish he had done things differently.
"I have never been one to have regrets about what I did or did not do in the past. I prefer to consider that wherever the journey took me, it was necessary for me to get to where I am today. Dwelling on what could've or should've been is a waste of time and energy.
"The reason the rear view mirror is so much smaller than the windshield is that it is much more important to have a vision of where one is going than to dwell on what is behind us. I will say that there is merit in learning from your past mistakes but only as those mistakes are used as a guide of what not to do in the future. The definition of insanity is doing the same thing over and over again and expecting different results."
Next week, we will finish this three-part series with a recap of Strinko's graduation weekend experience and a look ahead at his current venture, FAN, Inc., which is helping the Michigan Football Alumni Network avoid the same pitfalls that tripped him up after his football career.