---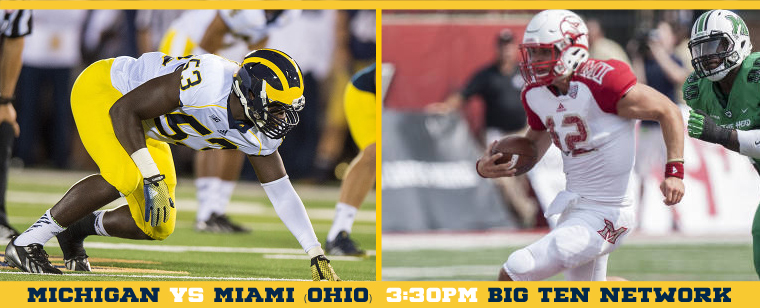 The last time Michigan faced Miami (Ohio) the Wolverines were beginning anew. Rich Rodriguez had taken over from Lloyd Carr and excitement surrounded the program, full of visions of sugar plums and high-flying spread offenses. The 2008 team opened the season with a 25-23 loss to a Utah squad that went 13-0 and finished ranked No. 2 nationally by the Associated Press. Rodriguez picked up his first win the following week against Miami (Ohio), 16-6.
Tomorrow when Miami comes to town, Michigan is in a much different spot. No longer are Mid-American Conference-level teams scared to step foot in the Big House. Since that 2008 win, Michigan is just 41-35 overall with a loss to Toledo and a near loss to Akron.
Quick Facts

Michigan Stadium – 3:30 p.m. EST – Big Ten Network
Miami Head Coach:
Chuck Martin (1st season)
Coaching Record:
74-9 overall (0-2 at Miami)
Offensive Coordinators:
George Barnett (1st season)
Eric Koehler (1st season)
Defensive Coordinator:
Matt Pawlowski (1st season)
Returning Starters:
15 (8 offense, 7 defense)
Last Season:
0-12
Last Meeting:
UM 16 – Miami 6 (2008)
All-Time Series:
Michigan leads 5-0
Record vs MAC:
Michigan leads 33-1
Largest win over Miami:
55-0 (1924)
Closest win over Miami: 
16-6 (2008)
Brady Hoke vs Miami: 
2-2
Brady Hoke vs MAC:
32-21
Miami, on the other hand, isn't exactly the class of the MAC. The school that once sent Michigan its most beloved coach, Bo Schembechler, and is known as the cradle of coaches, is still searching for its next big-time coach. After three years of decline under former Michigan State offensive coordinator and Jim Tressell protege Don Treadwell, the RedHawks turned to Notre Dame offensive coordinator Chuck Martin.
Unlike Treadwell, Martin isn't a first-time head coach. He succeeded Brian Kelly at Grand Valley State in 2004 when Kelly left for Central Michigan and continued Kelly's success, winning two national championships and setting a Division II record with 40 straight wins. In six years, he compiled a record of 74-7 before rejoining Kelly at Notre Dame in 2010.
In South Bend, Martin served as defensive backs coach his first two seasons before taking over as offensive coordinator and quarterbacks coach in 2012 and 2013. The Irish weren't exactly known for their offense those two seasons — they ranked 54th and 67th in total offense those two seasons — but the success was impressive enough to land his first Division 1 head coaching job.
Miami had a 10-1 season in 1998 under Randy Walker and a 13-1 season in 2003 under Terry Hoeppner, finishing ranked 10th nationally that season. But in the 10 years since, the RedHawks have had just three winning seasons. Michael Haywood put together a great turnaround in 2010, transforming a 1-11 team in his first season into a 10-4 squad in year two, but then he bolted for Pittsburgh, where he never coached after being arrested for domestic violence. Treadwell took over and went 4-8 in each of his first two seasons and started 0-5 last season before being fired on Oct. 6. Miami finished the season 0-12.
Miami opened this season with a 42-27 loss to Conference-USA favorite Marshall and then lost to FCS foe Eastern Kentucky 17-10 a week ago. Against Marshall, Miami fell behind 28-3 by halftime, but pulled within 28-20 at the end of the third quarter. The teams traded touchdowns in the fourth, but Marshall scored again to put it away with two minutes remaining. Against Eastern Kentucky, Miami dominated the game statistically, but had trouble finding the end zone. Miami scored on its first drive and held a 7-3 halftime lead, then widened it to 10-3 midway through the third. But EKU scored two touchdowns down the stretch to hand Miami its 18th-straight loss.
Let's take a look at how Michigan and Miami match up.
Michigan defense vs Miami offense: When Miami has the ball
Martin's offense will look similar to Notre Dame's without the talent, though it certainly helps that he has one of his quarterbacks along with him. Andrew Hendrix spent four seasons at Notre Dame, where he played in 16 games in backup duty. He went 25-of-58 for 360 yards, one touchdown, and two interceptions and also set the Notre Dame single game quarterback rushing record with 111 yards against Air Force in 2011. He graduated from Notre Dame last December and elected to follow Martin to Oxford for his grad-year season.
Despite being a former four-star recruit, Hendrix never could beat out Tommy Rees and Everett Golson in South Bend. Still, his familiarity with Martin's offense makes him the best choice for the job this fall. And he has certainly been called on. Through the first two games, Hendrix has completed 49-of-101 passes for 677 yards, four touchdowns, and four interceptions. By comparison, Devin Gardner has only attempted 46 passes so far — three fewer than Hendrix has completed.
Miami's offense currently ranks 18th nationally in passing, averaging 338.5 yards per game. Only 15 teams in the country have thrown for more yards so far and only four teams have attempted more passes. However, Miami has fewer touchdown passes than the other four, and only four of the 17 teams with more passing yards per game have fewer touchdown passes than the RedHawks.
With such an active passing game, Miami naturally has a pair of receivers averaging over 100 yards per game in senior David Frazier and redshirt sophomore Rokeem Williams. Frazier has caught 13 passes for 215 yards, but no touchdowns, while Williams has caught nine for 204 yards and one touchdown. They're both decent sized receivers at 6'0″, 180 and 6'1″, 204, respectively. Then there's 5'10″, 180-pound sophomore Jared Murphy, who has five receptions for 83 yards and a score, and tight end Alex Welch, who has six catches for 51 yards and a touchdown.
While the passing game is moving the chains, the running game is stuck in neutral. Miami ranks 116th nationally in rushing, averaging just 80 yards per game. Only eight teams in the country are averaging fewer, but none of them have attempted as many rushes as Miami has (74). Only five teams have fewer yards per carry than Miami's 2.16.
Redshirt sophomore running back Spencer McInnis leads the team with 54 yards on 11 carries (4.9 yards per carry), while redshirt junior Spencer Treadwell has 47 yards on 10 carries (4.7 ypc). Hendrix has the most carries on the team (36), though if you remove sacks, his 27 carries for 40 yards are just 1.4 yards per carry. Receiver Dawan Scott actually has the most non-quarterback carries with 13, but has just 36 yards (2.8 ypc).
The line brought a combined 99 career starts into the season, but allowed 49 sacks a year ago. Already through two games this season, Miami has allowed nine.
Michigan offense vs Miami defense: When Michigan has the ball
Last season, Miami's defense ranked 115th nationally in total defense, 113th in rush defense, and 106th in pass defense. So far this season, those numbers are far improved, but level of competition plays into that — namely, playing Eastern Kentucky. Miami ranks 60th in total defense, 55th in rush defense, 75th in pass defense, and 91st in scoring defense.
Marshall put up 432 yards of offense in Week 1, 261 through the air and 171 on the ground. Marshall running back Devon Johnson ran for 151 yards and two touchdowns on 19 carries (7.9 ypc), while quarterback Rakeem Cato completed 20-of-32 passes for 261 yards and three touchdowns. Week 2 was a different story as Miami's defense limited EKU to 280 total yards and just 82 on the ground.
The front four consist of redshirt sophomore defensive end J'Terius Jones (6'3″, 245), junior defensive end Bryson Albright (6'5″, 243), junior defensive tackle Mitchell Winters (6'5″, 285), and redshirt sophomore nose tackle Jimmy Rousher (6'2″, 288). Jones currently ranks third on the team with 11 tackles, second with 2.5 tackles for loss, and tied for the lead with two sacks. He also has a fumble recovery, while Albright has eight tackles and a sack.
Another Notre Dame transfer is featured on defense, grad-year senior outside linebacker Lo Wood, who played in 32 games for the Irish. He has eight tackles so far. The other outside linebacker is redshirt junior Joe Donlan, who has 16 tackles, 1.5 for loss, and a sack. Junior Kent Kern, a second-team All-MAC selection last season, is the middle linebacker and leads the team with 23 tackles, three for loss, and two sacks, and also has two pass breakups.
The secondary includes a converted Miami basketball player who ranks second in Miami history and 12th in MAC history in steals. Quinten Rollins switched sports and is now a starting cornerback and continued his penchant for thievery as the only player on the team with an interception so far this season. Opposite him is redshirt sophomore Jay Mastin, who has five tackles and half of a tackle for loss. The safeties are senior Jarrell Jones, who has 10 tackles, and redshirt sophomore Marshall Taylor, who has five tackles and two pass breakups.
The other third: Special teams
Junior kicker Kaleb Patterson has made 3-of-5 field goals with a long of 24 and one blocked. He has made 22-of-29 the last two years with a long of 52. Redshirt junior punter Christian Koch is averaging 44.3 yards per punt with a long of 60 and two downed inside the 20. Redshirt sophomore receiver Fred McRae IV is the main man in the return game, averaging 13.5 yards per kick return and 10.5 yards per punt return.
Prediction
There are a couple of scenarios coming into this game. One is that Michigan still feels the weight of last week's embarrassment, has no confidence, and effectively lets Notre Dame beat them twice. The other is that Michigan shakes off last week's loss, uses it as a spark, and devours a MAC snack. I think the later is more likely.
You can be sure Martin has spoken to Kelly this week to try to figure out how he was able to have such success last Saturday, but the fact of the matter is Martin lacks the talent Kelly had. Everett Golson played a flawless game and I wouldn't expect Hendrix to do the same. Will he make some big plays? Probably. Especially if Jabrill Peppers is still out and Raymon Taylor can't go. Michigan's secondary is vulnerable right now and the Miami passing game will be a good test. However, this could be the game that gets Michigan's pass rush going, given that Miami is allowing 4.5 sacks per game.
The Michigan offense will move the ball just like Marshall did, and while Miami doesn't have anyone that can cover Devin Funchess, it would be nice to see Devin Gardner develop more cohesion with his other receivers. It would also be nice to see Derrick Green and De'Veon Smith put together a rushing performance more like Week 1 than last week. We certainly won't see 350 rushing yards, but should hope for at least 200.
Michigan will be much more efficient than it was last week, and while Miami will make a few big plays, it will be too one-dimensional to really challenge the Wolverines.
Michigan 42 – Miami 17