---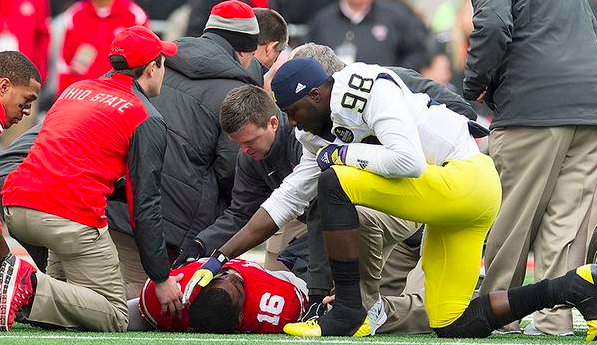 (Greg Bartram, USA Today Sports)
On the first play of the fourth quarter, Ohio State quarterback J.T. Barrett was tackled behind the line of scrimmage by a trio of Michigan defenders. They all got up, but he didn't. As he laid on the Ohio Stadium turf, surrounded by medical personnel, senior Michigan quarterback Devin Gardner trotted across the field to console him. The photo gained national attention as a grand gesture of sportsmanship amid a heated rivalry, but the act itself signaled a perfect representation of Michigan's season.
Final Stats
Michigan
Ohio State
Score
28
42
Record
5-7, 3-5
11-1, 8-0
Total Yards
372
416
Net Rushing Yards
121
233
Net Passing Yards
251
183
First Downs
27
20
Turnovers
2
0
Penalties-Yards
4-38
9-84
Punts-Yards
4-165
4-196
Time of Possession
34:05
25:55
Third Down Conversions
6-of-11
7-of-13
Fourth Down Conversions
1-of-1
1-of-1
Sacks By-Yards
0-0
5-41
Field Goals
0-for-0
0-for-0
PATs
4-for-4
6-for-6
Red Zone Scores-Chances
4-of-4
3-of-3

Full Box Score
In his final game as a Michigan quarterback, Gardner completed 22-of-32 passes for 233 yards and two touchdowns and gained 41 more yards on the ground. But his turnovers, the only two of the game for either team, both led to Ohio State touchdowns, which ultimately provided Michigan's margin of defeat.
Gardner is a textbook example of the type of athlete Michigan — or any school — wants representing its program. His regular visits to Mott Children's Hospital, his early graduation and soon to be Master's degree, his selfless switching of positions twice in the same season, his sticking it out through two head coaches and three offensive coordinators, and finally, his display of sportsmanship in the final quarter of the final game of his career say more about the man and the future he will have than any on-field success could.
But fair or not, his performance on the field, which regressed from the point he took over for an injured Denard Robinson midway through the 2012 season through Saturday's season-ending loss to Ohio State, will define his career in the eyes of most Michigan fans.
Michigan put a scare into the sixth-ranked Buckeyes, rebounding from a quick 7-0 Ohio State lead to score back-to-back touchdowns before Ohio State tied the game just before halftime. And after Ohio State took a 21-14 lead to start the third quarter, Gardner led Michigan right down the field for the game-tying touchdown. Ohio State took the lead for good late in the third quarter, but Michigan stayed within striking distance far longer than anyone thought they would.
The loss was Michigan's seventh of the season, resulting in a third losing season in seven years, and effectively ending the tenure of head coach Brady Hoke. While Ohio State will face Wisconsin in next Saturday's Big Ten Championship game and hope to gain a spot in the College Football Playoff, Michigan will turn its attention to a likely coaching search.
Gardner will hope to be selected in the NFL Draft next spring, but if he isn't, he'll have a Master's of social work to carry him into his next profession. And he'll have several single-game school records, the best offensive performance in Michigan-Ohio State history, and what is sure to be one of The Game's most enduring moments to carry on his legacy.