---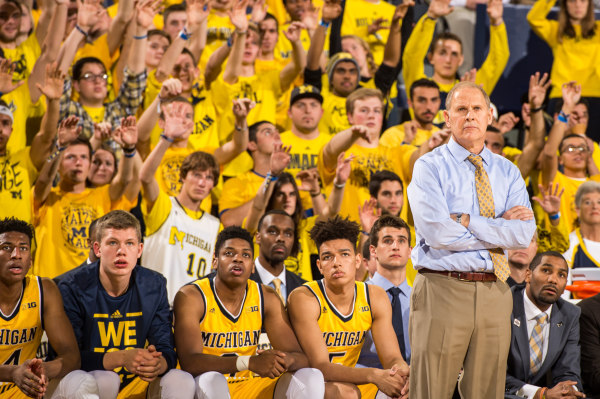 (MGoBlue.com)
Last night was supposed to be the start of a season-long comeback party for Michigan after underperforming last year. It was supposed to be a game to help the team, coaches, and fans start forgetting about some of the horrors of a season ago.
Instead, it was anything but the start of that comeback party. All last night's loss to Xavier did for the Wolverines was bring back those same demons.
After cruising to two easy victories against overmatched competition to open the gates on the new season, Michigan took one massive step back against a very good Musketeer squad that made the Crisler Center feel like their home away from home, dumping the Wolverines 86-70 with a balanced attack that saw four Musketeers score at least 14.
Throughout the night, Xavier simply looked like the better, stronger, and more prepared team. They dominated the paint from just after the opening tip, when Detroit native Jalen Reynolds cleared out the lane, posted up starting Wolverine center Mark Donnal, and blew by him for an easy and-1 finish just 10 seconds into the game.
That would be an ominous sign for the four Michigan big men who saw minutes Friday, as they struggled to contain Reynolds and fellow Musketeer big James Farr – who combined for 23 points on 15 shots and 22 rebounds (eight offensive) – and racked up fouls left and right. By halftime, Donnal, Ricky Doyle, D.J. Wilson, and Moritz Wagner all had at least two fouls but only combined for five points and one rebound in an opening stanza that saw Michigan trailing 45-36 at the break.
The visitors also looked like they simply wanted the win more. Time and again, 50-50 balls ended up in Xavier's collective hands, and by the end of the blowout, it seemed that Michigan might never get another rebound, with the Musketeers more than half of their misses in the second half.
Michigan showed some promise early on, grabbing a 16-12 advantage nine minutes in after Reynolds was tagged with a technical foul for hanging on the rim, but they lost that lead within the next minute and never got it back.
Caris LeVert showed off an impressive array of drives to try to keep the Wolverines afloat, and he had his shot all night on his way to 29-point outburst, but none of his teammates were able to crack double digits. LeVert's seven rebounds and three assists also led the team.
It looked as if Michigan would take control of the game a couple times midway through the second half, twice cutting Xavier's lead to two points behind a pair of triples (I dare you to see how many variants of two you can use in one sentence), but every time the Wolverines showed life, the Musketeers answered with triples of their own.
At one point, Duncan Robinson made two straight threes, and had a third would-be go-ahead trey go down only to be taken away by an illegal screen call.
But it wasn't meant to be. For his part, Robinson looked like he should ably fill the role of instant microwave off the bench, but he's never going to be a dynamic playmaker – he recorded just one rebound to go along with his nine points, zero assists, zero steals, and zero blocks.
The production simply wasn't there from the rest of this potentially deep squad, and the defense struggled to get any stops. Zak Irvin, back in the starting lineup after missing offseason time following back surgery, was clearly a step slow and only managed seven points, while fellow starters Aubrey Dawkins and Derrick Walton Jr. had five and four points, respectively. No other Wolverine had more than five points, and only LeVert and Walton had multiple assists.
From here, the road doesn't get much easier in the near term, but it's clear that Michigan's defense must improve if they are to be competitive in next week's Battle 4 Atlantis, where they will open up with Connecticut on Wednesday and could potentially see Syracuse in the second game. As LeVert repeatedly said after the game, Michigan needs to lock down its defense and limit the fouls going forward – they had 23 called against them in this one that led to 23 made free throws for Xavier. It's unusual for a John Beilein-coached team to have such a high foul rate, but new emphasis on contact rules will take some adjusting. LeVert also thought that Michigan should win most games when they put up 70 points, but they may not be at that point yet.
Luckily, Michigan is far from the only squad to lose an early season matchup, and this one shouldn't hurt the resume too much, as Xavier looks to add to an impressive run in March Madness from last season with a more dynamic, experienced squad.
At the same time, the Wolverines will need to show that they can win some of these big games in the near future – or else memories of last year just might creep up on them again.
***Caris LeVert***
29 points (8-of-16 FG, 5-of-8 3pt, 8-of-10 FT), seven rebounds (one offensive), three assists, two steals, three turnovers in 36 minutes
**Duncan Robinson**
9 points (2-of-5 FG, 2-of-4 3pt, 3-of-3 FT), one rebound, zero turnovers in 19 minutes
*Spike Albrecht*
5 points (1-of-1 FG, 1-of-1 3pt, 2-of-2 FT), one rebound, one assist, zero turnovers in eight minutes
Season Three-Stars Standings
Caris LeVert – 4
Duncan Robinson – 4
Derrick Walton – 3
Spike Albrecht – 1
• This isn't the first time Michigan has lost a game despite a scoring outburst from LeVert. The Wolverines fell to NJIT last season despite 32 points from their star, while also dropping games against Duke and Wisconsin two seasons ago when LeVert scored 24 and 25 points, respectively. In all of these cases, LeVert scored more than one-third of the team's total points.
• I thought Zak Irvin and Spike Albrecht looked close to 100 percent on Monday, and Irvin said himself that he felt he was at 100 percent physically, but they clearly both have a ways to go. Albrecht only got eight minutes on the night, and though he threw his body around for loose balls, he'll be seeing a lot more time when Beilein feels the senior point guard is fully back. Irvin was noticeably slow on the floor, at one point just jogging to a crucial long rebound late in the game that he was easily outrun for despite having perfect position.
• The rotation once again included all 12 scholarship players on the team, but that won't last much longer. Mark Donnal struggled all night, recording zero points and zero rebounds while committing four fouls and turning it over once in just six minutes of time. Kameron Chatman and Albrecht only got eight minutes a piece (I expect Albrecht's minutes to go up, but Chatman's may disappear), Muhammad-Ali Abdur-Rahkman only saw 10 minutes, and D.J. Wilson and Moritz Wagner played just seven and five minutes, respectively.
John Beilein is always quick to praise Michigan's opponent – whether playing against the worst team in the country or one of the best. Here's a look at a Beilein quote from this game's press conference followed by a rating from Completely Objective and Fair (1) to Pure and Utter Coachspeak (10) on the John Beilein CoachSpeakometer
"We've seen good teams come (to Crisler Arena). Sometimes we were able to win, sometimes we weren't, and that was as good a team as I've seen come in here at any time. They got all the pieces, they're just really good. They hit the backboards obviously much better than us, they got loose balls, they got tremendous grit, and then they got a great mix of guys that can drive the ball, guys that can shoot the ball, (along) with the big men. So they're sitting on something great right now, and they have for a long time at Xavier. They have a really experienced team that knows how to win…they'll vie for a Big East Championship is what I think and they'll be a team that is very good all year long."
John Beilein is right to a certain point here – Xavier is a really good team that should be in the thick of the Big East race along with Villanova, Providence, and Butler. But to say that they are as good a team as he's seen play at Crisler is quite the stretch. Along with a handful of excellent Wisconsin, Michigan State, and Ohio State teams (and many other very solid conference foes in the past eight years), Michigan has also welcomed #1 Arizona (2013), #3 Kansas (2011), and #4 Duke (2008) to Ann Arbor in Beilein's tenure, not to mention plenty of other very good ranked and unranked conference and non-conference foes. Xavier will most likely be ranked in the next poll (and rightfully so), and coach Chris Mack has established a program that can compete with any team on any night, but they are certainly not on the same level as other recent home opponents. Excellent coachspeak yet again.
Final Game Stats

#

Name

FG-FGA

3FG-3FGA

FT-FTA

OR

DR

TOT

PF

TP

A

TO

BLK

S

MIN

34
Mark Donnal*
0-0
0-0
0-0
0
1
1
4
0
0
1
0
0
6
10
Derrick Walton Jr.*
1-5
0-3
2-2
0
5
5
1
4
2
2
1
4
31
21
Zak Irvin*
3-6
1-4
0-1
0
1
1
3
7
0
2
0
0
22
23
Caris LeVert*
8-16
5-8
8-10
1
6
7
2
29
3
3
0
2
36
24
Aubrey Dawkins*
1-6
1-5
2-2
0
6
6
2
5
1
0
0
1
36
02
Spike Albrecht
1-1
1-1
2-2
0
1
1
0
5
1
0
0
0
8
03
Kameron Chatman
1-3
0-1
0-0
1
0
1
0
2
0
0
0
0
8
05
D.J. Wilson
1-2
0-0
1-2
0
0
0
2
3
0
1
1
0
7
12
Muhammad-Ali Abdur-Rahkman
0-2
0-0
0-0
0
0
0
2
0
1
1
0
0
10
13
Moritz Wagner
1-3
0-0
0-1
1
1
2
2
2
0
0
0
0
5
20
Duncan Robinson
2-5
2-4
3-3
1
0
1
2
9
0
0
0
0
19
32
Ricky Doyle
2-3
0-0
0-3
1
0
1
3
4
0
1
0
0
22
Totals
21-52
10-26
18-26
7
22
29
23
70
8
11
2
7
200
Xavier
27-66
9-21
23-26
18
29
47
25
86
13
9
2
3
200

Full Stats