---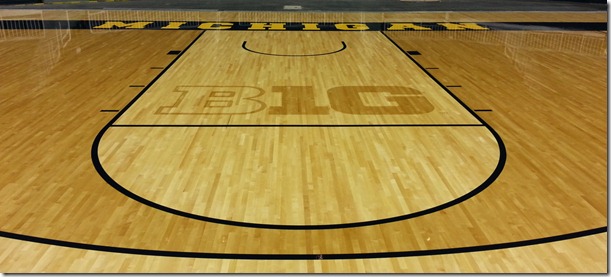 2

012-13 Michigan Basketball Schedule | Michigan Ranking: 10

Date

Opponent

Rank

Site

Time

TV

Result

Record

Thu, 11/1
Northern Michigan (ex.)
Ann Arbor, Mich.
7pm
BTN.com

W 83-47

Mon, 11/5
Saginaw Valley State (ex.)
Ann Arbor, Mich.
7pm
BTN.com

W 76-48

Fri, 11/9
Slippery Rock
Ann Arbor, Mich.
8:30pm
BTN.com

W 100-62

1-0
NIT Season Tip-Off
Mon, 11/12
IUPUI
Ann Arbor, Mich.
9pm
ESPNU

W 91-54

2-0
Tue, 11/13
Cleveland State
Ann Arbor, Mich.
8pm
ESPN2

W 77-47

3-0
Wed, 11/21
Pittsburgh
New York, N.Y.
9:30pm
ESPN2

W 67-62

4-0
Fri, 11/23
Kansas State (Championship)
New York, N.Y.
4:30pm
ESPN

W 71-57

5-0

ACC/B1G Challenge

Tue, 11/27
N.C. State
18/18
Ann Arbor, Mich.
7:30pm
ESPN

W 79-72

6-0
Sat, 12/1
Bradley
Peoria, Ill.
3pm
ESPNU

W 74-66

7-0
Tue, 12/4
Western Michigan
Ann Arbor, Mich.
8:30pm
BTN

W 73-41

8-0
Sat, 12/8
Arkansas
Ann Arbor, Mich.
12pm
CBS

W 80-67

9-0
Tue, 12/11
Binghamton
Ann Arbor, Mich.
7pm
BTN

W 67-39

10-0
Sat, 12/15
West Virginia
Brooklyn, N.Y.
8pm
ESPN

W 81-66

11-0
Thu, 12/20
Eastern Michigan
Ann Arbor, Mich.
8:30pm
BTN

W 93-54

12-0
Sat, 12/29
Central Michigan
Ann Arbor, Mich.
7pm
BTN

W 88-73

13-0
Thu, 1/3
Northwestern*
Evanston, Ill.
7pm
ESPN2

W 94-66

14-0 (1-0)
Sun, 1/6
Iowa*
Ann Arbor, Mich.
12pm
BTN

W 95-67

15-0 (2-0)
Wed, 1/9
Nebraska*
Ann Arbor, Mich.
7pm
BTN

W 62-47

16-0 (3-0)
Sun, 1/13
Ohio State*
15/14
Columbus, Ohio
1:30pm
CBS

L 53-56

16-1 (3-1)
Thu, 1/17
Minnesota*
9/12
Minneapolis, Minn.
7pm
ESPN

W 83-75

17-1 (4-1)
Thu, 1/24
Purdue*
Ann Arbor, Mich.
7pm
ESPN

W 68-53

18-1 (5-1)
Sun, 1/27
Illinois*
Champaign, Ill.
6pm
BTN

W 74-60

19-1 (6-1)
Wed, 1/30
Northwestern*
Ann Arbor, Mich.
6:30pm
BTN

W 68-46

20-1 (7-1)
Sat, 2/2
Indiana*
3
Bloomington, Ind.
9pm
ESPN

L 73-83

20-2 (7-2)
Tue, 2/5
Ohio State*
10
Ann Arbor, Mich.
9pm
ESPN

W 76-74OT

21-2 (8-2)
Sat, 2/9
Wisconsin*
Madison, Wis.
12pm
ESPN

L 62-65 OT

21-3 (8-3)
Tue, 2/12
Michigan State*
8
East Lansing, Mich.
9pm
ESPN

L 52-75

21-4 (8-4)
Sun, 2/17
Penn State*
Ann Arbor, Mich.
12pm
BTN

W 79-71

22-4 (9-4)
Sun, 2/24
Illinois*
Ann Arbor, Mich.
1pm
ESPN

W 71-58

23-4 (10-4)
Wed, 2/27
Penn State*
State College, Pa.
6:30pm
BTN

L 78-84

23-5 (10-5)
Sat, 3/2
Michigan State*#
9
Ann Arbor, Mich.
5:15pm
BTN

W 58-57

24-5 (11-5)
Wed, 3/6
Purdue*
West Lafayette, Ind.
7pm
BTN

W 80-75

25-5 (12-5)
Sun, 3/10
Indiana*
2
Ann Arbor, Mich.
4pm
CBS

L 71-72

25-6 (12-6)

Big Ten Tournament

Thu, 3/14
Penn State (12-seed)
Chicago, Ill.
1:30pm
BTN

W 83-66

26-6
Fri, 3/15
Wisconsin (4-seed)
22
Chicago, Ill.
1:30pm
ESPN

L 59-68

26-7

NCAA Tournament

Thu, 3/21
South Dakota State (13-seed)
Auburn Hills, Mich.
7:15pm
CBS

W 71-56

27-7
Sat, 3/23
VCU (5-seed)
Auburn Hills, Mich.
12:15pm
CBS

W 78-53

28-7
Fri, 3/29
Kansas (1-seed)
3
Arlington, Texas
7:37pm
TBS

W 87-85 OT

29-7
Sun, 3/31
Florida (3-seed)
14
Arlington, Texas
2:20pm
CBS

W 79-59

30-7
Sat, 4/6
Syracuse (4-seed)
16
Atlanta, Georgia
8:49pm
CBS

W 61-56

31-7
Mon, 4/8
Louisville (1-seed)
2
Atlanta, Georgia
9:23pm
CBS

L 76-82

31-8
2012-13 Michigan Basketball Roster (Numerically)


No.

Name

Pos.

Ht.

Wt.

Yr./Elig.

Hometown (High School)

1
Glenn Robinson III
F
6-6
210
Fr.
St. John, Ind. (Lake Central)
2
Spike Albrecht
G
5-11
170
Fr.
Crown Point, Ind. (Northfield Mt Hermon Prep)
3
Trey Burke
G
6-0
190
So.
Columbus, Ohio (Northland)
4
Mitch McGary
F
6-10
250
Fr.
Chesterton, Ind. (Brewster Academy – N.H.)
5
Eso Akunne
G
6-2
225
Sr.
Ann Arbor, Mich. (Gabriel Richard Catholic)
10
Tim Hardaway, Jr.
G
6-6
205
Jr.
Miami, Fla. (Palmetto Senior)
11
Nik Stauskas
G
6-6
190
Fr.
Mississauga, Ontario, Canada (St. Mark's – Mass)
13
Matt Vogrich
G
6-4
200
Sr.
Lake Forest, Ill. (Lake Forest)
15
Jon Horford
F
6-10
250
RS So.
Grand Ledge, Mich. (Grand Ledge)
20
Josh Bartlestein
G
6-3
210
Sr.
Highland Park, Ill. (Phillips Exeter Academy, N.H.)
22
Blake McLimans
F
6-10
240
Sr.
Hamburg, N.Y. (Worcester Academy, Mass.)
23
Caris LeVert
G
6-5
170
Fr.
Pickerington, Ohio (Pickerington Central)
32
Corey Person
G
6-3
210
Sr.
Kalamazoo, Mich. (Central)
44
Max Bielfeldt
F
6-7
245
RS Fr.
Peoria, Ill. (Notre Dame)
52
Jordan Morgan
F
6-8
250
RS Jr.
Detroit, Mich. (University of Detroit Jesuit)
#1 Glenn Robinson III
Oct. 21 by Sam
The similarities and differences between the recruiting roller coasters of eventual Michigan commits Mitch McGary and Glenn Robinson III are absolutely fascinating to recap, having intertwined at times and been polar opposites at other times. As we saw a couple days back, Mitch McGary started out as a virtual unknown big man in a small northern Indiana town that found its place on the map thanks in large part to Zack Novak. He quickly evolved and expanded his game to become one of the most coveted players in the country, garnering interest and offers from the who's who of college basketball programs around the country. His commitment to Michigan was cause for great fanfare in Ann Arbor and for Michigan fans around the country. McGary's last season of basketball on the high school level, however, saw him slip in the rankings from the consensus second-rated recruit to an average rank around 30th in his class – still exciting indeed, but perhaps not reason to throw a block party.
#2 Spike Albrecht
Oct. 10 by Sam
If there is one Michigan fan today that wasn't worried about Trey Burke's flirting with the NBA Draft after Michigan's disappointing first-game exit from the NCAA Tournament, it is Spike Albrecht. Throughout late March and early April, many conflicting reports were coming out about Burke's post-freshman year status for the Michigan basketball team. He had by all accounts stopped attending class and seemed to at the very least have one foot out the door. John Beilein, as any coach would be, was worried for the future of his team, especially at such an integral position in his offense.
Enter Spike Albrecht, a mighty-mite sized point guard from the most prestigious prep league in the country, the NEPSAC, by way of Indiana. There is no slicing or dicing the words: Albrecht was a last-minute back-up plan. If Burke had announced his return to Michigan a few weeks earlier, Spike would be somewhere in the Appalachian Mountain range playing under the radar, as he has his whole life up to now. But Trey didn't, and Spike is now in Ann Arbor, ready to practice every day against one of the best point guards in the country.
#3 Trey Burke
Nov. 1 by Sam
Trey Burke came to Ann Arbor as a small, little-known high school point guard, a slightly above-average three-star out of Columbus who had committed to Penn State before re-thinking his decision and picking Michigan over Cincinnati. He would have big shoes to fill his freshman year after Darius Morris bolted to the NBA following a sensational sophomore season, clearly catching head coach John Beilein off-guard.
Five months after stepping onto Michigan's court for the first time, Burke was clearly the best player on a team that earned a four-seed in the NCAA Tournament and split the Big Ten championship. Darius Morris's shoes had been filled.
#4 Mitch McGary
Oct. 17 by Sam
Early on in his high school career, Mitch McGary was a tall, lanky, and undeveloped kid playing in the tiny town of Chesterton, Indiana. He didn't even play varsity ball his freshman year, and he  had some academic problems as well, struggling to focus in the classroom and on the court. Michigan had shown some interest in him, having had a certain player by the name of Zack Novak, also from Chesterton, on the roster at the time, but it never seemed like much would come of their relationship.
Fast forward about two years and Mitch McGary was off to New Hampshire for prep school to shore up his grades, get better coaching, and play against the best players in the country. His team, Brewster Academy, boasted as many as eight potential Division 1 basketball players, but McGary stood out with his size, hustle, and rebounding prowess. McGary never scored at a high clip in the NEPSAC, but he didn't need to with such a star-studded team around him, a team that went 66-3 in his two seasons there.
#10 Tim Hardaway Jr.
Oct. 25 by Sam
Much like his freshman teammate Glenn Robinson III, Tim Hardaway, Jr. was known more for being the son of a former NBA All-Star than he was for his own game when he arrived in Ann Arbor three years ago.
Hardaway wasn't very highly recruited and was generally regarded as a high three-star out of high school, but those numbers proved useless. Before his first game in a Michigan uniform, Hardaway turned heads as the media started to realize that he was underrated – the question was, just how much?
Timmy started every game that freshman year and was a consensus pick for the All-Big Ten honorable mention and All-Big Ten Freshman teams after lighting the nets on fire frequently and leading the team to a 21-14 record and a narrow loss to Duke in the NCAA Tournament. And while his 36.7 percent three-point shooting wasn't necessarily unexpected, he seemed to take over games at will when he got hot. Once a couple shots started falling, the other team would do just as well to leave him open, because Angry Tim was unstoppable, guarded or not.
#11 Nik Stauskas

Oct. 16 by Sam
The first thing that comes to mind when watching Nik Stauskas play is that he is a prototypical "Beilein player," an absolute dead-eye shooter that will kill teams that leave him open behind the 3-point arc. Stauskas emerged on the scene while playing under Mark Lubick, the father of current Georgetown big and once-certain Michigan commit Nate Lubick, at St. Mark's, where he teamed with five-star talents Alex Murphy (Duke) and Kaleb Tarczewski (Arizona) to form one of the best teams in the country two years ago.
When Michigan started recruiting the Canadian early on, he seemed destined to commit in a heartbeat to what seemed to be the perfect system for him. All signs pointed to the Wolverines, and his coach had always been a big fan of Beilein's despite his son's commitment to play for John Thompson III. He visited Michigan for the first time in late summer of 2010 then came back for a football game in the fall, consistently naming Michigan at the top of his list. As his recruitment appeared to be winding down, however, Bill Self swooped in from Kansas with an offer and certainly gave pause to Stauskas. He then seemed to be destined for Lawrence for a couple months before the Wolverines re-emerged in early 2011 and eventually gained his commitment. The match made in heaven came to fruition.
#13 Matt Vogrich
Oct. 23 by Sam
Matt Vogrich came to Michigan after winning the Gatorade Player of the Year for Illinois in his senior year at Lake Forest High School, having broken former Wolverine Rob Pelinka's school scoring record with 1,494 career points. He was touted by many as the best pure shooter in his high school class, but was also known as more than just that; he made headlines after competing with now-Illinois guard Brandon Paul in a head-to-head matchup and out-scoring him with all sorts of moves.
Nevertheless, Vogrich's perceived place under John Beilein was to be a dead-eye shooter that would be deadly in Beilein's offensive system. The first time he stepped on the court in a regular season game, Michigan fans' collective jaws dropped to the floor as Vogrich put on a shooting display unlike anything seen before, going 5-of-5 from downtown to score 15 points in 13 minutes in a 97-50 blowout of Northern Michigan. A true shooter had been found. Beilein's offense would flourish.
#15 Jon Horford
Oct. 30 by Sam
Of the returning players with somewhat significant playing time, Jon Horford is easily the biggest mystery. A local product out of Grand Ledge, Horford was a late bloomer on the recruiting scene and was better known as the brother of one-time Florida star and now NBA All-Star Al Horford than for his own game. He grew throughout high school until he stood about 6'9" his senior year, then grew another inch in college, but he came to Ann Arbor weighing only about 220 pounds – far too skinny for a big man that plans to play in the Big Ten.
Horford's freshman year was nothing spectacular as he clearly was too light, too uncoordinated, and a little too flustered to thrive on the big stage. He showed flashes of potential backing up Jordan Morgan, but for the most part was one of the last guys off the bench, not even recording a minute in six games that freshman year.
#23 Caris LeVert
Oct. 15 by Sam
Caris LeVert comes to Ann Arbor as the only player in his class to have been committed to another school before de-committing and signing with Michigan. LeVert was signed up to play for John Groce at Ohio University before being released from his Letter of Intent when Groce was hired to replace the fired Bruce Weber at Illinois. In an interesting and notable string of events, it was probably Michigan's loss to Ohio in the NCAA Tournament and Ohio's subsequent advance to the Sweet 16 that paved the way for Groce to take a step up the rung on the coaching ladder and send LeVert to the home of the losers of that first-round (or second round if you want to be official) loss.
As I noted last week, fellow freshman Spike Albrecht came to Michigan after spending a year in prep school looking to garner more attention on the recruiting trail. In the end, it paid off because of Michigan's situation with Trey Burke, but he very well could have ended up at Appalachian State as an old freshman at 20 years of age. LeVert, on the other hand, comes to Ann Arbor straight out of high school as a very young freshman, having just turned 18 in August. He did not choose to go the prep school route even though he lacked some recruiting attention as well before sprouting three inches prior to his senior year and leading his team to a 26-2 record and the OHSAA Division 1 state title alongside 2013 Michigan football commit Taco Charlton. Caris stayed committed to Ohio the whole time, but once Groce left, he settled on Michigan after being offered by both Purdue and Dayton late in the game as well.
#52 Jordan Morgan
Oct. 24 by Sam
Jordan Morgan's road to Ann Arbor is one that most didn't see coming. John Beilein is widely known as a coach that often recruits and takes lower-rated players and turns them into integral parts of his team, finding potential in them that no one else saw. Morgan was one of the first to do this for him at Michigan. Though he played at UD Jesuit High, a private school in Detroit that is certainly known on the recruiting trail, Morgan was undersized and labeled as a sort of tweener – he was pretty tall at 6'8", but he was thought to be too skinny to fight in the post in college and too unskilled to be a quality D1 talent.