---
2

013-14 Michigan Basketball Schedule | Michigan Ranking: #7 AP, #6 Coaches

Date

Opponent

Rank

Site

Time

TV

Result

Record

Tue. 10/29
Concordia (Mich.) (ex.)
Ann Arbor, Mich.
7pm
BTN.com
W 117-44
Mon. 11/4
Wayne State (ex.)
Ann Arbor, Mich.
7pm
BTN.com
W 79-60
Fri. 11/8
UMass-Lowell
Ann Arbor, Mich.
7pm
BTN.com
W 69-42
1-0
Tue. 11/12
South Carolina State
Ann Arbor, Mich.
7pm
BTN.com
W 93-59
2-0
Sun. 11/17
Iowa State
Ames, Iowa
5pm
ESPN2
L 70-77
2-1
Puerto Rico Tip-Off
Thu. 11/21
Long Beach State
San Juan, P.R.
6pm
ESPN2
W 85-61
3-1
Fri. 11/22
Florida State
San Juan, P.R.
6pm
ESPN2/U
W 82-80 OT
4-1
Sun, 11/24
Charlotte
San Juan, P.R.
6:30pm
ESPN2
L 61-63
4-2
Fri. 11/29
Coppin State
Ann Arbor, Mich.
3pm
BTN
W 87-45
5-2
B1G/ACC Challenge
Tue. 12/3
Duke
10
Durham, N.C.
9:15pm
ESPN
L 69-79
5-3
Sat. 12/7
Houston Baptist
Ann Arbor, Mich.
12pm
BTN
W 107-53
6-3
Sat. 12/14
Arizona
1
Ann Arbor, Mich.
12pm
CBS
L 70-72
6-4
Brooklyn Hoops Holiday Invitational
Sat. 12/21
Stanford
Brooklyn, N.Y.
8:30pm
Fox Sp 1
W 68-65
7-4
Sat. 12/28
Holy Cross
Ann Arbor, Mich.
6:30pm
BTN
W 88-66
8-4
Thu. 1/2
Minnesota*
Minneapolis, Minn.
7pm
BTN
W 63-60
9-4 (1-0)
Sun. 1/5
Northwestern*
Ann Arbor, Mich.
12pm
BTN
W 74-51
10-4 (2-0)
Thu. 1/9
Nebraska*
Lincoln, Neb.
9pm
ESPN/2
W 71-70
11-4 (3-0)
Tue. 1/14
Penn State*
Ann Arbor, Mich.
8pm
BTN
W 80-67
12-4 (4-0)
Sat. 1/18
Wisconsin*
3
Madison, Wisc.
6pm
ESPN
W 77-70
13-4 (5-0)
Wed. 1/22
Iowa*
10
Ann Arbor, Mich.
7pm
BTN
 W 75-67
14-4 (6-0)
Sat. 1/25
Michigan State*
3
East Lansing, Mich.
7pm
ESPN
W 80-75
15-4 (7-0)
Thu. 1/30
Purdue*
Ann Arbor, Mich.
9pm
ESPN/2
W 75-66
16-4 (8-0)
Sun. 2/2
Indiana*
Bloomington, Ind.
1pm
CBS
L 52-63
16-5 (8-1)
Wed. 2/5
Nebraska*
Ann Arbor, Mich.
6:30pm
BTN
 W 79-50
17-5 (9-1)
Sat. 2/8
Iowa*
17
Iowa City, Iowa
2pm
ESPN
 L 67-85
17-6 (9-2)
Tue. 2/11
Ohio State*
22
Columbus, Ohio
9pm
ESPN
W 70-60
18-6 (10-2)
Sun. 2/16
Wisconsin*
21
Ann Arbor, Mich.
1pm
CBS
L 62-75
18-7 (10-3)
Sun. 2/23
Michigan State*
13
Ann Arbor, Mich.
12pm
CBS
 W 79-70
19-7 (11-3)
Wed. 2/26
Purdue*
W. Lafayette, Ind.
7pm
BTN
 W 77-76 OT
20-7 (12-3)
Sat. 3/1
Minnesota*
Ann Arbor, Mich.
6pm
BTN
 W 66-56
21-7 (13-3)
Tue. 3/4
Illinois*
Champaign, Ill.
7pm
ESPN
 W 84-53
22-7 (14-3)
Sat. 3/8
Indiana*
Ann Arbor, Mich.
6pm
ESPN
 W 84-80
23-7 (15-3)

Big Ten Tournament

Thu. 3/13
Bye
Indianapolis, Ind.
Fri. 3/14
(9) Illinois
Indianapolis, Ind.
12pm
ESPN
W 64-63
24-7
Sun. 3/15
(5) Ohio State
24
Indianapolis, Ind.
1:40pm
CBS
W 72-69
25-7
Sat. 3/16
(3) Michigan State
22
Indianapolis, Ind.
3:30pm
TBA
 L 55-69
25-8

NCAA Tournament

Thu. 3/20
(15) Wofford
Milwaukee, Wis.
7:10pm
CBS
 W 57-40
26-8
Sat. 3/22
(7) Texas
Milwaukee, Wis.
5:15pm
CBS
 W 79-65
27-8
Fri. 3/28
(11) Tennessee
Indianapolis, Ind.
7:15pm
CBS
 W 73-71
28-8
Sun. 3/30
(8) Kentucky
Indianapolis, Ind.
5:05pm
CBS
 L 72-75
28-9
2013-14 Michigan Basketball Roster (Numerically)

No.
Name
Pos.
Ht.
Wt.
Yr./Elig.
Hometown (High School)
1
Glenn Robinson III
F
6-6
220
So.
St. John, Ind. (Lake Central)
2
Spike Albrecht
G
5-11
175
So.
Crown Point, Ind. (Northfield Mt Hermon Prep)
4
Mitch McGary
F
6-10
255
So.
Chesterton, Ind. (Brewster Academy – N.H.)
5
Andrew Dakich
G
6-2
185
Fr.
Zionsville, Ind. (Zionsville Community)
10
Derrick Walton Jr.
G
6-1
185
Fr.
Harper Woods, Mich. (Chandler Park Academy)
11
Nik Stauskas
G
6-6
205
So.
Mississauga, Ontario, Canada (St. Mark's – Mass)
13
Cole McConnell
G
6-5
200
Fr.
Atherton, Calif. (New Hampton School, N.H.)
15
Jon Horford
F
6-10
250
RS Jr.
Grand Ledge, Mich. (Grand Ledge)
20
Sean Lonergan
F
6-5
195
Fr.
Fishers, Ind. (Fishers)
21
Zak Irvin
G
6-6
200
Fr.
Fishers, Ind. (Hamilton Southeastern)
23
Caris LeVert
G
6-6
185
So.
Pickerington, Ohio (Pickerington Central)
34
Mark Donnal
F
6-9
230
Fr.
Monclova, Ohio (Anthony Wayne)
44
Max Bielfeldt
F
6-7
245
RS So.
Peoria, Ill. (Notre Dame)
52
Jordan Morgan
F
6-8
250
Grad St.
Detroit, Mich. (University of Detroit Jesuit)
Big Ten Tournament

Season Preview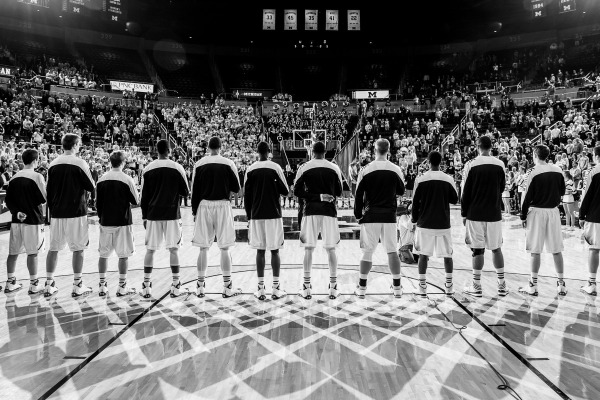 (MGoBlue.com)
Six and a half years ago, an eternity for college athletics, Michigan announced the hiring of John Beilein from West Virginia. Beilein, whose father was a farmer and paper mill plant superintendent, made a name for himself with a unique system predicated on always having four players be a threat from three-point land.
Having coached at Canisius, Le Moyne, and Erie Community College, among other little-known schools, Beilein knew that he would have to devise some plan to be able to compete at the higher ranks. He was never going to get the best athletes or biggest players, so he had to continuously tweak his offense to make what he had work.
Somewhere along the way, Beilein was labled an offensive genius. Perhaps it was for the fact that he had never been an assistant coach in his life, or maybe it was his job in taking Canisius to the NCAA Tournament and winning a Tournament game as the head man at Richmond with a 14th-seeded team.
Wherever it came from, the mantra stuck through his time at West Virginia, where Beilein took the Mountaineers to the Elite Eight and the Sweet Sixteen with players that were simply not on the same level as the competition they consistently faced.
Eventually, Beilein's success throughout the lower levels of coaching brought him to Ann Arbor and finally gave him the opportunity to show what his system could do with an equal playing field.
In his first year, competing with a team left over by Tommy Amaker, Beilein looked like he might have made a mistake. The Wolverines hobbled to a 10-22 record in the 2007-08 season and weren't projected to do much better the next.
Soon, however, it seemed clear that Beilein had a plan. He led Michigan to its first NCAA Tournament appearance in 10 years with a squad picked by most to finish near the bottom of the Big Ten and upset the seventh-seeded Clemson Tigers in the first round.
Then, following another brutal year in 2009-10 in which Beilein's preseason top-15 team flopped to a 15-17 record, question marks arose again.
With pressure mounting and Beilein's first recruiting classes starting to mature, he made a move that would alter the course of Michigan basketball. John Beilein, a loyal and honest man if there ever was one, cleaned out his coaching staff, promoting Jeff Meyer permanently to assistant and hiring young guns Lavall Jordan and Bacari Alexander.
One season later, with his own coaches and his first Michigan team that featured only players that he had recruited, Beilein led the Wolverines back to the second round of the Big Dance.
Since then, he has not looked back.
Tonight, Beilein will watch as Michigan adds an NCAA Final Four banner to the rafters of the Crisler Center. He'll reminisce of last season's dream run one final time, he said, and then it's back to work.
Coaching transitions are never easy, and Beilein's rise to the top at Michigan certainly did not come without some low moments, but he showed his true talents last year.
Now, Beilein will look to prove himself once again with a clean slate. It won't be as difficult as when he was competing with under-sized players or guys that he never recruited, but there will be plenty of challenges. Michigan will play at Duke and versus Arizona, two top-10 teams, along with a trip to a packed Puerto Rico Tip-off in the non-conference alone. The Big Ten also projects to be the strongest conference in the nation, with four teams in the preseason top 25 and a few middle-of-the-pack teams that should also contend for an NCAA berth.
This year's Michigan team is bursting at the seams with potential, however, and though it will be different from any Beilein team of the past, it's a safe bet that the offense will thrive with a few tweaks here and there.
The Wolverines do lose Trey Burke, Tim Hardaway, Jr., and a few senior leaders, but they also return five sophomores who made waves as the Fresh Five last season and add a few very talented freshmen.
Derrick Walton, who will be called upon to lead this Michigan team as a freshman, will never be the same player as Burke, but Beilein doesn't need that. He will tinker with what he has until he finds the right system. There probably won't be as many pick-and-roll actions at the top of the key, and the ball will not rest in the hands of one player as often as it did with Burke.
Instead, diversity and versatility will be the name of the game. Walton and Spike Albrecht will be called upon to handle the ball and find the scorers, of which there are many, but Michigan should be able to field adept lineups featuring anything from two point guards on the floor to nothing but 6'6 players and above.
That versatility is almost unfair when given to a coach with an offensive mind like Beilein's.
Nonetheless, Michigan will not be perfect, and already there are questions emerging. Mitch McGary, Beilein's best ever catch on the recruiting trail, has been hampered by a lower back condition for all of fall practice and will not play in tonight's season opener. He may not be fully healthy all season long.
The question of youth is also an issue. Can Michigan really expect to compete in the Big Ten and in the NCAA Tournament with a team dominated by underclassmen?
But that is the nature of college basketball. If there were no uncertainty, there would be no fun.
At this juncture of the year, Michigan looks to be in great shape. Boasting arguably the best athlete and one of the best shooters in all of college basketball (Glenn Robinson III and Nik Stauskas) along with a preseason AP All-American (McGary), two freshmen with great offensive and defensive prowess (Walton and Zak Irvin), a wildcard sophomore who seems worlds better than last year (Caris LeVert), and a pair of veteran big men who are leaders on and off the court (Jon Horford and Jordan Morgan), Beilein seems poised to bring his team back to the promised land.
The long journey of the college basketball season begins tonight, and many eyes will be on Ann Arbor.
Brace yourself, for it's the best time of the year.
2013-14 Michigan basketball predictions

Top 5 Scorers
1. Glenn Robinson III
14.0
2. Nik Stauskas
13.5
3. Mitch McGary
12.0*
4. Zak Irvin
9.5
5. Caris LeVert
8.0
Top 5 Rebounders
1. Mitch McGary
9.5*
2. Glenn Robinson III
6.0
3. Jon Horford
4.0
4. Jordan Morgan
3.5
5. Nik Stauskas
3.5
Top 5 Assists
1. Derrick Walton, Jr.
4.0
2. Caris LeVert
3.0
3. Nik Stauskas
2.0
4. Spike Albrecht
1.5
5. Zak Irvin
1.5
Top 5 Field Goal Percentage Shooters
1. Mitch McGary
2. Jon Horford
3. Glenn Robinson III
4. Jordan Morgan
5. Spike Albrecht
Top 5 3-Point Percentage Shooters
1. Nik Stauskas
2. Spike Albrecht
3. Zak Irvin
4. Glenn Robinson III
5. Caris LeVert
Minute breakdown
1 – Walton (26), Albrecht (14)
2 – LeVert (25), Irvin (15)
3 – Stauskas (28), Robinson III (7), Irvin (5)
4 – Robinson III (33), McGary (7)*
5 – McGary (18)*, Horford (12), Morgan (10)
Superlatives
Most improved player
Caris LeVert
Most valuable freshman
Derrick Walton Jr.
Most valuable player
Glenn Robinson III
Final record
30-7 (15-3 Big Ten)
Conference finish
T1
Postseason
NCAA Tournament, Elite Eight
*denotes projected stats when healthy
Position Previews
Predicting Michigan: The point guards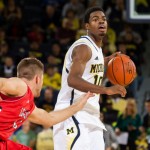 Nov. 4 by Sam
Over the course of John Beilein's tenure in Ann Arbor, Michigan has gone from starting some combination of Kelvin Grady, C.J. Lee, and David Merritt at point guard to becoming a de facto Point Guard U with the likes of Darius Morris and Trey Burke leading the team over the past three years. Nobody is mistaking Beilein for John Calipari, of course, but the way Beilein has developed his floor generals, as opposed to hand-picking them, has certainly turned some eyes in the college basketball world. After Morris left following an incredible sophomore season and Burke quickly developed into the best player in the nation before departing after two years as well, Beilein finds himself in a familiar position, but this time has some leeway.
Let's take a look at how the point guard position will shake out for this year's edition of the Michigan Wolverines.
Predicting Michigan: The wings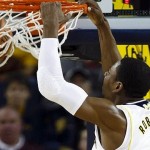 Nov. 6 by Sam
Michigan was led over the past two seasons by Trey Burke, a score-first point guard who quickly evolved from an unheralded Ohio Mr. Basketball winner to a top-10 NBA Draft pick. With Burke's loss, and the loss of Tim Hardaway Jr.'s 14.5 points per game, head coach John Beilein will need to find a way to replace that scoring.
Instead of looking at the lost scoring as a problem, however, Beilein continues to view it as an opportunity for players to step up and lead the way. Burke and Hardaway combined to take more than 45 percent of Michigan's field goals attempts a year ago and scored slightly less than 44 percent of Michigan's points; if the 196 points scored over the course of two exhibition openers have been any indication, though, Michigan should be just fine in the scoring department.
But with a change at point guard to a freshman who will look to pass first, the Wolverines will rely heavily upon the 2, 3, and 4 wing positions to do a lot of the heavy lifting. Here's how things will shake out:
Predicting Michigan: The bigs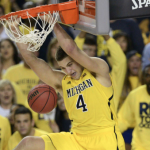 Nov. 7 by Sam
It has been quite a while since Michigan has had a truly dominant force down low, and last season was no different. Despite bringing in one of the top-rated centers in the 2012 recruiting class, Michigan really relied on their smaller guards to get the bulk of the scoring done on offense; defensively, Wolverines fans always seemed worried about going up against very good big men even though Jordan Morgan was an All-Big Ten defender. That all seemed to change in an instant when March rolled around and one Wolverine developed into a lottery-level prospect before the country's eyes. With a key injury and some unproven vets, however, Michigan may still be searching for answers down low. Let's take a look at what lies ahead.
[Ed: These predictions are for Michigan's season as a whole, not a reflection of who will start on opening day. Obviously, McGary's injury will keep him out for a brief time].
Projected Starter: Mitch McGary
While the majority of basketball players are said to improve most over the summer between freshman and sophomore year, Mitch McGary was a rare case of someone improving drastically over the course of one season.
Freshman Previews
#10 Derrick Walton Jr.

Oct. 24 by Sam
Over the past two years in Ann Arbor, Trey Burke became a household name after bursting onto the scene his freshman year following Darius Morris's departure to the NBA. Burke was an unknown going into his freshman year, but quickly turned heads before ultimately racking up a bevy of individual honors, including the Naismith College Player of the Year award, in a sophomore season that ended in the National Championship game. Now, another freshman will be called upon to fill perhaps the biggest crater in this Michigan team's lineup. Let's take a closer look at him today.
Background: In the summer of 2011, when high school juniors were being recruited heavily, evaluated closely, and finally offered in June, Michigan identified three point guard prospects – Monte Morris, Demetrius Jackson, and Derrick Walton, Jr – as being worthy of an offer. Since John Beilein has taken over in Ann Arbor, it has become increasingly evident that his offense thrives most when an outstanding point guard is leading the way, and one of these three would be next in line.
#21 Zak Irvin

Oct. 26 by Sam
To wrap up our 2013 Michigan basketball (scholarship) freshman previews, we will finally take a look at the top-ranked player of the class, Zak Irvin. While this class may not have the numbers or names of last year's, it certainly addresses Michigan's needs across the board with a point guard, a wing, and a big, all of whom are nearly consensus 4-stars, and is topped off by Irvin, a big-time scorer in high school who has played with someone who is already a top player in the Big Ten.
Background: The recruitment of Zak Irvin didn't go much different from Glenn Robinson III's, or that of many other Michigan players, when all was said and done. Irvin was a somewhat unheralded recruit from the suburbs of Indianapolis once again flying under the radar through his sophomore year before committing to Michigan in the summer before junior year started. Time and again, it seems that Beilein's eye for talent early on in the process is the difference maker in securing commitments from players who develop into stars over time, but credit is also due to consistently tremendous work ethics from the players and the Michigan coaching staff's ability as a whole to form tight bonds with guys they truly covet right from the beginning.
#34 Mark Donnal

Oct. 23 by Sam
Background: Like many Michigan prospects in the John Beilein era, Mark Donnal flew under the radar and committed to the program he felt most comfortable with early in his high school career the day Beilein called with an offer. Following the pattern, Donnal was pretty much an unknown out of the Toledo area until receiving that Michigan offer on June 15, 2011 – the first day coaches were officially allowed to extend offers to the 2013 class – and proceeding to climb the rankings. It's the same story that happened with Glenn Robinson III in last year's class and many others before.
With Donnal, however, there were never any fireworks on the recruiting circuit. Few, if any, other schools came calling; perhaps they thought he was too much of a tweener or to slow to want or perhaps they simply knew Donnal had found the perfect fit for his game in Ann Arbor and would be wasting time in pursuit.
Season Recap
This team will never be forgotten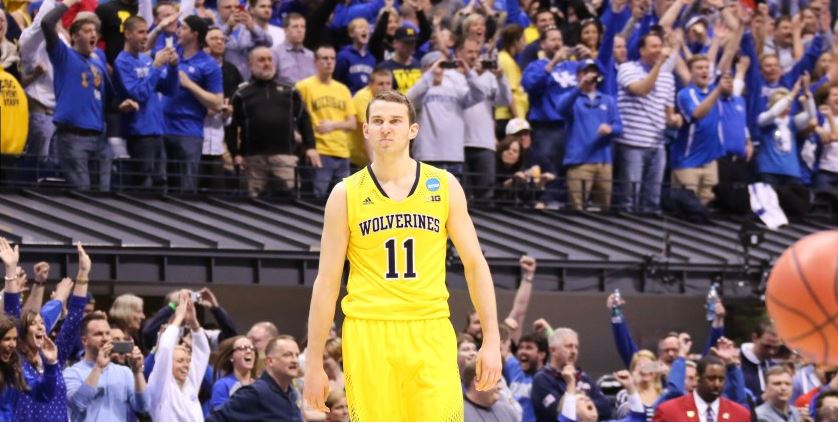 (Dustin Johnson, UMHoops)
Last year was supposed to be Michigan's year, and what a year it was. After sputtering near the end of the Big Ten season, the Wolverines, led by All-Everything point guard Trey Burke and fellow future first-round NBA Draft pick Tim Hardaway, Jr., danced their way to the Final Four and then the championship game with pizzazz. And although they ended up falling just short of being NCAA tournament champions, those Wolverines were certainly impressive.
Following the magical run, Burke and Hardaway announced their entry into the draft, and any hopes of a repeat season seemed out the window.
Sure, Mitch McGary, the darling of the Dance, was back for his sophomore season along with best pal and projected lottery pick Glenn Robinson III, and Michigan had another interesting piece in Nik Stauskas, but the consensus was that this year's squad simply could not become what the previous team was.
And for a long while, those sentiments seemed spot on. After bowling over two overmatched opponents, Michigan traveled to Iowa State and failed to hold onto a win despite the return of the injured McGary. Two more wins came, including an overtime thriller over Florida State in which it seemed that the team may have turned a corner, just to be followed by a head-scratching loss to Charlotte in the championship game of the Puerto Rico Tip-Off.
Michigan went on to split the next four games, with losses at Duke and to Arizona sandwiched among them, and learned that McGary's injury would probably hold him out for the rest of the season.
The non-conference season was just about over, Michigan had no big wins to speak of, and perhaps the Wolverines' best player was down for the count. Just like that, the Maize and Blue went from a potentially solid, but not great, team to a team that many thought had an uphill climb just to make the Big Dance.
We all know where things went from there. Inexplicably, the Wolverines regrouped, winning 15 of 18 Big Ten games, swept Michigan State, won the conference outright by three games, and came inches away from making a second straight Final Four.
None of this was supposed to happen. This team was too young, too small, too weak. Jordan Morgan was not a Big Ten-caliber starter, and much less on a Big Ten championship team. Caris LeVert was too skinny and erratic, Nik Stauskas and Zak Irvin were too one-dimensional, Glenn Robinson III was too passive and inconsistent, Spike Albrecht was too slow, Derrick Walton needed another year of experience, and Jon Horford was, well, Jon Horford.
Together, however, those "toos" became one. This team of misfits banded together as friends and showed all the doubters what they were capable of.
This team wasn't a fluke. It was a team that maybe lacked some recruiting star power, but certainly didn't lack heart or a star coaching staff. It was a team that, when things started to click, was perhaps more dangerous than any other in the country. It was a team that was a joy to watch.
There were plenty of bumps along the way, with the non-conference season being the biggest of all. There were puzzlingly lazy starts (Florida State,  at Minnesota,  at Purdue, and Wisconsin) and games that you couldn't help but sit back, enjoy, and shake your head at (Nebraska, Michigan State,  at Illinois, and Texas). There were heart attacks and heart breaks, comebacks and even a few letdowns.
But more than anything, this was a team to be proud of. It was clear from the start that these guys loved playing with each other and loved playing for their coach. McGary, watching from the bench for the majority of the season, perhaps had more fun than anyone else, and in this day and age of superstars with inflated egos, that is something to behold.
When players answered questions after games, they gave standard coach-speak responses as they've been coached to do, but it still felt sincere. When Stauskas said he was confident that Horford would finish his passes with buckets, he meant it. When Jordan Morgan told everyone that he didn't care who was scoring the points or collecting the rebounds down low so long as the team won, and then shed tears on Senior Day and after the season-ending loss to Kentucky, he wasn't faking it.
You rarely heard anything negative about these players because there was little negative to tell. These weren't the college basketball players who would scuffle with each other and their coaches or the type to break a hand smashing a table in frustration.
By the end of the season, the team had accomplished so much and won so many close games and overcome so much doubt that another Final Four seemed inevitable. Yes, Kentucky proved to be the more talented team, but Michigan had already ousted many talented teams this season. When Julius Randle accidentally tipped in two points for Michigan after Caris LeVert battled for seemingly endless offensive rebounds in what would be the second-to-last offensive possession the Wolverines would have this season, I knew the Wolverines would pull one out like they had so many times before. Even when Aaron Harrison made that improbable deep three with a LeVert hand in his face, I thought Stauskas would drain a heave to send it to overtime, where, of course, the Maize and Blue would punch their ticket to Dallas.
Alas, it all ended too soon. Michigan will not travel to the Lone Star state this weekend to battle for the ultimate prize in college basketball, and this team, these warriors, will never all take to the court as a team again. And it still seems a bit surreal.
When next season rolls around, Morgan will have exhausted his eligibility, and Stauskas and Robinson III will have probably moved on to bigger and better things in the world of basketball. Many of the players will return, but things will be different.
There will be a couple new banners hanging in the rafters of Crisler, however, to honor and remember this team.
Because, after all, this team will never be forgotten.
The M&GB HAIL Awards: Basketball 2013-14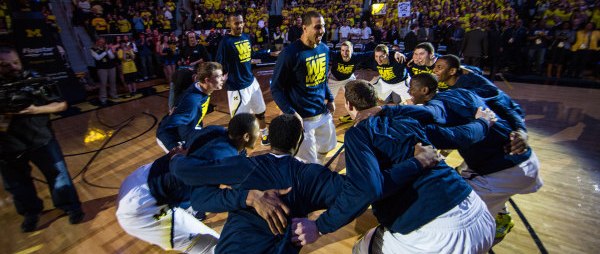 (MGoBlue.com)
With the 2013-14 basketball season in the books and the Michigan Basketball Awards Celebration approaching next week, it's time to hand out our own awards, the M&GB Hail Awards. This is the first time we've done this for basketball, and after doing it for the past three football seasons, we decided it was time to give the boys of the hardwood the same love.
After reaching the national title game and coming up just short a year ago, and then seeing the departures of Trey Burke and Tim Hardaway Jr. to the NBA, a step back in 2013-14 would be expected. But Michigan still had plenty of star power in Mitch McGary and Nik Stauskas, but just 10 games in McGary was lost for the season and the Wolverines stood just 6-4 with an embarrassing loss to Charlotte.
But then something started to click. A three-point win over Stanford in the Brooklyn Hoops Holiday Invitational started a 10-game winning streak that included wins over three straight AP Top-10 teams. Suddenly, a Michigan squad many had written off before December ended was now a Big Ten title frontrunner. And although the Wolverines lost three of their next five, they won the last five down the stretch to pull away from the crowd and win the Big Ten by a whopping three games.
Entering the Big Ten Tournament as the No. 1 seed, Michigan didn't have much to prove and needed only to avoid injuries that could derail another long NCAA Tournament run. John Beilein's squad survived a scare from Illinois in the quarterfinals and completed the season sweep of Ohio State in the semis, but then ran into a hungry and determined Michigan State squad in the championship. But the beauty of it is that the Wolverines still won the season series with the Spartans 2-1.
In the Big Dance, Michigan used its No. 2 seed to its advantage, topping Wofford by 17 points despite a lackluster performance. Texas was up next and the Wolverines answered any questions about their ability to handle a dominant frontcourt, winning by 14. Tennessee presented a similar problem, and after building up a big lead, Michigan committed a flurry of turnovers in the closing minute, needing a heroic charge taken by senior leader Jordan Morgan to pull out the win. The season then came to a close, one step short of a return trip to the Final Four, when Michigan had its hearts ripped out by an NBA-range three from Kentucky's Aaron Harrison.
Although the goal of a national championship was not reached, this Michigan squad still accomplished plenty, including its first outright Big Ten title since 1986. The offense became college basketball's most efficient offense in the past 12 years (the KemPom era). Two straight deep tournament runs proves that Michigan is here to stay, and doing so despite the personnel losses from a year ago are a testament to Beilein's coaching acumen.
Let's take the time to honor the top players, plays, performances, and moments of the 2013-14 Michigan basketball season.
To revisit our football Hail Awards: 2013, 2012, 2011.
Player of the Year

•
Nik Stauskas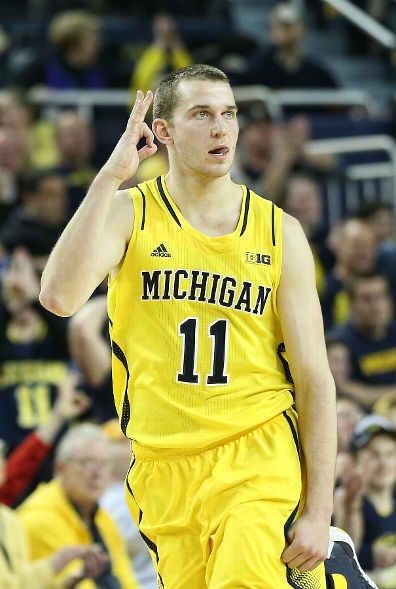 A year ago, Nik Stauskas played the role of sharpshooter, heeding the playmaker role to Trey Burke and Tim Hardaway Jr. He wasn't needed to do much more than stand behind the arc and toss in daggers. But this season, with Burke and Hardaway playing at the next level, there was a void and Stauskas stepped in to fill it.
Everybody already knew he was more than just a shooter, but in his new role, the Canadian was able to flourish, adding a good penetration game and an affinity for finding the open man to his already proven three-point stroke.
All he did was earn Big Ten Player of the Year and AP All-America second team honors while averaging 17.5 points and 3.3 assists per game. He scored in double figures in 32 of the 36 games and scored at least 20 points 14 times. He was named Big Ten Player of the Week a conference-leading four times and Oscar Robinson National Player of the Week once.
"This season was undoubtedly a team effort in every sense of the word, but it's hard to ignore Nik Stauskas's individual improvement and contributions," said Sam. "He was the one that I wanted with the ball in his hands late in the game and, more times than not, he delivered. Take a look at Michigan's losses and then look at the box score. When Stauskas struggled, the whole team usually struggled without his scoring and creating abilities as well."
Votes: 4
Others Receiving Votes: None
Guard of the Year

•

Nik Stauskas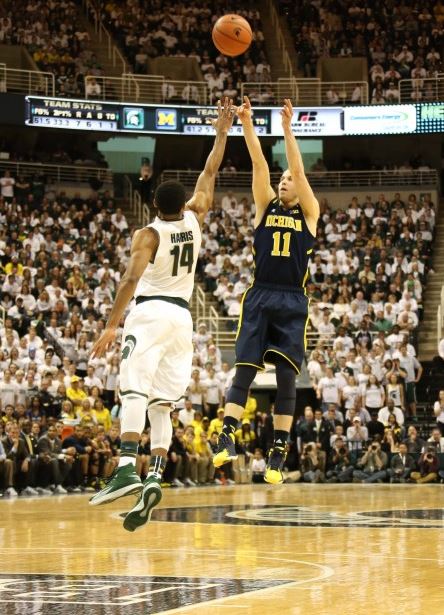 After opening the season with nine points against UMass Lowell, Stauskas scored at least 20 in each of the next five games before being sidelined with an ankle sprain. He was still hampered when Michigan traveled to Duke and managed just four points on two shots, but proceeded to average 18.6 points over the next 12 games.
In three games against Michigan State, he averaged 20.3 points and shot 11-of-16 from three-point range. In the Round of 32 win over Texas, Stauskas scored 17 points and dished out eight assists, and in the Elite Eight loss to Kentucky — what might be his final game in a Michigan uniform — he poured in 24 points. In addition to leading Michigan in scoring, he led the Wolverines in assists, field goals, three-pointers, three-point percentage, free throws made, and free throw percentage.
"Stauskas spearheaded the nation's most efficient offense of the past 12 seasons by being more versatile as a sophomore," said Drew. "He attacked the rim more frequently, attempting more than double the number of free throws he shot last year. He was more effective finding open teammates for easy buckets, especially out of the pick and roll, increasing his assist rate from 7.6 to 18.8 percent. And he still made 44 percent of his triples, proving that, despite his versatility, he will always be most dangerous as a shooter."
Votes: 3
Others Receiving Votes: Caris Levert (1)
Big Man of the Year
•
Jordan Morgan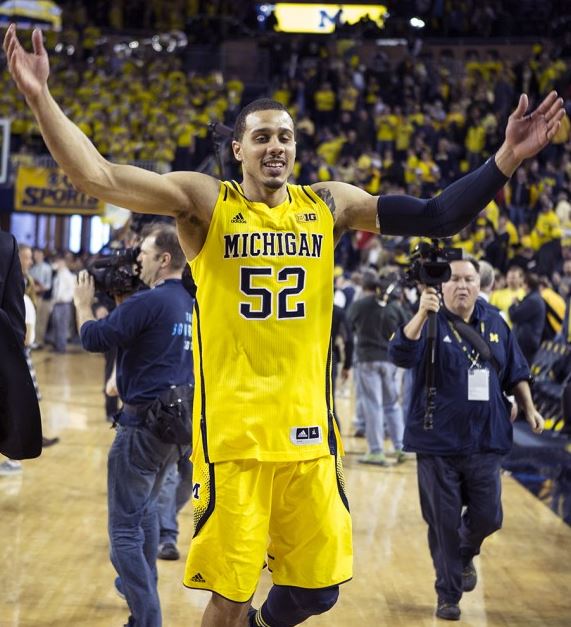 Entering the season, Michigan figured to have one of the Big Ten's best front courts with preseason All-American Mitch McGary and senior Jordan Morgan backing him up. But McGary began the season less than 100 percent and the back injury continued to linger, forcing him to undergo season-ending surgery. As a result, Morgan was thrust back into the starting lineup.
Morgan finished the season with a scoring average of 6.4 points and a rebound average of 5.0, but more than anything, he was a rock inside. The barely-recruited big man from Detroit especially came on late in the season, recording 15 points and 10 rebounds in the regular season finale against Indiana, and averaging 12.8 points and 7.8 rebounds per game in the NCAA Tournament. He also set the all-time Michigan records for single-season  (70 percent) and career (63.1 percent) field goal percentage.
"If you asked me this question in the middle of the season, I would have had a very difficult time picking one player here, but Morgan really solidified himself as one of the premier Big Men not only in the conference but in the whole country by March," said Sam. "JMo's play was all the more impressive when considering the bigger, more athletic opponents Michigan was facing on a day-by-day basis in the tournament."
Votes: 4
Others Receiving Votes: None
Defensive Player of the Year
•
Jordan Morgan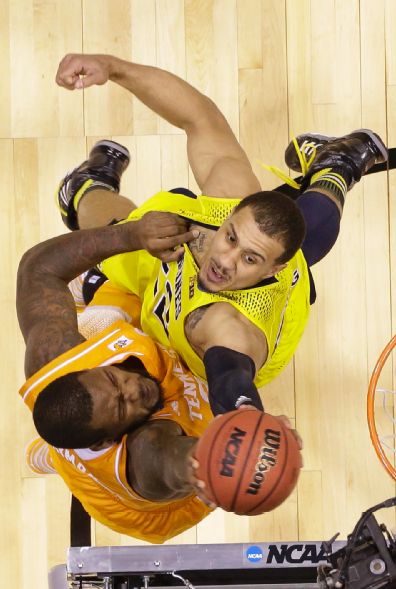 Not only did Morgan provide a reliable offensive threat late in the season, but he also lived up to his reputation as a solid defender. Although he was snubbed from the Big Ten All-Defensive team — which he was a part of last season — Morgan was consistent against some of the best big men in the Big Ten and the country.
No play provided bigger proof of his defensive prowess than his game-saving drawn charge in the closing seconds of the Sweet Sixteen win over Tennessee. With Michigan clinging to a one-point lead with six seconds remaining, UT big man Jarnell Stokes lowered his shoulder as he made his move to the basket. Morgan took the blow, drawing the charge, and giving Michigan the ball back to seal the win.
"They set a screen for him to come open, so I knew that the play was going to be for him," Morgan said of the play. "I just know he likes to play bully ball and was just in a stance ready. I don't know, I just was there. That's just something I do. I take charges. That's just what I do."
"Michigan's adjusted defensive efficiency was 102.1, which was U-M's worst under John Beilein," said Drew. "This was not Jordan Morgan's fault, though. Morgan may not be the biggest or most athletic defender, but he certainly was the smartest. He knew how to play the angles, whether it would be to prevent a post-entry pass or take a last-minute charge. In the NCAA Tournament, Michigan's defense noticeably declined when Morgan sat on the bench. It is a scary thought to imagine the Wolverines' defense this year without Morgan down low."
Votes: 3
Others Receiving Votes: Caris LeVert (1)
Game of the Year
•
79-70 home win over Michigan State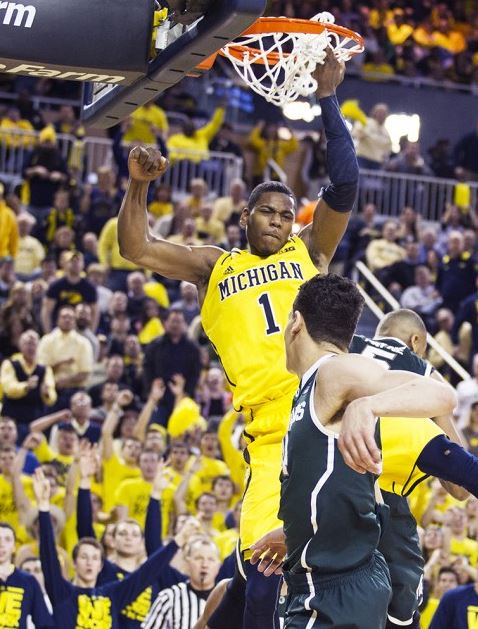 There were certainly plenty of memorable games, but in terms of importance, the Feb. 23 win over Michigan State takes the cake. Michigan had already beaten the Spartans 80-75 in East Lansing a month before, but many discounted it because MSU was missing both Adreian Payne and Branden Dawson. In this one, Payne was back, and the Spartans held a half-game lead over the Wolverines in the conference standings. The winner was in the drivers' seat, while the loser had some catching up to do.
Michigan State jumped out to a 22-11 lead in the first 10 minutes, looking as if the Spartans were going to exact revenge for the previous game. But a Spike Albrecht three ended a nearly-four-minute scoring drought and ignited a 10-0 Michigan run. The Wolverines pulled within two by halftime and then outscored MSU 45-34 in the second half. Stauskas and Caris LeVert combined for 48 points on 16-of-28 shooting as Michigan completed the regular season sweep and vaulted into the Big Ten lead.
"Never before had these two rivals played each other under similar circumstances," said Drew. "Michigan, thanks to 25 points from Nik Stauskas and 23 points from Caris LeVert, overcame an early 11-point deficit and used a 21-4 second-half spurt to beat the Spartans, 79-70. The Wolverines leapfrogged the Spartans into first place and never looked backed, winning their first outright conference title since 1986."
Votes: 2
Others Receiving Votes: 77-70 win at Wisconsin (1), 73-71 Sweet Sixteen win over Tennessee (1)
Play of the Year
•
Glenn Robinson III buzzer-beater at Purdue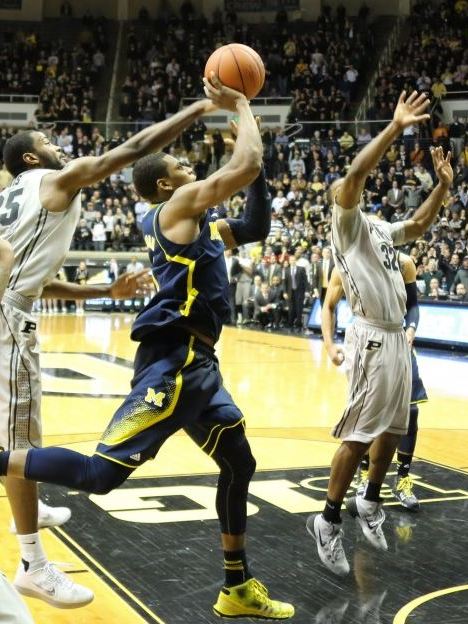 After the big home win over Michigan State that put Michigan in the drivers' seat for the Big Ten title, the Wolverines hit the road for a classic let-down game against Purdue. Michigan was expected to win, but games like this were never easy.
Purdue had nothing to play for except to throw a wrench into the title hunt and played inspired ball for 40-plus minutes. The Boilermakers led by as many as 19 points in the first half before Michigan cut it to 13 at the break. In the second half, Michigan began chipping away. Eleven points, nine points, seven points, four points, and suddenly it was a game again.
A Stauskas free throw made it a one-point game with 9:50 to play, but Purdue refused to let Michigan get over the hump. The Boilers maintained the lead the rest of the way, until Stauskas tied it up with a pair of free throws, sending the game into overtime.
In the extra stanza, Michigan took its first lead of the game, but every time the Wolverines tried to exert their force, Purdue answered. A pair of Ronnie Johnson free throws gave Purdue a 76-75 lead with 31 seconds remaining. Michigan missed a shot and was forced to foul, but Purdue missed the front end of a one-and-one, giving the Wolverines one more chance.
With the ball out of bounds on the sideline and 2.9 seconds remaining, Caris LeVert heaved a jump ball across the court to Glenn Robinson III, who came down with it, took one dribble and kissed a runner off the glass as time expired. Michigan survived 77-76.
"A loss at Purdue would have killed all the momentum from sweeping Michigan State, but luckily GR3 pulled it off," said Derick.
Votes: 4
Others Receiving Votes: None
Performance of the Year
•
Nik Stauskas' 25 points, 5 assists, 3 rebounds in 79-70 win vs MSU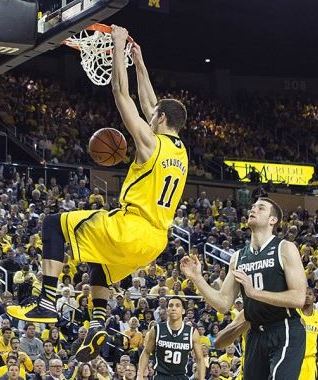 There were plenty of performances that could be considered here, especially by Stauskas, but his performance in the 79-70 home win over Michigan State was a thing of beauty. He followed up a 19-point, 5-of-6 three-point shooting first meeting by lighting up the Spartans for 25 points, five assists, and three rebounds on 9-of-13 overall shooting in the return trip.
That second meeting was an important game for both teams as Michigan State held a half game lead, and Michigan, despite winning in East Lansing, needed the win for its Big Ten title hopes. The Spartans jumped out to a big lead early in the game, but Michigan whittled it down to two at the half. And that's when Stauskas took over.
He opened the half with a layup to tie the game, and after a MSU dunk, hit a free throw and a jumper to give Michigan its first lead. A few minutes later, after the Spartans had pulled ahead by five, Stauskas scored seven straight to put Michigan back ahead. Gary Harris hit a three, but Stauskas responded with one of his own, and after a pair of LeVert free throws, Stauskas hit another three to give Michigan a seven point lead. He scored 21 of his 25 points in the second half, one of the few moments all season that when he shot you knew it was going in.
"Pick any one of about 10 Stauskas performances throughout the season and you're sure to be wowed, but his second half against Michigan State at home to help Michigan sweep the Spartans was probably the most exciting," said Sam. "After Michigan State came out looking like world beaters in the first half, Stauskas paired with Caris LeVert to put on the most impressive run of the season early in the second half, and by the end of it, everyone in the arena knew every Stauskas shot was falling no matter how off-balance or guarded he was."
Votes: 2
Others Receiving Votes: Stauskas' 23 points, four rebounds, four assists, two blocks, one steal at Wisconsin (1), Derick Walton Jr.'s 19 points, six rebounds, four assists in win at Michigan State (1)
Newcomer of the Year
•
Derrick Walton Jr.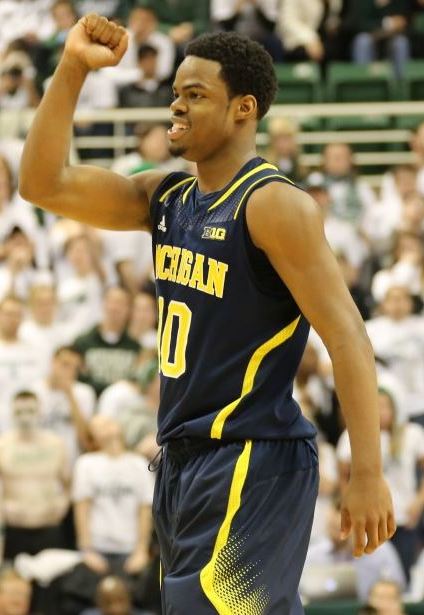 Losing an all-everything point guard to the NBA is never an easy task for any coach, but John Beilein got a superb season out of Derrick Walton Jr. The freshman from Detroit started 36 of the 37 games, averaging 7.9 points, three rebounds, and 2.9 assists per game. Most importantly, he provided a steady presence at the point guard position with nearly twice as many assists as turnovers.
Walton wasn't always counted on to score, but he could certainly do it when needed. His best performance came in the 80-75 win at Michigan State when he scored 19 points, pulled down six rebounds, and dished out four assists. His clutch free throw shooting down the stretch sealed the win. He also recorded a double-double with 13 points and 10 rebounds in the Feb. 11 win at Ohio State and finished the season with a 41 percent three-point rate.
"Zak Irvin had an impactful freshmen season, playing his role to perfection as a scoring threat off the bench," said Drew. "In most years, he would win this award. But it is difficult not to give it to a freshman starting at a position just vacated by the consensus national player of the year. Derrick Walton, Jr. averaged 7.9 points, made 41 percent of his threes, and had the second-highest defensive rebounding rate among Michigan's guards and wings despite being only 6'1″. Most importantly, he did not shy away in big moments, making clutch plays in the final minutes of critical road wins against Nebraska, Michigan State, and Ohio State."
Votes: 4
Others Receiving Votes: None
Those Who Stay Senior of the Year
•
Jordan Morgan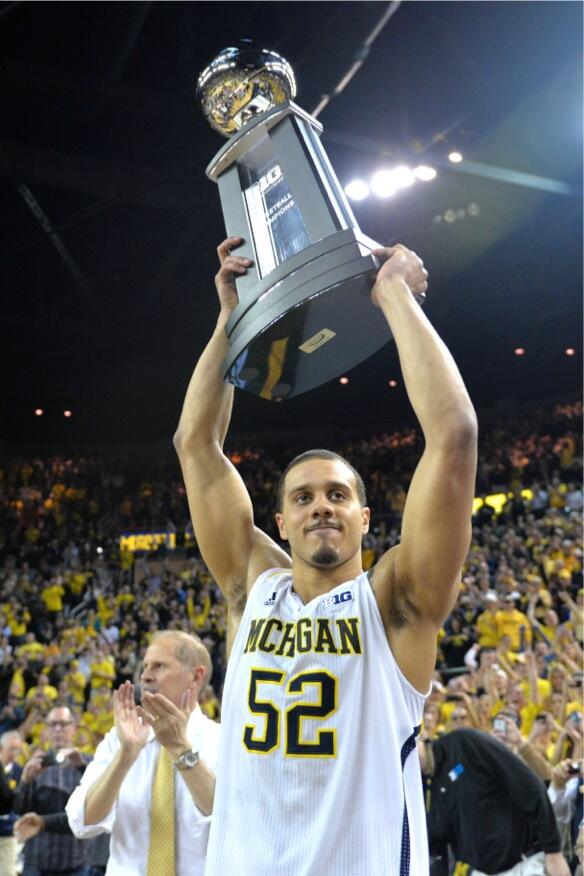 Morgan wins this by default, but even if he wasn't the only senior on the team, another would have had a tough chance of beating him. His exploits have already been talked about in the Big Man of the Year and Defensive Player of the Year sections, but his contributions this season should not be downplayed.
Morgan committed to Beilein in 2010 under very different circumstances, when simply making the NCAA Tournament was a major accomplishment. By the time his career came to an end, Morgan had played in more games (142) than any player in Michigan history and started the third most (122). He holds the single season and career field goal percentage records, played in four straight NCAA Tournaments, won two Big Ten titles, and this season was named to the Allstate Good Works Team.
"Morgan, along with Zack Novak and Stu Douglass, is the foundation of the program that John Beilein has built in Ann Arbor," said Drew. "Morgan committed to Michigan before U-M was considered one of the elite programs in the nation. And it sure did pay off. Most importantly, Morgan exemplified the leadership, determination, and heart that fans hope to see from every future player that dons the maize and blue."
"Morgan's grit, leadership, and confidence were absolutely crucial to this team, and were all the more impressive when considering Morgan's complete loss of confidence in last year's tournament," said Sam.
Votes: 4
Others Receiving Votes: None
Most Improved Player
•
Caris LeVert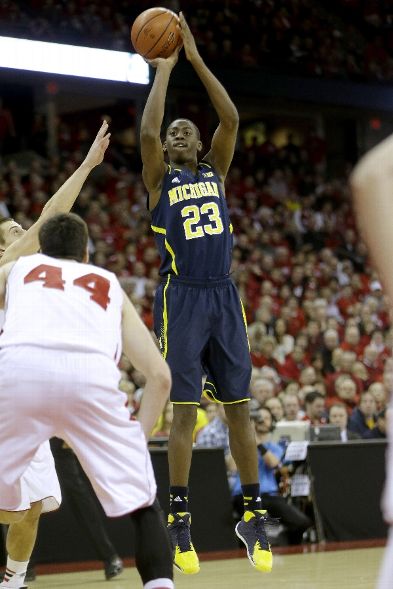 When Trey Burke left early for the NBA and Tim Hardaway Jr. graduated, Michigan was in need of playmakers to step up. A sophomore class that performed well as freshmen had plenty of options, and several showed significant improvement in 2013-14, but none more than Caris LeVert.
The Columbus, Ohio native that was once committed to Ohio University started all 37 games and improved his minutes from 10.8 to 34.0 and points per game from 2.3 to 12.9. He scored in double figures in 25 of 37 games and scored 20 or more points seven times. He also averaged 4.3 rebounds per contest and led the team with 141 defensive boards.
When Michigan struggled to find any offense in an early season matchup at Duke, LeVert carried the team with 24 points. He did the same in a loss to Wisconsin when the Badgers shut down Stauskas, scoring 25, and also poured in 23 in the home win over Michigan State. He earned All-Big Ten second team honors and was named to the NCAA Tournament All-Midwest Regional team.
"LeVert often drew an audible sigh from the crowd when he would make mistakes last season, and his inconsistency in limited minutes was certainly frustrating," said Sam. "Fast forward to this season, however, and one could argue that LeVert's out-of-nowhere contributions were just as important as Stauskas's dominance on occasion. And any time Stauskas was off, LeVert was the one picking up the slack. I don't think anyone truly believed LeVert could improve THAT much in just one offseason."
Votes: 4
Others Receiving Votes: None