---
2

014-15 Michigan Basketball Schedule | Michigan Ranking: AP: NR, Coaches: NR

Date

Opponent

Rank

Site

Time

TV

Result

Record

Mon. 11/10
Wayne State (ex.)
Ann Arbor, Mich.
7pm
BTN Plus

W 86-43

Sat. 11/15
Hillsdale College
Ann Arbor, Mich.
2pm
ESPN3

W 92-68

1-0
Progressive Legends Classic Ann Arbor Regional
Mon. 11/17
Bucknell
Ann Arbor, Mich.
8pm
BTN

W 77-53

2-0
Thu. 11/20
Detroit
Ann Arbor, Mich.
6pm
BTN

W 71-62

3-0
Progressive Legends Classic
Mon, 11/24
Oregon
Brooklyn, N.Y.
9pm
ESPN3

W 70-63

4-0
Tue. 11/25
Villanova
12
Brooklyn, N.Y.
10pm
ESPN2

L 65-70

4-1
Sat. 11/29
Nicholls State
Ann Arbor, Mich.
4pm
BTN Plus

W 91-62

5-1
ACC/Big Ten Challenge
Tue. 12/2
Syracuse
Ann Arbor, Mich.
7:30pm
ESPN

W 68-65

6-1
Sat. 12/6
NJIT
Ann Arbor, Mich.
12pm
BTN

L 70-72

6-2
Tue. 12/9
Eastern Michigan
Ann Arbor, Mich.
9pm
ESPNU

L 42-45

6-3
Sat. 12/13
Arizona
3
Tucson, Ariz.
5:15pm
ESPN

L 53-80

6-4
Sat. 12/20
SMU
Ann Arbor, Mich.
12pm
ESPN2

L 51-62

6-5
Mon. 12/22
Coppin State
Ann Arbor, Mich.
8pm
BTN

W 72-56

7-5
Tue. 12/30
Illinois*
Ann Arbor, Mich.
3pm
ESPN2

W 73-65 OT 

8-5 (1-0)
Sat. 1/3
Purdue*
W. Lafayette, Ind.
2:15pm
BTN

L 51-64

8-6 (1-1)
Tue. 1/6
Penn State*
State College, Pa.
7pm
BTN

W 73-64

9-6 (2-1)
Sat. 1/10
Minnesota*
Ann Arbor, Mich.
1pm
ESPNU

W 62-57

10-6 (3-1)
Tue. 1/13
Ohio State*
25
Columbus, Ohio
7pm
ESPN

L 52-71

10-7 (3-2)
Sat. 1/17
Northwestern*
Ann Arbor, Mich.
8:15pm
BTN

W 56-54

11-7 (4-2)
Tue. 1/20
Rutgers*
Piscataway, N.J.
6:30pm
BTN

W 54-50

12-7 (5-2)
Sat. 1/24
Wisconsin*
6
Ann Arbor, Mich.
4/7pm
ESPN

L 64-69 OT

12-8 (5-3)
Tue. 1/27
Nebraska*
Ann Arbor, Mich.
7pm
ESPN

W 58-44

13-8 (6-3)
Sun. 2/1
Michigan State*
E. Lansing, Mich.
1pm
CBS

L 66-76 OT

13-9 (6-4)
Thu. 2/5
Iowa*
Ann Arbor, Mich.
7pm
ESPN/2

L 54-72

13-10 (6-5)
Sun. 2/8
Indiana*
Bloomington, Ind.
1pm
CBS

L 67-70

13-11 (6-6)
Thu. 2/12
Illinois*
Champaign, Ill.
9pm
ESPN

L 52-64

13-12 (6-7)
Tue. 2/17
Michigan State*
Ann Arbor, Mich.
9pm
ESPN

L 67-80

13-13 (6-8)
Sun. 2/22
Ohio State*
24
Ann Arbor, Mich.
TBA
CBS

W 64-57

14-13 (7-8)
Sat. 2/28
Maryland*
14
College Park, Md.
TBA
ESPN/2

L 56-66

14-14 (7-9)
Tue. 3/3
Northwestern*
Evanston, Ill.
9pm
BTN

L 78-82 (2OT)

14-15 (7-10)
Sat. 3/7
Rutgers*
Ann Arbor, Mich.
TBA
BTN

W 79-69

15-15 (8-10)

Big Ten Tournament

Thu. 3/12
(8) Illinois
Chicago, Ill.
12pm
BTN

W 73-55

16-15
Fri. 3/13
(1) Wisconsin
6
Chicago, Ill.
12pm
TBA

L 60-71

16-16
2013-14 Michigan Basketball Roster (Numerically)

No.
Name
Pos.
Ht.
Wt.
Yr./Elig.
Hometown (High School)
2
Spike Albrecht
G
5-11
175
Jr.
Crown Point, Ind. (Northfield Mt Hermon Prep)
3
Kameron Chatman
G/F
6-7
210
Fr..
Portland, Ore. (Columbia Christian)
5
D.J. Wilson
F
6-9
220
Fr.
Sacramento, Calif. (Capital Christian)
10
Derrick Walton Jr.
G
6-0
185
So.
Harper Woods, Mich. (Chandler Park Academy)
11
Andrew Dakich
G
6-2
190
So.
Zionsville, Ind. (Zionsville Community)
12
Muhammad-Ali Abdur-Rahkman
G
6-4
175
Fr.
Allentown, Pa. (Catholic Central)
20
Sean Lonergan
F
6-5
200
So.
Fishers, Ind. (Fishers)
21
Zak Irvin
G/F
6-6
215
So.
Fishers, Ind. (Hamilton Southeastern)
22
Duncan Robinson
G/F
6-8
190
So.
New Castle, N.H. (Phillips Exeter Academy)
23
Caris LeVert
G
6-7
200
So.
Pickerington, Ohio (Pickerington Central)
24
Aubrey Dawkins
G/F
6-6
190
Fr.
Palo Alto, Calif. (New Hampton Prep, N.H.)
30
Austin Hatch
G
6-6
215
Fr.
Fort Wayne, Ind. (Loyola, Calif.)
32
Ricky Doyle
F
6-9
245
Fr.
Cape Coral, Fla. (Bishop Verot)
34
Mark Donnal
F
6-9
240
RS Fr.
Monclova, Ohio (Anthony Wayne)
44
Max Bielfeldt
F
6-7
245
Sr.
Peoria, Ill. (Notre Dame)
Season Preview

Every year, college basketball starts in mid-November and ends with the conclusion of the Big Dance in early April. The season seems to pass in a flurry of magical moments, the kind where you blink your eye and they're gone.
The time in between, on the other hand, feels like an eternity.
But just like the cool wind has begun to bring a crispness to the Michigan air and the leaves have all fallen to their cruel death, basketball is finally back. Excitement will brew and hearts will break, but most of all, it will be one hell of a ride.
For Michigan fans, it's an increasingly familiar start to the season. The football season has been a lost cause for what seems like many months, and all faith lies in the hands of John Beilein — the coaching savior of the program. After sending a trio of sophomores off to the NBA following another deep run in the Dance, the Wolverines will be breaking in a host of new faces while relying on a core of three young veterans to lead.
Caris LeVert, the one-time Ohio commit and Michigan after-thought, is the undisputed go-to guy. Zak Irvin, the former Indiana Mr. Basketball and freshman just-a-shooter, will look to flank LeVert and prove that his offseason strides are for real. And Derrick Walton, the sophomore point from Detroit, will run the show with a quiet confidence.
Joining those three are five true freshmen and one redshirt freshmen who have yet to see real playing time but will all be forced to contribute in some way. Ricky Doyle and Mark Donnal, two raw big men, will do their best to replace Jordan Morgan, Jon Horford, and Mitch McGary. Kameron Chatman and D.J. Wilson, two West Coasters, will try to make fans forget about Glenn Robinson III. Aubrey Dawkins and Muhammad-Ali Abdur-Rahkman, two late signees that didn't get a look from any big name school other than Michigan, will fight for minutes with a chip on both shoulders.
But one other returning player perhaps best emulates the whole Michigan team. In the spring of 2012, John Beilein reached out to an under-sized point guard that no one wanted. In fact, this player had gotten so little attention that he felt the need to spend an extra year in prep school. After finishing up there, however, still the biggest school that came calling before Michigan was Brown.
As a freshman, Spike Albrecht played his role all year until nearly springing the Wolverines to a National Championship. After his 15 minutes of fame, Albrecht returned to be a backup yet again, but performed in the same way he was asked to. This season, the junior will again come off the bench, but he will play the way he needs to in order to help the whole team be successful.
Albrecht is still under-sized, unathletic, and underwhelming. Michigan as a whole has also been consistently over-looked since Beilein took over with his unorthodox style. But like Albrecht, Michigan plays the way they are supposed to, overcomes expectations, and consistently surprises.
After losing so much talent and production from last season, many continue to write the Wolverines off as a flash in the pan. Yes, pundits have finally become smart enough to pencil the Maize and Blue into the NCAA Tournament, but they don't really take their chances of doing much in the Big Ten or on the national stage seriously.
Well, guess what? With another banner going up in Crisler this afternoon, maybe it's time to start taking John Beilein and his Michigan program seriously. Sure, the unknowns abound. But throughout the course of the season, the baby steps will turn into leaps, and the Wolverines will be competing for all the glory – like usual.
Predictions:
Top Five Scorers
Top Five Rebounders
Caris LeVert
Mark Donnal
Derrick Walton
Caris LeVert
Zak Irvin
D.J. Wilson
D.J. Wilson
Ricky Doyle
Kameron Chatman
Zak Irvin
Top Five Assists
Top Five Three-Point Shooters (%)
Derrick Walton
Caris LeVert
Caris LeVert
Zak Irvin
Spike Albrecht
Derrick Walton
Kameron Chatman
Spike Albrecht
Zak Irvin
D.J. Wilson
Superlatives
Most improved player:
Zak Irvin
Most valuable freshman:
D.J. Wilson
Most valuable player:
Caris LeVert
Final record:
27-9 (13-5 Big Ten)
Conference finish:
T1
Postseason:
NCAA Tournament, Elite Eight
Big Ten Preview
Over the past few years an incredible change has passed over the Midwest, which was long praised for elite football programs like Michigan and Ohio State and largely uncompetitive on the hardwood with Michigan State taking the cake nearly every season. Now, the sports landscape has been turned on its head, as Big Ten football struggles to keep three teams ranked in the Top 25 while the basketball conference continues to solidify itself as the best in the nation.
Last season was another great campaign for the conference as a whole. Wisconsin fought its way through a tough West regional to reach the Final Four, while Michigan and Michigan State were just seconds away from doing the same, eventually losing to the two National Championship competitors. Ohio State, Iowa and Nebraska were also selected for the Big Dance, giving the Big Ten six teams that made the cut. Minnesota also had a successful postseason, winning the NIT championship.
The Big Ten has climbed to the top of the basketball world by featuring a deep slate of teams led by a few legitimate Final Four contenders. This season will be no different, even as the conference welcomes two new teams that have struggled in recent years.
Although there are no divisions in basketball, we split our preview up into the Big Ten West and Big Ten East divisions for the sake of organization. Click on Part One or Part Two below to view the previews.


Position Previews
Bigs
Posted Nov. 14 by Sam Sedlecky
Now that we have already broken down Michigan's freshmen and analyzed the point guard and wing positions, let's preview the biggest unknown for the Wolverines — the bigs. Michigan graduated Jordan Morgan and lost Jon Horford and Mitch McGary to transfer and the NBA Draft, respectively, last season. Now, the Maize and Blue look to replace the lost production with a stable of inexperienced big men and one rarely used senior.
The Starter
#34 Mark Donnal – 6'9, 240 – Redshirt Freshman
2013-14 stats: N/A (redshirt)
Projected 2014-15 stats: 5.3 pts (55% FG, 35% 3pt, 68% FT), 3.8 reb, .5 ast, .4 blk, .4 stl, .4 TO, 20 min/game
With a year of practice under his belt, Mark Donnal looks to be the safe bet to start at the five – at least early in the season. The Toledo native provides Beilein with yet another shooting threat, and Donnal has bulked up after being far too skinny to play last season.
But there is clearly work to be done. In Michigan's exhibition win over Wayne State, Mark Donnal started down low but looked timid at times and struggled to deal with contact around the basket. With his body starting to fill out, Donnal simply needs to be strong with the basketball in his hands, get good position on the boards, and battle with what he has. He'll look to add more muscle next offseason, but it's very difficult to put on any weight during the grueling season.
Point Guards
Posted Nov. 13 by Sam Sedlecky
After taking a look at the three wing spots yesterday, let's take a look at the point guard position today. With Michigan returning its two primary floor generals, there's not much up for debate, so let's see how things will run.
The Starter
#10 Derrick Walton Jr. – 6'0?, 185 – Sophomore
2013-14 stats: 7.9 pts (42.9% FG, 41% 3pt, 79.3% FT), 3.0 reb, 2.9 ast, .6 stl, .1.5 TO, 26.7 min/game
Projected 2014-15 stats: 12.0 pts (45% FG, 41% 3pt, 82% FT), 3.5 reb, 4.1 ast, 1 stl, 1.3 TO, 32 min/game
In the summer of 2011, John Beilein and his staff sent out offers to three different coveted point guards: Monte Morris, Demetrius Jackson, and Derrick Walton Jr. Walton was the first of the trio to jump at the offer, and it's been an outstanding fit so far. Like Trey Burke before him, Walton probably committed with the idea that he would have a year or two to apprentice under Michigan's then-star point guard, but Burke of course left after his sophomore season, leaving Walton the keys to the offense.
Wings
Posted Nov. 11 by Sam Sedlecky
As we edge toward Saturday's season opener, let's take a closer look at each of Michigan's three position groups, starting today with the wings.
For all intents and purposes, John Beilein really operates his basketball teams with three positions – the point guard, the big men, and the wings. Positions 2 through 4 are very similar offensively and require many of the same actions on each possession. Wings in John Beilein's offense are expected to be adequate ball handlers, good passers, and primetime shooters. Here are the players who will be seeing time at the wing this season:
The Starters
#21 Zak Irvin – 6'6?, 215 – Sophomore
2013-14 stats: 6.7 pts (43.4% FG, 42.5% 3pt, 71.4% FT), 1.3 reb, .4 ast, .4 TO, 15.4 min/game
Projected 2014-15 stats: 11.5 pts (46% FG, 41% 3pt, 75% FT), 4.2 reb, 1 ast, 1 TO, 33 min/game
Last year, Zak Irvin was about as much of a Just a Shooter as possible, with a full 74.5 percent of his attempts coming from behind the arc. He often looked uncomfortable putting the ball on the floor, and his slashing was almost non-existent. Over the offseason, however, Irvin remained dedicated to improving his game by staying in Ann Arbor over the summer, and the results are apparently already. The former Indiana Mr. Basketball reportedly increased his vertical leap by some five inches without hurting his outside shot, and showed that off last night.
Freshman Previews

Austin Hatch
Posted Nov. 10 by Sam Sedlecky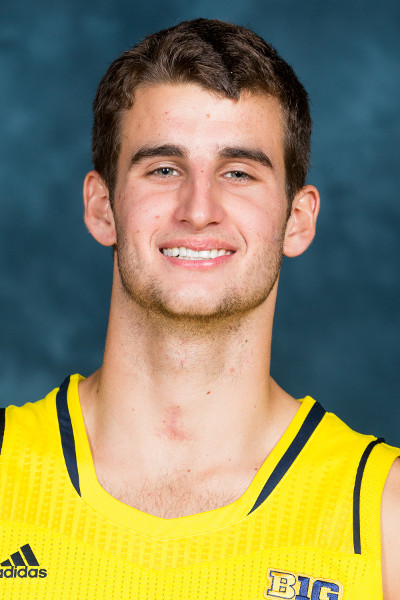 For as long as he can remember, Austin Hatch has dreamed of playing basketball for the University of Michigan. As a little kid, Hatch would practice with his dad with the full intention of one day suiting up in the Maize and Blue of his mother's and both grandfathers' Alma mater.
When he was just eight years old, however, his dream took a backseat to tragic reality after the young Austin Hatch survived a plane crash nearly unscathed along with his father, the pilot, but lost his mother, his older sister, and his younger brother.
Left an only child and without his mom, Austin Hatch bonded daily with his dad, Dr. Stephen Hatch, who quickly became his best friend too. Within a few years, he began working day and night to reach his goals of playing at Michigan, and with an attitude toward becoming an "uncommon man" instilled in him by his parents, Austin thrived.
By the time high school rolled around for Hatch, his dream looked increasingly more attainable. As a freshman at the Canterbury School in Fort Wayne, Indiana, Hatch was an honor roll student in the classroom and a standout on the basketball court, where he started every game and averaged 18 points, seven rebounds, and two assists.
Aubrey Dawkins
Posted Nov. 10 by Sam Sedlecky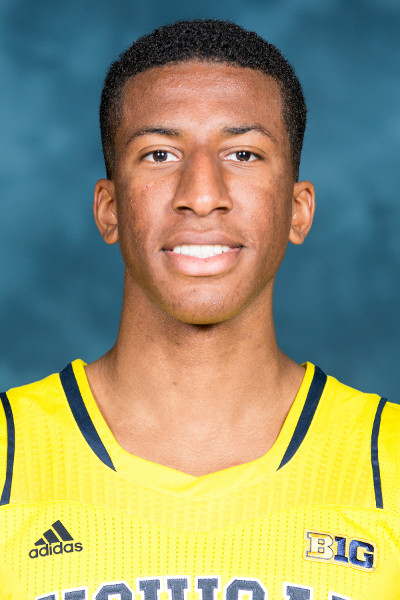 Aubrey Dawkins is the son of former Duke great and current Stanford head coach Johnny Dawkins, but he certainly didn't achieve the fame his father did before stepping on campus.
In high school, Aubrey was dwarfed by his 6'2? father. Standing at just 5'8? through his sophomore season at St. Francis High School in Mountain View, California, Dawkins was less than a blip on the recruiting radar of any colleges. In the blink of an eye, however, Aubrey shot past his dad, growing to 6'5? by the time his senior season hit full stride at Palo Alto High, and 6'6? today. After putting up strong scoring and rebounding numbers in his final two years of high school, Aubrey Dawkins was yearning for more interest from the next level.
Instead, however, the younger Dawkins, like Spike Albrecht before him, had to go to prep school after graduating from high school to attract major college attention. He chose to fly coast-to-coast to powerhouse NEPSAC program New Hampton Prep in New Hampton, New Hampshire — the one-time home of former Wolverine Evan Smotrycz.
Muhammad-Ali Abdur-Rahkman
Posted Nov. 6 by Sam Sedlecky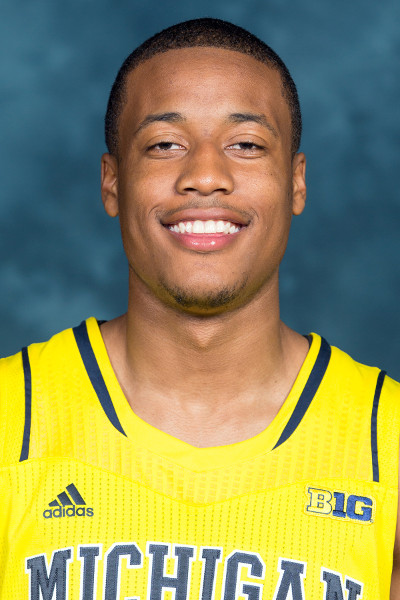 The name is Muhammad-Ali Abdur-Rahkman, but if that's a bit of a mouthful, you can call him "Rahk".
Rahk has perhaps the most interesting back story of any of the six freshmen in this year's Michigan recruiting class. A prolific scorer in the Eastern Pennsylvania city of Allentown at Central Catholic High School, Abdur-Rahkman long figured to be a coveted recruit. But going into his senior year in which he would turn an elderly-for-his-class 19 years of age, Rahk was still waiting on some notable offers. Sure, some low- and mid-major schools came calling, but the big fish didn't bite.
So Abdur-Rahkman did all he could to attract them, scoring more than 20 points, grabbing more than six rebounds, and dishing out better than four assists per game while eventually eclipsing the 2,000-point mark for his career – just the 10th player in state history to claim that honor.
Still, schools like Virginia Commonwealth, Drexel, Bucknell, George Mason, and eventually Rice (once the VCU assistant recruiting him there took the head coaching position in Houston) were the most notable offers Abdur-Rahkman had to ponder.
D.J. Wilson
Posted Nov. 3 by Sam Sedlecky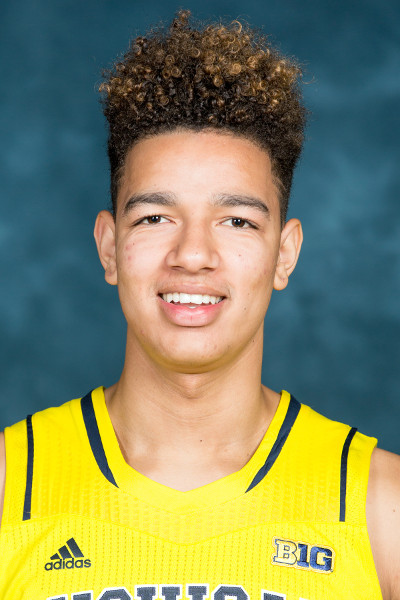 It's no secret that John Beilein has made a living recently off bringing in less highly touted players that he sees something in, coaching them up, inserting them into his system, and then watching their uncanny development lead to great team and individual success.
The list of these under-the-radar guys goes on and on, with players like Stu Douglass, Zack Novak, Tim Hardaway, Jr., Trey Burke, Nik Stauskas, Glenn Robinson III, and Caris LeVert having made recruiting services eat their words. Perhaps next in line at Michigan is forward D.J. Wilson, who comes in with skills you don't expect to see from someone who is 6'9? with a 7'3? wingspan.
Behind every under-recruited player is usually a reason, however. For Wilson, it was as simple as growing too fast for his own good. After sprouting three inches before his junior year of high school ball, Wilson's back literally broke on him, forcing him into a brace that stretched from below his waist all the way to his chest. The injury kept him out for AAU season and part of his junior year, and to make things even more iffy, Wilson's Capital Christian School wasn't giving him much exposure, with only about 400 kids in the entire school.
Kameron Chatman
Posted Oct. 30 by Sam Sedlecky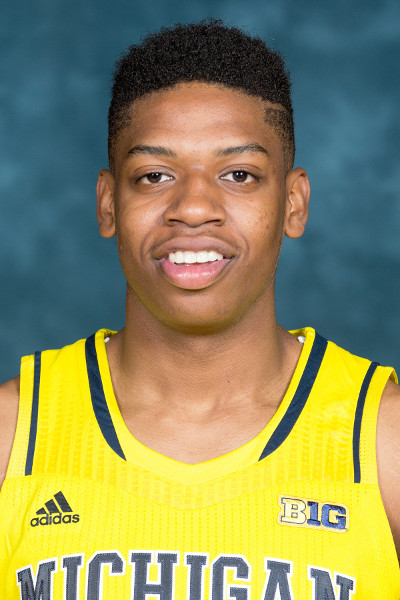 Unlike many prospects John Beilein goes after, Kam Chatman's recruitment was relatively normal, if that is a thing anymore. Michigan pursued the lengthy Portland native early in his career while still attending Jefferson High School until his junior year, when Chatman decided to transfer to California powerhouse Long Beach Poly. Due to transfer rules, Chatman was ruled ineligible by the California Interscholastic Federation and was relegated to the junior varsity team, where he tore through the competition with averages of 25 points, 10 rebounds, and six assists per game.
Despite his inability to compete at the highest level of high school basketball, Chatman continued to draw major interest from top-notch colleges, particularly on the West Coast and in the PAC-12, and eventually earned invitations to the Jordan Brand Classic, the USA Basketball U-18 national team tryouts, and the LeBron James Skills Academy. By the time Chatman transferred to Columbia Christian back in Portland, he had offers from just about every PAC-12 school, including presumed leaders Arizona and Oregon, and a host of other schools around the country, like UConn and Memphis. But Michigan, led by recruiting guru Jeff Meyer, was persistent in their pursuit of the rising senior and never gave up hope.
Ricky Doyle
Posted Oct. 29 by Sam Sedlecky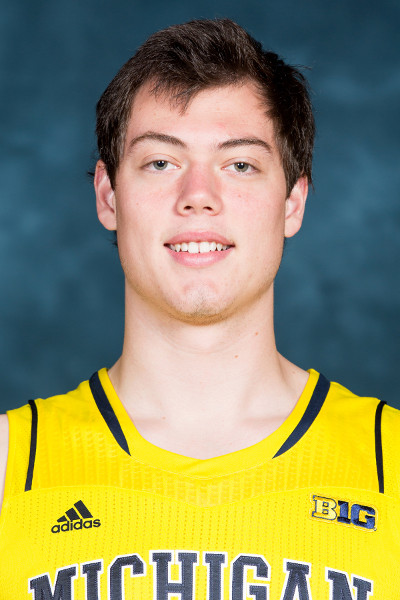 Ricky Doyle is in a unique position on this year's Michigan basketball team as probably both the most important newcomer for this season's squad while also being the biggest unknown. Hailing from Southwest Florida, Doyle never faced great high school competition, often towering over his opponents and seeing consistent double- and triple-teams. He also stayed away from the AAU scene for the most part, preferring to work on his game under the tutelage of his father Richard, who himself played professionally in France for 11 seasons.
When the big man committed more than a year and a half ago, he could have never imagined the situation he'd be in when arriving in Ann Arbor. At the time, Michigan was preparing to make a run that would eventually turn into a magical NCAA runner-up finish. Jordan Morgan would be a fifth-year senior the next season, Mitch McGary was thought to be a surefire NBA lottery pick after his dominant tourney performance, and Jon Horford seemed like the heir apparent while then-commit Mark Donnal would be the back-up. Doyle, the big man whom little was known about, would have plenty of time to develop under the tutelage of John Beilein and Bacari Alexander before ever seeing meaningful minutes.
| | |
| --- | --- |
| Nov. 15 – Hillsdale College (W 92-68) | Nov. 17 – Bucknell (W 77-53) |
| | |
| | |
| --- | --- |
| Nov. 20 – Detroit (W 71-62) | Dec. 2 – Syracuse (W 68-65) |
| | |
| | |
| --- | --- |
| Dec. 20 – SMU (L 51-62) | Dec. 22 – Coppin State (W 72-56) |
| | |
| | |
| --- | --- |
| Jan. 27 – Nebraska (W 58-44) | Feb. 1 – Iowa (L 54-72) |
| | |