---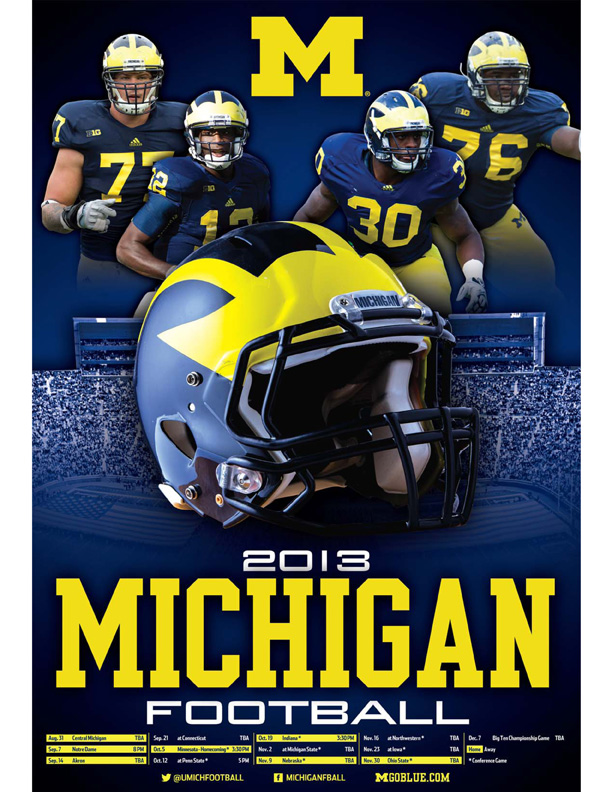 2

013 Schedule – Michigan BCS Ranking: NR

Date

Opponent

Rank

Site

Time

TV

Result

Sat, Aug. 31
Central Michigan
Ann Arbor, Mich.
3:30 p.m.
Big Ten Network
W 59-9
Sat, Sept. 7
Notre Dame
14
Ann Arbor, Mich.
8 p.m.
ABC/ESPN/ESPN2
W 41-30
Sat, Sept. 14
Akron
Ann Arbor, Mich.
12 p.m.
Big Ten Network
W 28-24
Sat, Sept. 21
UConn
E. Hartford, Conn.
8 p.m.
ABC
W 24-21
Sat, Oct. 5
Minnesota
Ann Arbor, Mich.
3:30 p.m.
ABC
W 42-13
Sat, Oct. 12
Penn State
State College, Pa.
5 p.m.
ESPN
L 40-43 4OT
Sat, Oct. 19
Indiana
Ann Arbor, Mich.
3:30 p.m.
Big Ten Network
W 63 – 47
Sat, Nov. 2
Michigan State
22
East Lansing, Mich.
3:30 p.m.
ABC
L 6-29
Sat, Nov. 9
Nebraska
Ann Arbor, Mich.
3:30 p.m.
ABC/ESPN
L 13-17
Sat, Nov. 16
Northwestern
Evanston, Ill.
3:30 p.m.
Big Ten Network
W 27-19 3OT
Sat, Nov. 23
Iowa
Iowa City, Iowa
12 p.m.
Big Ten Network
L 21-24
Sat, Nov. 30
Ohio State
3
Ann Arbor, Mich.
12 p.m.
ABC
L 41-42
Sat, Dec. 28
Kansas State
Tempe, Ariz.
10:15 p.m.
ESPN
L 14-31
*Ranking for teams Michigan has already played is their ranking at the time of the game. Rankings for teams Michigan hasn't yet played are their current rankings.
Future Schedules
Big Ten Standings | End of Season | Legends

Rank
Team
Record
Big Ten
Last
Bowl
1
Michigan State
13-1
8-0

Beat #5 Stanford 24-20

Rose Bowl
2
Iowa
8-5
5-3

Lost to #16 LSU 14-21

Outback Bowl
3
Nebraska
9-4
5-3

Beat #24 Georgia 24-19

Gator Bowl
4
Minnesota
8-5
4-4

Lost to Syracuse 17-21

Texas Bowl
5
Michigan
7-6
3-5

Lost to Kansas State 14-31

Buffalo Wild Wings Bowl
6
Northwestern
5-7
1-7

Beat Illinois 37-34

None
Big Ten Standings | End of Season | Leaders

1
Ohio State
12-2
8-0

Lost to #12 Clemson 35-40

Orange Bowl
2
Wisconsin
9-4
6-2

Lost to #9 South Carolina 24-34

Capital One Bowl
3
Penn State
7-5
4-4

Beat #15 Wisconsin 31-24

None
4
Indiana
5-7
3-5

Beat Purdue 56-36

None
5
Illinois
4-8
1-7

Lost to Northwestern 34-37

None
6
Purdue
1-11
0-8

Lost to Indiana 36-56

None
2013 Michigan Football Roster (Numerically)

No.

Name

Pos.

Ht.

Wt.

Yr./Elig.

Hometown (High School)

3
Bo Dever
WR
6-2
190
RS Fr.
Lake Forest, Ill. (Lake Forest)
4
Cameron Gordon
LB
6-3
237
RS Sr.
Detroit, Mich. (Inkster)
4
De'Veon Smith
RB
5-11
224
Fr.
Warren, Ohio (Howland)
5
Justice Hayes
RB
5-10
192
RS So.
Grand Blanc, Mich. (Grand Blanc Community)
5
Courtney Avery
CB
5-11
175
Sr.
Mansfield, Ohio (Lexington)
6
Brian Cleary
QB
6-3
209
RS Fr.
Detroit, Mich. (Detroit Jesuit)
6
Raymon Taylor
CB
5-10
183
Jr.
Detroit, Mich. (Highland Park)
7
Shane Morris
QB
6-3
201
Fr.
Warren, Mich. (De La Salle)
7
Henry Poggi
DT
6-4
260
Fr.
Baltimore, Md. (Gilman School)
8
Channing Stribling
DB
6-2
171
Fr.
Matthews, N.C. (Butler)
8
Russell Bellomy
QB
6-3
215
RS So.
Arlington, Texas (Mann)
9
Mike McCray
LB
6-4
237
Fr.
Trotwood, Ohio (Trotwood-Madison)
9
Drew Dileo
WR
5-10
180
Sr.
Greenwell Springs, La. (Parkview Baptist)
10
Jeremy Gallon
WR
5-8
184
RS Sr.
Apopka, Fla. (Apopka)
12
Allen Gant
DB
6-2
212
RS Fr.
Sylvania, Ohio (Southview)
12
Devin Gardner
QB
6-4
210
RS Jr.
Detroit, Mich. (Inkster)
13
Terry Richardson
CB
5-9
167
So.
Detroit, Mich. (Cass Tech)
13
Alex Swieca
QB
6-1
210
RS So.
New York, N.Y. (The Frisch School)
14
Josh Furman
S
6-2
202
RS Jr.
Annapolis, Md. (Old Mill Senior)
14
Da'Mario Jones
WR
6-2
192
Fr.
Westland, Mich. (John Glenn)
15
James Ross III
LB
6-1
220
So.
Orchard Lake, Mich. (St. Mary's Prep)
17
Jeremy Jackson
WR
6-3
209
Sr.
Ann Arbor, Mich. (Huron)
18
Blake Countess
DB
5-10
182
Jr.
Owings Mills, Md. (Our Lady of Gold Counsel)
19
Devin Funchess
TE
6-5
235
So.
Farmington Hills, Mich. (Harrison)
20
Drake Johnson
RB
6-0
213
RS Fr.
Ann Arbor, Mich. (Pioneer)
20
Reon Dawson
DB
6-2
170
Fr.
Trotwood, Ohio (Trotwood-Madison)
22
Jarrod Wilson
S
6-2
200
So.
Akron, Ohio (Akron Buchtel)
23
Dennis Norfleet
WR
5-7
169
So.
Detroit, Mich. (Martin Luther King)
24
Delonte Hollowell
DB
5-9
180
Jr.
Detroit, Mich. (Cass Technical)
25
Dymonte Thomas
DB
6-2
190
Fr.
Alliance, Ohio (Marlington)
26
Jourdan Lewis
DB
5-10
170
Fr.
Detroit, Mich. (Cass Technical)
27
Derrick Green
RB
5-11
240
Fr.
Richmond, Va. (Hermitage)
28
Fitzgerald Toussaint
RB
5-10
200
RS Sr.
Youngstown, Ohio (Liberty)
29
Ross Douglas
DB
5-10
176
Fr.
Avon, Ohio (Avon)
30
Thomas Gordon
S
5-11
210
RS Sr.
Detroit, Mich. (Cass Technical)
32
Shaun Austin
S
6-1
191
RS Fr.
Plymouth, Mich. (Plymouth)
33
Wyatt Shallman
RB
6-3
237
Fr.
Novi, Mich. (Detroit Catholic Central)
33
Taco Charlton
DE
6-6
270
Fr.
Pickerington, Ohio (Central)
34
Jeremy Clark
DB
6-4
205
RS Fr.
Madisonville, Ky. (Madisonville N. Hopkins)
34
Brendan Gibbons
PK
6-1
240
RS Sr.
W. Palm Beach, Fla. (Cardinal Newman)
35
Joe Bolden
LB
6-3
225
So.
Cincinnati, Ohio (Colerain)
36
Joe Kerridge
FB
6-0
238
RS So.
Traverse City, Mich. (St. Francis)
36
AJ Pearson
DB
6-0
192
RS Fr.
John's Creek, Ga. (Northview)
37
Bobby Henderson
RB
5-11
227
RS Fr.
Hopewell Junction, N.Y. (John Jay)
38
Thomas Rawls
RB
5-10
217
Jr.
Flint, Mich. (Flint Northern)
39
Sione Houma
FB
6-0
231
So.
Salt Lake City, Mich. (Highland)
40
Antonio Poole
LB
6-2
218
RS So.
Cincinnati, Ohio (Winton Woods)
41
Anthony Capatina
DB
5-9
182
RS Jr.
Novi, Mich. (Detroit Catholic Central)
42
Ben Gedeon
LB
6-3
236
Fr.
Hudson, Ohio (Hudson)
42
Dylan Esterline
TE
6-5
234
RS Jr.
Blissfield, Mich. (Blissfield)
43
Will Hagerup
P
6-4
227
Sr.
Milwaukee, Wis. (Whitefish Bay)
43
Scott Sypniewski
LS
6-1
214
Fr.
Ottawa, Ill. (Marquette)
43
Chris Wormley
DL
6-4
289
RS Fr.
Toledo, Ohio (Whitmer)
44
Delano Hill
DB
6-0
205
Fr.
Detroit, Mich. (Crockett Technical)
45
Matt Wile
PK
6-2
216
Jr.
San Diego, Calif. (Francis Parker)
47
Jake Ryan
LB
6-3
240
RS Jr.
Westlake, Ohio (St. Ignatius)
48
Desmond Morgan
LB
6-1
228
Jr.
Holland, Mich. (West Ottawa)
49
Brad Anlauf
WR
6-4
187
RS Fr.
Hinsdale, Ill. (Hinsdale Central)
50
Tom Strobel
DE
6-6
265
RS Fr.
Mentor, Ohio (Mentor)
52
Royce Jenkins-Stone
LB
6-2
225
So.
Detroit, Mich. (Cass Tech)
53
Mario Ojemudia
DE
6-3
250
So.
Farmington Hills, Mich. (Harrison)
54
Jareth Glanda
LS
6-3
256
RS Sr.
Rochester Hills, Mich. (Brother Rice)
54
Richard Ash
DT
6-3
314
RS Jr.
Pahokee, Fla. (Pahokee)
55
Jibreel Black
DE
6-2

278

Sr.
Wyoming, Ohio (Wyoming)
55
David Dawson
OL
6-4

297

Fr.
Detroit, Mich. (Cass Technical)
56
Joey Burzynski
OL
6-1
293
RS Jr.
Carlsbad, Calif. (Carlsbad)
56
Ondre Pipkins
DT
6-3
315
So.
Kansas City, Mo. (Park Hill)
57
Patrick Kugler
OL
6-5
287
Fr.
Wexford, Pa. (North Allegheny)
57
Frank Clark
LB
6-2
283
Jr.
Cleveland, Ohio (Glenville)
58
Chris Bryant
OL
6-4
316
RS So.
Chicago, Ill. (Simeon)
60
Jack Miller
OL
6-4
290
RS So.
Perrysburg, Ohio (St. John's Jesuit)
61
Graham Glasgow
OL
6-6
303
RS So.
Aurora, Ill. (Marmion Academy)
62
Blake Bars
OL
6-5
291
RS Fr.
Nashville, Tenn. (Montgomery Bell Academy)
63
Ben Pliska
OL
6-3
276
RS Fr.
Kirkland, Was. (Lake Washington)
65
Kyle Bosch
OL
6-5
302
Fr.
Wheaton, Ill. (St. Francis)
66
Dan Liesman
LB
6-2
215
RS Fr.
Lansing, Mich. (Lansing Catholic)
67
Kyle Kalis
OL
6-5
302
RS Fr.
Lakewood, Ohio (Saint Edward)
69
Erik Gunderson
OL
6-8
306
RS Sr.
Milan, Mich. (Milan)
69
Willie Henry
DT
6-2
306
RS Fr.
Cleveland, Ohio (Glenville)
70
Kristian Mateus
OL
6-7
305
RS Jr.
Ada, Mich. (Forest Hills Central)
71
Ben Braden
OL
6-6
318
RS Fr.
Rockford, Mich. (Rockford)
72
Logan Tuley-Tillman
OL
6-7
300
Fr.
Peoria, Ill. (Manual)
73
Chris Fox
OL
6-6
338
Fr.
Parker, Colo. (Ponderosa)
73
Maurice Hurst, Jr.
DT
6-2
270
Fr.
Westwood, Mass. (Xaverian Brothers)
74
Dan Samuelson
OL
6-5
283
Fr.
Plymouth, Ind. (Plymouth)
75
Michael Schofield
OL
6-7
304
RS Sr.
Orland Park, Ill. (Carl Sandburg)
76
Quinton Washington
DT
6-4
301
RS Sr.
St. Stephen, S.C. (Timberland)
77
Taylor Lewan
OL
6-8
315
RS Sr.
Scottsdale, Ariz. (Chaparral)
78
Erik Magnuson
OL
6-6
285
RS Fr.
San Diego, Calif. (La Costa Canyon)
80
Khalid Hill
TE
6-2
258
Fr.
Detroit, Mich. (Crockett)
81
Csont'e York
WR
6-3
180
Fr.
Harper Woods, Mich. (Chandler Park Academy)
82
Amara Darboh
WR
6-2
212
So.
Des Moines, Iowa (Dowling Catholic)
83
Jaron Dukes
WR
6-4
190
Fr.
Columbus, Ohio (Marion Franklin)
84
A.J. Williams
TE
6-6
265
So.
Cincinnati, Ohio (Sycamore)
85
Joe Reynolds
WR
6-1
196
RS Sr.
Rochester, Mich. (Rochester Hills)
86
Jehu Chesson
WR
6-3
196
RS Fr.
St. Louis, Mo. (Ladue Horton Watkins)
88
Jake Butt
TE
6-6
237
Fr.
Pickerington, Ohio (Pickerington North)
89
Jonathan Keizer
WR
6-5
212
RS So.
Portage, Mich. (Portage Northern)
91
Alex Mitropolous-Rundus
TE
6-2
250
RS So.
Ann Arbor, Mich. (Pioneer)
91
Kenny Allen
K/P
6-3
226
RS Fr.
Fenton, Mich. (Fenton)
92
Keith Heitzman
DE
6-3
280
RS So.
Hilliard, Ohio (Hilliard Davidson)
94
Jordan Paskorz
TE
6-3
255
RS Jr.
Gibsonia, Pa. (Hampton)
95
Michael Jocz
TE
6-4
225
RS Fr.
Novi, Mich. (Novi)
96
Ryan Glasgow
DL
6-4
300
RS Fr.
Aurora, Ill. (Marmion Academy)
97
Brennen Beyer
DE
6-3
250
Jr.
Canton, Mich. (Plymouth)
99
Matthew Godin
DT
6-6
280
RS Fr.
Novi, Mich. (Catholic Central)
Aug. 31 – Central Michigan

Posted July 11 by Justin
The second MAC snack on our countdown is the first opponent Michigan will face when the season opens on August 31. The Central Michigan Chippewas will be a better test than Akron, but not by much, and represent what we feel the second easiest opponent on the schedule. Let's take a look.
Overview
The coaching staff will never admit as much, but Central Michigan presents a welcome sight when the season kicks off on Aug. 31. In other words, they aren't defending champion Alabama. But the Chippewas do lay claim to something Michigan can't, and that's entering the season with a winning streak – a four-game winning streak that includes a 24-21 Little Caesars Bowl win over Western Kentucky.
Sept. 7 – Notre Dame

Posted Aug. 22 by Justin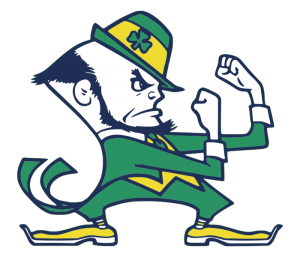 Yesterday we previewed Michigan State, so that leaves two teams left. Today, it's time to showcase who we feel will be the second toughest team Michigan will face, the Notre Dame Fighting Irish. Previously, we previewedAkron, Central Michigan, UConn, Minnesota, Iowa, Indiana, Penn State, Northwestern, and Nebraska.
Overview
Not many expected Notre Dame to reach the BCS title game last season, but the Irish did just that, putting together one of those special seasons in which all the breaks go their way. Whether it was a last-minute drive to sneak by lowly Purdue, needing six turnovers to beat Michigan, benefiting from a questionable call to beat Stanford in overtime, slipping by BYU at home, a late comeback to top Pitt in overtime, or getting to face an injury-ravaged and barely recognizable USC squad, Notre Dame was a that close to four or five regular season losses.
As it was, the Irish didn't stand a chance against the buzzsaw that was Alabama, but it was an exciting season nonetheless. Typically, when a team sees all the breaks go its way, it enters the next season with soaring expectations, but is prime to take a step back. Michigan saw that from 2011 to 2012 and Notre Dame faces the challenge of avoiding a letdown this season.
Sept. 14 – Akron

Posted July 2 by Justin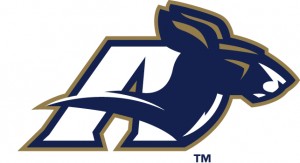 Our 2013 opponent preview series begins with the easiest opponent Michigan will face this season. Throughout this series leading up to the first game, we will dive into each opponent as we rank them from easiest to toughest. We begin with Akron High School…I mean, the Akron Zips.
Overview
It's not every day that a head coach that had success at a big-time school finds himself coaching at the other end of the spectrum. But if there's one place to do it, the Mid-American Conference is a good place to go. Former Nebraska coach Frank Solich has had some success at Ohio University, while across the state, former Auburn coach Terry Bowden is trying to replicate that success at Akron.
Sept. 21 – UConn
Posted on July 12 by Justin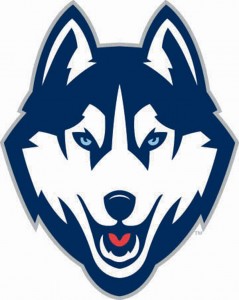 The third installment of our opponent preview series is the final non-conference opponent Michigan will face before opening Big Ten play. The UConn Huskies represent who we feel will be the third easiest opponent on the schedule. Check out our previous opponent previews for Akron and Central Michigan.
Overview
UConn has had no problem getting to the quarterback, bottling up a running back or frustrating opposing receivers on their routes. However, the Huskies continue to have one major issue: they can't score.
During its second-straight losing season (the Huskies went 5-7 in 2012), UConn finished dead last in the Big East in both points scored (213) and points per game (17). The Huskies had trouble shaking off a surprisingly unproductive year from feature back Lyle McCombs and often relied on quarterback Chandler Whitmer, who at times seemed overmatched by Big East defenses.
Oct. 5 – Minnesota
Posted July 16 by Justin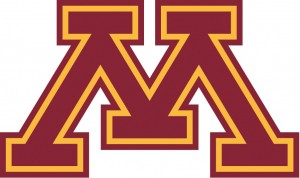 Continuing our opponent preview series, today we will take a look at the opponent that we feel will be the fourth easiest (or ninth-toughest) on Michigan's schedule, the Minnesota Golden Gophers. To read our previous opponent previews, see Akron, Central Michigan, and UConn.
Overview
Jerry Kill enters his third season in Minneapolis hoping to continue the improvement his program has shown in the first two. When he came to Minnesota in 2011, he vowed that if given enough time he could turn the program around. In year one, the Gophers went just 3-9, but noticeable improvement was made last seasons as the team doubled its victories and made its first bowl game since 2009. Despite losing the Meineke Care Car Bowl of Texas to Texas Tech, Kill's squad played tough and set the stage for an even better year in 2013.
Oct. 12 – Penn State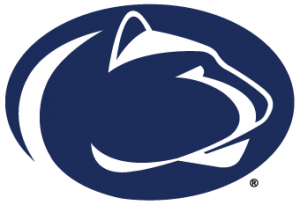 Posted Aug. 7 by Justin
The sixth-toughest opponent on Michigan's schedule is the Penn State Nittany Lions. Previously, we profiled in order of easiest to toughest: Akron, Central Michigan, UConn, Minnesota, Iowa, and Indiana.
Overview
Not many expected Penn State to fare well in 2012 with so many distractions, especially after dropping the first two games to Ohio and Virginia, but the team rallied around new head coach Bill O'Brien and put together an impressive season. The Nittany Lions won eight of the last 10, one of the two losses being a two-point defeat at the hands of Ohio State.
O'Brien got the most out of quarterback Matt McGloin – a former walk-on – who led the Big Ten in passing yards and it wasn't even close. That shouldn't be surprising, given O'Brien's acumen with quarterbacks, but this season should be a bigger test. With McGloin's eligibility exhausted, O'Brien will be forced to turn to either a junior college transfer or a true freshman. No one on the roster has thrown a pass in the Big Ten.
Oct. 19 – Indiana
Posted July 29 by Justin

Coming in as the seventh-toughest opponent Michigan will face this season is Indiana. The Hoosiers represent the third Big Ten squad on the list – behind Minnesota and Iowa – and the sixth opponent overall, behind non-conference foes Central Michigan, Akron, and UConn. With so many returning starters, Indiana expects to show considerable improvement in 2013, so let's take a closer look.
Overview
It's hard to find positives in a 4-8 season, but for the Indiana Hoosiers, 2012 was a promising season. For one, Kevin Wilson's squad won three more games than his first year on the job, but that's not much consolation when it still results in a losing record. What's more, four of the Hoosiers' eight losses came by a total of 10 points, and those included a three-point loss to Ohio State and a four-point loss to Michigan State in back to back weeks. With 17 returning starters, the trend is surely to continue.
Nov. 2 – Michigan State

Posted Aug. 21 by Justin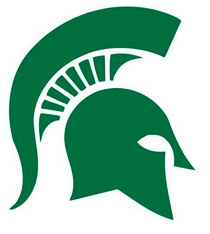 Our opponent preview series has boiled down to the final three, and not so coincidentally they are the three rivals. Today, we take a look at who we feel will be the third-toughest opponent on the schedule, the Michigan State Spartans. Previously, we previewed Akron, Central Michigan, UConn, Minnesota, Iowa, Indiana, Penn State, Northwestern, and Nebraska.
Overview
After back-to-back 11-win seasons and the league's top defense intact, Michigan State entered 2012 with expectations of winning the Big Ten. Instead, the Spartans struggled to find an offensive identity and win close games. A 7-6 finish was embarrassing, but a closer look reveals just how close Mark Dantonio's squad was to a better record. Five of the six losses were by a combined 13 points – one of them in overtime – and none by more than four points.
Dantonio shook up the coaching staff, hiring former Ohio State offensive coordinator Jim Bollman to guide the offense along with Dave Warner, who spent the past six seasons coaching the quarterbacks.
Nov. 9 – Nebraska
Posted Aug. 16 by Justin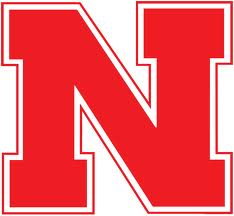 The fourth-toughest opponent on Michigan's schedule this season is the Nebraska Cornhuskers. In all reality, I consider the 'Huskers about even with Northwestern. I see Nebraska as the better team, but Northwestern on the road. Regardless, we previewed Northwestern earlier this week and Akron, Central Michigan, UConn,Minnesota, Iowa, Indiana, and Penn State before that.
Overview
Nebraska was an interesting team last season, winning the Big Ten Legends division, but giving up 63 or more points twice, including a whopping 70-31 beatdown at the hands of Wisconsin in the Big Ten Championship Game. Yes, the same Wisconsin team the 'Huskers beat 30-27 on Sept. 29.
The offense led the Big Ten with 460.8 yards per game and 253.4 rushing yards per game, but the defense ranked ninth in scoring defense (27.6 points per game), tenth in rush defense (192.5 yards per game), and dead last in turnover differential (minus-12).
Nebraska may never have reached the championship game if Denard Robinson hadn't injured his elbow in the second quarter on Oct. 27, but injuries happen every game, so it's pointless to look back and speculate. Looking forward, big things are expected of Nebraska in its third season in the Big Ten with most of the offense returning and a defense that has nowhere to go but up.
Nov. 16 – Northwestern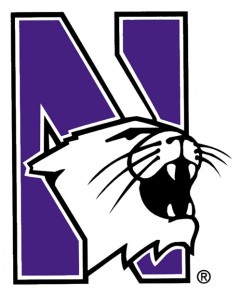 Posted Aug. 12 by Justin
The fifth-toughest opponent on the schedule really shows how tough Michigan's schedule is this season. The Northwestern Wildcats enter the season with soaring expectations thanks to 12 returning starters. But they rank just fifth in our opponent countdown, ahead of Akron, Central Michigan, UConn, Minnesota, Iowa, Indiana, and Penn State.
Overview
For 64 years, the Northwestern football program stared down an embarrassing streak similar to that of the most famous team the Wildcats share a city with. Like the Chicago Cubs, who haven't won a World Series since 1908, Northwestern hadn't won a bowl game since the very first one it ever played in – in 1948. Nine straight bowl losses – two in overtime – hung over the program, but optimism remained due to the transformation head coach Pat Fitzgerald was making in Evanston.
Nov. 23 – Iowa
Posted July 24 by Justin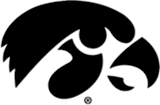 The fifth installment of our opponent preview series features who we believe will be the fifth easiest – or eighth toughest – opponent on the schedule, the Iowa Hawkeyes. It's unusual for a traditional conference power like Iowa to rank so low in terms of difficulty – especially with the likes of Indiana, Minnesota and UConn on the schedule – but this is going to be another rough year for the Hawkeyes. Let's take a closer look.
Overview
The Big Ten's elder statesman, Kirk Ferentz, enters the 2013 season with a hotter seat than he's used to. His Hawkeyes have gone downhill each of the last four seasons, from 11-2 in 2009 to 8-5 in 2010 to 7-6 in 2011 to just 4-8 a year ago, the latter being the worst record since his second season in Iowa City.
Nov. 30 – Ohio State

Posted Aug. 23 by Justin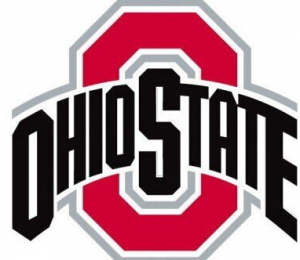 The final opponent preview also happens to be the final opponent of the season, Ohio State. Previously, we previewed Akron, Central Michigan, UConn, Minnesota, Iowa, Indiana, Penn State, Northwestern, Nebraska,Michigan State, and Notre Dame.
Overview
When Urban Meyer took over a floundering Ohio State team following a 6-7 season, excitement soared through the roof about the possibilities he could bring. But even the most die-hard Buckeye fan didn't see an undefeated season coming that soon and the sanctions left behind by his predecessor kept the Bucks from a shot at the national championship. In year two, however, with essentially ten returning starters on offense, including a leading Heisman candidate, most in Columbus are expecting another unbeaten season.
Offense
Meyer was fortunate to inherit the perfect quarterback for his system and now Braxton Miller enters his second season in that system looking to take Meyer to new heights. The junior signal caller improved on a rocky freshman campaign with 2,039 yards passing and a 58.3 percent completion rate to go along with 1,271 yards on the ground last season. His 28 total touchdowns trailed only Nebraska's Taylor Martinez and Penn State's Matt McGloin in the Big Ten.
Predicting Michigan: The quarterbacks
Posted July 22 by Derick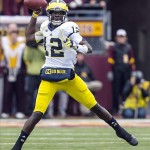 With less than six weeks remaining before Michigan opens its season against Central Michigan, we are kicking off a preview series of position breakdowns and predictions. Naturally, we're starting with the quarterbacks, and the newest member of our team, Derick, dives into what we can expect from the position this season.
Looking Back
The Denard Robinson era is officially over. While the flashy 5'11? quarterback that Michigan fans so affectionately referred to as 'Shoelace' basically passed the baton to Devin Gardner midway through the 2012 season, his days in the Maize and Blue have officially come to an end. Robinson often drove fans crazy by forcing throws and tucking the ball too quickly to run during his tenure as starting quarterback, but the last couple of years could have been very ugly for Michigan without his unconventional play that kept defenses guessing to the tune of a Sugar Bowl victory and a streak-snapping win over the hated Buckeyes.
Predicting Michigan: The running backs
Posted July 31 by Derick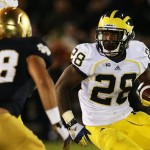 Last week we previewed what the quarterback and offensive line positions will look like this season. Today, it's the Fred Jackson's group that gets the honor.
2012: What Happened?
Going into the 2012 season, high expectations swirled around the Michigan rushing attack. Running backFitzgerald Toussaint was fresh off of a breakout year in 2011 and seemed poised for an enormous season next to Denard Robinson and behind a veteran offensive line. The results couldn't have been more disappointing. Toussaint failed to rush for 100 yards in each of the 10 games he played in and ended the season with less than half of his 2011 yards. Against Iowa on November 17, the frustrating season came to an end when he took an early exit due to a serious ankle injury.
Once again, Michigan was saved by Robinson, who willingly jumped into the backfield and became the most effective running back of the season. Thomas Rawls and Vincent Smith were unable to make up for the loss of Toussaint's meager production, rushing for a combined 20 yards in the final two games of the season.
Predicting Michigan: The wide receivers
Posted Aug. 6 by Derick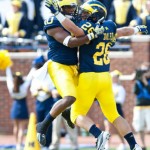 Over the past couple of weeks we have started a series in which we break down each position on the roster and predict the production from the key players. First the quarterbacks, then the offensive line, and then therunning backs. Today, we take a look at the wide receiver position.
Looking Forward: A New System
Michigan's offense is in the process of converting back to a more traditional pro-style brand of football. As we all know, the departure of Denard Robinson, one of the most unique players to ever hit the college stage, turned the offense into something that didn't really fit into any of the specific offensive categories that coaches teach today. The big play ability and readiness to scramble made for an exciting, yet inconsistent offensive show every week.
As far as the wide receivers were concerned, they played out of their element with Denard at quarterback. Rich Rodriguez recruited small, fast receivers to run his spread offense, but when Robinson took the field, he often preferred to throw jump balls down the field. While this strategy worked out for players like Junior Hemingway, it is unrealistic to expect receivers like the 5'8? Jeremy Gallon to win jump ball battles routinely.
Predicting Michigan: The tight ends
Posted Aug. 8 by Derick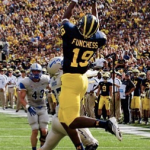 Rounding out the offensive portion of our Predicting Michigan series is the tight end position, which should be one of the most exciting to watch this season. Previously, we featured the quarterbacks, running backs, wide receivers, and offensive line.
Returning To The Offense
In the last few seasons, the Michigan offense has revolved around a spread rushing attack and featured less use of the tight end position as a result. When the spread offense was introduced, the preferred receiving options became small, fast athletes that could blow by defenders and make moves in space. As Brady Hoke takes the Wolverines back to a more physical style of play, tight ends have started to resurface in Ann Arbor.
In 2012, Devin Funchess burst onto the scene with 140 yards and two touchdowns in the games against Air Force and Massachusetts. As the season progressed, Funchess faded and had more than 15 receiving yards only once, when he caught a 29-yard touchdown against Iowa.
Predicting Michigan: The offensive line
Posted July 25 by Derick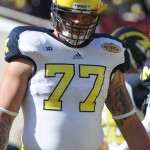 Continuing our positional breakdown and predictions series, Derick takes a look at the offensive line and what we can expect from the unit this season. For previous posts, see Quarterbacks.
Last Year's Line
Many fans wonder how Michigan will fare after losing over half of the starters from the 2012 offensive line. Brady Hoke graduated three talented linemen this year, when Elliott Mealer, Ricky Barnum and Patrick Omameh moved on to the NFL. All three former starters were left undrafted in April, but signed as free agents afterwards.
Taylor Lewan and Michael Schofield are the only returning starters. Lewan started every game for the Wolverines at left tackle in 2012 while Schofield did the same at right tackle. These two fifth-year seniors will be critical in shaping the 2013 line, as Michigan offensive line Coach Darrell Funk tries to restructure this unit with the help of a couple of talented recruiting classes.
Predicting Michigan: The defensive line
Posted Aug. 19 by Derick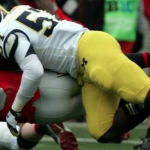 As we continue our position preview and prediction series, it's time to move on to the defensive side of the ball. If you missed the offense, we looked at the quarterbacks, running backs, wide receivers, offensive line, andtight ends over the past couple of weeks.
Shouldering The Load: A Critical Group
Since Greg Mattison has taken over as Defensive Coordinator, his unit has turned into one of the top in the Big Ten. A demoralized defense that struggled under Rich Rodriguez was turned around immediately because of Mattison's presence. This season, he will have to work with the young defensive players that have made up the strong recruiting classes the past few seasons. Leaders like Jordan Kovacs have graduated and it will be critical to establish new veteran leaders to help the rest of the defense mature.
Head Coach Brady Hoke coached the defensive line during his days under legendary Bo Schembechler, and he obviously still takes pride in that group of players as the head man. In 2013, the defensive line will be absolutely critical. Great defenses are those that can get pressure on opposing quarterbacks without blitzing linebackers or defensive backs. Michigan will need to get pressure from the pass rushers on the line to help a secondary that seems to have many questions at this point in the preseason.
Predicting Michigan: The defensive line
Posted Aug. 20 by Derick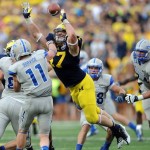 Today we continue our position preview and predictions series with the linebackers. For previous positions, seequarterbacks, running backs, wide receivers, offensive line, tight ends, and defensive line.
Wounded Warrior: Jake Ryan
Brady Hoke and his staff have had an extremely successful offseason. They brought in a second straight top-10 recruiting class, convinced star left tackle Taylor Lewan to return for his senior season and even found a way to force students to show up to games earlier. However productive the team has been since the Outback Bowl, the news that Jake Ryan had torn his ACL and would miss some of the 2013 season has lingered like a dark cloud over the optimism in Ann Arbor. Ryan, who is possibly the best player on the entire team, let alone the defense, is recovering quickly but doesn't figure to play for at least the first several games of the year.
When he is on the field, the redshirt junior has a knack for finding the ball. Ryan was a savior for the Michigan defense many times during the 2012 season, making open-field tackles to limit big gains. He is a versatile defender who can get pressure on the quarterback or stay back and cover his zone. Ryan was a nightmare for offenses in the backfield, recording 16 tackles for loss last year alone. While his ability to stuff the running back is impressive, what separates Ryan is his added ability to make the big play. He added 4 forced fumbles to his 4.5 sacks last year, and fans got used to seeing their long-haired leader celebrate flashy plays on a weekly basis.
Predicting Michigan: The secondary
Posted Aug. 21 by Derick
The final defensive position group for our Predicting Michigan series is the secondary, a group with a good blend of experienced talent and up-and-coming stars. Previously, we previewed the quarterbacks, running backs, wide receivers, offensive line, tight ends, defensive line, and linebackers.
Returning Starters
Perhaps one of the biggest unknowns for the 2013 Wolverines is how the secondary will follow up an extremely strong season in defending the pass. Michigan had one of the best secondary units in the nation during the entire season, but looked lost in the bowl defeat to South Carolina. Competition is the name of the game this spring, as several of the players from that great 2012 group return to battle 10 freshman that have Brady Hoke singing the praises of his depth. Since the veterans have proven their worth, they will likely have every chance to win the starting jobs this offseason and repeat what they've done under Greg Mattison the last two years.
Predicting Michigan: The special teams
Posted Aug. 22 by Derick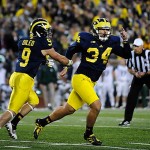 To wrap up our Predicting Michigan series, Derick takes a look at what to expect from the special teams this season. Previously, we previewed the quarterbacks, running backs, wide receivers, offensive line, tight ends, defensive line, linebackers, and the secondary.
The New Mr. Reliable
In 2010, Michigan's kicking game was one of the most embarrassing displays of football the maize and blue faithful had ever witnessed. As a team, Michigan went 4-of-14 in field goal attempts, and by the end of the season former coach Rich Rodriguez wouldn't even consider attempting a field goal outside of 35 yards.
One of the culprits of the 28.6 percent success rate was then-redshirt freshman Brendan Gibbons. Gibbons missed four of his five field goal attempts, converting only a 24-yarder in the blowout win against Connecticut in week one, in which he also missed an extra point. Following two more misses the next week against Notre Dame, Gibbons surrendered the starting job to Seth Broekhuizen, who wasn't much better (3-of-9).