---
2

015 Schedule – Michigan Ranking: #12 (AP), #11 (Coaches), #14 (CFP)

Date

Opponent

Rank

Site

Time

TV

Result

Thu, Sept. 3
Utah
NR (23)
Salt Lake City, Utah
8:30pm
Fox Sports 1
 

L 17-24

Sat, Sept. 12
Oregon State
Ann Arbor, Mich.
12:00pm
ABC

W 35-7

Sat, Sept. 19
UNLV
Ann Arbor, Mich.
12:00pm
Big Ten Network

W 28-7

Sat, Sept. 26
BYU
22 (NR)
Ann Arbor, Mich.
12:00pm
ABC

W 31-0

Sat, Oct. 3
Maryland
College Park, Md.
8:00pm
Big Ten Network

W 28-0

Sat, Oct. 10
Northwestern
13 (16)
Ann Arbor, Mich.
3:30pm
Big Ten Network

W 38-0

Sat, Oct. 17
Michigan State
7 (5)
Ann Arbor, Mich.
3:30pm
ESPN

L 23-27

Sat, Oct. 31
Minnesota
Minneapolis, Minn.
7:00pm
ESPN

W 29-26

Sat, Nov. 7
Rutgers
Ann Arbor, Mich.
3:30pm
Big Ten Network

W 49-16

Sat, Nov. 14
Indiana
Bloomington, Ind.
3:30pm
ABC

W 48-41 2OT

Sat, Nov. 21
Penn State
State College, Pa.
12pm
ABC

W 28-16

Sat, Nov. 28
Ohio State
8 (7)
Ann Arbor, Mich.
TBA
TBA

L 13-42

Fri, Jan. 1
Florida
19
Orlando, Fla.
1pm
ABC

W 41-7
*Ranking for teams Michigan has already played is their ranking at the time of the game. Rankings in (parentheses) for teams Michigan has already played are their current rankings. Rankings for teams Michigan hasn't yet played are their current rankings.
Future Schedules
Big Ten Standings – End of Regular Season – East




Rank

Team

Record

Big Ten

Last

Next

1
Michigan State
12-2
7-1
Lost to #2 Alabama 0-38
(College Football Playoff)
Season over
2
Ohio State
12-1
7-1
Beat #8 Notre Dame 44-28
(Fiesta Bowl)
Season over
3
Michigan
10-3
6-2
Beat #19 Florida 41-7
(Capital One Bowl)
Season over
4
Penn State
7-6
4-4
Lost to Georgia 17-24
(TaxSlayer Bowl)
Season over
5
Indiana
6-7
2-6
Lost to Duke 41-44
(Pinstripe Bowl)
Season over
6
Rutgers
4-8
1-7

Lost to Maryland 41-46

Season over
7
Maryland
3-9
1-7

Beat Rutgers 46-41

Season over
Big Ten Standings – End of Regular Season – West

1
Iowa
12-2
8-1
Lost to #6 Stanford 16-45
(Rose Bowl)
Season over
2
Northwestern
10-3
6-2
Lost to #23 Tennessee 6-45
(Outback Bowl)
Season over
 
Wisconsin
10-3
6-2
Beat #25 USC 23-21
(Holiday Bowl)
Season over
4
Nebraska
6-7
3-5
Beat UCLA 37-29
(Foster Farms Bowl)
Season over
5
Minnesota
6-7
2-6
Beat Central Michigan 21-14
(Quick Lane Bowl)
Season over
6
Illinois
5-7
2-6

Lost to #16 Northwestern 14-24

Season over
7
Purdue
2-10
1-7

Lost to Indiana 36-54

Season over
2015 Michigan Football Roster (Numerical)

No.

Name

Pos.

Ht.

Wt.

Yr./Elig.

Hometown (High School)

3
Desmond Morgan
LB
6-1
236
RS Sr.
Holland, Mich. (West Ottawa)
3
Kyle Seychel
K/P
6-2
171
So.
Brighton, Mich. (Hartland)
4
De'Veon Smith
RB
5-11
228
Jr.
Warren, Ohio (Howland)
4
Reuben Jones
DE
6-4
225
Fr.
Lakeland, Fla. (Lake Gibson)
5
John O'Korn
QB
6-4
220
Jr.
Fort Lauderdale, Fla. (St. Thomas Aquinas)
5
Jabrill Peppers
DB
6-1
205
So.
Paramus, N.J. (Paramus Catholic)
6
Brian Cleary
QB
6-3
205
Sr.
Detroit, Mich. (Detroit Jesuit)
6
Keith Washington
DB
6-2
175
Fr.
Prattville, Ala. (Prattville)
7
Shane Morris
QB
6-3
209
Jr.
Warren, Mich. (De La Salle)
7
Shelton Johnson
DE
6-5
225
Fr.
Delray Beach, Fla. (Atlantic Community)
8
Channing Stribling
DB
6-2
178
Jr.
Matthews, N.C. (Butler)
8
Tyrone Wheatley
TE
6-6
260
Fr.
Buffalo, N.Y. (Canisius)
9
Mike McCray
LB
6-4
242
Jr.
Trotwood, Ohio (Trotwood-Madison)
9
Grant Perry
WR
6-0
185
Fr.
Bloomfield Hills, Mich. (Brother Rice)
10
Zach Gentry
QB
6-7
230
Fr.
Albuquerque, N.M. (Eldorado)
10
Da'Mario Jones
WR
6-2
199
Jr.
Westland, Mich. (John Glenn)
12
Alex Malzone
QB
6-2
218
Fr.
Farmington Hills, Mich. (Brother Rice)
12
Blake O'Neill
P
6-2
215
RS Sr.
Melbourne, Australia
13
Terry Richardson
CB
5-9
174
Sr.
Detroit, Mich. (Cass Tech)
13
Matt Thompson
QB
6-5
214
So.
Cincinnati, Ohio (Indian Hill)
14
Allen Gant
LB
6-2
225
Sr.
Sylvania, Ohio (Southview)
14
Drake Harris
WR
6-4
174
So.
Grand Rapids, Mich. (Grand Rapids Christian)
15
Jake Rudock
QB
6-3
208
RS Sr.
Weston, Fla. (St. Thomas Aquinas)
15
James Ross III
LB
6-1
232
Sr.
Orchard Lake, Mich. (St. Mary's Prep)
16
Andrew David
K
6-9
170
Fr.
Massillon, Ohio (Washington)
16
Garrett Moores
QB
6-3
211
Jr.
Detroit, Mich. (Detroit Catholic Central)
16
Jack Wangler
WR
6-1
201
Jr.
Royal Oak, Mich. (Warren De La Salle)
17
Freddy Canteen
WR
6-1
185
So.
Elkton, Md. (Eastern Christian Academy)
17
Tyree Kinnel
DB
5-11
200
Fr.
Huber Heights, Ohio (Wayne)
18
A.J. Pearson
DB
6-0
202
Sr.
Johns Creek, Ga. (Northview)
18
Antonio Whitfield
RB
5-4
160
Jr.
Canal Winchester, Ohio (Canal Winchester)
19
Wilton Speight
QB
6-6
235
So.
Richmond, Va. (The Collegiate School)
19
Jared Wangler
LB
6-2
230
So.
Royal Oak, Mich. (De La Salle)
19
Mike McCray
LB
6-4
242
RS Fr.
Trotwood, Ohio (Trotwood-Madison)
20
Drake Johnson
RB
6-0
212
RS So.
Ann Arbor, Mich. (Pioneer)
20
Matt Mitchell
DB
5-10
179
So.
Dexter, Mich. (Dexter)
22
Karan Higdon
RB
5-10
190
Fr.
Sarasota, Fla. (Riverview)
22
Joe Hewlett
RB
6-0
192
So.
Novi, Mich. (Northville)
22
Jarrod Wilson
S
6-2
210
Sr.
Akron, Ohio (Akron Buchtel)
23
Jordan Glasgow
RB
6-1
200
Fr.
Aurora, Ill. (Marmion Academy)
24
Kevin Gross
RB
5-11
195
Fr.
Saline, Mich. (Saline)
24
Wayne Lyons
CB
6-1
193
RS Sr.
Fort Lauderdale, Fla. (Dillard)
25
Dymonte Thomas
DB
6-2
191
Jr.
Alliance, Ohio (Marlington)
26
Jourdan Lewis
CB
5-10
176
Jr.
Detroit, Mich. (Cass Technical)
27
Derrick Green
RB
5-11
234
Jr.
Richmond, Va. (Hermitage)
27
Chris Terech
LB
6-2
215
Fr.
Saline, Mich. (Saline)
27
Travis Wooley
CB
6-0
195
Sr.
Sault Sainte Marie, Mich. (Sault Area)
28
Brandon Watson
RB
5-11
189
So.
Elkton, Md. (Eastern Christian Academy)
29
Ross Taylor-Douglas
DB
5-10
186
Jr.
Avon, Ohio (Avon)
30
Joe Beneducci
FB
5-9
207
So.
Far Hills, N.J. (West Morris Mendham)
30
Reon Dawson
DB
6-2
175
Jr.
Trotwood, Ohio (Trotwood-Madison)
31
Nick Benda
LB
6-0
223
Sr.
Champion, Mich. (Westwood)
32
Shaun Austin
S
6-1
202
Sr.
Plymouth, Mich. (Plymouth)
32
Ty Isaac
RB
6-3
240
Jr.
Shorewood, Ill. (Joliet Catholic Academy)
33
Wyatt Shallman
RB
6-3
244
Jr.
Novi, Mich. (Detroit Catholic Central)
33
Taco Charlton
DE
6-6
273
Jr.
Pickerington, Ohio (Central)
34
Jeremy Clark
DB
6-4
205
Sr.
Madisonville, Ky. (Madisonville N. Hopkins)
34
Deyanco Hardwick
FB
5-11
225
So.
Ann Arbor, Mich. (East Detroit)
35
Joe Bolden
LB
6-3
232
Sr.
Cincinnati, Ohio (Colerain)
36
Joe Kerridge
FB
6-0
249
RS Sr.
Traverse City, Mich. (St. Francis)
37
Bobby Henderson
RB
5-11
240
Sr.
Hopewell Junction, N.Y. (John Jay)
38
John Andrysiak
LB
6-1
215
Fr.
Flint, Mich. (Powers Catholic)
38
Francois Montbrun
DB
5-10
183
Jr.
Ishpeming, Mich. (Westwood)
39
Sione Houma
FB
6-0
243
Sr.
Salt Lake City, Mich. (Highland)
40
Kenneth Sloss
WR
5-11
160
Jr.
Monroe, Mich. (Monroe)
40
Nick Volk
FB
5-10
238
So.
Frankenmuth, Mich. (Frankenmuth)
41
Brian Cole
WR
6-2
200
Fr.
Saginaw, Mich. (Heritage)
41
Ryan Tice
K/P
6-1
177
Fr.
Saline, Mich. (Saline)
42
Ben Gedeon
LB
6-3
241
Jr.
Hudson, Ohio (Hudson)
43
Scott Sypniewski
LS
6-1
224
Jr.
Ottawa, Ill. (Marquette)
43
Chris Wormley
DL
6-5
300
Sr.
Toledo, Ohio (Whitmer)
44
Delano Hill
DB
6-0
204
Jr.
Detroit, Mich. (Crockett Technical)
44
Chase Winovich
TE
6-3
230
Fr.
Jefferson Hills, Pa. (Thomas Jefferson)
45
Brady Pallante
DL
6-1
276
So.
Naples, Fla. (Barron Collier)
46
Michael Wroblewski
LB
6-2
241
Jr.
Saint Clair Shores, Mich. (Detroit Jesuit)
49
Tom Strobel
DE
6-6
270
Sr.
Mentor, Ohio (Mentor)
49
Anthony Dalimonte
CB
5-9
176
Jr.
Bloomfield Hills, Mich. (Brother Rice)
50
Andrew Robinson
LS
5-11
209
So.
Troy, Mich. (Troy Athens)
51
Tommy Whitted
LB
6-1
225
Fr.
Winter Park, Fla. (Winter Park)
51
Greg Forelich
OL
6-2
270
Jr.
Maplewood, N.J. (Montclair Kimberly Academy)
52
Mason Cole
OL
6-5
287
So.
Tarpon Springs, Fla. (East Lake)
52
Royce Jenkins-Stone
LB
6-2
240
Sr.
Detroit, Mich. (Cass Tech)
53
Mario Ojemudia
DE
6-2
252
Sr.
Farmington Hills, Mich. (Harrison)
54
Dan Liesman
LB
6-2
233
Sr.
Lansing, Mich. (Lansing Catholic)
55
Garrett Miller
DL
6-4

270

Jr.
Adrian, Mich. (Sand Creek)
55
David Dawson
OL
6-4

309

Jr.
Detroit, Mich. (Cass Technical)
56
Jameson Offerdahl
LB
6-2
220
Fr.
Fort Lauderdale, Fla. (Cardinal Gibbons)
57
Patrick Kugler
OL
6-5
297
Jr.
Wexford, Pa. (North Allegheny)
57
William Coleman
OL
6-1
320
Fr.
Battle Creek, Mich. (Battle Creek Central)
58
Alex Kaminski
LB
5-10
215
So.
Ada, Mich. (Lowell)
59
Noah Furbush
LB
6-4
217
So.
Kenton, Ohio (Kenton)
61
Graham Glasgow
OL
6-6
303
RS Sr.
Aurora, Ill. (Marmion Academy)
62
Blake Bars
OL
6-5
281
Sr.
Nashville, Tenn. (Montgomery Bell Academy)
63
Ben Pliska
OL
6-3
277
Sr.
Kirkland, Was. (Lake Washington)
67
Kyle Kalis
OL
6-5
292
Sr.
Lakewood, Ohio (Saint Edward)
69
Willie Henry
DT
6-3
311
Sr.
Cleveland, Ohio (Glenville)
70
Nolan Ulizio
OL
6-5
293
Fr.
West Chester, Ohio (Lakota West)
71
Ben Braden
OL
6-6
331
Sr.
Rockford, Mich. (Rockford)
72
Logan Tuley-Tillman
OL
6-7
309
Jr.
Peoria, Ill. (Manual)
73
Maurice Hurst, Jr.
DT
6-2
281
Jr.
Westwood, Mass. (Xaverian Brothers)
75
Jon Runyan
OL
6-4
274
Fr.
Philadelphia, Pa. (St. Joseph's Prep)
76
Juwann Bushell-Beatty
OL
6-6
319
So.
Paramus, N.J. (Paramus Catholic)
77
Grant Newsome
OL
6-7
280
Fr.
McLean, Va. (The Lawrenceville School, N.J.)
78
Erik Magnuson
OL
6-6
296
Sr.
San Diego, Calif. (La Costa Canyon)
80
Khalid Hill
TE
6-2
270
Jr.
Detroit, Mich. (Crockett)
81
Michael Jocz
TE
6-4
231
Sr..
Novi, Mich. (Novi)
82
Amara Darboh
WR
6-2
216
Sr.
Des Moines, Iowa (Dowling Catholic)
83
Jaron Dukes
WR
6-4
204
Jr.
Columbus, Ohio (Marion Franklin)
84
A.J. Williams
TE
6-6
285
Sr.
Cincinnati, Ohio (Sycamore)
85
Maurice Ways
WR
6-3
205
So.
Beverly Hills, Mich. (Detroit Country Day)
86
Jehu Chesson
WR
6-3
207
Sr.
St. Louis, Mo. (Ladue Horton Watkins)
88
Jake Butt
TE
6-6
248
Jr.
Pickerington, Ohio (Pickerington North)
88
Jack Dunaway
LB
6-3
212
Fr.
Bloomfield Hills, Mich. (Brother Rice)
89
Brad Anlauf
WR
6-4
199
Sr.
Hinsdale, Ill. (Hinsdale Central)
89
Ian Bunting
TE
6-7
243
So.
Hinsdale, Ill. (Hinsdale Central)
90
Bryan Mone
DT
6-4
325
So.
Salt Lake City, Utah (Highland)
91
Kenny Allen
K/P
6-3
220
Sr.
Fenton, Mich. (Fenton)
92
Cheyenne Robertson
LB
6-3
220
Fr.
Union City, N.J. (St. Peter's Prep)
93
Lawrence Marshall
DE
6-4
238
So.
Southfield, Mich. (Southfield)
96
Ryan Glasgow
DL
6-4
297
Sr.
Aurora, Ill. (Marmion Academy)
97
Cody Zeisler
DE
6-3
255
So.
Ann Arbor, Mich. (Skyline)
99
Matthew Godin
DT
6-6
287
Sr.
Novi, Mich. (Catholic Central)
Team Stats by Game – Offense
Utah
Or. St
UNLV
BYU
Md.
NU
MSU
Min
Rut
Ind
PSU
OSU
FL
Totals (/game)
Pts

17

35
28
31
28
38
23
29
49
48
28
13
41
408 (31.4)
Total Yds
355
405
377
448
378
380

230

296
487
581
343
364
503
5,147 (395.9)
Rush Yds
76
225
258
254
198
201
62
127
150
141
87

57

225
2,057 (158.2)
Pass Yds
279
180

123

194
180
179
168
169
337
440
256
307
278
3,090 (237.7)
1st downs
20
21
17
22
14
21

10

20
25
28
19
20
28
265 (20.4)
Turnovers

3

2
1
0

3

0
1
2
0
1
2
1
0
16 (1.2)
Pen-Yds
3-25
10-105
3-34
5-53
7-65
3-28
8-70
5-47
6-60
13-72
13-117
7-72
4-30
87-778
Punts-Yds
3-130
3-127
5-193
4-163
6-242
5-190
7-312
5-220
3-133
3-123
6-198
4-157
1-57
55-2,245
POS time
30:41
38:01
30:02
38:38
34:19
37:05

29:49

28:55
33:04
32:33
33:22
29:54
38:38
33:28
3rd Down
6-16
6-13
6-13
9-17
5-17
7-14

4-15

5-12
7-13
6-12
7-14
9-18
9-12
86-186 (46%)
4th Down
1-2
1-1

0-2

0-2

1-2
1-1
0-1
0-1
0-0
1-1
0-0
1-3
0-0
6-16 (38%)
Sacks Alwd
0-0
1-17
0-0
2-15
2-11
3-4

3-10

2-10
0-0
1-7
2-10
2-11
0-0
18-95 (1.4-7.3)
FGs
1-2
2-2
0-0
1-1
2-3
1-1
3-3
0-0
2-3
2-3
0-0
2-2
2-2
18-22 (82%)
PATs
2-2
3-3
4-4
4-4
2-2
5-5
2-2
3-3
5-5
6-6
4-4
1-1
5-5
46-46 (100%)
Red Zone
3-3
5-5
2-2
3-4
3-3
3-3
5-5
4-4
8-9
4-4
3-4
3-3
6-7
52-56 (93%)
Red Zone TD
3-3
5-5
2-2
3-4
1-3
3-3
2-5
4-4
6-9
2-4
3-4
1-3
4-7
37-56 (66%) 
| | | |
| --- | --- | --- |
| Key: | Best Performance | Worst Performance |
Team Stats by Game – Defense
Utah
Or. St
UNLV
BYU
Md.
NU
MSU
Min
Rut
Ind
PSU
OSU
FL
Totals (/game)
Pts Alwd
24
7
7
0
0
0
27
26
16
41
16

42

7
213 (16.4)
Total Yds
337
138
235
105
105
168
386
461
225

527

207
482
273
3,649 (280.7)
Rush Yds
129
59
92
50
29
38
58
144
128
307
70

369

118
1,589 (122.2)
Pass Yds
208
79
143
55
76
130

328

317
164
220
137
113
155
2,060 (158.5)
1st downs
20
12
15
8
7
7
20
20
17

32

14
25
14
217 (16.7)
Turnovers
1
1
2

0

3
1

0

0

1

0

1
0
2
12 (0.9)
Pen-Yds
6-55
8-62
2-10
5-45
5-66
5-39
5-44
7-53
7-80
9-79
3-30
5-39
7-66
74-668
Punts-Yds
4-192
7-272
8-328
11-475
13-473
8-280
5-186
5-190
7-245
2-79
6-225
2-70
4-216
82-3,231
POS time
29:19
21:59
29:58
21:22
25:41
22:55

30:11

31:05
26:56
27:27
26:38
30:06
21:22
26:32
3rd Down
3-13
1-11
5-15
4-15
1-18
2-13
3-12
5-14
3-13
6-17
3-14

7-13

7-13

50-181 (28%)
4th Down
2-3
0-2

1-1

0-0
0-0
0-1
0-4
1-1
0-1
3-5
1-2
1-2
0-2
9-24 (38%)
Sacks By

1-6

2-17
2-13
3-27
3-20
4-23
3-29
2-19
4-32
1-12
4-26
1-2
2-24
32-250 (2.5-19.2)
FGs
1-3
0-0
0-0
0-0
0-0
0-1
0-0
4-4
3-3
4-4
3-3
0-0
0-0
15-18 (83%)
PATs
3-3
1-1
1-1
0-0
0-0
0-0
3-3
2-2
1-1
3-3
1-1
6-6
1-1
22-22 (100%)
Red Zone
3-3
1-1
1-2
0-0
0-0
0-0
2-2
3-4
3-4
5-6
3-3
5-6
1-3
27-34 (79%)
Red Zone TD
3-3
1-1
1-2
0-0
0-0
0-0
2-2
0-4
0-4
2-6
0-3
5-6
1-3
14-34 (41%)
| | | |
| --- | --- | --- |
| Key: | Best Performance | Worst Performance |
M&GB Season Preview Roundtable 2015
Posted August 28, 2015
The last Friday before the first game week is traditionally when we put forth our season previews in roundtable form. That day has come and it's time to put our predictions in ink. We won't fully revisit last season's predictions because, well, why would anyone want to? But our record predictions ranged from 8-4 to 10-2 and we all know how that went. Here's to hoping this year is a bit more accurate.
Position Previews
Predicting Michigan: The quarterbacks
Posted July 8, 2015 by Derick
For the past few years, Michigan was haunted by underwhelming performances at the most important position on the football field: quarterback.
While Devin Gardner showed flashes of brilliance and put together a few heroic games, like his 451-yard, 4-touchdown effort against Ohio State in 2013, he never really blossomed into the talent his five-star recruiting ranks hinted at.
Now, with the dual-threat era of Gardner and Denard Robinson firmly in the rear-view mirror, Michigan will look to get back to its John Navarre and Chad Henne-type roots under new head coach Jim Harbaugh.
He'll certainly have options. Harbaugh brought in a slew of potential contributors under center, likely hoping at least one of them will turn into a quarterback worthy of leading the Maize and Blue.
Predicting Michigan: The running backs
Posted July 16, 2015 by Derick
It seems long ago that five-star recruit Derrick Green's commitment to the University of Michigan sent former head coach Brady Hoke into tears of joy. Ever since that day (Jan. 26, 2013), Michigan's offense has left fans crying for another reason.
Though much of the blame for the team's poor rushing performance over the past few years belongs to the offensive line, a few highly-regarded running backs have certainly struggled to live up to the hype. Green and classmate De'Veon Smith, once regarded near-elite talents in the running game, have failed to combine for 1,000 rushing yards in a single season midway through their college careers.
With an improving offensive line and even more viable options in the backfield, the rushing game should see a marked improvement in 2015.
Predicting Michigan: The wide receivers
Posted July 29, 2015 by Derick
For the last several years, Michigan football has seen a drop-off in the production of its wide receiver unit. Though struggling quarterbacks surely deserve a share of the blame, the Wolverines have sorely missed an offensive playmaker of the Braylon Edwards-Mario Manningham-Jason Avant caliber.
Well, Michigan doesn't have a wideout of that caliber on the current roster; at least, not that we've seen so far. But there are a few solid returning options and some new additions with upside that Jim Harbaugh hopes to turn into a dangerous receiving corps.
Predicting Michigan: The tight ends
Posted August 4, 2015 by Derick
Among its many other offensive deficiencies last season, Michigan's offense lacked a consistent tight end threat in the passing game. Devin Funchess' move to wide receiver left the tight end corps scrambling for a playmaker, and only one tight end finished the season with more than 100 receiving yards.
Enter, Jim Harbaugh. In his takeover of Ann Arbor, the new Michigan head coach brings with him a deep history of success at the tight end position. Zach Ertz, Coby Fleener, and Ryan Hewitt are just a few of the tight ends coached and recruited by Harbaugh at Stanford who ended up in the NFL. Ertz and Fleener each caught more than 50 passes for over 700 yards in the league last season, a trend Harbaugh surely had a hand in.
But does Harbaugh have the talent in place to turn Michigan's tight ends into weapons in 2015? Here's a look at the current and incoming members that make up the unit.
Predicting Michigan: The offensive line
Posted August 13, 2015 by Derick
Michigan's passing game was severely flawed under head coach Brady Hoke, but perhaps the most concerning unit over the last few seasons was the offensive line.
Michigan, recently known for talented linemen like Jake Long and Taylor Lewan, bounced back from a disastrous 2013 season with a marginally better 2014. Michigan quarterbacks were sacked 27 times and the team rushed for an average of 4.6 yards per carry. The line wasn't dominant, but with most of the core players returning, there's certainly enough for new offensive line coach Tim Drevno to work with.
Here's a look at Michigan's offensive line unit heading into the 2015 season.
Predicting Michigan: The defensive line
Posted August 19, 2015 by Derick
For fans who watched Michigan football struggle through a miserable 5-7 season a year ago, including the team's first shutout loss in decades and another pounding at the hands of Michigan State, encouraging signs were few and far between.
But the defensive line stood out as a strong unit in 2014, holding opponents to just 3.2 rushing yards per carry and picking up 29 sacks on the season. Michigan was the 11th toughest team to run against in the country and the second toughest in the Big Ten, behind Penn State (No. 1 in the nation).
Unfortunately, Jim Harbaugh will have to fill a huge hole on both ends of the defensive line as Frank Clark and Brennen Beyer have moved on to the NFL. Some of the depth players who contributed in the regular rotation last season will have to step up and take on a bigger role.
Predicting Michigan: The linebackers
Posted August 25, 2015 by Derick
Michigan's linebacker corps was rock solid last season, but with its fearless leader Jake Ryan graduating to the NFL, it'll be critical for a largely unproven group to fill the void.
As a unit, the Michigan linebackers were great in the run-stopping game last season, flocking to the ball, and for the most part, keeping running backs from getting to the outside. For the defense to take a step forward in 2015, the three starters will have to lock down the middle of the field and support the defensive line in the run game.
Here's how the linebackers stack up.
Predicting Michigan: The secondary
Posted August 26, 2015 by Derick
The unit with the most room to improve on Michigan's defense under Jim Harbaugh is the secondary, which has been a weakness over the past few seasons. With the departure of both preseason starting cornerbacks from last season, Blake Countess and Raymon Taylor, there's room for new guys to step in and make some noise under the new regime.
Luckily, there's plenty of depth at both cornerback and safety for the Wolverines. A few younger players stepped in and played heightened roles during the 2014 season and figure to hold the reins heading into Week 1 against Utah.
Here's a look at how the secondary will line up.
Predicting Michigan: The special teams
Posted August 27, 2015 by Derick
Michigan will welcome back most of its offensive and defensive starters in 2015, but the special teams stars will see a huge turnover.
Matt Wile, who went 15-of-21 in field goal attempts last season, and Will Hagerup, who averaged 42.9 yards per punt, both graduated and left two starting kicking spots open. Returner Dennis Norfleet is also absent from the roster after being dismissed by Jim Harbaugh.
Here's a look at the guys ready to step up as special teams leaders.
Tailgate Tuesday
Gator kabobs
Posted Nov. 24 by GoBluBBQ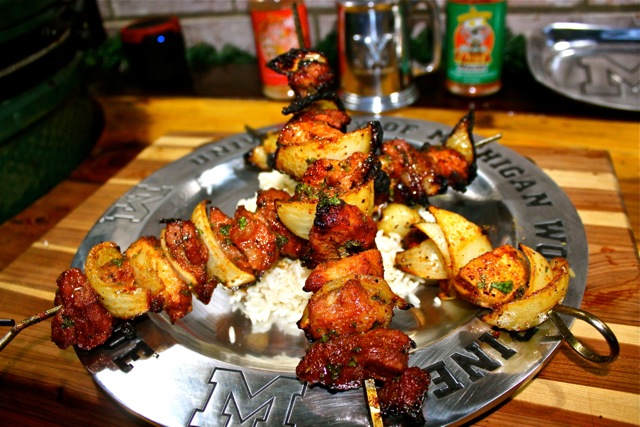 It's our last recipe of the year, so let's go out with a bang. SInce we are facing the Florida Gators, Justin suggested I find some gator meat and come up with a tasty treat for the Citrus Bowl. I think we have done that and hope you will give this one a try. It's healthy, tender and extremely flavorful. I recommend that if you can find gator in your local meat or seafood market, you pick some up and toss it on the grill.
Ingredients
1 pound gator tail meat (cut into 1-inch cubes)
Onions
Mushrooms
Polish sausage
Planked brie with cranberry chutney
Posted Nov. 24 by GoBluBBQ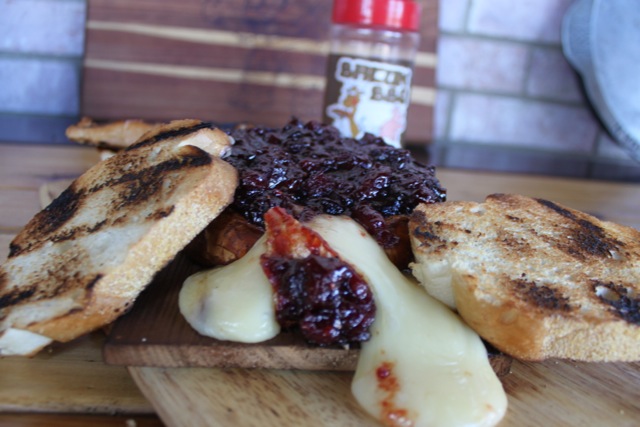 It's "The Game" week…AKA…Turkey Day week. Things are rolling along nicely for the guys in Maize and Blue with the biggest game of the year quickly approaching. I am so geared up for this one and wanted to try a new recipe for this week. This has been on my "t0 do" list for a long time and is a nice addition to any Turkey Day tailgate. This is sweet…oozy…gooey and delicious all in one. Give it a try for the big game as a perfect appetizer. I guarantee your guests will "GOBBLE" it up in no time.
Ingredients
1 Wheel of brie
1 Cedar plank
3 Cups cranberries (fresh or frozen)
1.5 Cups pure maple syrup
1.5 Cups sweet BBQ sauce (Stubbs Sticky Sweet or Sweet Baby Rays)
1 TBSP Meat Church Bacon BBQ Rub
Grilled shrimp and scallops
Posted Nov. 17 by MmmGoBluBBQ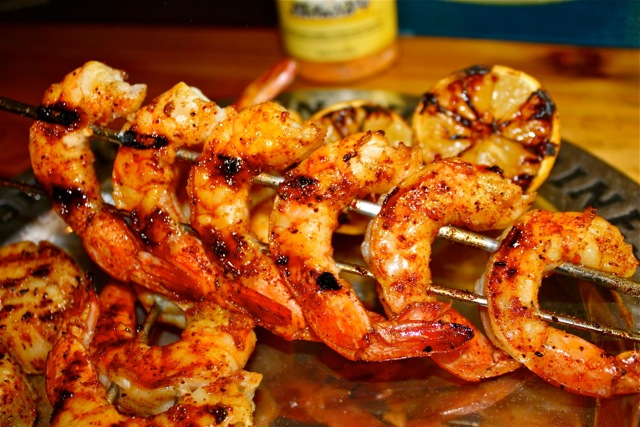 One of my favorite things to grill has always been shrimp. They are quick and easy and relatively healthy. Throw on some scallops and we have a great seafood feast. Add some Meat Church rub and we have one of the best meals of the season. Put it all on some skewers and now we have a PARTY. Everything is better on a stick (or skewer in this case).
Ingredients
Jumbo Shrimp (21-25 size) peeled and de-veined
Jumbo Scallops (20-30 size)
Meat Church Fajita Seasoning
Meat Church Honey Hog Rub
Lemon (cut in half)
Directions
Set grill up for high, direct heat. If you have a set of Grill Grates, get them scorching hot. If not, make sure your grates are hot and clean. While the grill is heating up, set your scallops and shrimp on paper towels and pat dry.
Smoked eggs
Posted Nov. 10 by MmmGoBluBBQ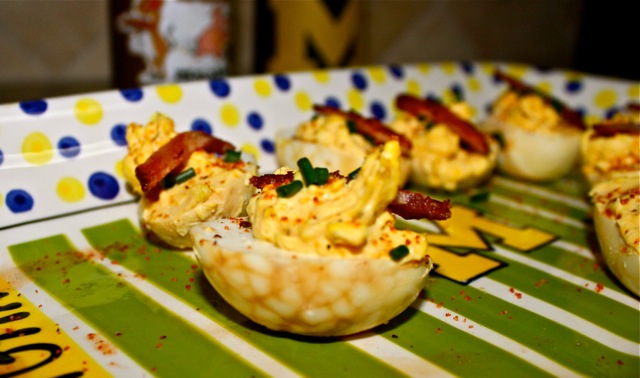 I've been wanting to do some experimenting on the grill for awhile and had the perfect opportunity over the weekend. I had a hot smoker and all the meats were done. It seems like a waste to have a smoker filled with smoking hot coals and EMPTY GRATES. So after finishing another chub of smoked bologna this past Saturday, I tossed on a dozen semi hard build eggs and and finished em off in some smoke. These will be great for smokey deviled eggs or a smoked egg salad and bacon sandwich….MEAT CHURCH STYLE.
Ingredients
12 large eggs
Meat Church Bacon BBQ Rub
Mayonnaise
Mustard
Bacon
Bread
Directions
Boil the large eggs for eight minutes. Once you reach eight minutes, move them to an ice bath and let cool. Once the eggs are cool, crack the shells by rolling under the palm of your hand. Apply medium pressure, assuring the entire shell cracks. Leave the shells on the egg.
Smoked bologna
Posted Nov. 4, 2015 by MmmGoBluBBQ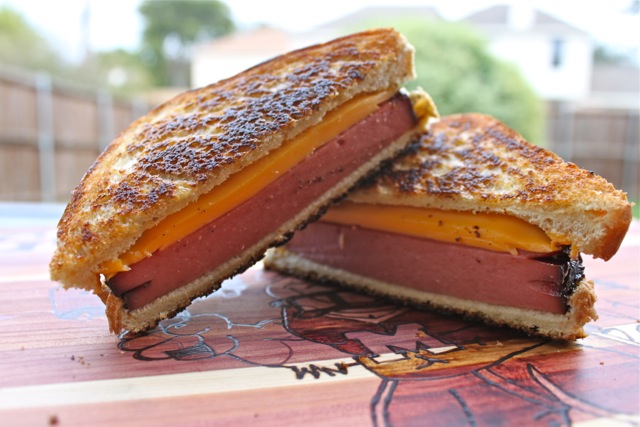 Trust me, you will fall in love with this recipe. You don't have to admit that you love it, but you will. This always gets the most "Huh" and "Whaaaat" looks, but disappears five minutes later. Don't forget your mustard, cheese and Texas Toast for this one. It makes a great sandwich and is as easy and cheap as it gets. Your guests will think you are a "BBQ Harbaugh".
Ingredients
5-pound chub of bologna
Mustard
Meat Church Deez Nuts Rub
Texas Toast bread
Directions
Fire up the smoker or grill for indirect heat. We're shooting for a grill temp of 225-250 degrees. I added a few chunks of apple and hickory wood for some tasty smoke. Any wood will do as you won't get a huge amount of smoke flavoring on this one. The bologna chub is already cooked so it won't take on much smoke. You can usually find this in the grocery section of your nearest Wal-Mart.
Pork belly sliders
Posted Oct. 27, 2015 by MmmGoBluBBQ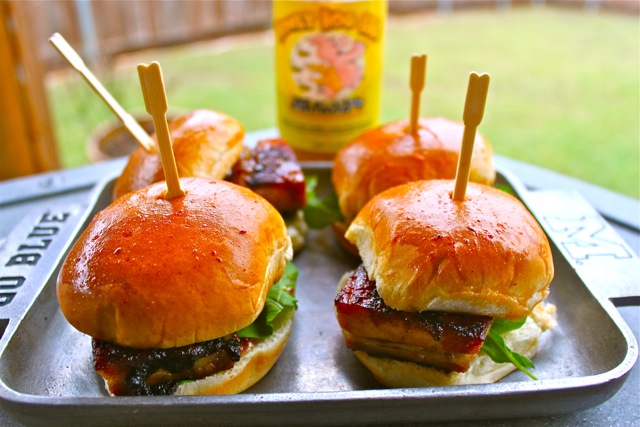 I'm a huge lover of bacon. All things bacon. Heck, who isn't? Whether it's wrapped around a onion ring forming my favorite grilled appetizer, the Oinkion, or served next to a few sunny side up eggs, bacon is greatness. One of my new favorite things to toss on the smoker is PRE-BACON. No, it's not a baby pig, it's a pork belly. This couldn't be any easier to prepare and is rather inexpensive. It's about a six hour process, which is perfect for a 7pm game against the Golden Gophers. Fire up the smoker around 10am and enjoy some pork belly sliders at kick-off.
Ingredients
• 2-4 pound pork belly
• Meat Church Deez Nuts Honey Pecan Rub and Honey Hog Rub
• Apple juice
• Slider buns
Mustard Maple Sauce:
• 2 TBSP stone ground mustard
• 2 TBSP pure maple syrup
Country style ribs with bock glaze
Posted Oct. 14, 2015 by MmmGoBluBBQ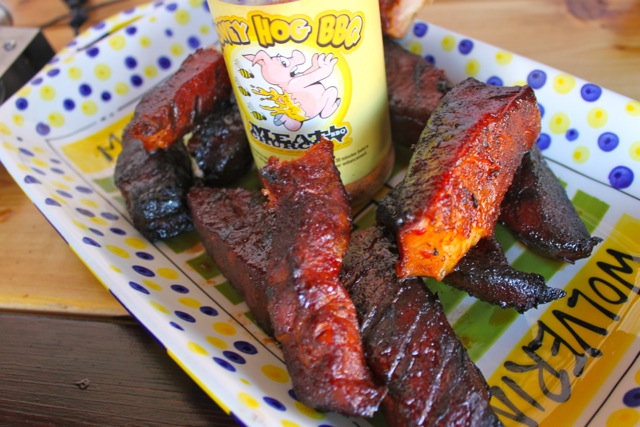 This week is the biggest week in 10 years where Michigan football is concerned. Not only are the state bragging rights on the line, but a probable top-8 ranking if things go as they should. I don't want to get too excited, but this is HUGE!!! Five-star recruits are in town and they want some tasty BBQ pre- and post game. I say we serve em some of the tastiest treats possible — a good batch of country style ribs. These are always easy and a crowd pleaser.
Ingredients
• Country style ribs
• Meat Church HONEY HOG Rub
• Ketchup
• Maple syrup
• Bock style beer
Flat Iron Fajitas
Posted Oct. 7, 2015 by MmmGoBluBBQ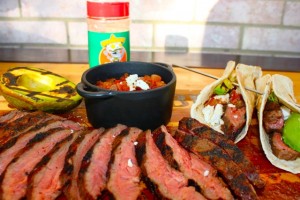 The flat iron steak is quickly gaining in popularity and for good reason. This cut is from the shoulder or chuck area and has some fantastic marbling throughout. While I typically go for the ribeye or t-bone, this is a close second when I'm firing up the grill. It is extremely versatile and flavorful and can be very tender when cooked properly.
I first discovered this steak when I was up in the Chicago area visiting some friends. We pulled out the Weber grill and and lit the coals. Several of the BBQ'ers were Northwestern Wildcat alum and swore by two things. The first was just how menacing and intimidating purple is on the football field. The second was how great the flat iron steak is. One out of two ain't bad, right? I decided to give this one a go with Meat Church's crazy tasty fajita rub and was not disappointed. Whether you are serving it as the main dish, steak style or slicing up for tacos, you will love this cut of beef.
Lamb Shank
Posted Sept. 30, 2015 by MmmGoBluBBQ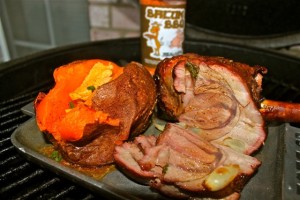 I am not sure the HYPE TRAIN could gain any more momentum than it has in the last four days. This thing is moving along much faster than anyone could have imagined. I don't want to get ahead of myself, but excuse me as I get way ahead of myself. At this time last year, Ohio State was ranked #22 in the nation. I think things turned out okay for them from what I hear. Keep it up boys. This HYPE TRAIN also picked up some lamb shanks along the way and tossed em on the BGE. Sure, it would have been easy to whip up some crab cakes or bacon wrapped squid skewers in honor of our Maryland tailgate pals, but I wanted to go outside the box a little. I hear lamb is huge on the east coast and goes great with a little bacon rub.
Ingredients:
• Lamb shanks
• Garlic cloves
• Rosemary
• Thyme
• Extra virgin olive oil
• Meat Church Bacon BBQ Rub
Pig Shots
Posted Sept. 22, 2015 by MmmGoBluBBQ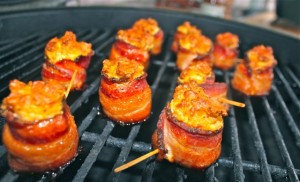 This is the week we see what the defense is made of. I assume coach has the team working on knocking down the Hail Mary as this accounts for 25 percent of BYU scores so far this year. Don't check my math as I may be exaggerating just a bit.
Anyway, I have a buddy that attended BYU back in the 90s and he claims this recipe was his "GO TO" on game days. I could not wait to make this as it includes several of my favorite grilling ingredients. I have bacon, polish sausage, and cream cheese, so how can this not be great? Sprinkle on some MEAT CHURCH Honey Hog rub and we're in business. You will love this quick and easy appetizer and your guests will too.
Ingredients
• Polish Sausage or Kielbasa
• Bacon
• Pineapple Cream Cheese
• Meat Church Honey Hog Rub
Build the perfect tailgate smoker
Posted Sept. 15, 2015 by MmmGoBluBBQ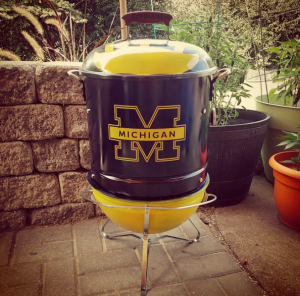 I am a sports junkie and I love my Michigan teams. I can't get enough of my Detroit Lions, Tigers, Red Wings, and of course the Michigan Wolverines. I even enjoy watching a game with Sparty every now and then. One weekend, while tailgating with some friends, we ran across a smoker covered in sports stickers. I can't begin to tell you how horrible this thing looked due to the stickers burning up on the side of a hot piece of metal. Go Figure. It got me thinking about tailgating and showing my team spirit. I started Googling smokers and tailgating and came across a several sites that featured this Mini WSM build. I had to give it a try. The sites I am referring to are Steve's BBQBros and Chris Allingham's The Virtual Weber Bullet. Both are great sites and full of great recipes, tips, and overall BBQ greatness. Give them a look.
WSM stands for Weber Smokey Mountain and is a great overall smoker. I love this Mini WSM for a few reasons. First, is the ease of operation. It's easy to transport and set up. It's perfect for tailgating. Just throw it in your trunk and head to the game. Secondly, it cooks great food. This little thing keeps it's temps like the big boys and holds a surprising amount of meat (or those veggie things, if your into that). I have cooked 50 stuffed jalapeños in the mini along with a Tri-Tip roast. I can also get six racks of Baby Backs (rolled) inside. 12-pound pork butt, also, not a problem. Thirdly, this smoker does not eat up a bag of charcoal like my big boys. Dare I say, it's the Prius of smokers. I can go 10 hours with this smoker on less than half a bag of charcoal and keep the temps in the 250 range. Simply awesome. Lastly, the team colors and logo make tailgating even more fun. Everyone wants one.
Smoky Spiced Beaver Nuts
Posted Sept. 8, 2015 by MmmGoBluBBQ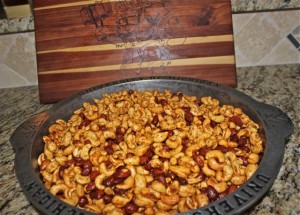 Trying to find a "go to" BBQ recipe that the Beaver fans prefer proved a little tougher than I expected. The one dish that kept coming up (thanks Google) was Buffalo chicken dip. While I love this dip and make it a few times each season, I wanted to make something that you can't find on the side of every single buffalo sauce bottle at your local grocery store. And since we have a brand new sponsor, I decided to go with one of Meat Church's favorites, the Smoked Spicy Nuts. Beavers like nuts, right?
Ingredients:
• 1 pound of nuts (almonds, cashews, and peanuts are all great choices)
• 2 TBSP olive oil
• 1/4 cup Meat Church rub (Bacon BBQ or Deez Nuts)
Frog Legs
Posted Sept. 1, 2105 by MmmGoBluBBQ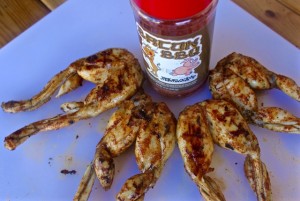 It's been a long off season with plenty of change. The hype train is operating at full speed and will only pick up steam as the season progresses. I cannot wait to see how this team matures and takes shape over the next few months. The same goes for our tailgatin' journey. We have some fun and tasty recipes on tap and a great new sponsor.
If you watch BBQ Pitmasters, you will no doubt recognize Meat Church, a.k.a. the "GREATEST HAIR in BBQ". Matt has agreed to sponsor our weekly tailgate posts as well as the weekly Five Spot Challenge. Matt is a HUGE Bama fan, but an even bigger football fan, so he's okay with us. He has some of the best rubs on the market and is a good dude, so give the MEAT CHURCH rubs a shot.
For this week's recipe, I decided to go with something a little off the wall and get things "HOPPING" in the right direction. (RIM SHOT).
Ingredients:
• Frog legs
• 12-pack of your favorite beer
– Note: only one will be used for the marinade. The other 11 can be disposed of at your leisure
• 1/4 cup sriracha sauce
• 1/4 cup honey
• 2 TBSP mustard
• Meat Church Bacon Rub