---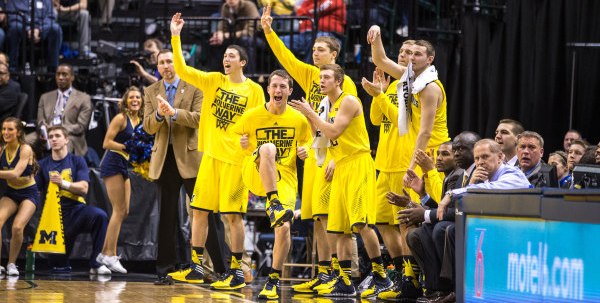 (MGoBlue.com)
Six times in the 16-year history of the Big Ten Tournament have Michigan and Ohio State met. All six times the Buckeyes sent the Wolverines home early. That changed on Saturday afternoon when Michigan topped Ohio State 72-69 to advance to Sunday's championship game for the first time since 1998.
Michigan started the game hitting everything in sight. Nik Stauskas got the scoring started with a three and after Aaron Craft hit a two-point jumper, Glenn Robinson III and Caris LeVert added threes. Robinson then stole the ball for a breakaway layup and Jordan Morgan scored back to back baskets to give Michigan a quick 15-2 lead.
Ohio State scored the next five before Stauskas hit his second three of the game. At the eight-minute mark, Michigan led 30-16 and looked as if it would cruise into the half. But Ohio State had other thoughts juts as it did when it came back from an 18-point second-half deficit on Friday night. The Buckeyes used a 21-11 run to close the half, heading into the locker room down just four points.
Stauskas started off the second half just as he did the first with a three, and after a LaQuinton Ross jumper, Derrick Walton Jr. hit a three and Stauskas added another to put Michigan back ahead by double digits. But once again Ohio State fought back. An alley-oop from Shannon Scott to Sam Thompson gave the Buckeyes their first lead of the game at 61-60 with 7:58 to play.
From there, the teams played evenly the rest of the way, neither able to pull away by more than three. Jordan Morgan hit one of two free throws and LeVert followed with a three, but Scott answered with a three of his own to tie the game at 64. LeVert made one of two free throws and OSU got back to back layups by Ross and Thompson to grab a 68-65 lead.
On Michigan's next trip down the court, Stauskas hit a pull-up jumper to bring Michigan within one with 3:45 to play. After an Ohio State missed shot, Robinson was fouled and made both to reclaim the lead. On the other end, Morgan fouled Aaron Craft, but the Buckeye senior uncharacteristically missed both.
On the ensuing possession, Stauskas got the ball on the left baseline with his back to the basket. Craft went for the steal and Stasukas was able to get around him, drive baseline and lay the ball in to put Michigan ahead 71-68 with 2:08 left.
After missed shots on both ends, Morgan picked up his fifth foul of the game. Ross was able to make one of two and Michigan took possession with 44 seconds remaining, up by two. Stauskas ran the clock down as far as possible and heaved up a three, but it clanged off the rim. However, LeVert soared through the lane and grabbed the rebound, kicking it out to Spike Albrecht, who was fouled with six seconds left.
Albrecht made the first to give Michigan a three-point lead. He missed the second and Craft grabbed the rebound and raced down the court desperately needing a three to send the game into overtime. As he pulled up from the top of the key, the ball slipped out of his hands and he was unable to get a shot off as time expired.
The win put Michigan in the championship game for the first time since it won the inaugural Big Ten Tournament in 1998. It also ended Ohio State's streak of five straight championship game appearances.
Stauskas paced Michigan with 18 points on 6-of-12 shooting, 4-of-8 from three-point range. LeVert added 17 points and eight rebounds, while Robinson III contributed 11 points. Walton Jr and Morgan each scored eight points and pulled down five boards. Zak Irvin hit two big threes in the first half to add six points.
As a team, Michigan shot 53.2 percent overall and made 9-of-22 three-pointers, but hit just 10-of-19 from the free throw line. Ohio State also shot well, 48.2 percent overall and 44.8 percent from downtown. The Buckeyes out-rebounded Michigan 31 to 26.
Michigan faces its other big rival, Michigan State, on Sunday afternoon in the championship game. The Wolverines topped the Spartans in both of the regular season meetings, but Michigan State has all of its starters back from injury at this point and looked good in beating Wisconsin in Saturday's other semifinal. Win, and Michigan should gain a one-seed in next week's NCAA Tournament. Lose a close game, and a one-seed is still a possibility.
***Caris LeVert***
17 points (6-of-9 FG, 2-of-4 3PT, 3-of-5 FT), eight rebounds (one offensive), two assists, four turnovers in 37 minutes
**Nik Stauskas**
18 points (6-of-12 FG, 4-of-8 3PT, 2-of-3 FT), one rebound, one assist, one steal, two turnovers in 34 minutes
*Shannon Scott*
18 points (7-of-10 FG, 4-of-6 3PT, 0-of-1 FT), five rebounds, six assists, three steals, two turnovers in 32 minutes
Michigan is 4-0 vs. Michigan St. and Ohio St. this season, STILL undefeated vs. its rivals for the first time since 2003.

— Drew Hallett (@DrewCHallett) March 15, 2014

___________________________________________________________
Final Game Stats

#

Name

FG-FGA

3FG-3FGA

FT-FTA

OR

DR

TOT

PF

TP

A

TO

BLK

S

MIN

01
Glenn Robinson III*
4-8
1-2
2-2
1
1
2
0
11
1
1
2
3
36
10
Derrick Walton Jr.*
3-6
2-3
0-0
0
5
5
1
8
4
3
0
2
29
11
Nik Stauskas*
6-12
4-8
2-3
0
1
1
0
18
1
2
0
1
34
52
Jordan Morgan*
3-4
0-0
2-7
1
4
5
5
8
3
0
0
0
30
23
Caris LeVert*
6-9
2-4
3-5
1
7
8
1
17
2
4
0
0
37
02
Spike Albrecht
1-4
1-3
1-2
0
0
0
2
4
1
1
0
1
11
15
Jon Horford
0-1
0-0
0-0
0
1
1
2
0
2
1
1
0
10
21
Zak Irvin
2-3
2-3
0-0
0
1
1
0
6
1
0
0
0
13
Totals
25-47
12-23
10-19
5
21
26
11
72
15
12
3
7
200
Ohio State
27-56
7-19
8-12
9
22
31
18
69
17
1
2
10
200

Full Stats