---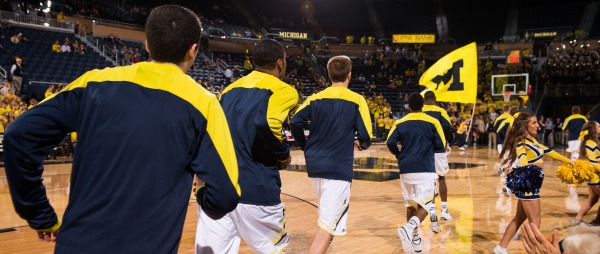 This year's Michigan basketball team finished just shy of a second straight Final Four, but they still turned many heads along the way. People were incredulous that such a young group of players could play so well after losing two non-senior guards to the first round of the NBA Draft — including the previous season's Player of the Year — and a preseason All-America big man to a season-ending injury, and that always seemed to be one of the first things brought up in every Michigan broadcast.
You might want to get used to that talk.
The NBA's April 27 deadline for early entries into the draft has come and gone, but unfortunately for Michigan fans, it was certainly not without lots of action in Ann Arbor.
On April 15, just a couple weeks after the Wolverines' heartbreaking loss to Kentucky in the Elite Eight, sophomores Nik Stauskas and Glenn Robinson III announced together that they would forego their final two years of college eligibility to enter the draft. Both were widely expected to leave — Stauskas after a breakout campaign that saw him take home Big Ten Player of the Year honors and Robinson III after he had passed on a likely top-15 selection a year before — but the departures will nonetheless make "what if" a common musing once again come basketball season.
A week and a half later, fellow sophomore Mitch McGary also declared for the draft – but without a press conference and just two days before the deadline. McGary, who didn't play a game for Michigan  since the new year, announced that he would leave college after testing positive for marijuana during the NCAA Tournament, which would have resulted in a one-year suspension levied by the NCAA.
Many had speculated that McGary was going back and forth on his NBA decision until the bitter end, but his confession of the failed test and the NCAA's denial of Michigan's appeal brought light to the situation, and a source has confirmed that McGary would have returned to Michigan next season if he was not facing a suspension.
Regardless, all three have commenced their professional careers, leaving Michigan to regroup yet again.
So what does that mean for the Wolverines?
Well, for one, coach John Beilein and his staff are developing players at an incredible rate. Stauskas will be a first-rounder, and at least one of Robinson III and McGary will likely be there as well. If we can assume that, Michigan will have had four — maybe five — first round selections in two years.
Now, the philosophy of next man up must continue.
Most probably didn't think this would be possible, but next season Michigan will be younger and less experienced than ever before in the Beilein era. Caris LeVert, Spike Albrecht, and Max Bielfeldt are the only three players that have been in the program for two full seasons, and with the recent commitments of Aubrey Dawkins and Muhammad Ali Abdur-Rahkman, Michigan will have a whopping seven players with freshman eligibility. Zak Irvin, Derrick Walton, Jr., and a few walk-ons round out the roster with one year under their belts.
After butchering last season's individual player predictions (but hey, I got the Big Ten record and the Elite Eight finish spot on), I think the time is ripe to look foolish again. So with that in mind, let's take a wild guess at how the lineups will shape up, who will handle the scoring load, and how many games Michigan can pull out.
The Bigs
Perhaps the biggest what if of next year would have been the "what if Michigan still had Mitch McGary, a potential big man All-American, along with a dynamic backcourt headlined by Caris LeVert, who is already garnering some All-American talk?" The same question could be asked of graduating senior Jordan Morgan and rising senior Jon Horford, who has transferred to Florida.
As my dad always says, though, if ifs and buts were candy and nuts, we'd all have a merry Christmas.
McGary is gone and Michigan's only center candidate with any college game experience is Max Bielfeldt. Let that sink in a little.
The two freshmen vying for playing time will be Mark Donnal, who turned some heads in practice while redshirting last season, and Ricky Doyle, a true freshman from Florida whose high school competition was somewhat questionable.
Donnal seems to be the clear front-runner to start, and I am a huge fan of his game based off one live viewing of him in high school. Donnal possesses excellent range for a big man, which could make for a devastating combination in Beilein's jack-happy offense, has solid length that should make him a serviceable rebounder and shot-blocker, and seems to be able to score from anywhere on the floor. Without raising too many eyebrows, I have to say that Donnal's offensive game most closely reminds me of Doug McDermott and Adreian Payne as a junior and senior; obviously he will not score as much as McDermott did right off the bat, but Donnal's versatility makes him a real threat.
Doyle would have been an excellent redshirt candidate this season but will likely be forced into some action with the limited depth. He is more of a back-to-the-basket type with a developing shot.
Bielfeldt has played spot minutes before and clearly has the upper hand when it comes to experience, but I don't see great potential. He is a little short on size, talent, and athleticism; his range could score him a few minutes again, but I expect Donnal to get the lion's share.
Minute Breakdown:
Donnal: 25
Doyle: 10
Bielfeldt: 5
The Wings
At the wing spots for Michigan, you will again find – surprise! – more youth.
Caris LeVert is obviously the one that everyone is talking about as the next potential NBA early entry after a breakout sophomore season, and as a junior this coming year, is a shoo-in to be a captain and a starter. He's also likely to be the guy, at least to start the season, who would be Beilein's choice to take it on the last possession. If LeVert sticks around Ann Arbor this summer to work on his game and packs on a few more pounds to his lanky frame, the All-America talk will not fade any time soon.
Zak Irvin will be the only other wing with experience, and after a year of some excellent spot-up shooting for a true freshman, he will be asked to develop into more than just a shooter in the upcoming offseason. The former Indiana Mr. Basketball has shown in the past that he can be a great scorer, and his length makes him a strong candidate to emerge as one of Michigan's best on-ball defenders. He flashed some encouraging signs late in the season. If Irvin sticks around for Camp Sanderson, expect many headlines on a potential breakout for him as well.
LeVert and Irvin should both see 30-plus minutes per game at some combination of the two and three spots in the offense, and Irvin could slide to the four on occasion as well. If Irvin sticks mostly to the three, however, it will be two true freshmen, just like at the five, earning the vast majority of playing time at the four spot.
Those two freshmen are Kameron Chatman of Oregon and D.J. Wilson of California. Chatman measures in around 6'7″ and comes in as the highest-rated recruit of the class, while Wilson is listed around 6'8″ and recently jumped up in the ranks after a solid senior year. Both players have range out to the three-point line and length to spare. Chatman seems to be a little more perimeter- and offensive-oriented at this point, but Wilson looks to have better bounce and shot-blocking skills. I would expect both to earn a good chunk of playing time right off the bat in what will be one of the more interesting competitions to watch.
Rounding out the wing depth are the two late signees in Abdur-Rahkman and Dawkins. I admittedly have to watch much more video on each before formulating any sort of scouting report, but they both are garnering the "Trust in Beilein" philosophy for now. After seeing unheralded late signees like Spike Albrecht and Caris LeVert pan out pretty well so far, that seems to be a fair approach. Both come in in the 6'4″-to-6'5″ range with solid athleticism and were on track to be mid-majors until Beilein came calling. Abdur-Rahkman is generally viewed as more of a slasher who needs to work on his shot while Dawkins has been called more of a shooter who needs to work on his handles. With hard work, both will certainly be given the chance to develop into rotation players, but they will likely play sparingly next year.
| | | | |
| --- | --- | --- | --- |
| 4 | Wilson: 20 | Chatman: 15 | Irvin: 5 |
3
Irvin: 25
Chatman: 5
LeVert: 5
MAAR/
Dawkins: 5
2
LeVert: 30
MAAR/
Dawkins: 5
Albrecht: 5
The Point Guards
At perhaps John Beilein's most critical position, Michigan will luckily have two players with a combined three years of college experience. Though Spike Albrecht will only be a junior and Derrick Walton, Jr. a sophomore, they will be the gray beards directing traffic.
Albrecht is a steadying force and a pretty decent bet to be the only player from the 2012 recruiting class to finish out his college eligibility. He is the known commodity – a plus passer, a plus ball handler, and a plus shooter with middling size and athleticism.
Walton is a prime candidate to break out, and if previous sophomore seasons from Darius Morris and Trey Burke are any indication, too big of a breakout from Walton could have Michigan fans shaking in their boots again. The quiet floor general has plenty of quickness, a shot that continues to improve, and a strong ability to finish at the rack after struggling with that early last season. He has also shown poise with some excellent late-game free throw shooting, which is always a great attribute for a point guard. One of the bigger areas Walton can improve on this offseason will be on the defensive end, where he could develop into a nice thief.
Minute Breakdown:
Walton, Jr.: 30
Albrecht: 10
Starting Lineup and Team Predictions
Starting Lineup:
1
2
3
4
5
Walton, Jr.
LeVert
Irvin
Chatman
Donnal
Team predictions:
MVP
Caris LeVert
Most Improved Player
Zak Irvin
Freshman of the Year
Mark Donnal
Newcomer of the Year
D.J. Wilson
Top 3 Scorers (in order)
LeVert, Walton, Irvin
Players Shooting 40%+ from 3 (in order)
LeVert, Irvin, Walton, Wilson, Albrecht
Projected Record
25-11 (11-7)
Projected Finish
Sweet Sixteen
Bold Prediction
D.J. Wilson earns Big Ten All-Freshman Team honors
What do you think? Do you agree with these projections? If not, what changes would you make?