---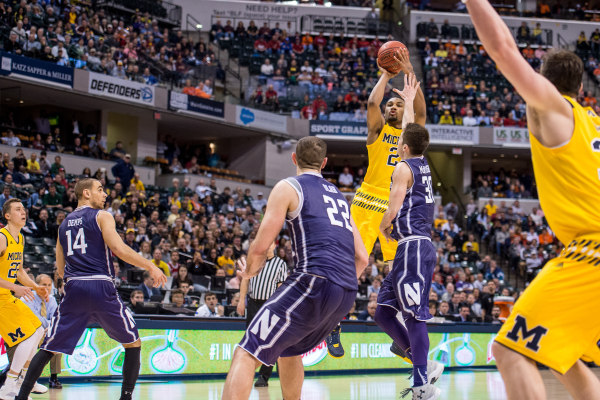 (MGoBlue.com)
It took an extra five minutes, but Michigan kept its NCAA Tournament hopes alive on Thursday afternoon with a 72-70 overtime win over Northwestern in the second round of the Big Ten Tournament.
In the season's first meeting, Derrick Walton, Zak Irvin, Duncan Robinson, and Muhammad-Ali Abdur-Rahkman went a combined 1-of-11 from three-point range. But on Thursday, the four combined to make 10-of-22 from downtown to lead the Wolverines to the win in Indianapolis.
In the first meeting, Northwestern stormed out to a 17-6 lead and Michigan had to fight back. This time, Michigan raced out to a 18-5 lead and took a 34-25 lead into the locker room. But Northwestern used a 12-3 run over a span of more than five minutes midway through the second half to battle back and tie the game at 52.
Michigan led 59-55 in the final minute, but Alex Olah hit a three to bring the Wildcats within one. On the ensuing inbounds pass, Michigan had to call timeout twice to avoid five-second calls. On the third try, Robinson caught the pass in the corner near Northwestern's bench and appeared to travel, but it wasn't called. Instead, he drew a foul and made one of two. But Olah made a put-back at the buzzer to send the game into overtime.
Robinson kicked off the extra period with a three and then tied the game at 70 with another with just 46 seconds remaining. Northwestern guard Bryant McIntosh missed a shot, giving Michigan a chance to win it. Irvin dribbled to his right and pulled up from the right elbow to hit the game-winning shot.
Michigan made 12-of-19 threes for the game and 16-of-20 free throws, outscoring Northwestern from the charity stripe 16 to nine. Robinson led the Wolverines with 21 points on 6-of-10 shooting and 4-of-6 three-point shooting. Irvin added 19 points and eight rebounds, while Abdur-Rahkman scored 14 on 4-of-7 three-point shooting, in addition to eight rebounds. Walton was held to just two points on 0-of-7 shooting, but did add seven rebounds and led the team with five assists.
Northwestern got 21 points from Tre Demps, 20 from Olah, and 19 from McIntosh. Olah also pulled down 13 rebounds. The rest of Northwestern's lineup combined for just 10 points.
Michigan will face top-seed Indiana in the quarterfinals in a win-and-you're-in contest. The game tips off at 12pm Eastern on ESPN.
Final Game Stats

#

Name

FG-FGA

3FG-3FGA

FT-FTA

OR

DR

TOT

PF

TP

A

TO

BLK

S

MIN

34
Mark Donnal*
1-3
0-2
0-0
2
1
3
5
2
1
1
1
0
18
10
Derrick Walton*
0-7
0-3
2-2
0
7
7
1
2
5
3
0
1
41
21
Zak Irvin*
6-16
2-6
5-6
0
8
8
0
19
2
1
0
2
42
22
Duncan Robinson*
6-10
4-6
5-7
0
3
3
2
21
1
1
0
0
37
12
Muhammad-Ali Abdur-Rahkman*
5-13
4-7
0-1
1
7
8
1
14
3
0
1
0
41
03
Kam Chatman
1-2
1-2
0-0
0
0
0
1
3
0
0
0
0
6
05
D.J. Wilson
0-0
0-0
0-0
0
0
0
0
0
0
0
0
0
0+
11
Andrew Dakich
1-1
1-1
0-0
1
0
1
1
3
1
0
0
0
6
13
Moritz Wagner
0-0
0-0
0-0
0
1
1
2
0
0
1
0
0
2
24
Aubrey Dawkins
1-3
0-2
0-0
1
0
1
1
2
1
1
0
0
8
32
Ricky Doyle
1-3
0-0
4-4
2
1
3
1
6
0
0
0
0
24
Totals
22-58
12-19
16-20
9
30
39
15
72
14
8
2
3
205
Northwestern
25-68
11-27
9-12
14
31
45
18
70
16
7
2
2

205
Full Stats