---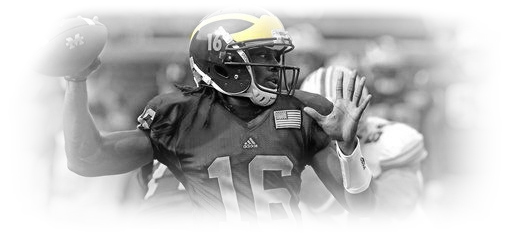 Four years ago, a shy kid that no one wanted to play quarterback arrived in Ann Arbor, hundreds of miles north of anything he knew, eager to get a chance to play the position only one coach gave him a shot to play. Tomorrow, as he prepares to don the winged helmet a final time in the Senior Bowl (4pm EST on NFL Network), Denard Robinson will officially close out one of the most impressive careers the famed helmet has ever seen. And it won't be at quarterback.
The man everyone calls Shoelace shattered records like they were windows on a driving range and etched his name into more spots in the Michigan annals than anyone can ever dream of. And while he ended his Michigan career fourth in passing attempts, sixth in completions, fourth in yards, and fourth in touchdowns, his future is at another position.
This week in Senior Bowl practice in Mobile, Ala., Denard spent his time running pass routes instead of throwing them and fielding punts and kickoffs. He was limited on Monday and Tuesday due to the elbow nerve injury that has plagued him since the Nebraska game, but was given clearance for full contact on Wednesday. The consensus seems to be that he has immense potential, but he's a work in progress.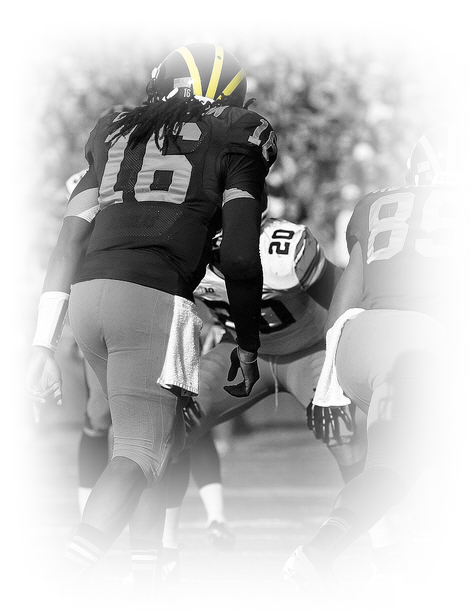 "He has a lot of confidence in his ability, but at the same time he understands that he doesn't know everything that he needs to know about playing the wide receiver position," said Oakland Raiders head coach Dennis Allen. "But he's very willing to learn. That's the biggest thing, is guys understanding and being willing to put forth the effort to try to learn the position."
Allen, who will be coaching the North team that Denard is a part of tomorrow, has raved about Denard's athleticism and potential all week. But it's his work ethic and attitude that will allow him to succeed. Every NFL Draft is full of talented college stars who are character risks, but throughout his career Denard has shown himself to be a hard-working, humble guy who won't let fame and stardom get to his head. And that's the type of kid an NFL team will take a chance on.
He's trying to fit the mold of other college quarterbacks that have made the transition to receiver at the next level, such as Indiana's Antwaan Randle-El, who had a productive career with the Pittsburgh Steelers and Washington Redskins, and Kentucky's Randall Cobb, who now stars for the Green Bay Packers. But it certainly hasn't come easy, especially judging punts and kickoffs, which he has struggled at this week.
"I want to be good already," Denard said. "I want to be great already, so of course I thought I could be better. I'm always striving to be better."
He's not slated to return kicks tomorrow, but he will see plenty of snaps at receiver and could drastically improve his draft stock with a head-turning performance. The ideal situation would be to get the ball in space in several different ways, whether on end-arounds or quick screens, but he's going to have to prove he can run efficient routes and catch the ball when given opportunities in order to earn a high draft slot.
Of course, following the Senior Bowl, Denard will have either a pro day in Ann Arbor or the NFL Combine in mid-February to continue to hone his skills and prove draft-worthy. That means a subpar performance tomorrow won't destroy his chances, but an impressive performance could really help them.
"Really, it's the more you can do. That's the way the NFL is," said an NFL general manager. "He's out there trying to return kicks, he's out there trying to return punts, trying to learn the receiver thing. You've got a lot of guys who can kind of do multiple things. If he wants to be in the NFL that's got to be his approach. And he's attacking it, he's trying to show everybody he's trying to do whatever. That's what it's all about. You just want to see him try to get in the game and hopefully have a little bit of success."