---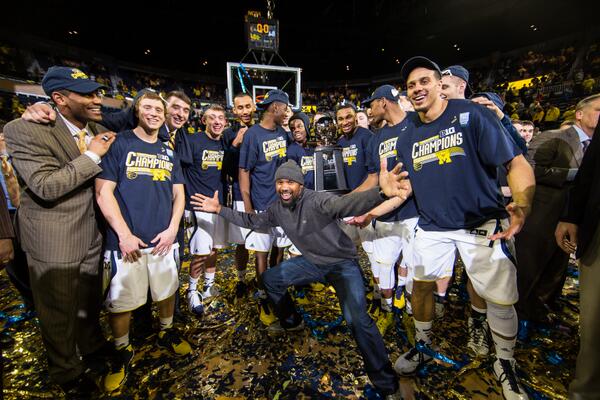 Nik Stauskas became Michigan's second straight Big Ten Player of the Year the conference announced on Monday evening. The sophomore was voted the top honor by both the coaches and media, following Trey Burke who won the award a year ago. Stauskas has averaged 17.4 points, 3.5 assists, and 3.3 rebounds per game this season with 13 games of 20 or more points. He is the only Big Ten player to rank in the top 10 in field goal percentage (48.9), three-point percentage (45.8), and free throw percentage (81.1).
Stauskas was also a unanimous selection to the All-Big Ten first team and named to the Sporting News All-America second team.
In addition, John Beilein was named Big Ten Coach of the Year by the media, becoming the first Michigan coach to win the award since Bill Frieder in 1985. Johnny Orr also accomplished the feat in 1974 and '77. Nebraska's Tim Miles was awarded the honor by the coaches.
Caris LeVert was named to the All-Big Ten second team  after averaging 13.4 points, 4.4 rebounds, and 2.7 assists per game. Glenn Robinson III garnered honorable mention honors, averaging 13.2 points, 4.4 rebounds, and 1.3 assists per game. Derrick Walton Jr. was named to the all-freshman team, averaging 8.1 points, 2.9 assists, and 2.9 rebounds per game. This is the fourth straight season the Wolverines have had a player on the all-freshman team (Robinson III in 2013, Burke in 2012, and Tim Hardaway Jr in 2011).
Below are the full All-Big Ten teams as selected by both the coaches and the media.
All-Big Ten first team
Coaches
Media
Name
School
Name
School
Nik Stauskas*
Michigan
Nik Stauskas*
Michigan
Roy Devyn Marble
Iowa
Roy Devyn Marble
Iowa
Gary Harris
Michigan State
Gary Harris
Michigan State
Terran Pettaway
Nebraska
Terran Pettaway
Nebraska
Frank Kaminsky
Wisconsin
Frank Kaminsky
Wisconsin
All-Big Ten second team
Coaches
Media
Name
School
Name
School
Yogi Ferrell
Indiana
Yogi Ferrell
Indiana
Caris LeVert
Michigan
Caris LeVert
Michigan
Adreian Payne
Michigan State
Adreian Payne
Michigan State
D.J. Newbill
Penn State
D.J. Newbill
Penn State
Sam Dekker
Wisconsin
Aaron Craft
Ohio State
All-Big Ten third team
Coaches
Media
Name
School
Name
School
Noah Vonleh
Indiana
Noah Vonleh
Indiana
Aaron White
Iowa
Aaron White
Iowa
Aaron Craft
Ohio State
Drew Crawford
Northwestern
LaQuinton Ross
Ohio State
Tim Frazier
Penn State
Tim Frazier
Penn State
Sam Dekker
Wisconsin
All-Big Ten honorable mention
Coaches
Media
Name
School
Name
School
Rayvonte Rice
Illinois
Rayvonte Rice
Illinois
Glenn Robinson III
Michigan
Glenn Robinson III
Michigan
Keith Appling
Michigan State
Will Sheehey
Indiana
Denzel Valentine
Michigan State
Keith Appling
Michigan State
Andre Hollins
Minnesota
Denzel Valentine
Michigan State
Shavon Shields
Nebraska
Andre Hollins
Minnesota
Drew Crawford
Northwestern
DeAndre Mathieu
Minnesota
A.J. Hammons
Purdue
Shavon Shields
Nebraska
Ben Brust
Wisconsin
LaQuinton Ross
Ohio State
A.J. Hammons
Purdue
Ben Brust
Wisconsin
Josh Gasser
Wisconsin
Traevon Jackson
Wisconsin
All-Big Ten all-freshman team
Sportsmanship Award honorees
Name
School
Name
School
Kendrick Nunn
Illinois
Joseph Bertrand
Illinois
Noah Vonleh
Indiana
Will Sheehey
Indiana
Derrick Walton Jr.
Michigan
Mike Gesell
Iowa
Kendall Stephens
Purdue
Jon Horford
Michigan
Nigel Hayes
Wisconsin
Denzel Valentine
Michigan State
All-Big Ten defensive team
Austin Hollins
Minnesota
Name
School
Shavon Shields
Nebraska
Gary Harris
Michigan State
Drew Crawford
Northwestern
Aaron Craft
Ohio State
Lenzelle Smith Jr.
Ohio State
Shannon Scott
Ohio State
Tim Frazier
Penn State
A.J. Hammons
Purdue
Travis Carroll
Purdue
Josh Gasser
Wisconsin
Ben Brust
Wisconsin
*Unanimous selection
Michigan also moved back into the top 10 in both polls, checking in at No. 8 in the AP Poll and No. 9 in the USA Today Coaches Poll. It is the first time the Wolverines have been in the top 10 since the first week of February when they reached 10th.
Wisconsin's loss to Nebraska on Sunday dropped the Badgers below Michigan, to 12th and 13th. Michigan State remains at 22nd in both polls for the second straight week, while Ohio State moves back in at 24th in both. Iowa dropped out.
As for Michigan's non-conference opponents, Arizona dropped one spot to fourth in both polls, fell to seventh and sixth, and Iowa State is still 16th in both.
The full national rankings are below.
AP Poll

Coaches Poll

Rank
Team
Rank
Team
1
Florida (29-2)
1
Florida (29-2)
2
Wichita State (34-0)
2
Wichita State (34-0)
3
Villanova (28-3)
3
Villanova (28-3)
4
Arizona (28-3)
4
Arizona (28-3)
5
Louisville (26-5)
5
Louisville (26-5)
6
Virginia (25-6)
6
Duke (24-7)
7
Duke (24-7)
7
San Diego State (27-3)
8
Michigan (23-7)
8
Virginia (25-6)
8
San Diego State (27-3)
9
Michigan (23-7)
10
Kansas (23-8)
10
Kansas (23-8)
11
Syracuse (27-4)
11
Syracuse (27-4)
12
Wisconsin (25-6)
12
Cincinnati (26-5)
13
Cincinnati (26-5)
13
Wisconsin (25-6)
14
Creighton (24-6)
14
Creighton (24-6)
15
North Carolina (23-8)
15
North Carolina (23-8)
16
Iowa State (23-7)
16
Iowa State (23-7)
17
Oklahoma (23-8)
17
Saint Louis (26-5)
18
Saint Louis (26-5)
18
Oklahoma (23-8)
19
Memphis (23-8)
19
Memphis (23-8)
20
New Mexico (24-6)
20
New Mexico (24-6)
21
Connecticut (24-7)
21
Connecticut (24-7)
22
Michigan State (23-8)
22
Michigan State (23-8)
23
Virginia Commonwealth (24-7)
23
Southern Methodist (23-8)
24
Ohio State (23-8)
24
Ohio State (23-8)
25
Southern Methodist (23-8)
25
Virginia Commonwealth (24-7)