---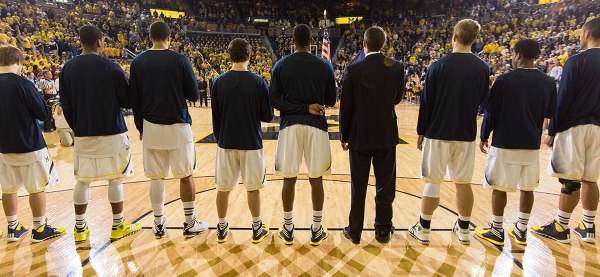 (MGoBlue.com)
Michigan's win over Minnesota on Saturday afternoon combined with Michigan State's loss to Illinois clinched at least a share of the Big Ten title for the Wolverines for the second time in three years. With two games remaining — at Illinois on Tuesday and home against a surging Indiana squad on Saturday — Michigan needs just one win to secure its first outright Big Ten title since 1986.
Saturday also saw losses by the number four, five, seven, nine, 10, 11, 15, 17, and 24 teams in the nation (in addition to the 18th-ranked Spartans). On Sunday, No. 22 Ohio State became the 11th top 25 team to fall over the weekend. March madness has truly arrived, which makes for plenty of movement in this week's polls.
Michigan moved up four spots to 12th in both polls, the highest the Wolverines have been since the first week in February when they stood 10th. Wisconsin is still the highest ranked Big Ten team despite needing two wins and two Michigan losses this week to earn a share of the conference title. The Badgers are ninth in the AP Poll and 11th in the USA Today Coaches Poll. Michigan State dropped to 22nd in both, while Iowa remained just inside at 24th and 25th, respectively. Ohio State fell out of both after losing both games last week.
As far as Michigan's non-conference opponents, Arizona remained third in both polls, while Duke moved up to fourth in both. Iowa State continues to hover in the middle, this week at 16th and 17th.
Nebraska's loss to Illinois last week dropped the Cornhuskers out of the RPI and Kenpom top 50, which takes away two of Michigan's victories over top 50 teams. The Wolverines now have seven instead of nine. If the 'Huskers can top Indiana and Wisconsin this week they'll likely move back in for the final revision of the regular season.
As far as individuals are concerned, Nik Stauskas' was edged out for Big Ten Player of the Week by Indiana's Will Sheehey despite another big week with 15 points against Purdue and 21 against Minnesota. The senior Hoosier forward, who averaged just around 10 points per game, scored 30 points against Iowa and 19 against Ohio State. Illinois guard Kendrick Nunn earned Big Ten Freshman of the Week honors with 13 points against Nebraska and eight against Michigan State. This is notable because Michigan plays both of these players this week, Nunn on Tuesday and Sheehey on Saturday.
The full national rankings are below.
AP Poll

Coaches Poll

Rank
Team
Rank
Team
1
Florida (27-2)
1
Florida (27-2)
2
Wichita State (31-0)
2
Wichita State (31-0)
3
Arizona (27-2)
3
Arizona (27-2)
4
Duke (23-6)
4
Duke (23-6)
5
Virginia (25-5)
5
Virginia (25-5)
6
Villanova (26-3)
6
Villanova (26-3)
7
Syracuse (26-3)
7
Syracuse (26-3)
8
Kansas (22-7)
8
Kansas (22-7)
9
Wisconsin (24-5)
9
Louisville (24-5)
10
San Diego State (25-3)
10
San Diego State (25-3)
11
Louisville (24-5)
11
Wisconsin (24-5)
12
Michigan (21-7)
12
Michigan (21-7)
13
Creighton (23-5)
13
Creighton (23-5)
14
North Carolina (22-7)
14
North Carolina (22-7)
15
Cincinnati (24-5)
15
Cincinnati (24-5)
16
Iowa State (22-6)
16
Saint Louis (25-4)
17
Saint Louis (25-4)
17
Iowa State (22-6)
18
Southern Methodist (23-6)
18
Southern Methodist (23-6)
19
UConn (23-6)
19
UConn (23-6)
20
Memphis (22-7)
20
Memphis (22-7)
21
New Mexico (22-5)
21
New Mexico (22-5)
22
Michigan State (22-7)
22
Michigan State (22-7)
23
Oklahoma (21-8)
23
Oklahoma (21-8)
24
Iowa (20-9)
24
Kentucky (21-8)
25
Kentucky (21-8)
25
Iowa (20-9)