---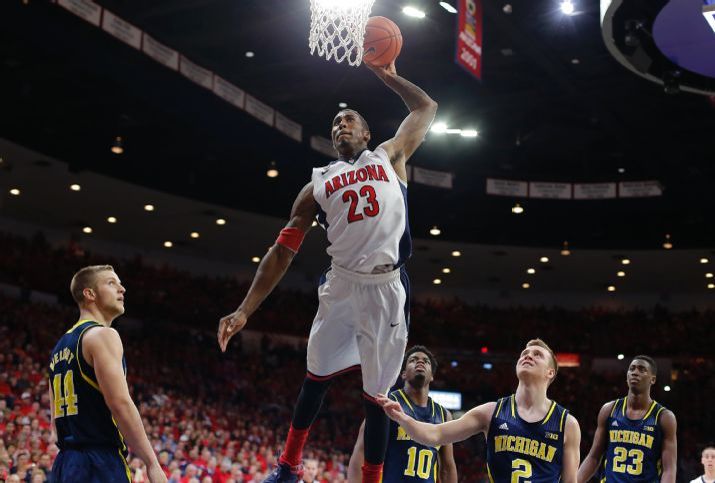 (Rick Scuteri, AP)
Following back-to-back home losses to NJIT and Eastern Michigan, a reeling Michigan squad had the unenviable task of traveling to Tucson, Ariz. on Saturday to face the third-ranked Arizona Wildcats. And unlike the close game Michigan played against Villanova in the Legends Classic three weeks prior, the Wolverines were wiped off the floor by Arizona, 80-53.
Arizona scored the first two points of the game, but Michigan answered with a Zak Irvin three-pointer. Arizona big man Kaleb Tarczewski responded with a jumper and Michigan never led again. The Wolverines were able to hang around in the early going thanks to a three by Kameron Chatman to tie the game at six, but after a Chatman free throw and Derrick Walton jumper, Michigan went on a three-and-a-half minute scoring drought. It allowed Arizona to jump out to a 20-9 lead before Walton scored again.
A Caris LeVert three got Michigan within six, but that was as close as Michigan would get the rest of the way. Arizona took a 36-25 lead into the half.
The Wildcats put to rest any hope of a second half comeback, scoring the first 12 points of the half to break the game open. Irvin scored Michigan's first basket of the half over five minutes in, but Arizona answered right back with a Rondae Hollis-Jefferson three. The Wildcats continued to widen the lead, getting as high as 36 points with four minutes to play, and finishing with a 27-point win.
Irvin was Michigan's only player in double figures with 14 points on 6-of-13 shooting. He made 2-of-6 three-point attempts. LeVert, Chatman, and Ricky Doyle each scored eight, while Walton contributed seven. Chatman led the team with four rebounds, while Walton led with five assists.
As a team, Michigan shot just 35.2 percent from the field and 26.9 percent from downtown. Arizona shot 58.2 percent and 35.3 percent from three-point range. Arizona out-rebounded Michigan 40-26. The Wildcats were led by Stanley Johnson's 17 points on 8-of-10 shooting and had four others in double figures. Tarczewski and Gabe York each scored 15, while Hollis-Jefferson and Brandon Ashley chipped in 10 apiece.
Michigan fell to 6-4 on the season and has a week off before it hosts SMU (6-3) next Saturday. The Wolverines will close out the non-conference portion of the schedule with Coppin State the following Monday before beginning Big Ten play on Dec. 30. Michigan faces an uphill climb to make the NCAA Tournament and will certainly need to win the next two to have any chance.
Final Game Stats

#

Name

FG-FGA

3FG-3FGA

FT-FTA

OR

DR

TOT

PF

TP

A

TO

BLK

S

MIN

03
Kameron Chatman*
3-8
1-4
1-2
0
4
4
4
8
2
2
0
3
19
34
Mark Donnal*
2-2
1-1
0-0
1
0
1
2
5
0
0
0
0
10
10
Derrick Walton Jr*
2-7
0-2
3-7
0
3
3
0
7
5
0
0
1
34
21
Zak Irvin*
6-13
2-6
0-0
2
0
2
2
14
0
1
0
0
24
23
Caris LeVert*
2-9
2-5
2-2
0
3
3
2
8
2
5
0
1
35
02
Spike Albrecht
1-3
1-3
0-0
0
3
3
1
3
3
0
0
1
26
12
M-A. Abdur-Rahkman
0-0
0-0
0-0
0
1
1
0
0
0
0
0
0
4
20
Sean Lonergan
0-0
0-0
0-0
0
1
1
0
0
0
0
0
0
2
24
Aubrey Dawkins
0-3
0-3
0-0
0
0
0
2
0
0
2
0
0
12
32
Ricky Doyle
3-5
0-0
2-2
1
2
3
3
8
0
1
0
0
23
44
Max Bielfeldt
0-4
0-2
0-0
0
1
1
2
0
0
0
1
1
11
Totals
19-54
7-26
8-13
6
20
26
18
53
12
12
1
7
200
Arizona
32-55
6-17
10-20
9
31
40
15
80
19
11
3
5
200

Full Stats